The CRKT Provoke is a type of karambit defensive knife that is designed to be the first line of defense for if you are ever attacked. This knife can be opened quickly and efficiently with just one hand, and then deployed quickly against an aggressor. The ease of operation and design also makes this an extremely effective hunting knife, perfect for field dressing game. It makes a great gift for the holidays.
Designed by Joe Caswall from California, the CRKT provoke has a D2 steel blade construction with a chisel grind that holds an edge very well. The blade has also been coated in a very rust and corrosion resistant nitride finish for superior durability. Meanwhile, the handle is built out of 6061 aircraft grade aluminum, which is both very strong and lightweight.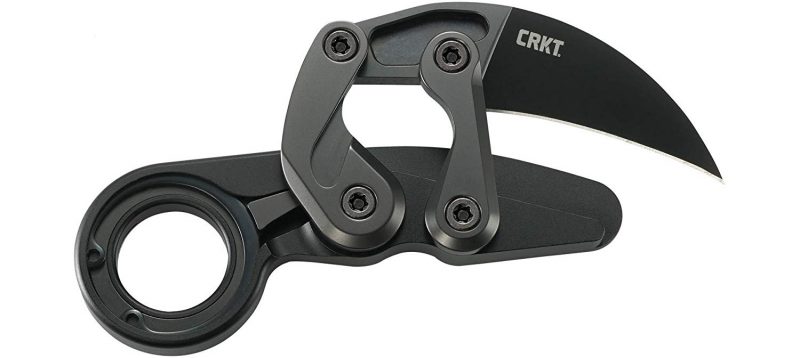 However, the entire CKRT Provoke is designed according to a tried and true Karambit design, but with modern Kinematic technology. The Kinematic technology means that the Provoke can the tucked away fully concealed on your person, and then whipped out by applying thumb pressure on the upper crossbar to free the blade. Then, just shift the lever at the base of the finger loop, and the blade will be placed back into its original closed position for concealment.
As an added bonus, the CRKT Provoke also comes with a limited lifetime warranty from the manufacturer that will cover any defects that exist in workmanship or materials.
The CRKT Provoke comes with the following specific features and highlights:
2.41-inch blade length
D2 blade steel construction
6.1 ounces in weight
6061 T6 aluminum steel construction for the handle
Closed length of 4.96 inches
Open length of 7.25 inches
Rust and corrosion resistant black titanium nitride finish
0.209-inch blade thickness
Chisel grind on blade
There's still plenty of time to get one before the holidays!