Three Great Choices for a Survival .22
Terry Nelson 03.30.20

The reasons to have a bug out/survival .22 rimfire (or two) are endless and unique to you and your environment. In general, hunting probably tops the list but self-defense could also enter into the equation. Since we are talking about an out-of-the-norm event, I would want to keep my selections simple and would consider the track record of reliability with my chosen gun, whether by reputation, personal experience, or better yet, both. Confidence in the firearm's system—including accessories and ammunition–as well as my ability to use them well, is critical. Efficiency of operation, basic field maintenance, and ease of transport are also points to consider. Without a doubt, quality ammunition is also critical especially when it comes to .22 rimfire. As most rifle users know, .22 rimfire ammo can be problematic in certain guns and action types. One top choice and most reliable in my experience is CCI Mini Mag in copper plated round nose.
With the above in mind, here are three picks for a survival .22 rimfire:
Ruger 10/22 Takedown
The Ruger 10/22 has been around for decades and has proven its worth. In the takedown version with an accompanying pack, this is a great choice for a survival gun. Chambered in .22 long rifle, it's very adept at taking small game and even self-defense if it comes down to it. Another plus, you can get 15- and 25-round Ruger factory magazines for this platform. Put a Ruger Mark III, Ruger SR.22 pistol, or Ruger Bearcat revolver in the pack with the take down 10/22 and you have a wonderful little survival pack that shoots the same caliber and can be easily transported.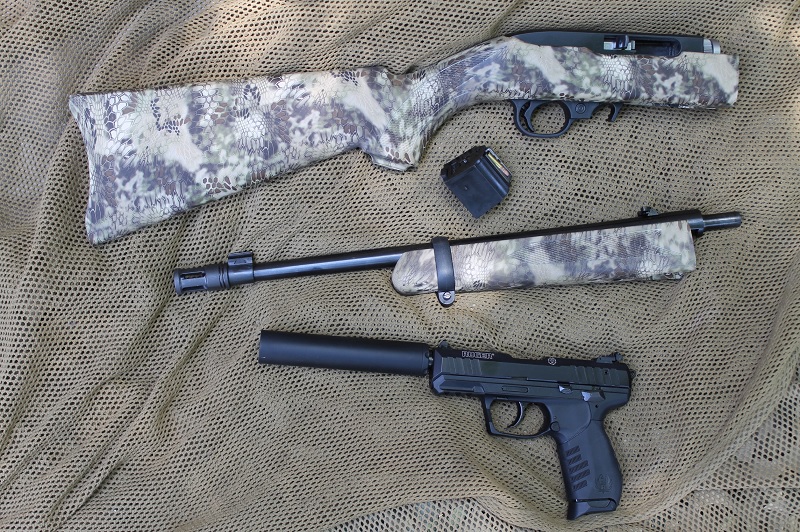 Overall length of the Ruger 10/22 takedown assembled is 36.75 inches with a MSRP of $459.
Henry AR-7
The AR-7 is a .22 semi auto long rifle caliber weighing only 3.5 pounds. It breaks down for carry inside its own 16.5-inch stock. Barrel, action, and magazines all store inside the water-resistant ABS plastic stock. This little rifle comes with two eight-round magazines and has been around for years. If you want to enhance the survival element the AR-7, Henry offers a survival package with the AR-7 at its core. The disassembled AR-7 fits perfectly in the Allen brand carry bag (included) that stores the other components of the kit. Two additional side pockets allow for additional small items of your preference.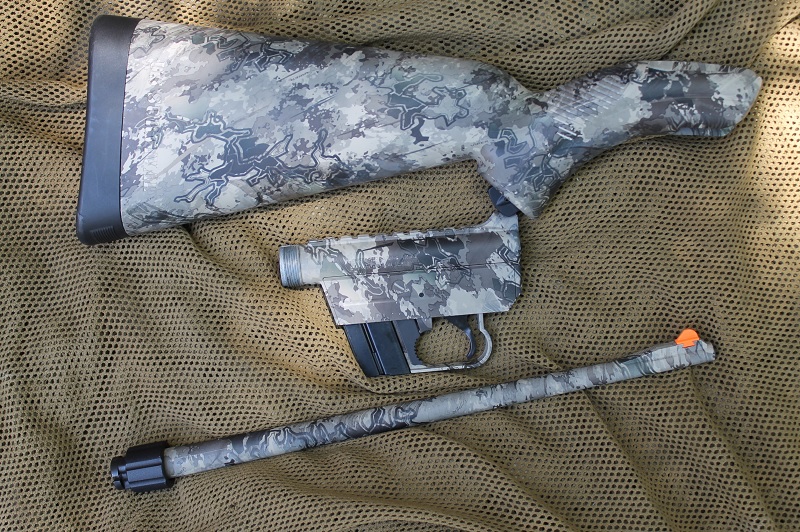 Other key components of the US Survival pack include: paracord, tourniquet, Mylar blanket, fire steel, knife, energy bar, and water purification straw. It would be very easy to include a lightweight .22 handgun to this kit if you were so inclined.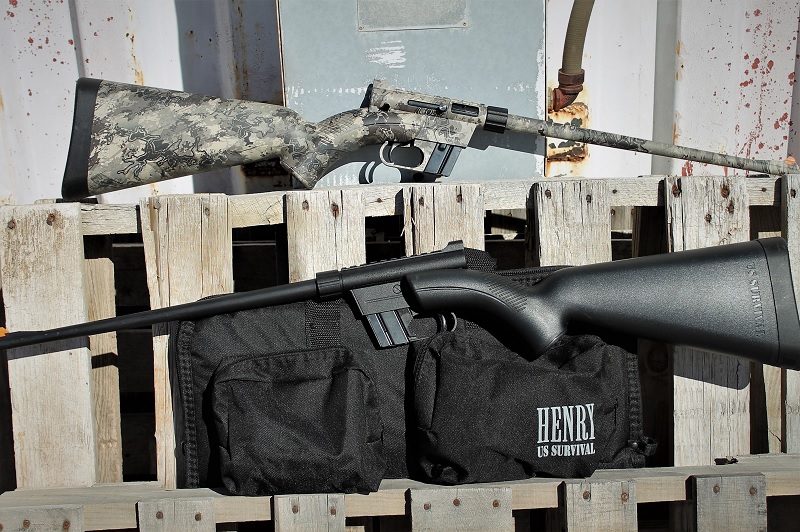 Overall length of the Henry AR-7 is 35 inches with an MSRP of $368 in the camo pattern (gun only).
Kec-Tec CMR-30
If you like compact, maneuverable carbines in the hot .22 WMR rimfire cartridge,  Kel-Tec CMR-30 is a top choice. Kel-Tec introduced the CMR in .22 WMR on the market in early 2015, adding another player to their lineup of lightweight, compact rifles. There's a lot to admire about this little gun, and if you combine it with Kel-Tec's PMR-30 pistol of the same caliber, you would a dynamite package for hunting, survival, defense, and target shooting.
This carbine's barrel is 16.1 inches with a 1 in 16-inch twist. Thanks to mostly aluminum construction, it's very light at 3.8 pounds unloaded.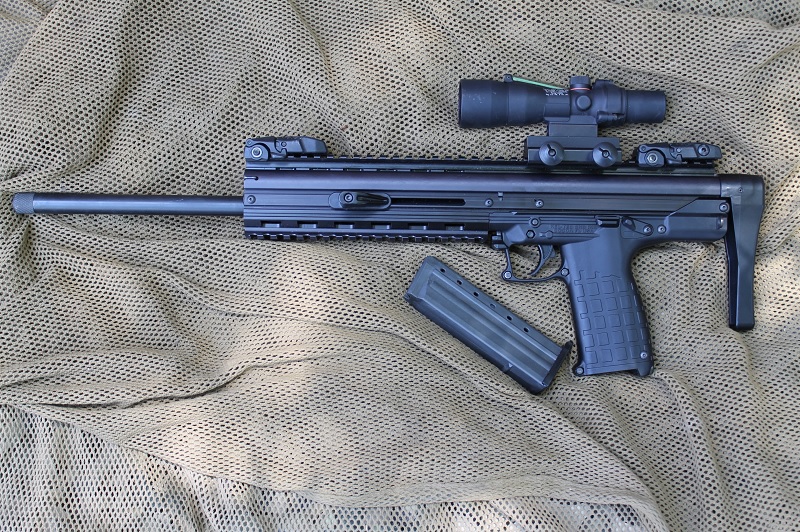 With stock fully extended, the overall length of the CMR-30 is 30.6 inches with an MSRP of $630.
If your chosen bugout .22 is set up to accept a suppressor, like the Gemtec GM-22, you now have even a more diverse hunting and survival package.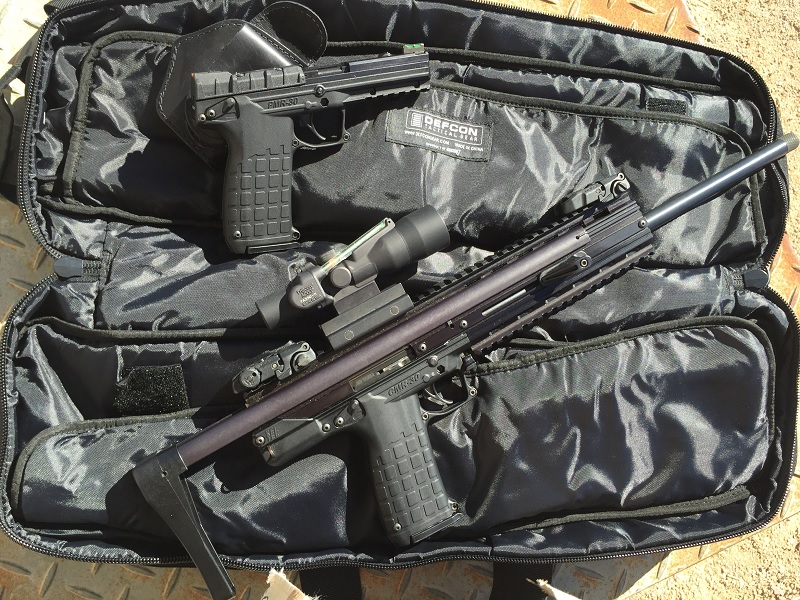 Many will argue that their experience with the one or all of the aforementioned .22s have included feed issues or other reliability concerns. As mentioned earlier, good quality ammunition and factory magazines generally eliminates any or all of these problems. I have personally used and tested all of the above listed .22s and have found them to be both reliable and accurate and would have no issue taking them to the field or carrying in my truck as a bugout package.