I love 1911s. My college graduation present was a Colt Rail Gun. This was in 2013, long after full size single-stack pistols lost favor as a concealed carry piece. But I loved my 1911 and carried it daily. Unlike some 1911 enthusiast, I'm not an elitist and I take every opportunity I can to shoot another 1911. It's like a symphony: although the notes remain the same, each conductor and musician offers their own slight variance in interpretation. Some 1911s are close replicas to the simple (by modern standards anyway) original US service pistol, and some are high-speed, double stack, optics bearing, race guns.
The Kimber Rapide Black Ice 1911 is not a replica service pistol, nor is it quite a race gun, though it has quite a few racy features. Below are the specs as per Kimber:
Specs:
Dimensions
Height (inches) 90° to barrel: 5.25
Weight (ounces) with empty magazine: 38
Length (inches): 8.7
Magazine capacity: 8
Recoil spring (pounds): 16.0
Mil-Spec guide rod
Frame
Material: Stainless steel
Finish: Silver/Gray, KimPro II
Width (inches): 1.28
Slide
Material: Stainless steel
Finish: Silver/Gray, KimPro II
Front serrations
Barrel
Length (inches): 5
Material: Stainless steel, match grade w/ DLC coating
Stainless steel match grade bushing
Twist rate (left hand): 16
Sights
Tru-Glo TFX Pro Day Night
Grips
Trigger
V-Cut aluminum
Factory setting (approximate pounds): 4.0 – 5.0
Pistol Aesthetics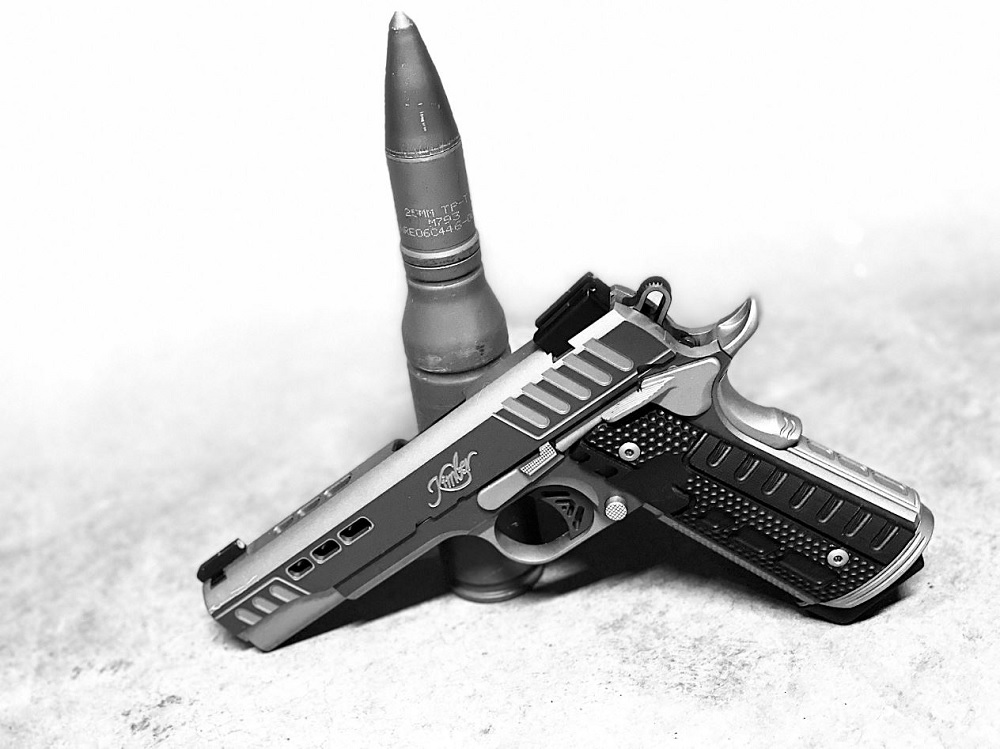 A quick word on the practical value of firearm aesthetics: If you like the way a gun looks, you'll likely take it out more, which means you're handling it more, which means your likely practicing more. The more you practice, the more proficient you become, and although the relationship between aesthetics and increased proficiency is indirect, it can actually be beneficial.
This is an eye-catching pistol to be sure. If you don't like people lusting after your guns while on the range, this probably isn't the piece for you. When I first laid eyes on the Rapide Black Ice it took me a minute to really take in what I was looking at, as there is a lot going on with this pistol. Clearly the designers paid attention to detail with the two-tone finish, milled boarders, and stepped cuts, all of which contribute to a striking appearance. The front of the slide has three cocking serrations on each flank in addition to three through cuts on each side and the top.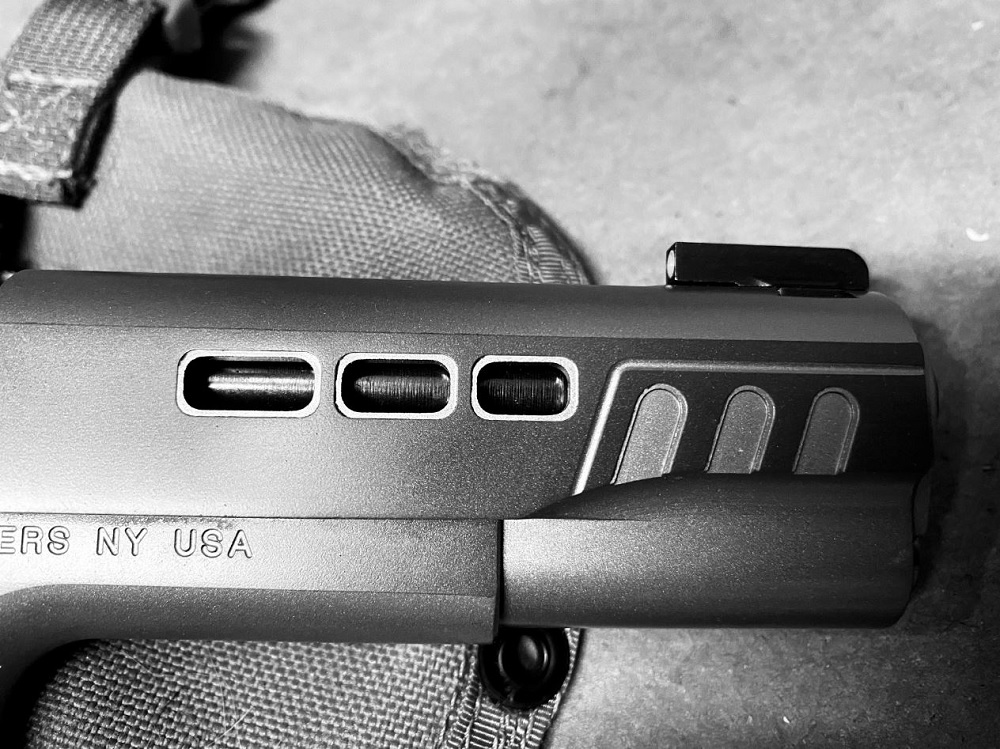 Five similarly spaced cocking serrations are also found on the rear. The top of the slide has a milled flat-top, which is common on modern 1911s, and a simple detail I appreciate.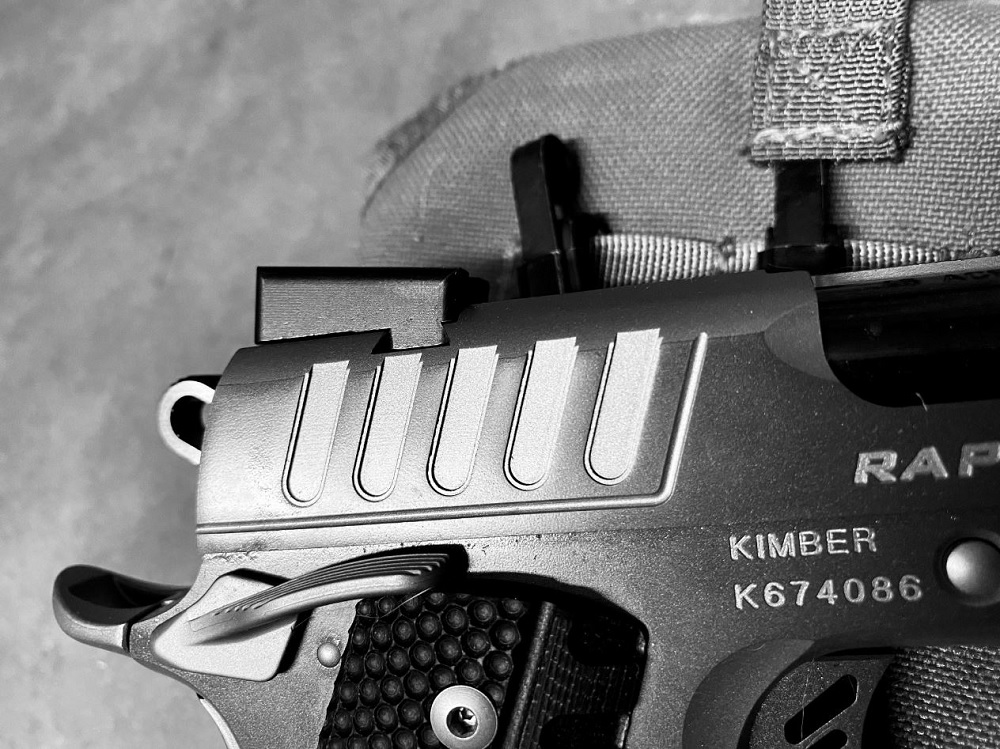 The Frame has a golf ball dimple front strap with about a ¼" recess towards the top of the grip, just below the junction of the trigger guard. The main spring housing is cut similar to the through cuts on the slide: three semi-rectangular cuts in line. The G10 grips have nearly identical cuts to the cocking serrations, golf ball, and slide through cuts.
In the Hand Assessment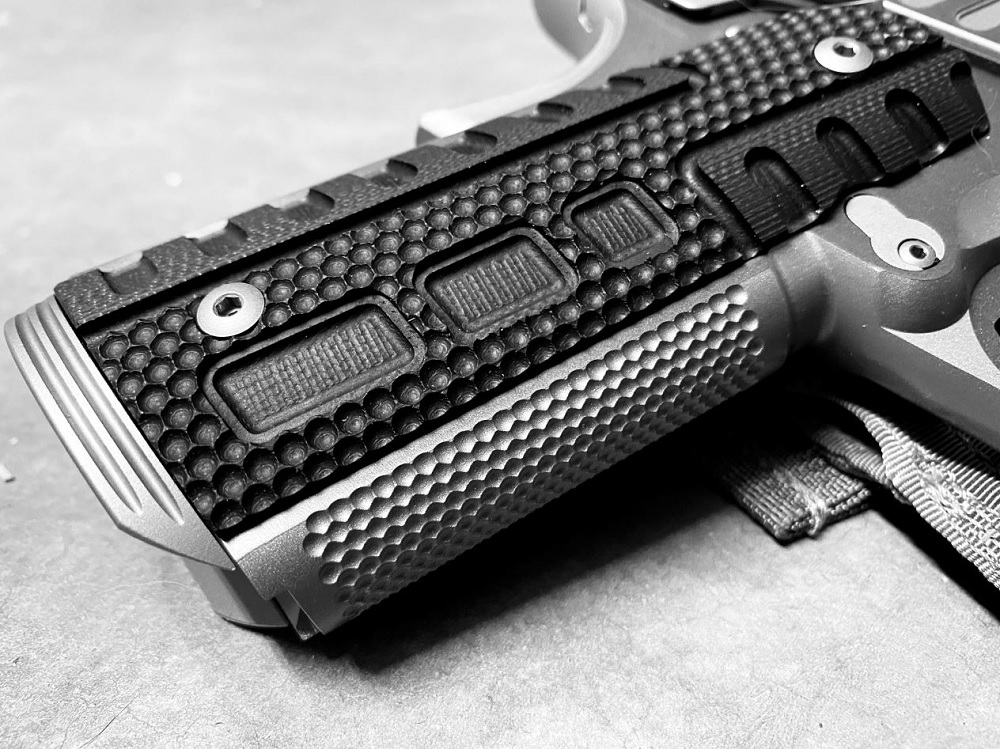 I really like golf ball dimples on the front strap of 1911s and was happy to see them included on the Rapide Black Ice. The main spring housing, however, left a bit to be desired. For all the variance in topography, I never felt incredibly secure. I would have preferred a matching front strap and main spring housing.
The high cut under the trigger guard is a very nice touch. It really allows the middle finger of my firing hand to securely seat itself as high as physically possible and remain there undisturbed through recoil and other disturbances.
There is a constant debate about the value of forward cocking serrations. I happen to be in favor of them. The cocking serrations – both front and back – are pretty shallow for how far apart they are. I found it difficult to get a comfortable placement on either the front or rear serrations and was gripping nearly as hard as I do on a smooth slide to rack the Rapide Black Ice.
The addition of an enhanced magazine well on the bottom of the frame gives a bit more surface area for my fat hand to grab. This is nice when holding the pistol, and rather beneficial while shooting, and even more helpful when reloading on the move.
Trigger
The trigger on the Rapide Black Ice is what you'd expect from a 1911: practically light, crisp, with a short reset. The trigger fits well in the frame with very minimal room for yaw or pitch. I'd say the trigger strikes a very good balance between practical pull weight of a defensive firearm, and "Hey Jim, check out how light this trigger is."
Sights
The sights are a hybrid night sight and fiber optic, making it again practical for a defensive pistol and range gun. I prefer a completely blacked out rear sight, but if I need to have something back there, I prefer it to be subdued, which it is on the Rapide Black Ice. With a bright front sight and subdued rear, I feel comfortable in and out of buildings in nearly all lighting conditions.
Conclusion
There is something for nearly everyone in the Rapide Black Ice. It boasts the performance and aesthetics commonly found on 1911s costing significantly more, but retails for about $1,400. That is a pretty good deal if you ask me. If you are in the market for a well-balanced 1911, you may want to consider giving the Kimber Rapide Black Ice a look.