The general waterfowl season is now just a faint happy memory and the spring snow goose season is underway. Spending close to 100 days this year scouting, hunting, and filming we have put all of our gear to the ultimate test. The Birdmen and film crew have narrowed down four products that made our hunts more enjoyable this season and we feel that every waterfowler should have for the upcoming season.

Webley & Scott
Every hunter needs a reliable, smooth-operating, and balanced shotgun. Webley & Scott has delivered just that with their model 900 over/under. The Birdmen crew has hunted in almost every situation imaginable over the last two years with our Webley & Scott shotguns and could not be more impressed. From the dusty grain fields of Alberta, greasy cattail mud of Nevada or the silt dust-infested pits of Washington State, Webley & Scott have proven themselves reliable in every situation.
Look for the new sizes in 28 gauge and .410 this year to be released at www.webleyandscott.com.

Spectra Shot
Spectra Shot is a Louisiana-based company owned and developed by a world class gentleman and an outdoorsman just like us. What do you get when you combine a passion for the outdoors, in-depth knowledge of cartridge development, and shells that are made in the U.S.? The best shotgun shell you have ever shot, hands down!
We have tested the new Spectra Shot from Canada to Texas, from teal to honkers, from five yards to 60 and have yet to be disappointed. The pellets are color-coated for positive bird identification and the coating keeps the pellets uniform on contact for unbelievable knockdown power. I have shot every major brand of waterfowl load on the market and a lot of it, but Spectra Shot is my new favorite.
Check them out at www.spectrashot.com.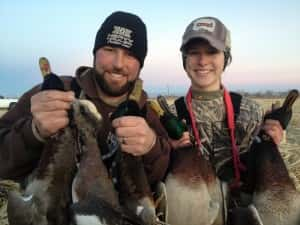 Heavy Hauler Outdoor Gear
Heavy Hauler Outdoor Gear is a company that simply made our hunts and time outdoors more enjoyable this season. One of our friends gave us a Heavy Hauler call lanyard that has neoprene across the neck section. Simple enough, but I had never used one.
When you are a hairy guy like me, all the other lanyards pulled neck hair, rubbed your neck and were generally uncomfortable. Wow, what a difference, a comfortable lanyard that is not only enjoyable to wear but well thought-out. The lanyard is designed with detachable double loops so you can adjust your calls according to personal comfort. For example, if I am hunting out of my layout blind, I can adjust the loops higher so my calls don't end up under my armpit.
There are a lot of knock offs out there, but Heavy Hauler is the original. Throughout the season we have been using their wonderfully designed decoy bag, game strap, and decoy rigging with the same results–easy and comfortable. Everything that Heavy Hauler makes comes from years of experience in the field from the owner that hunts as hard as we do. That is why Heavy Hauler Outdoor Gear is the best and that is why they made this list.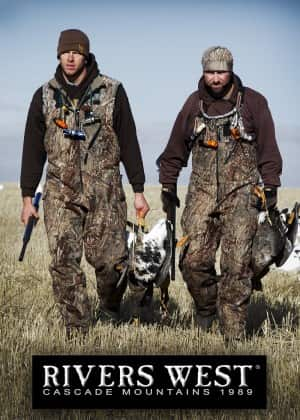 Rivers West
Everyone who spends time getting beat up by Mother Nature knows how important it is to stay warm and dry while outdoors. But how do you know what brand is legit? Every hunter has bought a cheaper "waterproof" jacket only to get in the middle of a downpour while chasing ducks and 20 minutes later finds themselves soaked to the bone.
We thought it was important to help our friends and fans out by adding Rivers West to this list of quality items. Throughout this season we battled rain in Alberta, snow in Nevada, and temperatures 10 below in Oregon. Our team and production crew were impressed by this apparel's performance in every condition we encountered this season. From hunting bibs, wader jackets, vests, and dog products to lightweight jackets, this company has it all and does it right.
Check out their full line of quality products at www.riverswest.com.
All of these products and more you can see being used and abused on air during The Birdmen television show airing on the Pursuit Channel Fridays at 10:30 AM and Saturdays at 4:00 PM EST.
Images courtesy Denis Isbister/The Birdmen
What's Your Reaction?