In order to have a face-to-face conversation with professional angler Clay Dyer, you might need to bend down. But trust me, you will be looking up to him in every other way. Born without legs or a left arm and with only a small stub protruding from his right shoulder, the Bassmaster pro will outfish all of us. Even if that means tying knots and baiting hooks with his tongue. Seriously, he'll do it better and faster and catch more fish.
And he couldn't be happier.
"I'm living the dream, following God's calling in my life to be a professional angler," shared Clay Dyer from his home in Alabama. "I have an incredible life. Doors opened for me with the best sponsors so I could be on tour and make my living this way. I'm incredibly blessed."
Sometimes I complain about how I can't see very well anymore and need cheater glasses all the time, especially for fishing. Then I meet Clay Dyer and cringe over my pettiness. Talk about putting a headache, a bad day or a little inconvenience like aging eyes in perspective.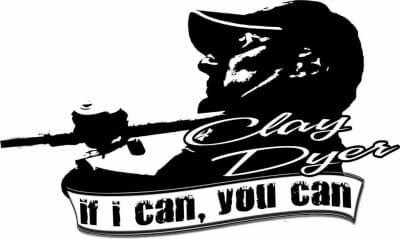 Clay is extremely competitive. Fishing the Bassmaster Central and Southern Opens this year, he has an eye on Angler of the Year and an invitation to fish the Elite Series—like any angler. A dream come true would be qualifying for the Bassmaster Classic for 2014, even if it is a leap considering this year's start for Clay. "When I think of the opportunity of the Classic coming to Lake Guntersville, my home lake next year, I realize I have got to kick it up a notch and finish strong. I still have two more events to fish in the Central Opens. I need some good finishes."
Clay may be on the bottom half of the roster for points at the moment, but don't let reality get in the way. Like the reality that a man with no arms and legs could fish professionally, and be one of the happiest, most content and inspiring people you could ever meet.
With two events this fall in Mississippi and Oklahoma, anything could happen. Dreaming big is something familiar to Clay Dyer. Maybe we can help with a boost of adrenaline for Clay by buying some of his new merchandise available at http://www.ClayDyer.net. There are t-shirts and wrist bands that boast "If Clay Can, I Can." I need some of that.
"I have the greatest fans in the world," shared Clay. "I know every angler says that, but I mean it. We all have dreams, but the support and encouragement from my fans makes me want to work hard and give 110 percent."
Seems more like 1,010 percent to me. Clay preps hard and devotes the time and effort to be ready. He also brings a positive attitude and message in and out of the boat. An inspirational speaker, Clay books over 45 engagements a year at corporate events or with church groups. Sometimes that's two to three a week during the fishing season.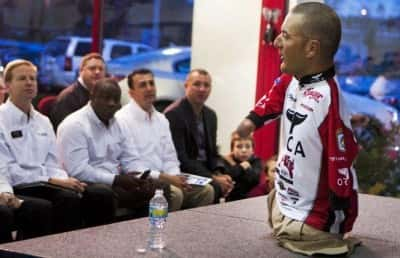 Proceeds from speaking engagements and merchandise sales, including Clay's book The View from Down Here is Just Fine and the support from sponsors allow Clay to do this work full-time. He also hosts fishing events for challenged youth at no charge.
"One of the ways people can help, honestly, is to consider my sponsors' products," shared Clay. "I am blessed with great sponsors." This list includes Orca Coolers, Ranger Boats, Mercury Motors, Strike King, Flambeau, and Lucas Oil. "Oh, and I really appreciate your prayers, too. They encourage me to work hard and not give up."
And maybe we can give one more boost to Clay (with our able bodied arms and legs, thank you). Print this article and drop off a copy at your local Chick Fil-A or Hobby Lobby store. Tell them there is a faith-based fisherman that just happens to have quite a story to tell about pushing through adversity. Let's see if we can help Clay score a non-endemic sponsorship from one of these two companies. Or maybe you know another company that would support Clay because of his on-fire message and attitude that fits with their company's goals to share their faith in the world while doing business. Clay may be the perfect fit as they look for an inspirational speaker at a future corporate event.
We've got your guy. And the view from Clay Dyer's world is just fine.
K.J. Houtman is the author of the award-winning Fish On Kids Books series, chapter books for eight- to 12-year-olds with adventures based around fishing, camping, and hunting. Her work is available at Amazon and local bookstores. Find out more at fishonkidsbooks.com.
Images courtesy Clay Dyer
What's Your Reaction?