At the southern tip of the Michigan island that lies at the mouth of the Detroit River where I grew up, Grosse Ile, there is a canal from Lake Erie that runs north and inland past the old Naval Air Station. The house where I grew up was on the west side of the canal, Frenchman's Creek, named for one of the original caretakers of the property in the area who lived in a hand-made cabin and was a commercial fisherman. On the east side of the creek lies Round Island, which was a duck hunting club that my father and William Stadler started.
The Round Island Hunting Club had about 50 members. It was as much a social group as hunting club, and beside the clubhouse there was a shed where the decoys were kept. One of my first jobs as teenager was to take a boat, run down to the clubhouse, pick up any trash left by members over the weekend, and check to see that no one had broken in.
My father introduced me to duck hunting when I was five or six and I was hooked the first day, so the clubhouse and the decoys were a magical attraction to me. One day, when I checked on the clubhouse, I found an old wooden decoy body with its head broken off laying in the trash. This headless decoy did not get thrown away. I took that very smooth, almost artistically carved wooden body back home, found a piece of 2×4, drew on the 2×4 what I thought a duck head would look like, and cut it out with a jigsaw. A little sanding and painting and some glue, and the decoy was whole again and I had my first duck decoy: a hen pintail.
Over 50 years later I still have that decoy. I have never tried to do any more sanding on the head, the glue that I used still bulges out a little where the head connects to the body, and the glass eyes have long since been broken off. It was the first of several hundred wooden decoys that I made to have a big spread to hunt diving ducks from a sneak boat on Lake Erie. In those days, 100 or more decoys was the norm, and they were all wooden.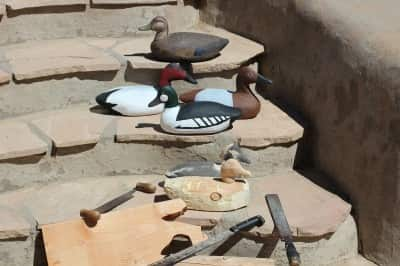 Those decoys cost next to nothing, except for glass eyes, flat paint, and maybe some decoy anchor line. The bodies were carved from seasoned white cedar–old telephone poles that were blown down in winter ice storms. The heads were made from scrap 2x4s that I picked up around building sites. Some of the decoys were hollow body, others were full. I experimented with species and patterns.
The anchors were made from scrap lead from the auto factories. The lead was melted down in a ladle on a Coleman stove. You punched a depression in the ground with a sledge hammer to create a mold. Then you poured the molten lead into the hole and quickly popped a piece of u-shaped bent coat hangar into the molten lead. Presto, perfect decoy anchor.
Anchor lines could be bought, although if you looked around homes being constructed, often you would find string that carpenters used to create the guidelines for the foundation. Dab some dark paint on the string, and it disappeared in the water.
Today where I live in California boat hunting for waterfowl is almost unheard of. Transporting a load of wooden duck decoys half a mile or more on foot out into flooded marshes or rice fields is much more difficult. You can slip a few into a backpack, but generally your decoys travel in a cart with a detachable small boat or sled. You push or pull the cart out into the marsh. Then you detach and launch the boat loaded with decoys and blind materials, and pull it behind you as you wade out into the blind.
In the nearly three decades that I hunted in California, I have never seen anyone else use wooden decoys, not even one of them. Except myself.
Yes, I confess that I own three dozen or so plastic and rubber duck decoys, a dozen floating plastic geese decoys, and a couple hundred snow, speck, and Canada shells and rags, but these are store-bought or given to me to test by manufacturers. They are much lighter than my wood decoys and I use them, but in terms of spirit, those new plastic and fiberglass decoys can't hold a candle to the hand-carved wooden ones.
My first decoy from Michigan always goes along with me. It's the first to go out when I lay out the spread. I believe the original body is a Mason decoy, made in the Detroit area almost a century ago.
Yes, I sometimes hunt with people who use motor-driven spinning wing decoys, but I can't get excited about them, even if they do draw waterfowl attention. Sorry Cabela's. I like the tradition more.

If at all possible, I always bring along at least a half-dozen of the old-fashioned wooden decoys. At least a couple are golden-eyes, or "whistlers" as we used to call them. The white colors help flying ducks spot the decoys in the rice stubble, and my bag at the end of the day is usually as good as those with the all modern technology.
When I moved to California in the early '80s, I began looking for wooden decoys that people made out here. I found a few, but these had become art objects and door stops. I did find one original that I liked–a Canada goose shell decoy made from an orange crate.
My first decoy from Michigan is a treasure but I have another with even more spirit. This was given a few years ago in Manitoba. After I finished giving a lecture to the Manitoba Lodges and Outfitters Association (MLOA) meeting in Winnipeg, the MLOA folks presented me with a piece of weathered old log. At first I thought that it was a joke, and then it was explained that this was a Cree Indian goose decoy from Hudson's Bay. It was at least one hundred years old. Suddenly I saw that they were giving me a magic amulet.
Long before plastic, fiberglass, balsa, cork, and rubber decoys, the Crees would look for downed spruce trees whose trunks were about a foot in diameter. They would use an ax to cut the trunk into sections about 16-18 inches long. They split the sections in half and removed the bark. Then a little would be chopped off the bottom of the front and more off the end of the block to make it look like a resting goose body.
The wooden block would sit for at least six months in the sun and rain–a year was better. When the decoy body had turned weathered gray, the blocks would be carried out into the tidal marshes and laid out in a pattern like a flock of feeding geese.
The heads were made from ax-handle size fresh willow branches with a fork. To get the black color on the head and neck, you suspend the branch over a fire for awhile. To get the white cheek patch, then you cut a section of bark from the willow branch, exposing the light sap wood. Finally, plant those stakes in the ground at the front edge of the block and from a few yards away, they come to life.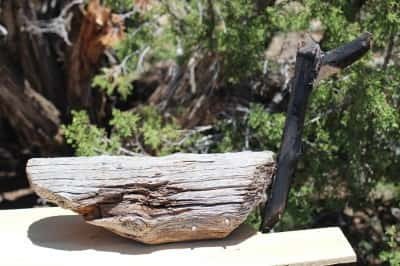 I have never hunted over this decoy, but it sits proudly in my office watching over me as I write, reminding me that the past is always with us, watching what we do to carry on the heritage of the hunt.
If you get an inkling that you might want to try your hand at making some good old-fashioned wooden duck decoys, cedar, basswood, and redwood fence posts work just fine for bodies. If they are too small, you may have to glue two sections together. A band saw gives you the most precise shape, but an ax, a draw knife and some chisels will get you to the same place.
As I've said, old cedar utility poles make fabulous decoy bodies. Fifty years ago the utility companies only used creosote on the part of the poles below ground. Check this out if you go looking for windfall telephone poles. You don't want to mess with creosote-soaked wood. In some areas the power companies are more than happy to give old poles away to people.
You can buy glass eyes online from a number of places. I've had good luck getting them from Van Dyke's.
I was introduced to carving duck decoys by two gentlemen in Michigan who had been market hunters when they were young. My first decoys were heavily based on their patterns. Since moving to California, I ran across a book that is an excellent resource for anyone wanting to learn to carve functional (as opposed to ornamental) wooden duck decoys, Carving Duck Decoys With Full-Size Templates for Hollow Construction by Harry V. Shourds and Anthony Hillman. The book contains 16 patterns of species–mallard, golden-eye, teal, pintail, wigeon, etc., both male and female–and instructions for carving decoys in the classic two-piece hollow body construction method that makes them lighter and bounce more lightly when they ride the waves.
Preserving the heritage of hunting is very important, but please remember that "heritage" is not just bagging some critters. It also includes preserving all the associated arts, crafts, and traditions.
Images by James Swan
What's Your Reaction?