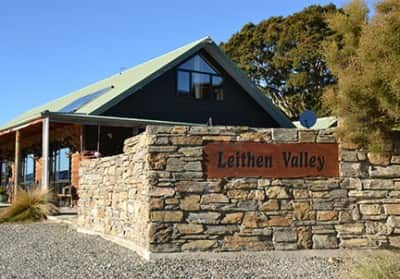 Author's note: Pat Reeve and Nicole Jones' TV show, Driven with Pat and Nicole, airs on the Outdoor Channel Tuesday nights at 8:00 p.m. and Friday nights at 10:00 p.m. EST. For the last three years in a row this husband and wife duo has won a Golden Moose Award for excellence in TV production from the Outdoor Channel. 
Our hunt began on the south island of New Zealand with Rachel Burke of Leithen Valley Outfitters. We had hunted in Australia with Rachel's brother George, and her family has been hunting and guiding for many years. Rachel and her husband Olly run the New Zealand outfit for the family. Neither Nicole nor I had hunted red stag before, but we had hunted elk, and elk and stag are somewhat similar. Some friends went with us and the plan was for Nicole to hunt and take her stag first while I filmed. Then I would try and take a stag later on, since were hunting in the post-roar, which is the breeding time for stags. Each morning we got up, climbed to the top of a ridge, and glassed for stags on the opposite mountain. If we spotted one we went down the mountain, walked across the valley, climbed the neighboring mountain, and hoped to get a shot.
The hunt was scheduled to last for two weeks. We had been bowhunting, wearing our Mossy Oak camouflage, because Nicole wanted to take her stag with a bow, and while we'd had plenty of encounters Nicole hadn't gotten close enough to release an arrow during the first nine days of our hunt. We had gone to New Zealand to do a TV show so we needed to take a stag, so I told Nicole, "Let's put the bow down, and take the Thompson/Center rifle with us. We have to get a stag."
Our plan had been to take two stags and then leave that camp and go several hours away to hunt for tahr, a type of mountain goat. Since we had already spent nine days trying to take a stag I felt pretty sure that we would not be able to hunt the tahr as well. Our friends with us on the hunt each had harvested a stag but Nicole and I had harvested nothing. At one point Nicole had a really big bull within bow range and was at full draw, but I did not think I had enough live footage of the animal to make a TV show. The stag had only come in quickly, stopped and looked back at us. When we got back to the lodge and looked at the footage however, we saw that I actually did have enough footage and that Nicole could have taken the shot for a good TV show. I was not very popular with Nicole that day.
I finally convinced Nicole to leave her bow in camp and take the T/C Venture break-open rifle with a .270 barrel. At one point during the bowhunt we'd had a really big stag in close but not close enough for a bow shot, and I told Nicole we needed to go after that stag again with the rifle. The next day, the tenth day of the hunt, we found this big stag bedded down on the side of the mountain with two other stags. The hunt was in the afternoon so we waited and hoped the stag would get up to feed. Suddenly I spotted movement and saw the big stag running toward us, and when he stopped for a split second Nicole took the shot. As the stag turned to run off he took a big leap and cleared an eight-foot bush and almost landed on a rabbit that came running out. The stag went down. He scored about 380 on Pope & Young.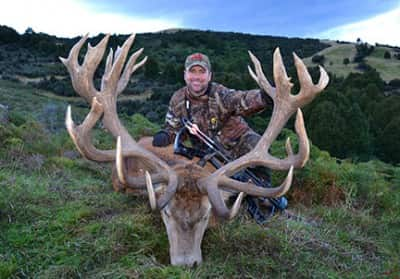 Now it was my turn to hunt, and I thought, "If I can take a stag, we'll still have two or three days to go to the other camp and hunt for tahr." Like Nicole, I was determined to shoot my stag with a bow, specifically my Mathews Monster bow. During the morning of the tenth day we had a few encounters but just could not get a stag close enough to take with a bow. About noon we spotted the stag that Nicole had wanted to shoot with her bow when I had called her off because I thought I did not have enough live footage. This stag was bedded by himself and easy to identify since his brow tines looked like an old manual can opener with hooks coming off of them.
I left Nicole sitting on the ridge where we'd spotted him so she could film me as I tried to stalk the stag. We had planned to walk down the valley, walk around the mountain, climb up the other side and have the stag below me at about 30 yards, but once we reached the top of the mountain I could not see the stag. I looked back at Nicole who was trying to give me all kinds of hand signals to let me know where the stag was. I kept looking at her with my Nikon binoculars and trying to read her lips but I just could not understand what she was trying to tell me.
I went up on top and started moving down the ridge when I finally spotted the stag in a gulley, headed down again. As I got closer to the stag he jumped up for some reason and I immediately went to full draw. The stag was at about 25 or 30 yards and I quickly settled my pin sight behind his front shoulder and released the arrow. Just as I shot, the stag reacted to the sound of the bow,  took a step forward, and my arrow hit a little farther back than I had intended. After he took the arrow the stag ran across the hill and out of sight. I saw the blood coming out of his side and assumed I had hit an artery. After the shot Nicole and I started trailing the stag, and when we found him at last I took a second shot. The stag scored more than 400 inches, and I could not believe that we had taken two stags in two days–one with a rifle and one with a bow. We went to bed that night and were headed for tahr camp early the next morning.
Image courtesy John E. Phillips
What's Your Reaction?