In just a few short years, trail cameras have gone from being the new thing on the market to being one of the more essential pieces of gear in a hunter's arsenal. And like anything else related to technology, trail cameras' features have improved while their prices have come down. It can be difficult to understand the differences between various units and what sets them apart, so I've put together this article to help camera-buyers out.
Features
There are key features to trail cameras that determine each unit's cost. You need to decide your budget and compare that to what you expect the camera to do.
Flash
Many of the cameras available today use power LED bulbs for flash to take nighttime pictures. There are still a few cameras using the older bulb-style flash, but not many. LEDs offer a good, clear flash for taking images. Higher-end cameras offer black LEDs and infrared image capture. It still looks the same, but there is no visible flash to spook game. Standard LEDs are quite visible and you'll know your camera's flash has been spotted when you check images later and see several pictures of deer sniffing your camera in the night.
Megapixels
Megapixels, or MPs, refer to the clarity of the image the digital camera takes. The higher the MPs, the clearer the image. Many cameras offer the choice to select how high of a resolution you want for captured images. They do this for those of us who leave a camera out a long time before checking it. The higher the resolution and MPs, the more memory a picture from a camera uses.
Video
Another feature of the higher-end cameras is the ability to record video, and some offer high-definition video capability. You can select options for how long you want the camera to take video for on many cameras
Burst mode
Sometimes you want more than one image of a deer to get an idea of what it's doing. That is where burst mode comes in to play. It has other names, depending on the brand, but the basic idea is that it takes multiple images over the course of a few seconds to give you some more angles to judge the deer by.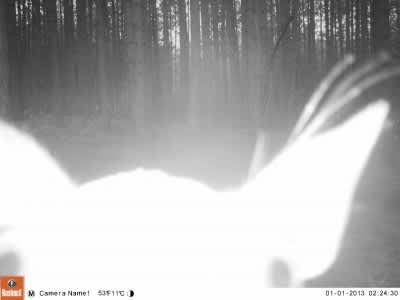 Trigger time
No, I'm not talking about shooting the deer. That comes later. Trigger time refers to the speed at which the motion sensor trips the shutter of the camera. For most modern cameras, the trigger time is less than a second.
Time lapse
Remember those cool films they showed in science class of the rose wilting and dying? Well, that's an example of time-lapse imagery. With trail cameras, time lapse refers to a mode where the camera is set to take images with nothing setting off the trigger. The camera takes an image at a set rate. This is a great tool for scanning open fields.
Brand recognition
There's a lot of other features, but those listed above are the main ones people look at when choosing between cameras. Let's look at a few that span the range of what's available, taking into account a wide range of cameras from one company and a new camera on the scene with a brand name we all recognize.
Browning Recon Force
With the Buckmark logo and the Browning name behind the camera, it has to be good, right? The Browning cameras are some of the newest on the market and I was chomping at the bit to see if the cameras lived up to the name. I wasn't disappointed.
Its stats are as follows:
Eight MPs
HD video capability with sound (five-second to two-minute length)
Infrared LED illumination at night with a 65-plus-foot flash range
Time-lapse camera mode
Less than one second trigger time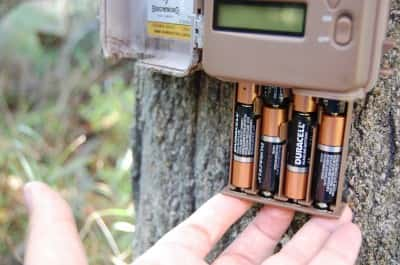 Its pictures display time, date, temperature, moon phase, and the camera's ID.
Some of the cool features of the Browning are the camo finish, which actually blends in well with tree bark and a battery tray that slides in and out from a battery compartment to hold the eight AA batteries. The strap is also pretty slick, as it lets you cinch it down pretty tight. The buckle is metal so it doesn't break. It takes pretty good photos, although I did notice a few more blurred images with the nighttime photos than on some other cameras. Still, the information the camera gives on the images, the ease of use and the nice, user-friendly features make the Recon a worthy choice. At around $160, it's worth a look. I know I'd use one!
Bushnell family
Bushnell has one of the widest varieties of cameras available through their Simmons, Primos, and Bushnell brands.
On the lower end of the Bushnell line, the Simmons cameras offer very simplistic features and low cost. My test unit had a five-megapixel camera with a 30-foot sensor range and 40-foot flash range with LED bulbs. The camera runs off four AA batteries and battery life is around six months or so. The best part of the Simmons is the price, coming in around $80.
I set my mother-in-law, Trevena, up with a Simmons camera near where she deer hunts. She is having so much fun looking at the deer and creating her hit list. That alone was worth the money!
The Primos Truth Cam 46 Ultra is one of the simplest cameras to use. All of the settings are modified by sliding switches and there is no second guessing what your settings are. It takes seven-MP pictures, video, and is time-lapse capable. The nicest feature I found on the Primos camera compared to others, besides the ease of set-up, is the sensor, which has a full 45-degree range to capture critters running around. It has a fast trigger and took great images. At just a hair over $200, it's worth the money of you want an ultra-simple camera to use with all the features of more complicated models. I had one set under an apple tree and found all kinds of deer I didn't even know were coming onto the property.

I am also very familiar with the Bushnell Trophycam line. I've been using and abusing them for years and have never once been let down. The newest test unit has eight-MP high-quality, full-color resolution with HD video capability. It also has a day/night auto sensor. The range of the sensor is adjustable to use either low, medium, high, or auto mode. The camera also boasts an impressive 0.6-second trigger speed with a programmable trigger interval of one second to 60 minutes.
The images can also show a temperature range of -5° F to 140° F. The sensor is motion-activated out to 60 feet. The weatherproof camera also runs up to one year on one set of AA batteries. These cameras sell for around $300. Check your local retailer, though, as they can be found for less. The Achilles' heel of the Bushnell Trophycam is the battery placement. They will last up to a year on one set of batteries, but if you're not careful when moving the camera, the batteries can come loose. I've knocked them loose on more than one occasion. Once the camera is set, it's not a problem, but if you move it, make sure the batteries are set.
Bushnell offers a lot of different models of their cameras too, so you have tones of choices. I am a huge fan of the Trophycams. There are black LED models with color viewers for going through the pictures in the field and many more.
Just scratching the surface
Obviously there are a ton of trail cameras out there. I'm not even coming close to covering all of them. I can't. There are just too many out there. But that is a great thing because it gives you choices.
The most important to keep in mind when looking at trail cameras is balancing your budget with must-have features. Now set a price point, pick your camera, and start checking out your own neck of the woods. You never know, you might find Bigfoot.
Images by Derrek Sigler
What's Your Reaction?