Last week, I had the fortune to compete in and cover the shooting community's coolest adventure—the Crimson Trace Midnight 3 Gun Invitational (M3GI). As the name implies, this is a full-blown outdoor 3-gun match.
The third annual event was held at the Central Oregon Shooting Sports Association (COSSA) shooting range located in the high desert about 7,394 nautical miles outside of Bend, Oregon. The remote location and match schedule ensures several things: it will be dark, as in black-hole dark, your equipment will have to perform in exceptionally dusty and dirty conditions (drop a magazine in the dirt here and it will sound like nails on a chalkboard for the rest of the match), and you will not sleep for several days.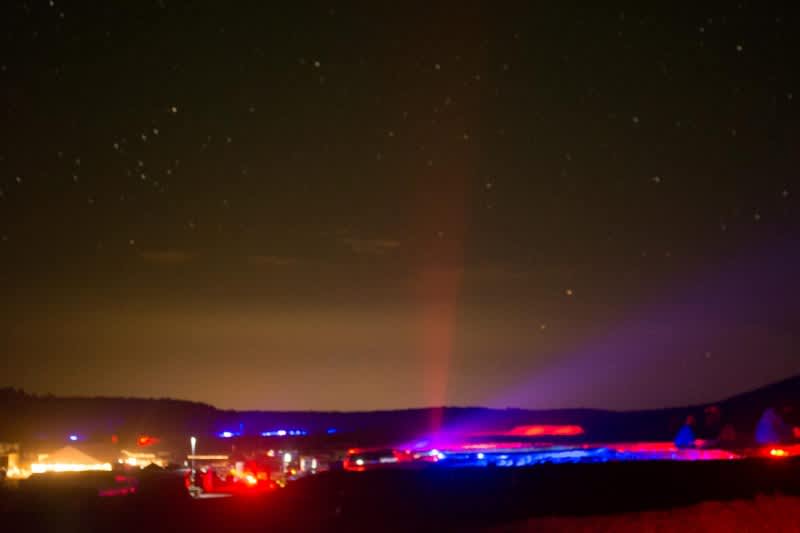 1. Sleep
More accurately, lack of sleep defines this event. Shooting begins around 9 p.m. and continues until four or five in the morning. The first night of competition, I rolled back into my hotel room after sunrise exhilarated—but tired. Lest you think you can catch up during the day, busses leave for the range before lunch for training, safety briefings, and sponsor range demonstrations. Next week, I'll get into some really neat new products demonstrated at the range event.
2. Safety
As safety is the number-one concern, range officers are more plentiful than fake IDs at a Justin Bieber concert. As all of the range officers are avid 3-gunners themselves, there is a full match for them the two nights prior to the pro match Friday and Saturday nights. We media weasels squad up with the range officers and shoot the full match with them Wednesday and Thursday nights. This is a great win-win solution. We media hacks don't have to shoot with the pros and face total humiliation, the range officers shoot the full match, and we all work the bugs out before the pros start Friday night. As you'll see from the photos, every person on the range wears glow sticks front and back for absolute visibility. A big hat's off to the professionalism and dedication of all the range staff. They preserved the perfect safety record while adding plenty of fun.

3. My Sig Sauer P226 Elite SAO
I wrote about this gun prior to the match. Hard use in the dusty match conditions confirmed my early opinions. Dumping mags in dust all week got the gun plenty dirty, but it ran like a champ. The best part was comfort of high-volume shooting. I used American Eagle 147-grain 9x19mm ammo that clocks in around 950 feet per second. The recoil impulse was light and smooth—perfect for high-speed competitive shooting.
4. Live entertainment
During the awards ceremony, Crimson Trace founder Lew "Joe Cocker" Danielson stopped mid-speech, ran to his truck to retrieve his guitar, and broke into a rousing rendition of "Leaving On A Jet Plane." As a special tribute to the ladies' present, he followed with an acapella encore performance of "You Are So Beautiful." Lew ascribed the lack of guitar accompaniment to the fact that the song requires seven chords, and he only knew four so far. An inspiring moment from one of the industry's finest individuals. It was epic.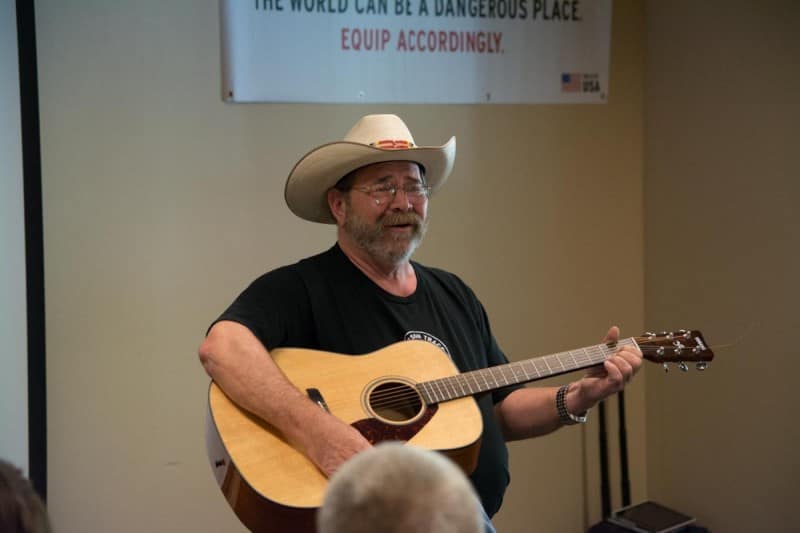 5. Space
The remote high desert location is fantastic for star gazing. In fact, Saturday night a little after 10 p.m., we noticed the ISS cruising across the night sky. It zoomed right in front of the Milky Way. Yep, you can see that clearly from the COSSA range.

6. The Beretta 1301 Tactical shotgun
I made the decision to treat this match as a nighttime practice opportunity, so I didn't "gameify" my guns to optimize them just for competitive use. I wanted to use normal configurations that I would use for personal and home defense. OutdoorHub editor Matt Korovesis, Shooting Sports Retailer editor Christian Lowe, and I all shared the shotgun, so it got quite a workout. Equipped with a Crimson Trace Rail Master Pro combination light and laser, it ran like a top. The laser was surprisingly effective on shotgun targets—we even used it to blast aerial clay targets. Yes, tracking airborne targets with a "shotgun lightsaber" was pretty darn cool.
7. Incredible people
One of the best parts of M3GI is spending a week with folks who will literally give you the gun off their back. UPS redirected my entire ammo supply to who-knows-where while it was en route, so I was faced with developing a hand-to-hand combat strategy to take on the targets. Fortunately, people were jumping out of their shoes to lend me ammo, so it all worked out. Tired as we all were, the time spent together on bus rides to and from the range was entertaining and a bit raucous. One of the main reasons I'm in this business is because of the quality of gun folks. If the Bloomberg folks would only meet some of them…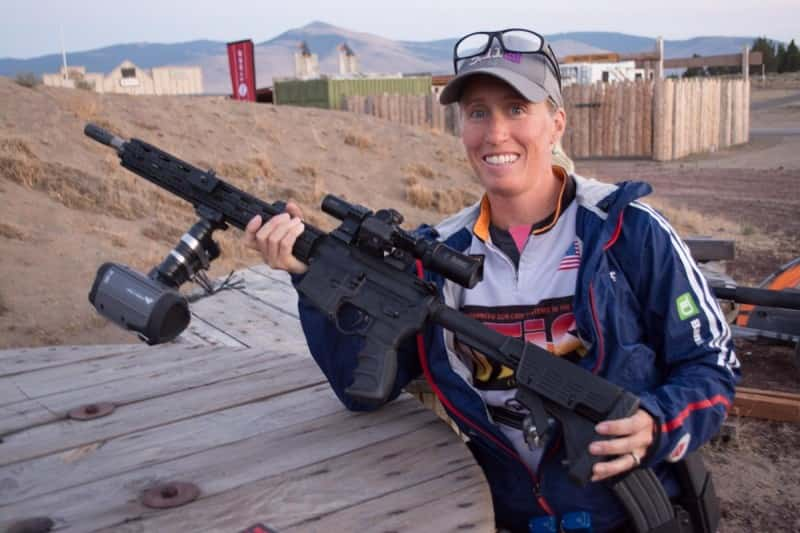 8. Machine gunning from a moving ATV, in the dark
Way out past the other stages, where conditions were even darker, the Crimson Trace folks set up large steel plate targets far out into the desert scrub. The shooter rides shotgun and fires a mounted M249 SAW belt-fed machine gun as the ATV barrels down the bumpy dirt path. Umm, yeah!
9. My Smith & Wesson M&P15 OR
Prior to the match, I outfitted this rifle with three things to help me navigate the wide variety of targets in the course. I used a Crimson Trace MVF-515 vertical grip with squeeze-activated light and laser for closer targets. This turned out to be an exceptionally fast solution, especially when transitioning from one target to the next—just follow the bright green beam. I added an Aimpoint PRO to the top rail for more distant targets. I love this unit—it's the best value you can find in top-quality red dots. It's built like a tank and designed to be left on all the time, so there is no fumbling for switches when you go to use it. For this match, I tried a new piece of gear. The Aimpoint 3X magnifier mounts behind the Aimpoint PRO, or any other red dot of similar height, and increases your sight picture at distance without any change to your zero. A quick-detach swivel mount allows you to pop the magnifier off when not needed. You can even use it as a handheld monocular. Longer targets get a lot smaller in the dark, so this was a handy piece of gear.
While not a great move for a serious competitor, I had less chance of winning this match than Dipsy the Teletubby so I didn't clean my Smith & Wesson M&P15 OR prior to leaving, or during the match. In fact, I've never cleaned this one. I customized it at a BLACKHAWK! event, shot the heck out of it, used it at home for a couple of months, then brought it to Bend. Match conditions ensured that every gear and shooter were covered in fine dust, but it didn't matter. The rifle, using Magpul PMAG Gen 3s, ran like a champ.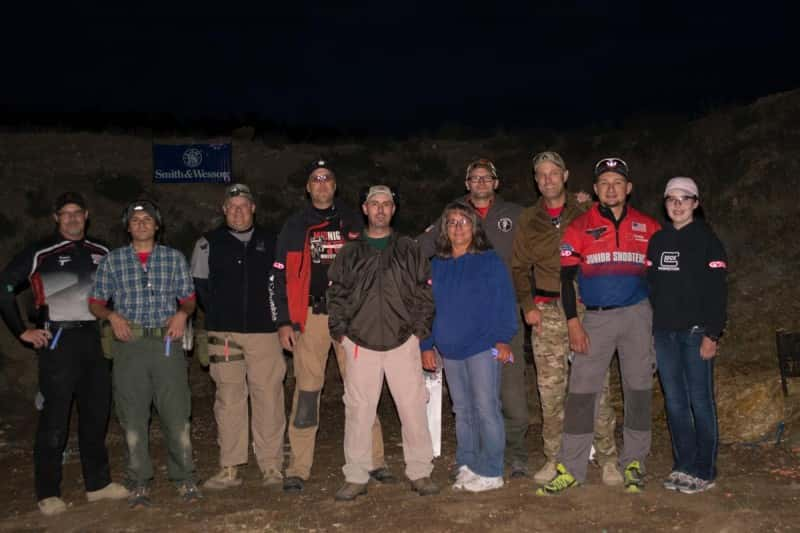 10. It attracts the professionals
Like politicians to a camera, top shooters gravitate to the Midnight 3 Gun Invitational. Lots of big name shooters were in attendance including the "first family of shooting"—the Miculeks, Top Shot champ Chris Cheng, Olympic biathletes Tracy and Lanny Barnes, the Army Marksmanship Unit (AMU) 3-Gun team, and many, many more. If you're wondering who won, it wasn't me. For the third year in a row, speed demon Daniel Horner took the $10,000 top prize. He and his three teammates from the AMU filled out four of the top five places. Your Army service members have some mad shooting skills. Lena Miculek took the top lady prize and Brian Nelson claimed top junior honors.
The fact that this is my second Midnight 3 Gun Invitation meant nothing. I was every bit in awe (and just plain bliss) as the first time around. Knowing the ropes, I did improve my showing, so that was good. Most importantly, I ran some of my "regular" concealed carry and home-defense gear through two nights of challenging use in the dark. Not only did the equipment serve me well, I learned a lot about shooting in the dark. It's hard to beat the accurate speed that lasers give you when moving and shooting, with a little stress, in a low-light situation. Three-time (and only) champion of this event, Daniel Horner came to the very first match three years ago prepared to make use of Crimson Trace gear. Why? According to him, and he obviously knows what he's doing, it's just faster. A lot faster. In my own somewhat slower parallel universe, I came to the same conclusion.
Tom McHale is the author of the Insanely Practical Guides book series that guides new and experienced shooters alike in a fun, approachable, and practical way. His books are available in print and eBook format on Amazon.
Images by Tom McHale
What's Your Reaction?