November can be a weird month for Michigan anglers. It can be plenty cold, and in some cases cold enough to freeze over the inland lakes. But that early ice won't be anywhere close enough to walk on. The salmon runs are over, and the weather can be downright horrible, making it dangerous to go out on the bigger lakes. Then there is deer season. Some anglers put their rods away come November, but that's a huge mistake.
November has amazing steelhead fishing, as the first strong runs of winter fish come into the river to fatten up on salmon eggs. There are also stupendous opportunities to catch absolute hawg brown trout too, mostly for the same reason. Rivers and open waters that are safe to fish also hold some hungry walleyes. It's not uncommon to run into some great perch fishing, too. The month known for deer hunting, Thanksgiving dinner, and combat shopping is also a great time to fish. It's just hard to make the time.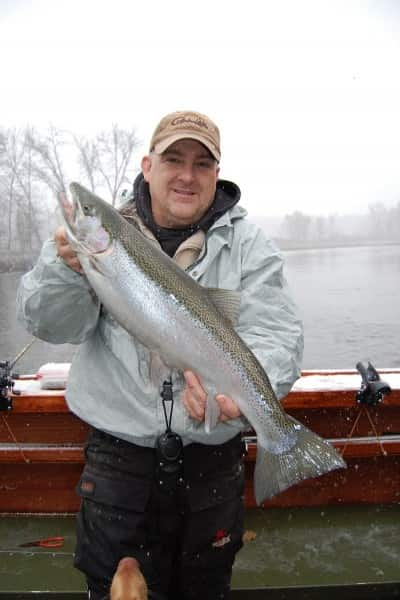 Hi, I'm Derrek and I'm a fish-a-holic
As a kid in high school, I had it pretty good when it came to fishing. I lived in Manistee County and was within walking distance of Tippy Dam. I spent so many days down along the river banks chasing everything from walleyes and panfish to steelhead and salmon. During November, I would occasionally skip school to chase steelies during the couple of weeks leading up to deer season. It grew to be kind of an addiction.
A few years later when I was in college in Michigan's glorious Upper Peninsula, I lived right on the St. Mary's River. Those fall runs of fish kept my attention often and skipping classes to feed my fishing problem wasn't exactly uncommon. Can you really call it a problem? My advisor used that term when he asked why I had missed so many of his classes. Hey, it's not my fault that even the chance of having a steelhead or walleye on the end of my line was way more exciting than sitting through yet another lecture. I learned quickly in college to schedule my classes around hunting and fishing season. By my senior year, I only had to skip a math class, and why not bail on math? It was a statistics class and the odds of me coming to class directly hinged on whether there were fish running.
Jump ahead to my post-graduation, professional life. Steelhead fishing is a passion of mine, and now that I've got friends who fish the Manistee River from a heated boat during the fall months, it's hard to always work as scheduled when an offer to go arises.
So what should you do?
Well go fishing, of course! Late November and December are great months to catch steelhead on the Manistee, Muskegon, and Pere Marquette rivers. Fish the Pere Marquette at night for huge brown trout. Head to the urban river systems for some spectacular walleye and perch fishing this time of year, too. Besides being great fishing, if you go during deer season, there is bound to be less traffic from other anglers. It can also be a great escape for those who tag out on a Michigan deer on opening weekend.
Me? Well, I'll be chasing whitetails around some. Might go after a last chance a few Great Lake State ducks and geese if the mood strikes me. One thing is for sure—I'll be on the river trying to catch a bright, shiny steelhead. Just don't tell my boss. I've got a fever, and the only cure is more Michigan fishing.

For more information on Michigan fishing go to michigan.org. Click here to purchase a Michigan fishing license online.
This article was produced in partnership with Pure Michigan.
What's Your Reaction?