When a Roosevelt family member made an appointment to bring in a handgun for the NRA Museum a few decades ago, the museum director gladly accepted. The new donation arrived with provenance indicating that the little FN M1900 chambered in .32 ACP was the very semiautomatic pistol Theodore Roosevelt kept in his bedstand while President. Many of Teddy Roosevelt's firearms and outdoor-related artifacts are on display in both the NRA National Firearms Museum in Fairfax, Virginia and the NRA National Sporting Arms Museum at Bass Pro Shops in Springfield, Missouri.
Enjoy a look at three pieces from an impressive firearms collection owned by a man who made an indelible mark on history as the 26th President of the United States, a Nobel Peace Prize winner, and a recipient of the Congressional Medal of Honor—to name a few of his accomplishments.
FN M1900

The beautiful and expert scrollwork on the Fabrique Nationale noted above bears pearl grips and gold inlay. Introduced in 1900, this firearm is a terrific example of a first-generation, auto-loading pistol designed by firearms genius John Moses Browning. FN boasted that this little pocket pistol was easier to control, as its bore sat lower in a shooter's hands.
Smith & Wesson New Model Number 3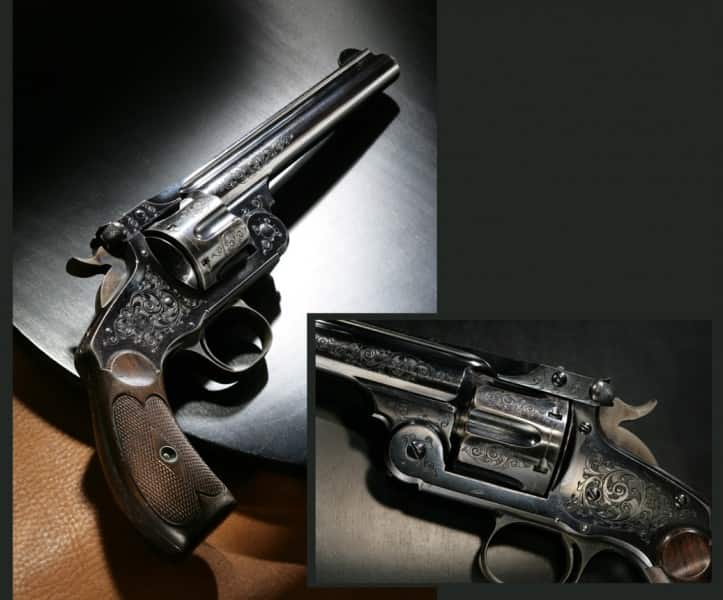 The NRA National Sporting Clays Museum at Bass Pro Shops in Springfield, Missouri features a Theodore Roosevelt Conservation Gallery with a number of Teddy-related firearms. One of these is Roosevelt's Smith & Wesson revolver, a New Model Number 3.
Roosevelt left the office of Under Secretary of the Navy in 1898, serving under then-President William McKinley, to lead an all-volunteer cavalry formation. The band of hard-riding soldiers became the famous Rough Riders of the Spanish-American War. On the day Roosevelt left for San Antonio, he received a New Model Number 3. But Teddy's wheelgun was unique.
Roosevelt's top-break, single-action wheelgun was not chambered in the usual .44 Russian caliber. Roosevelt's New Model Number 3 was chambered in .38 to match the standard military-issue ammunition of the time (makes sense if you're heading off to lead a US Army Cavalry unit).
Roosevelt's revolver also had a sturdier fixed combat target sight to accompany the rough-and-tumble lifestyle of a horse-mounted soldier. Because it came from S&W intended for a man of great stature, it left the factory with heirloom-quality engraving. The scrollwork, most likely performed by Gustave Young, is exquisite.
While the New Model Number 3 was in Roosevelt's hands as he left New York for San Antonio, a gift of a Colt .38 service revolver salvaged from the sunken battleship Maine found its way to TR's heart and holster instead. He carried the Colt, not the S&W, up San Juan Hill in the Spanish-American War.
.450 double rifle made by Frederick Adolph

Later, while seated as Governor of New York, friends and foes alike encouraged Roosevelt to take the open position of Vice President in McKinley's administration. His foes wanted him out of New York and preferred shipping him off to Washington, DC. With McKinley's assassination in 1901, Roosevelt found himself in the Oval Office and remained there until 1909 accomplishing big political feats—including the Panama Canal treaty and establishing numerous National Parks.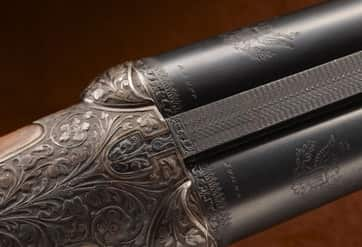 When asked what he would do with new free time after leaving the presidency, Roosevelt replied, "Go hunting." And he did, for an entire year on an African safari with his son, Kermit, during which Teddy killed and donated over 4,000 animals to the Smithsonian. Upon their return from safari, a gift of a double rifle, made by Frederick Adolph of Germany, was presented to Roosevelt complete with incredible scrollwork engraving, including the seal of the United States of America on both barrel actions. He gave the double rifle as a gift to a hunting guide in the Southwest United States, who later donated it to the NRA. Teddy Roosevelt was a life member of the NRA.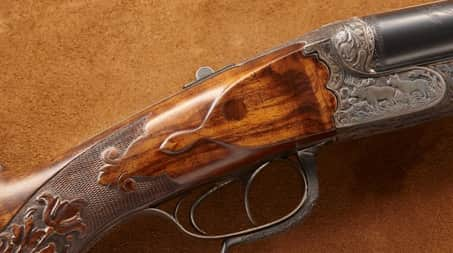 Love him or hate his politics, Teddy Roosevelt held strong views on the role of the federal government. People were either in camp with or rabidly against TR during his tenure. Nevertheless, neither side can deny his passion for hunting and firearms. Check out the two NRA museums' tributes to Theodore Roosevelt the next time you are in Washington, DC area (Fairfax, Virginia) or at the home of the Bass Pro Shops flagship store in Springfield, Missouri to see these firearms and more.
K.J. Houtman is the author of the award-winning Fish On Kids Books series, chapter books for eight- to 12-year-olds with adventures based around fishing, camping, and hunting. Her work is available at Amazon and local bookstores. Find out more at fishonkidsbooks.com. This article was produced in cooperation with the NRA.
Images courtesy NRA
What's Your Reaction?