You might think a sockdolager with all the shooting industry Big Cheeses at some hotsy-totsy gin mill might lead to some Chicago typewriter trouble. Heck, some hard-boiled heavy might have his torpedoes pinch his biggest competitor and take him for a long ride. But no. While there was plenty of giggle water at a swanky speakeasy, the 2015 Shooting Industry Masters was all Ritz.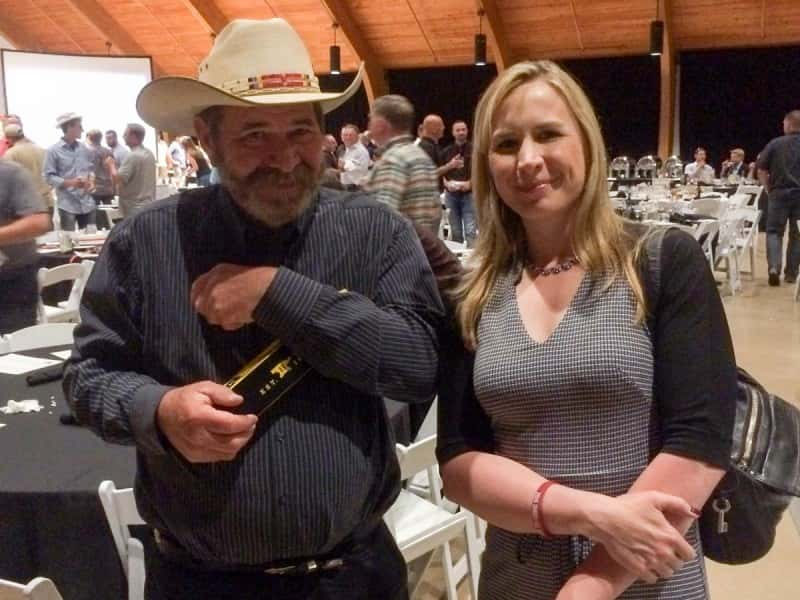 The Roaring 20s-themed event brought together a group of employees, executives, and competitive shooters all for a great cause. The purpose of the Masters is to raise money for two keen shooting programs: the National Shooting Sports Foundation's First Shots and the USA Shooting Team. And raise dough they do! At this annual event, driven by FMG Publications (American Handgunner and Guns magazines), the industry bands together to raise some serious heavy sugar, over $100,000 per year.
This year, some of us gun writers decided to band together to enter the first "all-writer" team—The Rough 'Riters. Our folks, together with the crazy chicks from Women's Outdoor News, got together with the support of sponsors Volquartsen Custom, Remington, CrossBreed Holsters, A Girl and a Gun Shooting League, The Well Armed Woman, Diva WOW, and Gun Goddess to help generate serious dough to grow the shooting sports.

What's so great about the Shooting Industry Masters? Let me beat my gums for a minute to tell ya.
1. Serious competition
Each team of four completes four different stages over the two-day event. Each stage might involve trigger pulls from a variety of guns. For example, the rimfire event, Roscoe Retreat, required competitors to fire for speed using four different guns: a Ruger 22/45 Lite, a Smith & Wesson M&P22 Compact, a Ruger 10/22, and a Smith & Wesson 15-22 rifle. The best part? Since the event was a 1920s gangster theme, competitors had to lug around a canvas sack of money between each gun station, then pass it off to the next team member to continue the relay.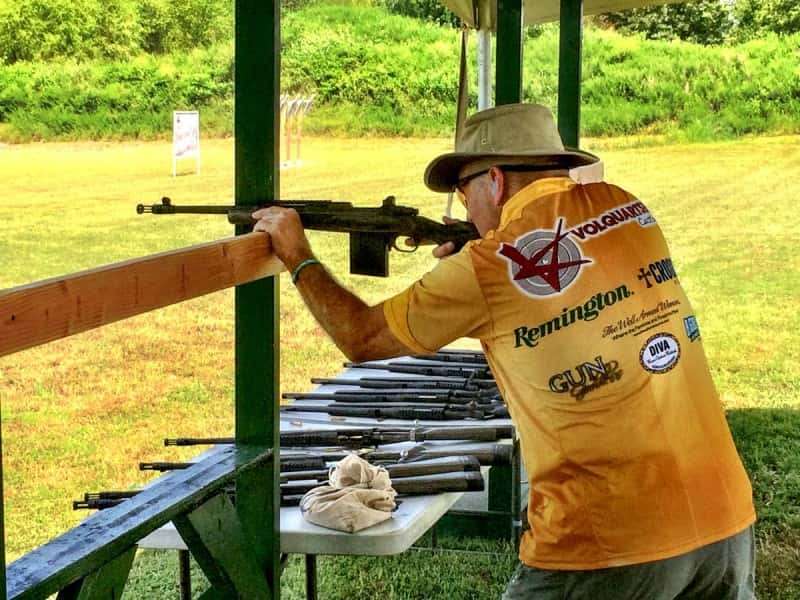 Individual speed alone won't make a team the cat's meow. One of the four events is Team Tactics. Using full-auto Airsoft guns, the team runs a wilderness target course to spot and shoot bottles of rotgut and the occasional gangster. Leapfrogging techniques and team communication carry the day.
Fortunately for Team Rough 'Riters, the FMG folks create two broad categories of competitors: Industry and Open. Teams are placed in each division by FMG staff, so there is no gaming the system. Professional shooters compete with each other and the rest of us palookas can race for the bottom amongst ourselves.
2. Side matches
Between scheduled stages, competitors wander the grounds with open wallets to try optional "side matches." These events don't count beans towards the final team score but raise ducky dough for the First Shots and Shooting USA programs. For five bucks, you get to try your luck at all sorts of capers dreamed up by side-match sponsors.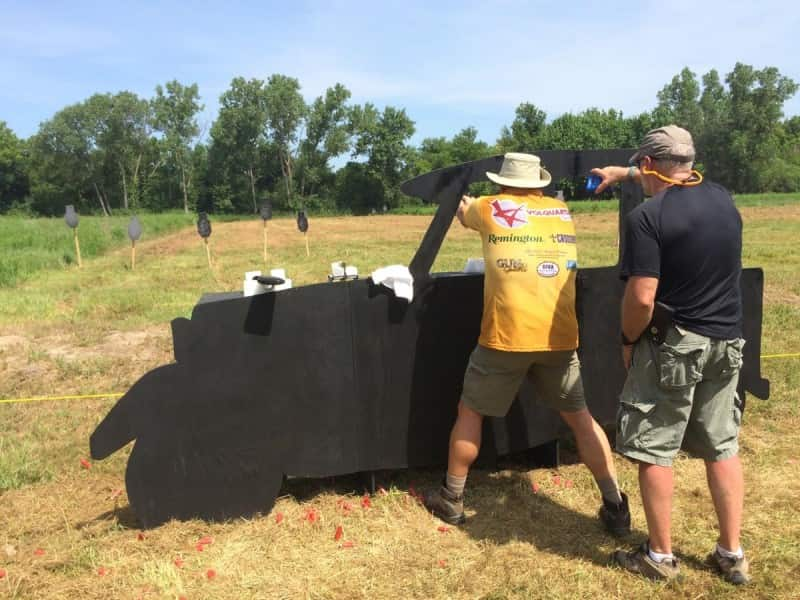 For example, the swanky folks at XS Sights had us shooting steel plates for speed using the XS Big Dot sights. Oh, and each plate was adorned with the likeness of a gangster like Al Capone, Ma Barker, and Machine Gun Kelly. To stop the timer, you had to shoot a rat perched on a thug's shoulder. The side match name? Snitches Get Stitches. It was brilliant.
3. First shots
At risk of forgetting the whole reason for the Shooting Industry Masters Season, I'd be remiss not to mention the primary purpose of this shindig—the NSSF First Shots program.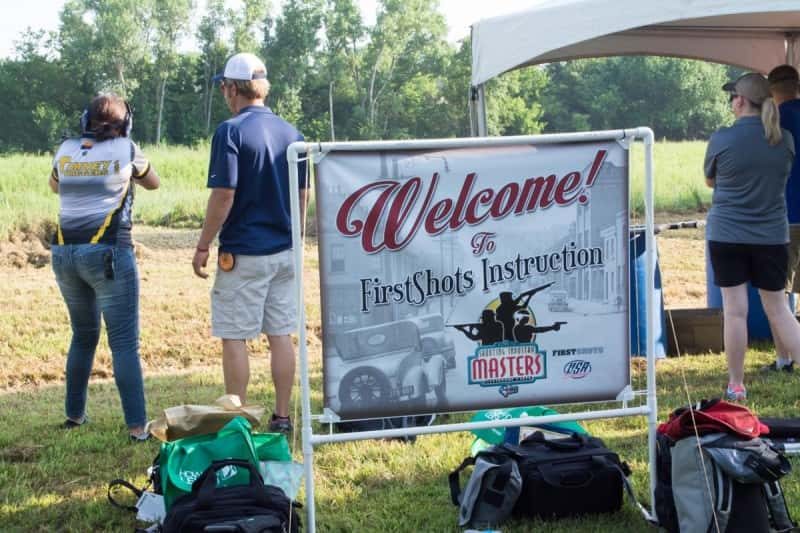 If you're a shooter, you should appreciate the importance of bringing new blood into the sport. That's exactly what the First Shots program does. Ranges across the country are supplied with materials, curriculum, and assistance to host seminars and range outings for folks who have never shot a gun before. As we all know, once you take a noob to the range and let them pull the trigger, they're hooked. That's good for all of us. To date, First Shots has brought over 50,000 folks into our community, and that's a great thing.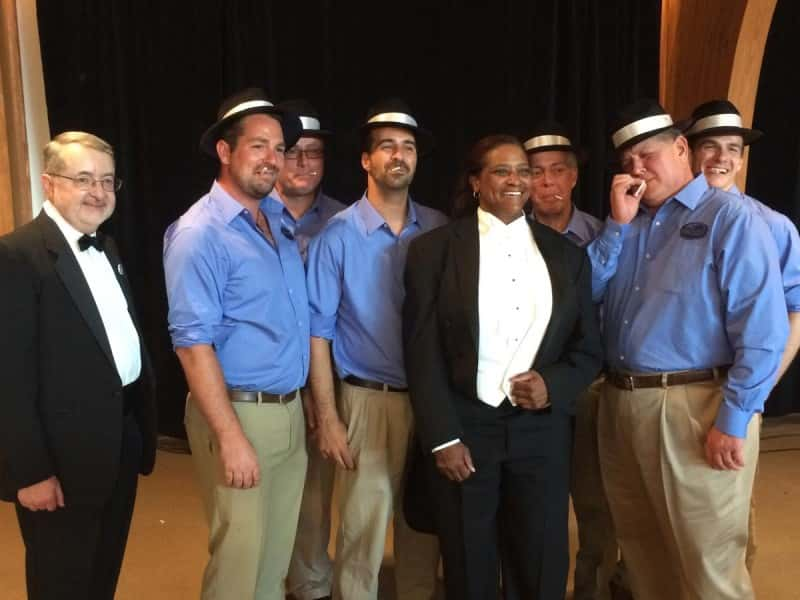 4. HAVA
Never ones to forget those who fight to protect our freedoms, the event sponsors always host organizations like HAVA: Honored American Veterans Afield. In their own words,
"As the number of injured men and women returning from the battlefields of Iraq and Afghanistan grew, members of the firearms industry initiated a non-profit partnership called HAVA to aid disabled soldiers as they transition to their lives back in the United States. The ultimate goal is to increase their confidence and hope for the future by reconnecting with their love of the outdoors and the American traditions of hunting and firearms."
One Marine representing HAVA, Sgt. Jim Gill, won about seven million guns at the awards ceremony Saturday night, having kicked serious butt and taken names at a number of the side matches. Then I found out why. From what I can tell, he's a founding member of the Marine Corps Combat Shooting Team. These guys are still giving to their fellow Marines by blending high-speed competitive shooting skills with combat techniques to better prepare their brothers and sisters for deployments. Gill, and at least one other member of the team, are wounded warriors and still giving back.
Bottom line? This event was the berries. Those FMG folks don't take any wooden nickels because they know their onions.
Tom McHale is the author of the Insanely Practical Guides book series that guides new and experienced shooters alike in a fun, approachable, and practical way. His books are available in print and eBook format on Amazon.
Images by Tom McHale
What's Your Reaction?