The past year has certainly been an interesting one, and as 2015 comes to a close, we thought we would do a recap on OutdoorHub's most popular news stories this year. As always, our most-read stories tend to also be our most interesting. From shooting challenges to strange animal anomalies and romancing snakes, this year has been a fascinating one to be outdoors.
8. Taya Kyle, wife of Navy SEAL Chris Kyle, wins sniper shootout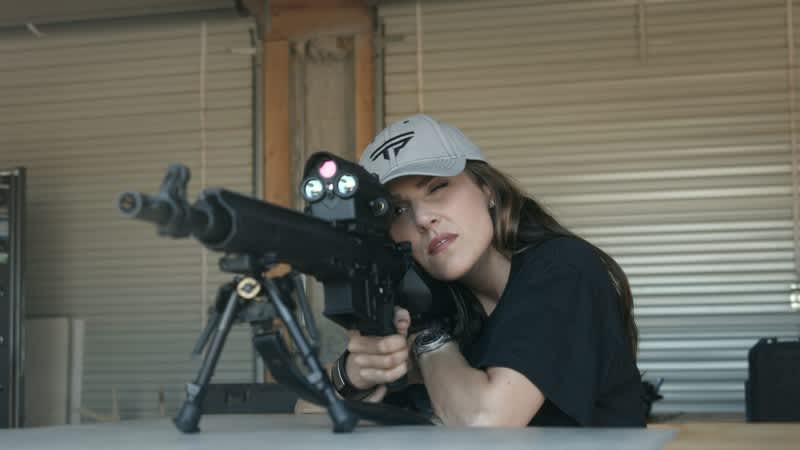 Taya Kyle is used to the exploits of her husband, the legendary, late sniper Chris Kyle, making the news. Earlier this month, however, Taya's own feats behind a gun put her in the headlines. In the one-on-one American Sniper Challenge hosted by gun maker TrackingPoint, Taya sounded defeated world champion shooter Bruce Piatt with a perfect score.  Taya hit every single target she saw through her scope.
Of course, she had the aid of TrackingPoint's "Precision-Guided Firearm" system. The match was an eagerly-anticipated bout between the skill of a seasoned professional shooter, and the unerring accuracy of a "smart scope" rifle. In the end, Taya claimed victory and was awarded $500,000 to her charity, the Chris Kyle Frog Foundation.
Read more about the story here.
7. Pennsylvania ice fisherman lands monster muskie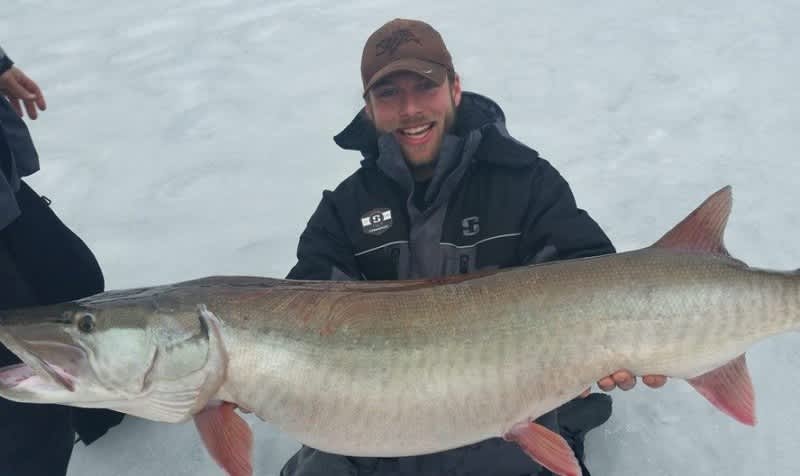 If all fish are this big, we're going to need to start cutting bigger holes in the ice.
Nicholas Colangelo caught this monster of a muskie in Pennsylvania in February, possibly breaking a state record that has stood for more than 90 years. Instead of keeping the fish and driving it a certified scale, Colangelo decided to release the muskie before weighing it. This angler may not have a record, but he certainly caught the fish of a lifetime.
"The fight was 30 minutes long, I didn't see the fish for the first time until the 10 minute mark!" Mark wrote triumphantly on Facebook. " For the next 20 [minutes] this fish would take off on 60-feet runs each time I got it near the hole—eventually got it by the [gill] plate and landed the biggest fish of my life."
Read the full story here.
6. Goodbye $200 suppressor tax stamp?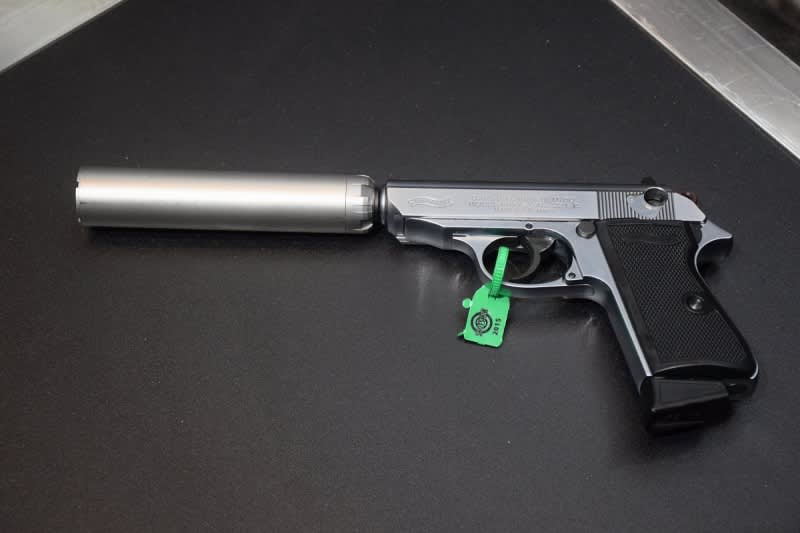 Tired of paying an extra $200 tax on a suppressor? The American Silencer Association and lawmakers have teamed up to write a bill that would remove suppressors from the National Firearms Act, eliminating the long and expensive process involved to take possession of a silencer.
"The American Suppressor Association believes that citizens should not have to pay a tax to protect their hearing while exercising their Second Amendment rights," said Knox Williams, President and Executive Director of the ASA. "The removal of suppressors from the National Firearms Act has been our ultimate goal since day one. For months, we have worked alongside Rep. Salmon's office and the National Rifle Association to craft this legislation. Although we recognize that introducing this bill is the first step in what will be a lengthy process to change federal law, we look forward to working with Rep. Salmon and the NRA to advance and ultimately enact this common-sense legislation."
Read the original story here.
5. Naked man who attacked Oregon hunter pretending to be bigfoot sentenced to 10 years

There's a lot of things to be wary of in the woods, but a naked man with a handsaw is not usually one of them—unless you're a fan of horror movies. Fifty-eight-year-old Jeff McDonald was injured in 2013 when 22-year-old Linus Norgren stalked him and ambushed him, attacking the hunter with a small handsaw. McDonald recalled fighting for his life with a crazed Norgren, finally gaining the upper hand and using a rifle to keep him at bay. This March, a judge sentenced Norgren to 10 years in prison.
You can read the full story here.
4. Bright blue fat in wild pig

We're not sure if we want bacon from this pig. A group of hunters in California claimed they harvested this normal-looking wild pig, but when they opened it up, they found a layer of bright blue fat. The pictures raised a flurry of theories as to why the fat was that color and if it was safe to eat, and in the end experts determined that it was likely caused by the animal eating rodent poison. Poison, such as the kind from ground squirrel bait, can turn fat blue because it acts as an anticoagulant.
You can read the full story here.
3. Viral video prompts shotgun recall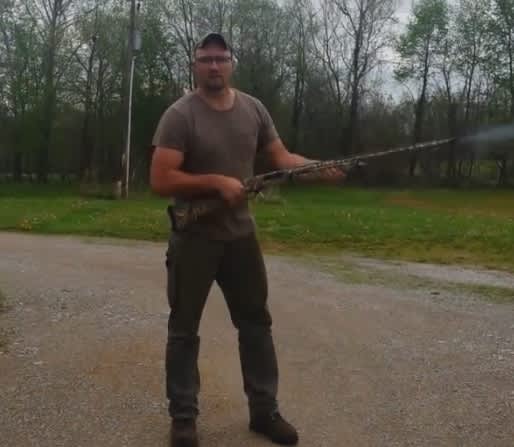 Oftentimes, when you get a defective product, you want to get the evidence on camera. When one man discovered a faulty safety on the Winchester SXP shotgun, he posted that evidence on YouTube and got more than a million views, prompting the gun maker to issue a recall.
You really shouldn't underestimate the importance of good gun safety. You can watch that video below:
Read the original article here.
2. After 10 years in the making, Bass Pro opens its Pyramid-shaped superstore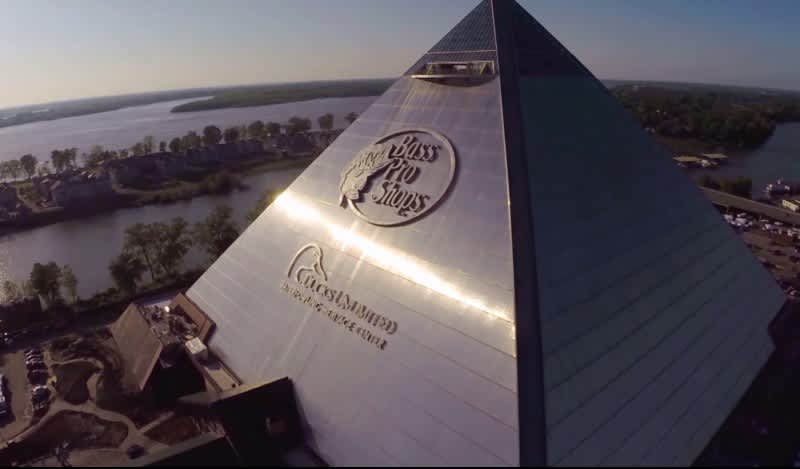 It's finally done. After 10 years of speculation, compromises, and construction, the Bass Pro Shops location inside the famous—or infamous—Memphis Pyramid opened in April.
In addition to all the amenities that customers have come to expect from a Bass Pro Shops store, the pyramid superstore also includes a man-made cypress swamp (reportedly with live alligators), larger-than-usual archery and shooting ranges, a Ducks Unlimited waterfowl museum, a bowling alley, an observation deck at the top of the pyramid, and a 105-room hotel. The pyramid's most unique feature may in fact be its central elevator, which currently holds the title of the tallest freestanding elevator in America. Construction on the building took four years and cost an estimated $191 million.
"If you can't be happy to see something like this, then you don't have a pulse," David Hagel, the store's general manger, told the Star Tribune. "We're more than retail."
Read the original article here.
1. Florida man tries to kiss cottonmouth snake, hospitalized after bite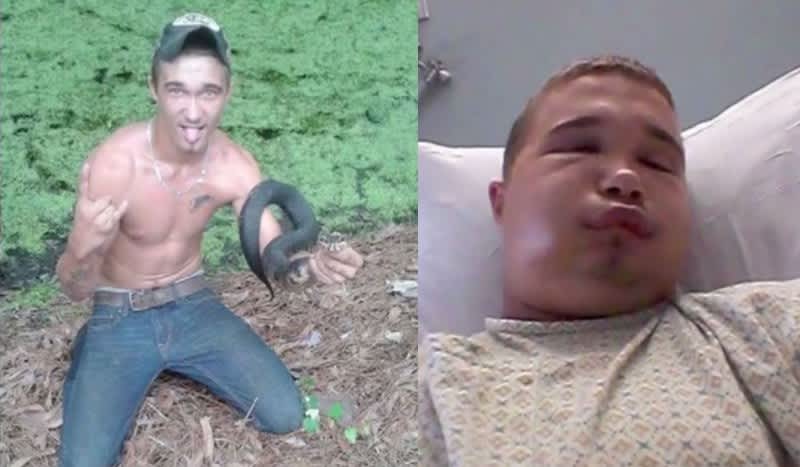 You'd think it would be common knowledge that cottonmouths wouldn't make good pets. Eighteen-year-old Austin Hatfield of Wimauma learned this the hard way when he was hospitalized in April after being bit while trying to kiss it.
Friends said the teen had originally caught the snake from his girlfriend's yard several days before and kept it in a pillowcase. Hatfield would occasionally show off the snake to friends and kiss it on the mouth, but it seemed that the venomous cottonmouth had enough of the relationship.
"He took it out, put it on his chest and it was acting funny, and it jumped up and got him," said Jason Belcher, who witnessed the attack. "He ripped it off his face, threw it on the ground and he started swelling up immediately. It was pretty frightening."
The 18-year-old was transported to a local hospital in critical, but not life-threatening, condition. You can read more about it here.
What's Your Reaction?