As one of the most popular and ubiquitous handgun brands out there, Glock pistols are naturally very easy to modify for any purpose. Need a Glock for a home defense weapon? Drop in some night sights, a laser, or a light. Need a Glock for competition? Swap out the trigger, get an extended magazine release, or a modified slide stop lever. Keeping one for a range toy? Do whatever you want.
One big reason why Glocks are so popular is because of their inherent versatility. You can modify these guns to your heart's content, and in many cases it won't even leave a big dent on your wallet. However, that doesn't mean all these modifications are wise. Here are five changes and add ons that I consider highly dubious—at best. It helps that most of these are jokes. I hope.
1. A custom Glock with the trigger guard cut off
I'm going to go out on a limb and assume this is some kind of a joke. I can't think of any reason to remove a Glock's trigger guard that would outweigh the fact that your Glock now longer has a trigger guard. Obviously, this is exceedingly dangerous, but that didn't stop someone from posting it for sale on gunbroker.com and a number of other sites.
Surprisingly, nobody wanted to buy the pistol.
2. Double Glock 18c Platform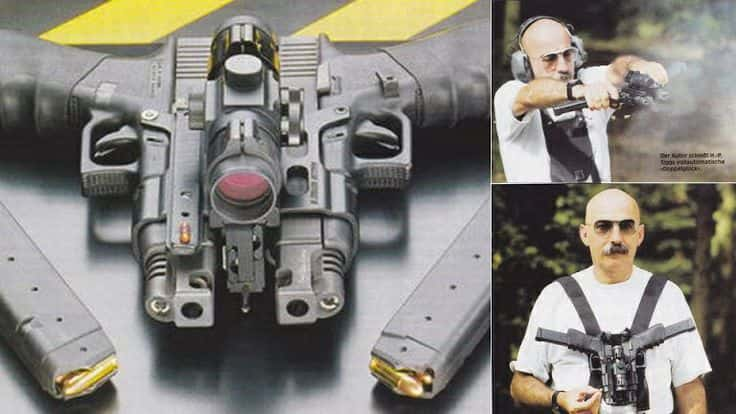 The side grip has long been maligned as something that Hollywood invented and for all intents and purposes, is laughable in real life. Of course, there are some circumstances where a side grip is preferable, such as behind a ballistic shield or with certain firearms such as the Thompson M1. Normally, using a Glock in the so called "gangster grip" would probably illicit raised eyebrows at the range, but one European shooter managed to make it work.
By allegedly clobbering together two Glock 18c pistols—which are automatic—and putting a sight between them. I wasn't able to track down the origin of this story, so the efficiency of these pistols is still up for debate. It does however, not look like the most accurate of weapons.
3. Being too enthusiastic with your stippling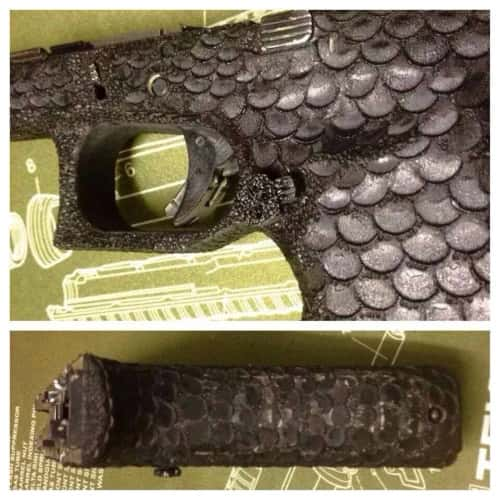 Using a dremel to modify Glock grips is fairly popular, but also very easy to mess up. This is especially true when trying to carve designs into a Glock frame. Sometimes it works very well, and sometimes you get this. Perhaps whoever worked on this wanted their Glock to look like a burnt grass carp, but to the rest of us, it doesn't look too ergonomic.
4. Adding a grenade launcher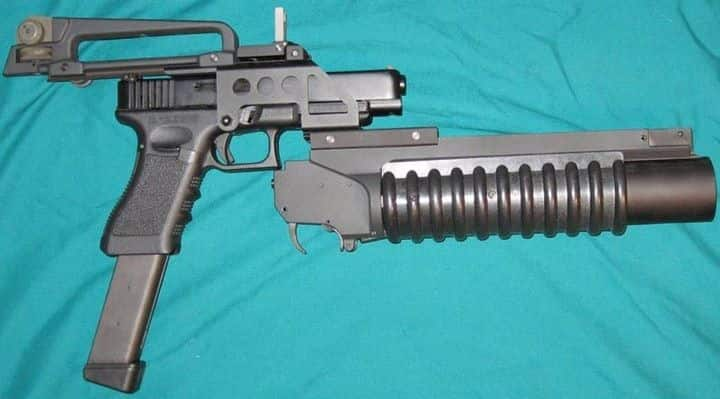 Yes, the one above appears to be an airsoft version, but real grenade launchers have been added to Glocks before. Obviously, most handguns are far from being a practical platform to add a grenade launcher to, but for whatever reason people seem to love putting absurdly big things on very small things. Yes, duct-taping a massive Zeiss scope to a derringer is very funny, but it's already been done a million times.
5. The Glock axe
If you thought bayonets for handguns was pushing it, meet the Gatchet from Melee Mods. Obviously, a carbon steel axe mounted on a polymer handgun does not exactly make for the most efficient weapon, but the Gatchet is riding on sheer cool factor to drive interest, much like most firearm accessories under the zombie label. In addition to adding a hunk of extra weight to the front of your pistol, there is also a reasonable chance of injuring yourself if you're not careful.
I'm also not entirely sure what kind of holster you would use for this.
What's Your Reaction?