Kentucky Turkeys: A Late-Afternoon Father and Son Double
Tim Herald 05.03.17

My passion is hunting big game all over the world, but my strongest roots are in turkey hunting, and I still absolutely love chasing the kings of spring. I really enjoy getting in the woods during the spring green up and the interaction of calling to and communicating with turkeys, but my favorite part of turkey season is that I get to hunt with my twin sons and my good friends at home. Spending time hunting with those close to you makes the hunts special, whether you kill a bird or not.
My No. 1 priority during spring is to get my twins, Will and Drew, on gobblers, but with the schedules of two active 16-year-olds these days with school, sports, guitar, etc., it can be tough. On Kentucky's opener, Drew had Lacrosse obligations, so it was just me and Will. I had done some scouting on an outfitter friend's property, and we got set up well before daylight where I had seen two lone gobblers a couple of times.
Opening Day
At daybreak, a bird gobbled to our left, and another to our right, and I was feeling pretty good about our chances. Then, a few minutes before fly-down, I saw two guys walking in the wide open in the pasture across the fence from us. They came up to the property line and then walked toward the bird on our right, and I never heard another gobble!
After our morning hunt, a good friend, Keith, called and told me he had been out and had gobblers all over him, but his setup just didn't work. He invited Will and me over for an afternoon hunt, so we jumped at the opportunity.
We all three went out and looked over the situation, and from what Keith had seen over the past few mornings, there were a number of birds using one big field and a small woodlot. Keith had a blind at the end of the woodlot where he had seen all the birds the day before season, but of course on opening day, they all were at the far end.
We decided to split up and see what happened, and if nothing else, we would get some more scouting info that could be used later. I decided to put my blind about 75 yards out in the field, thinking that it would be a great place to hunt them off the roost in the mornings, and a great place to watch from in afternoons if birds weren't responsive.
We heard birds gobble very sporadically in the distance beginning about 4:30 p.m., but by 5:30, It was apparent that there was a gobbler in the woodlot. He was somewhere between Keith and me, but the bird would only answer my calls occasionally.
As time passed, the tom answered a bit more frequently and he seemed to be a little closer, but it was still just occasional responses. By 6:30, I felt like the gobbler was 150 or so yards away, and then I saw a hen come out to the field edge. I called to her, she ignored me, but the gobbler hammered back. He was definitely closer. He answered my next call, and I felt like he was probably just behind the hen somewhere, but due to the roll of the land, I couldn't see. Just after he answered me a third time, I saw a red and while head pop up, and as I glassed the area, I could see two gobblers. The hen wasn't coming our way, and I told Will that they would probably follow her, but since it was now after 7 p.m., we would probably be able to roost them for the next morning.
I kept calling, and one bird strutted and gobbled, while the subordinate bird just looked. I had decoys up the hill beyond our blind, but I am fairly sure they couldn't see the fakes. After a few minutes, they turned and came into our field, and the strutter started our way. The other bird was veering right and away, but he didn't want to leave his buddy.
I was ranging them the whole time with my Nikon 7iVR rangefinder, and once they were within 55 yards, I knew I could shoot. I wanted Will to kill one though, and 50 yards is the max I will let him shoot a turkey with his shotgun. When the strutter was at 53 yards, the other bird turned and began walking back toward the real hen. I told Will I figured the strutter would go, too, and he said if that happened, I should shoot and not let him get away.
Well, of course, that is what happened. As soon as the tom dropped strut and turned to leave, I cut at him, got his head up, and sent a 3.5-inch load of HEVI-13 #6s into his cranium. He dropped and barely began twitching, and I called more. The subordinate bird turned and started back at him, and made a bit of a loop around, and that put him closer to us.
I ranged the second bird at 49 yards, and I told Will to get on him and shoot. Will uses a Nikon Turkey Pro scope on his shotgun, and if a bird's head is in the circle reticle at 50 yards or less, it is a done deal. Will unleashed a 3-inch load of HEVI-13s, and his bird was stone dead. What an evening hunt, and that was the first double I'd ever gotten with either of my sons!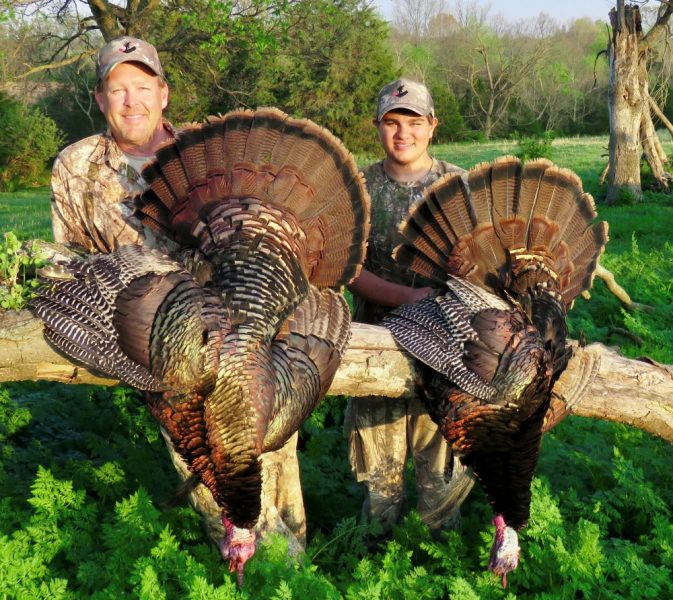 After photos, we moved that blind to the top of the hill in our field because I felt it would be better for visibility, and Keith had see a few birds come from that direction when he scouted.
But that's a story for another day. Check back soon to OutdoorHub to read part 2 of this turkey adventure, where I join my son, Drew, in the woods of Kentucky to pursue wild turkeys.
Sidebar: Turkey Firepower
I'd rather shoot every gobbler at 20 yards, but sometimes that just doesn't work out. I am super picky about what I shoot, and I want to feel confident of clean kills. I do a lot of homework patterning shotguns to find the right choke and shell combo, and for me and my sons, I have settled on HEVI-13 Turkey loads for all our guns.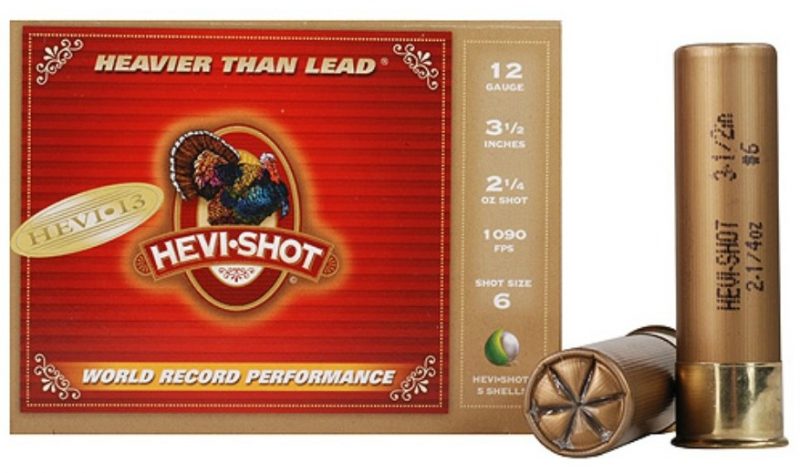 I shoot a 3.5-inch Remington 870, Will shoots a 3-inch TC Encore turkey model, and Drew shoots a 3-inch Benelli M-1 90. We all have different aftermarket chokes, but all of our guns are devastating to turkeys out to 50 yards and beyond, but you have to draw a line somewhere.
The buffered and moly-coated pellets in HEVI-13 Turkey loads produce a denser pattern than conventional shot. Hevi-Shot broke the world record with a pattern that scored 42 pellet holes in a 3-inch circle at 40 yards, and holds world record titles in every class. They have 14 years of world record awards from the NWTF World Record Still Target Championships. These loads also deliver 20 percent more knockdown energy and up to 40 percent longer range than lead shells. HEVI-13 pellets are about 20 percent denser than lead and penetrate far deeper.
With the incredible density advantage of HEVI-Shot, you can use smaller pellet sizes and dramatically increase your pellet count on target. In addition to more knockdown energy and penetration, HEVI-13's irregular pellet shapes cause a halo of tissue damage far greater than lead. These shape modifications allow them to slice through air and birds by reducing the boundary layer in air that slows shapes down.
There is a lot of data to back it up, but simply put, this turkey ammo is amazing.
Editor's note: Tim Herald is an owner and hunt consultant at Worldwide Trophy Adventures (WTA). To book this or any other high-quality hunt anywhere in the world, contact Tim at [email protected]. WTA's services are free; WTA is paid directly by the outfitter, and your hunt cost is the same whether you book directly with an outfitter or through WTA.