Video: Giant Lake Trout and New Year's Resolution Oh-So-Close
Tony Capecchi 08.16.17

In January of this year, I saw a Travel Manitoba video of Aaron Wiebe catching a monster 42-inch lake trout and was inspired to create a New Year's resolution of my own: travel to Manitoba and catch a Master Angler lake trout.
I announced my mission in an OutdoorHub article, so, having returned from Manitoba this past week, I figured a follow-up story was only fair — even if it means revealing a video of me losing a giant fish.
I had never before fished for lakers, and their appeal to me was two-fold: an incredibly powerful alpha predator capable of fighting like few other freshwater species, and a truly beautiful fish with remarkable colors and patterns. The cosmetic appeal of a lake trout is hard to match.
Manitoba's famed Northern Region has earned the alias "Land of the Giants" for good reason, offering some of the best lake trout fisheries in all of Canada, if not the world. Of course, the province of 110,000 lakes is also home to excellent walleye fishing, so my dad and I weighed our options carefully for our father-son fishing adventure this summer.
Between the two of us, I'm typically more inclined to trade numbers for the mere chance at a trophy, while Dad favors fast action interrupted by a fantastic shorelunch.
As a compromise, we picked a lodge that is famous for walleyes (and shorelunch), but also offers a chance at monster lake trout. Aikens Lake Wilderness Lodge, in eastern Manitoba, was the fly-in resort we called home for the majority of our Manitoba adventure — preceded by a night at the Winnipeg's Inn at the Forks hotel and an epic morning of catfishing on the Red River.
At Aikens, we spent nearly all our time targeting walleyes because the bite was that good and, candidly, because I wanted to focus on Dad's favorite type of fishing: anything with light gear and steady action. We did devote one morning to targeting lake trout, however, a quest made infinitely better by the fact that Aikens provided us one of their pro-staff guides who specializes in lake trout (as well as walleyes).
Marco Dumontier, whose father was the first guide in Aikens history, was our leader for the day and pulled out all the stops. He chatted with me the day before our outing, and graciously agreed to start at 6:30 a.m. instead of the standard 8 a.m. start to increase our odds. Not only that, he spent his entire evening the night before our outing cutting up suckers and chumming a few prime lake trout spots for us.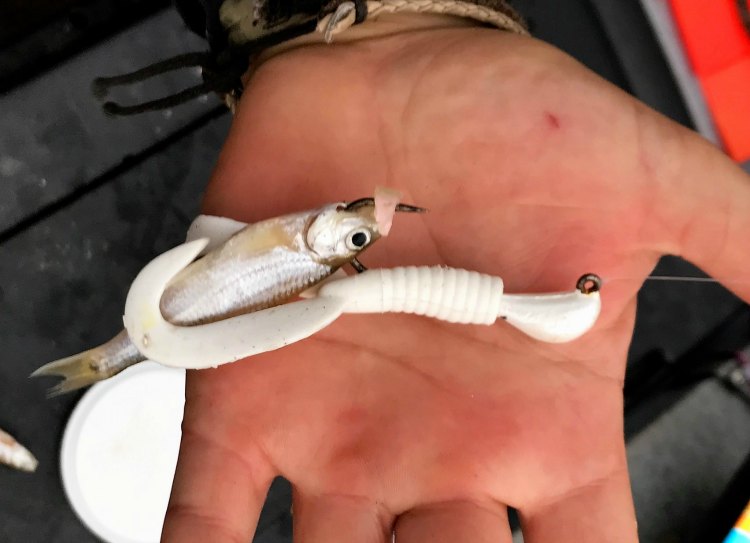 The morning of, Dad and I got a fantastic education in lake trout fishing. We jigged 3/8-ounce banana jigs with white double curly tails and frozen minnows in 60 feet of water on medium-fast Wright & McGill rods, while Marco set out a 6-inch cisco on a dead-stick rod with 20-pound braided line and a 50-pound fluorocarbon leader.
We had a number of bites, but as it goes with fishing, we missed several before finally hooking up. A moderate fight revealed a Manitoba Master Angler trophy we were not expecting in the least bit: a burbot (or eelpout)! I had never caught one before, so catching a trophy of the bizarre-looking fish was especially fun — it measured 31.5 inches.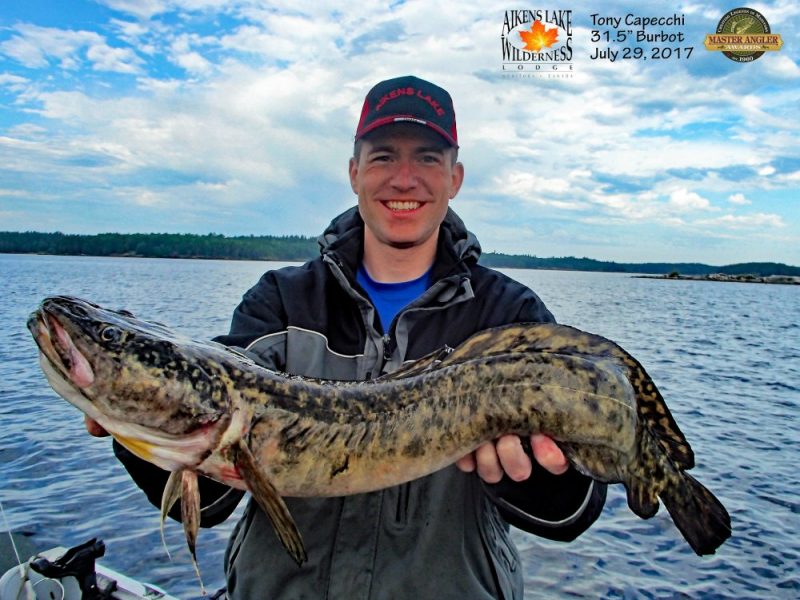 Twenty minutes after the burbot, the clicker on our dead-stick rod went off, and a big fish started ripping line off like crazy as it ran with the cisco some 60 feet below the boat. Marco and my dad graciously insisted I take the rod while Marco motored in the direction of the fish. I wound up the slack and when we got a good angle over the fish, I set the hook hard on what was clearly a big laker. The fight was on!
After several minutes — including us chasing the fish multiple times — we managed to land a gorgeous lake trout. The required length for an official Manitoba Master Angler lake trout is 35 inches, and our fish came up about 2 inches short (photo below). Honestly, coming up just shy of the Master Angler mark made no difference to me; we celebrated with fist bumps and high fives all-around. A massive smile was pasted on my face as I was high with adrenaline.
About 15 minutes later, we got another bite on the cisco rod, and my dad took this fish. As I was frantically winding up my line to clear the way for Dad to take what was hopefully another big fish, a giant laker shot up from the bottom and smoked my jig some 20 feet off the bottom.
Fish on! Unfortunately, the fish on Dad's rod didn't take the cisco quite right, so I was left fighting my lake trout with Marco running the motor and Dad empty-handed. Five minutes into the fight, Dad thought to grab the camcorder and captured this exciting moment:
After watching the video, I wish I would have kept my rod tip higher, though I'm still not quite sure how the fish got away. Obviously, battling a huge lake trout on 6-pound line with a single, barbless hook is no certainty . . . but it sure is thrilling.
Was it a Master Angler? Maybe, maybe not. If I had to bet $100 either way on the 35-inch mark, I'd take the over, but who knows (fish that get away always seem bigger). Aikens is not a high numbers fishery for lake trout, but the lakers it does produce run large. Two days prior, Marco guided his clients to a pair of Master Angler lakers; later that night, he went out with another guide for fun and caught a 37-incher.
After our morning of lake trout, we spent our last day and half at Aikens targeting (and catching) bountiful walleyes up to 25.5 inches. While we didn't quite catch a Master Angler lake trout, we did catch a pair of Master Angler burbot in pursuit of lakers.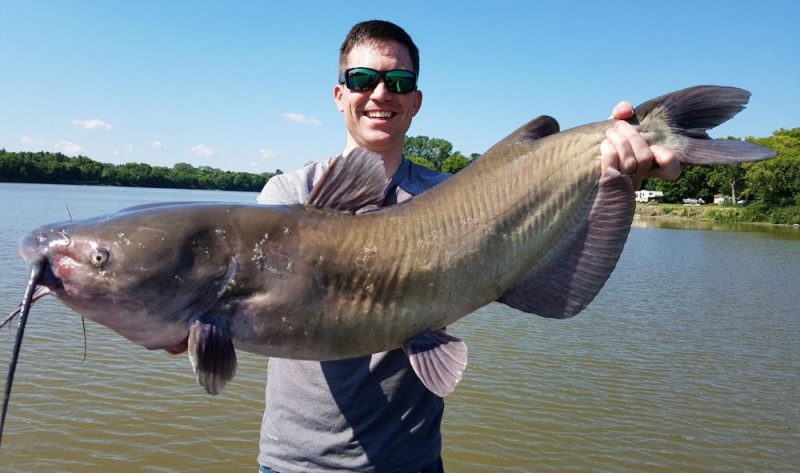 Also, while in the Winnipeg area before flying out to Aikens, we caught a dozen channel catfish between 30 and 38 inches, including four Master Anglers (34 inches or bigger) during just 4 hours on the Red River with local legend Todd Longley, head guide of City Cats.
The giant cats and Master Angler burbot were an absolute blast to catch and proved, once again, that beauty is in the eye of the beholder.
My dad often reminds me it's good to have something to look forward to . . . I guess I will need to continue my quest next year with another adventure for Manitoba's beautiful lake trout.
Author's note: For more information on Aikens Lake Wilderness Lodge, visit AikensLake.com or call 800.565.2595. The website for Todd Longley of City Cats is CityCats.ca. And if you're looking to create your own fishing mission in Manitoba, then visit TravelManitoba.com for tips and resources for catching lake trout, walleye, catfish, burbot and more.