Kyrgyzstan: A Truly Extreme Mountain Hunt for Mid-Asian Ibex (Part 1)
Tim Herald 10.25.17

I just returned from a WTA-hosted hunt to Kyrgyzstan for Mid-Asian ibex, and I'm still feeling the effects. This was a serious adventure to a remote part of the world, and it ended up being the most physically and mentally demanding hunt of my life. I had some good friends with me, and that is always a plus on journeys such as this, especially when things get tough.
We started out booking the hunt Kazakhstan, but when hunting was closed there a few months ago, we quickly switched to Kyrgyzstan. One of the reasons we chose Kazakhstan was that you can hunt ibex there without going to very high elevations, and that was certainly appealing.
The location switch was sort of a trade-off. We ended up having to hunt regularly to 13,500-plus feet, but ibex numbers and trophy potential were better.
We had quite a mess on the way over with Air France and our firearms. We received only four of six rifles, and that ended up being for the whole trip. It's a long sordid story, but I didn't see my rifle again until I got back in the United States, and two of the guys didn't get their rifles back for 5 days after they arrived home. Most of us ended up using loaners. That really stinks when you expect some long-range shooting, you have set up rifles specifically for a hunt such as this, and you have confidence in your rifle/optic/ammo system. All that goes right out the window when you borrow a rifle.
This was a 1×1 hunt, but because of the rifle situation, I hunted 2×1 with a good friend, Tom Niederer. We were late getting to camp by 1.5 days waiting around on the rifles, so we lost hunt time. It was to be a 7-day hunt, and we were down to 5 right from the start. Frustrating, for sure.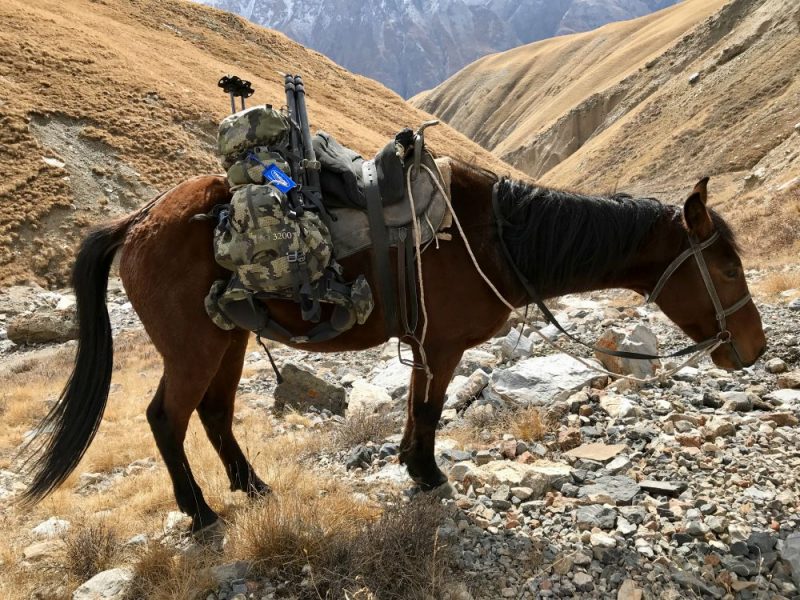 The first afternoon we all went to spike camps by horseback. Tom and I ended up being the farthest away from the base, but as we set up spike camp, through my 82mm Nikon Monarch Fieldscope we could see a couple of big groups of ibex way up high. Camp was at about 9,500 feet in a glacial river-bottom.
The next morning, we rode up high with our two local guides and Jose Castresana, who is a very experienced mountain hunter from Spain. Jose was there to help us judge animals, etc. The little Kyrgy horses seemed a Godsend as we covered many vertical feet fairly fast. We bumped a group of ibex over the top of the mountain when we got 80 percent to the ridgeline, but we spotted a good billy feeding in some grassy swales just under our level. We were at 11,200 feet.
This animal proved to be pretty easy; we made a 200- to 300-yard stalk, the billy was oblivious to us, and having plenty of time, we got into a good position for a shot. I was lying beside Tom and ranging the billy through my new Nikon LaserForce bino/rangefinder combo; the animal fed straight away from us. The billy started out at 390 yards, but when he finally stopped to feed for a while, he was at 450 yards.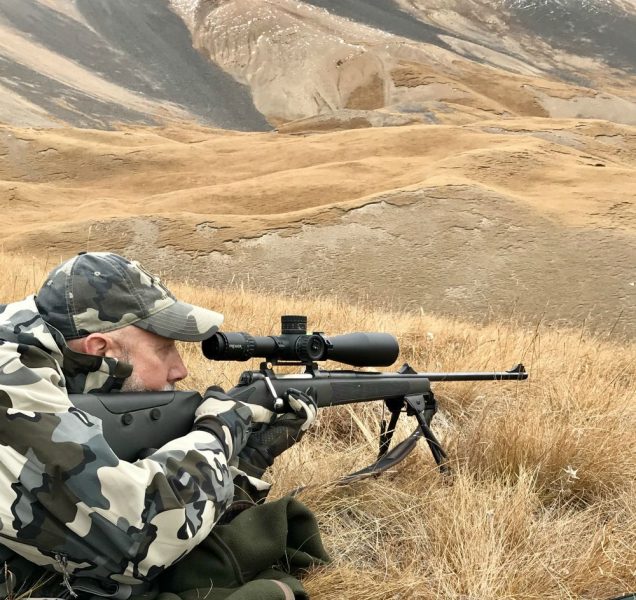 Tom was prone, took his time and made a good shot with Jose's 338 Win.  It was only 9 a.m. on day No. 1, and we figured that was a really strong start.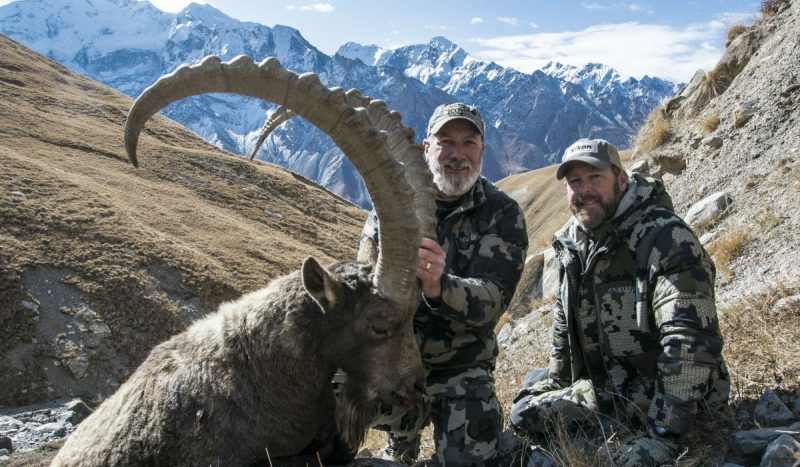 Tom's ibex was just beautiful, with 46-inch horns, a great coat, and a big stout body. We were both really impressed with the size of these Asian monarchs, and they have to be one of the most impressive mountain animals in the world.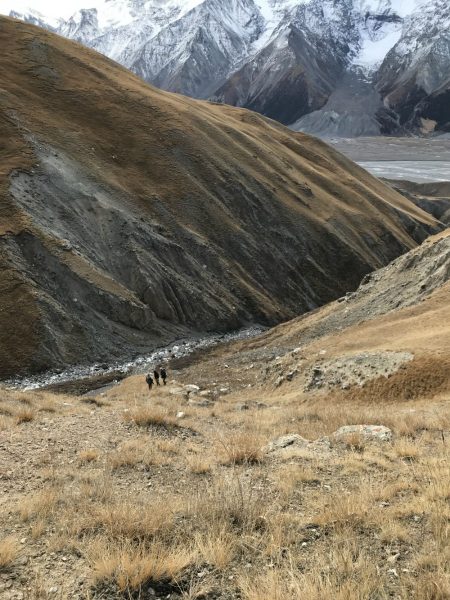 After skinning the entire animal, taking photos, etc., we started the rough ride down a very steep drainage, back up the opposite mountain, and then off toward camp. Less than a half-mile from camp, we finally hit some flat ground. There was an old cabin there with a field of thigh-high grass over sandy ground in front of it.
My horse, which I named Bob, had been fairly steady, but he stepped in a marmot hole in the high grass, went halfway down, and then decided to throw me off. My left foot hung in the small stirrups, and the horse freaked out and took off on a sprint, dragging me! I could feel his rear hoof brushing my shoulder with every stride, and I tried to lean away and keep my head from being smashed by Bob. I was getting thumped up and down a good bit as well, and the back of my head was hammered to the ground over and over as I was dragged along. I was incredibly lucky that this area didn't have rocks every few feet, and that is about the only place we found like that during the entire trip.
Finally, the guides converged on Bob and got him stopped. I slowly got up, and my left calf was killing me and starting to swell. Obviously, I had many other bruises and scratches, a bloody lip, etc., but I tried to walk it off, and then got back on Bob to finish the ride to camp.
After that, I decided to take it easy for the afternoon and spent most of the day and night in the tent. The guides used my spotting scope from camp all afternoon, and they glassed some mature billies to go after the following day — if I was up to it.
When I woke on the second day, I was really sore, but we struck out at daylight and rode way up on the opposite mountain. We eventually slipped in to 100 yards on a big bedded billy that Jose thought was 46 inches minimum, and likely 47-48 inches. The ibex was facing us, and I told Jose we should just wait for him to stand and have an easy shot. Jose, however, wanted to look for an angle and slipped out to the side. Unfortunately, the billy saw movement, and he was up and around the mountain and out of sight quickly. I was bummed.
We went back to the horses and planned to go over the top and try to find the billy, and we figured he had gotten with some others we spotted earlier. Going into a steep gulley, Bob slipped, and he threw me again! I came all the way off this time, but landed on my back. After the day before, it seemed pretty minor, so we walked the horses down, and then rode to the ridge.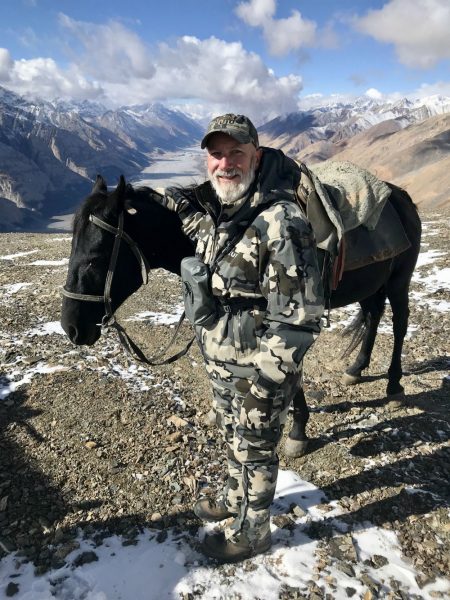 We hit the top at 13,500 feet, and it was cold. The air was thin for someone like me who lives at 600 feet. Breathing was pretty difficult for me, so we took it slow. We finally found the ibex over the edge up in the bare rocks. There were 10-12 really nice billies, and I think all of them were likely over 45 inches. They were at 200 yards, but I had no shot. Resting the gun on my KUIU pack, I could see only horns through the riflescope.
Jose moved around the hill, but he still couldn't see, so he went up and around about 25 yards. He motioned that he was in a good position, so Tom and I started around to Jose. As luck would have it, the wind suddenly shifted 180 degrees, and the ibex all blew out.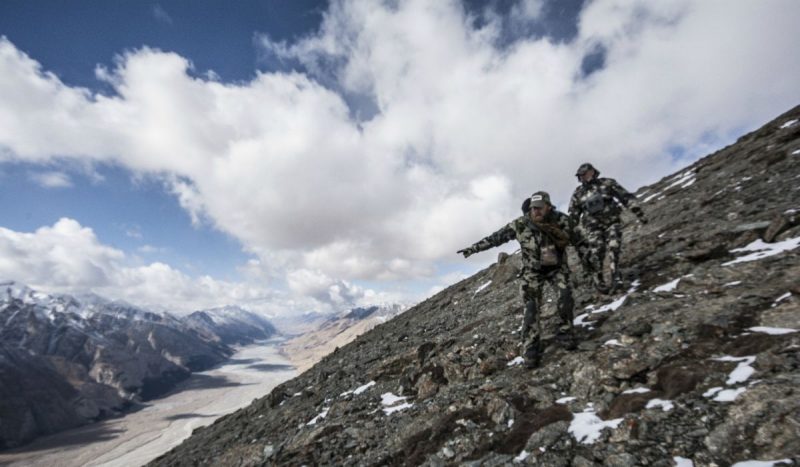 That was it for the day, and we didn't get on anything else. During late afternoon, we packed up spike camp and rode back into base camp, beat up a little mentally and physically. We got there way after dark, were told one of the locals had found some ibex in another big basin, and we would head out at 4 a.m. It was to be a short night! (Stay tuned to OutdoorHub for the conclusion of this adventure.)
Sidebar: Layering is Key to Clothing Performance on Extreme Hunts
I've never been so impressed with gear as I was with the KUIU clothing I wore on this hunt. To say this stuff is technical and performs in the toughest of conditions is an absolute understatement, and over my next few columns, I'll highlight some different pieces I wore and how they performed. Here, I'll discuss my layering system, because that's what mountain hunting gear is all about. You must layer as you'll have periods of extreme exertion followed by periods of being idle to glass, etc. You must layer to stay warm or cool off, and to stay dry. That can be the difference of staying in the field or being forced back to camp.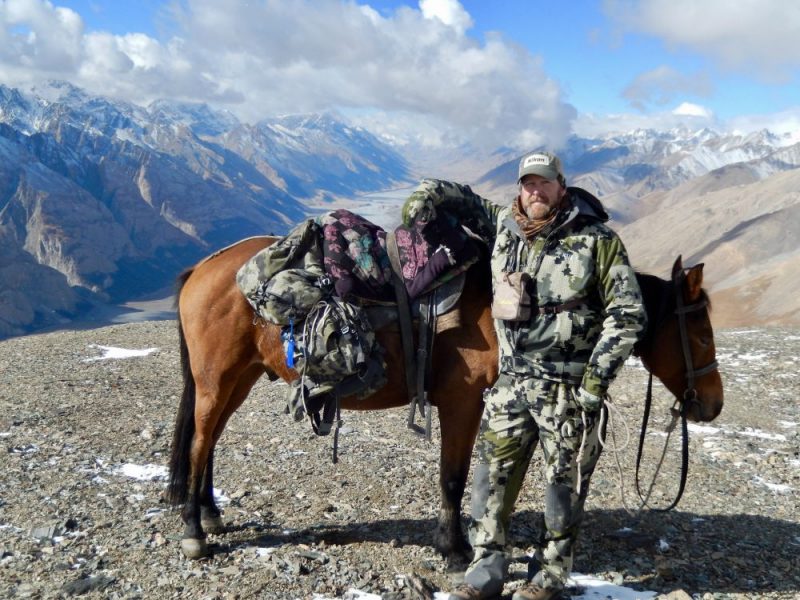 For my base layer, I wore SmartWool liner socks with KUIU's Ultra Merino calf-length socks on my feet. Then, I wore KUIU's Ultra Merino 145 Zip-Off Bottoms and Zip-T against my skin.
As a mid layer, I wore the Guide Pants and a number of tops. I started out with the Peleton 200 Zip-T Hoodie, the Guide DCS Vest, and the Super Down Ultra Hooded Jacket. Obviously, I took many of these layers off and on as needed.
As an outer layer, I wore the Yukon Rain Pants for total protection against the cold wind and bad weather, and either the Guide DCS jacket or Yukon Jacket as an upper shell.
As accessories, I used their Peleton 200 Glove almost all of the time, and when it really got cold, and especially riding my horse, I slipped on the North Star Glove over top. I wore the Ultra Merino 145 Neck Gaiter almost constantly, except on the very physical hikes, and during cold rides and sleeping in our spike camp, I wore the super-warm Guide Beanie.
I carried the lightweight KUIU Icon Pro 3200 pack that weighs in at less than 4.5 pounds; it has an incredible amount of room to hold spotting scope, food, water, other essential gear plus all the layering pieces, and can also be compressed down to a very small size. Additionally, it's been a perfect carry-on for flights.
Again, I've used almost all of the top gear available today, but on the most extreme hunt of my life, the KUIU gear impressed me more than anything I've ever used before. It absolutely exceeded my expectations.
Sidebar: The Perfect Boot for Mountain Hunting
I shared a while back that I did some damage to a ligament in my ankle a couple of years ago when I came off a steep mountain in Spain. I was wearing a standard pair of hunting boots designed for moderate conditions. They had no real support, and I'm still dealing with ankle issues from that hunt.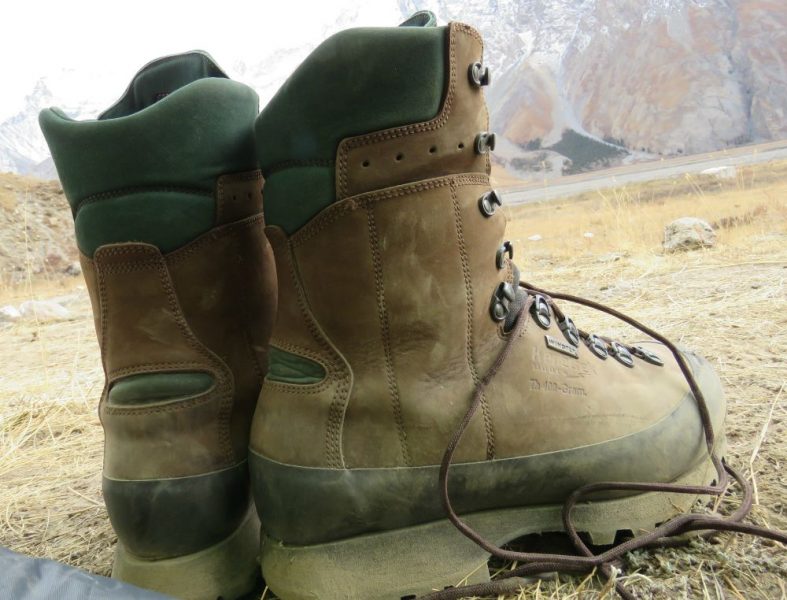 On this trip, I wore Kenetrek EverStep Orthopedic 400-gram boots. Kenetrek designers teamed with physicians to co-design a boot to assist rapid healing from various injuries and overuse, or in my case, help protect an injured ankle and support it properly so no further damage will occur.
These boots are almost identical to the famous Kenetrek Mountain Extreme that is considered by many to be the best mountain hunting boot in the world. The EverSteps, however, have a removable nylon support stave that can be inserted on both the inside and outside of the ankle. This just adds a bit more support and rigidity to the ankle area.
My boots performed perfectly, and the same is true for my hunting companion Tom Neiderer's Kenetreks. We stayed warm, our feet and ankles were comfortable, and the boots were fantastic in the rocks and on prolonged hikes.
My real testament is that when I was thrown from the horse and dragged by a foot and ankle, the support of my Kenetreks protected me, and I feel 100 percent sure that had I not been wearing them, my ankle would have either been broken or severely sprained. Since that was on the first day, my hunt would have ended right then. I am very thankful to have had on the right boots for this expedition.
Editor's note: Tim Herald is an owner and hunt consultant at Worldwide Trophy Adventures (WTA). To book this or any other high-quality hunt anywhere in the world, contact Tim at [email protected]. WTA's services are free; WTA is paid directly by the outfitter, and your hunt cost is the same whether you book directly with an outfitter or through WTA.