Author's note: As I wrote in part 1 on OutdoorHub, I just returned from a WTA-hosted hunt to Kyrgyzstan for Mid-Asian ibex, and I am still feeling the effects. This was a serious adventure to a remote part of the world, and it ended up being the most physically and mentally demanding hunts of my life. Part 2 begins below.
So, the next morning, we got up at 3 a.m. and rode for a couple hours in the dark, and then made a grueling hike up through a swift river, over a boulder field, and up the mountain to the high basin. Jose slipped ahead and peaked out in front of us and over a hill, and he could see a big group of ibex feeding toward us. They were still 400 meters out, but it looked like they would end up about 200 meters from a huge rock we could get to easily and setup for the shot.
When we got to the rock, we crawled around to where we wanted to be, and to all of our dismay, the ibex were hightailing it for the top of the mountain. Again, the wind had shifted because there was no way they saw us. We threw down a pack, I tried to get on the ibex on a super steep uphill angle, and it was mass confusion.
One guy was yelling which ibex was the biggest, someone else was yelling yardages, one of the locals was yelling, "Shoot, Shoot, Shoot!" and Jose was trying to do the calculations for yardage and the clicks for the turret on his gun that I was using. I took very rushed shots at about 380 and 450 meters as a big billy paused while scampering up the mountain, but I didn't connect. That is a long shot for me when I have time and can really settle in and concentrate; under the conditions, there was no way I was going to make either of those shots, and I should have saved the ammo.
Everyone was pretty dejected, and in the chaos, I didn't study all the billies, but Jose and Halit (another experienced guide who joined us for the day) both said the one I shot at was somewhere in the 52- to 54-inch range. He was a true monster, and there were a number of other shooters in the group as well.
That afternoon we rode very high to where we could see another remote basin, and there were ibex all over. There was a group at 560 meters, but the largest billy was mature but short. I wasn't interested in any of those.
At 1,000 meters and 1,300 meters there were two groups feeding, and through the big Nikon Fieldscope, we could see a number of shooters. Then, a group of 12-15 billies showed up in the rocky area that looked to be the source of the creek that ran through the valley. Every one of the ibex in this group were mature and big enough to be shooters. There were two that really stood out above the rest. One was really wide, had great curl, and we all thought he was a monster.
It was quite late, and there was no way we could make a move on the ibex and get a shot before dark. I told the guys I would rather leave them undisturbed, come back in the morning, and try to get on them with plenty of time.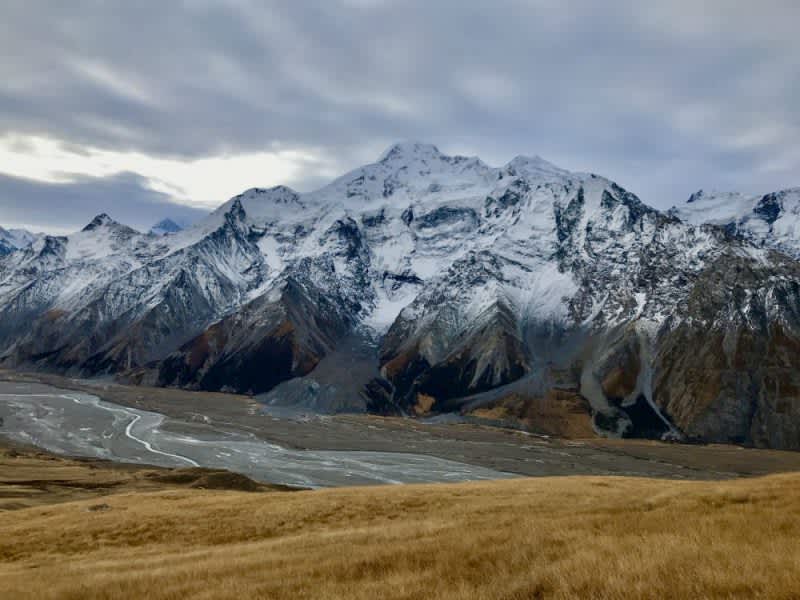 So that was the plan, but late that night, my old local guide conveyed the message to Jose that he didn't want a whole group going. He wanted to take me with his assistant guide, and no one else. I wasn't too happy about it because I wanted to be able to communicate with Jose, and I didn't know how to properly calculate and use the turret on his rifle.
The old guide was insistent, so I borrowed a rifle from Michael Fox who had killed a super massive old billy a couple days earlier, and his turret was simple with yardages clearly marked. He told me that from 300 yards in, just shoot; longer, I should use the turret.
We left early the next morning well before daybreak, and we got back to the lookout from the evening before. All the ibex (probably 200 animals) were together feeding in the highest area of grass in the basin, so my guide conveyed to me that we would hit the creek in the bottom, follow it all the way up the basin under the ibex, and then try to figure out a final approach.
We climbed down about 200 yards of very steep rock, and started the trek. We got to the first place we could check the ibex, and to my horror, they were all running up in the high rocks. A wolf was chasing them, and I thought the hunt was over.
Well up in the rocks, the ibex settled down, and my guide motioned that we were going on. I was a little confused, but I couldn't say much and just went on. Two and a half hours later, we were below where the ibex were originally feeding, but now they were more than 800 yards above us and bedded.
Through very basic signals, I figured out that the plan was for us to wait through the day, and when the ibex got up in the afternoon to feed, we would try to do something.
The ibex didn't move until very late in the afternoon, and they didn't feed where we thought they would. They moved over one drainage and came out above a grassy slope. We climbed and crawled, and finally we found ourselves lying in the grass with about 40 ibex feeding at 300 yards.
I had no way to talk about which animal to shoot, so I just looked them over and found one with really good curve, and he was super wide. I couldn't have told you if he was 45 or 50 inches, but he looked good, and possibly the big wide billy we had seen the evening before in the bachelor group.
I felt good on my shot, but the ibex all took off in a dust cloud to a drainage to our left. My guide motioned that the animal was hit hard, and I assumed it would be lying dead when we got to the gully.
Instead we found blood, and it went up the drainage, around a corner, and up a boulder-strewn avalanche chute.  I was sucking wind, and I was just in disbelief.
Finally, we caught up with the billy, and one more shot dropped him. On my first shot, he must have been angled away just a bit. I thought he was broadside, and I tried to shoot him right in the shoulder to drop him. I had hit him a bit forward.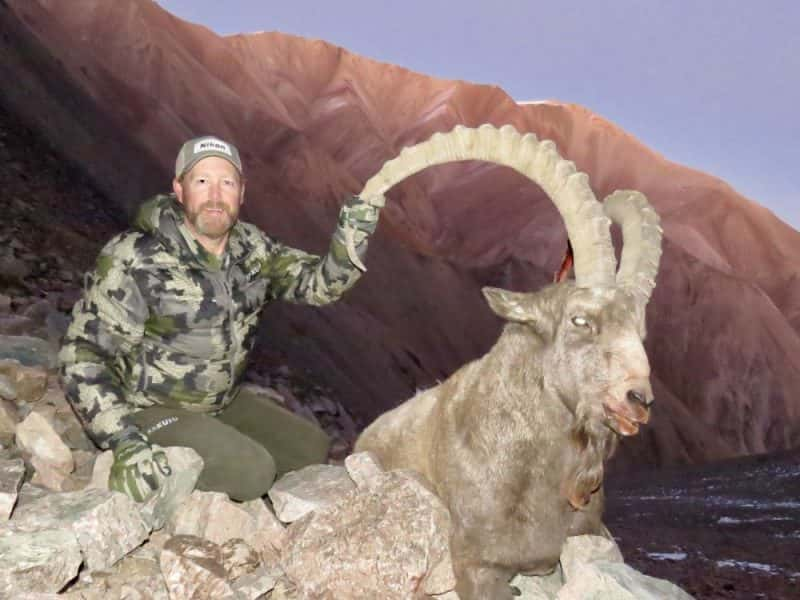 When we got to him, it was literally minutes before dark. I was able to get some low-quality photos as my guide may have never operated a camera before, and again, the light was all but gone. I didn't care how big the ibex's horns were. He was down, and I was just relieved to finally get my hands on him. He was lying at 12,054 feet.
We caped him, and it was pitch-black dark, and I knew we probably had 6 hours of misery before we would make it back to camp. I figured a 3-hour hike in awful terrain with a straight up climb at the end, and then a 2.5-hour horse ride back to camp is what was ahead of us.
I told myself over and over that I could do anything for 6 hours, and I would be able to lie down and sleep after we got to camp. I counted down hour by hour until we got back at 1 a.m. — 20 hours after we left in the morning!
I was 100 percent physically and mentally done. You can imagine how unhappy I was when I was told we were getting up at 5 a.m. and leaving at 6 a.m. on the 12-hour drive back to Bishkek. I think our logistics guy wanted to get back to the city and out of the remote camp, and I was the loser in that situation. It was a long miserable drive the next day.


Our last day in Kyrg, we walked around and checked out Bishkek, ate some good food, did some shopping, etc. Then, we flew back to Istanbul and spent a day seeing some sights like the Blue Mosque, and we ate some fantastic seafood. I want to go back to IST and spend 2-3 days. I really liked the city.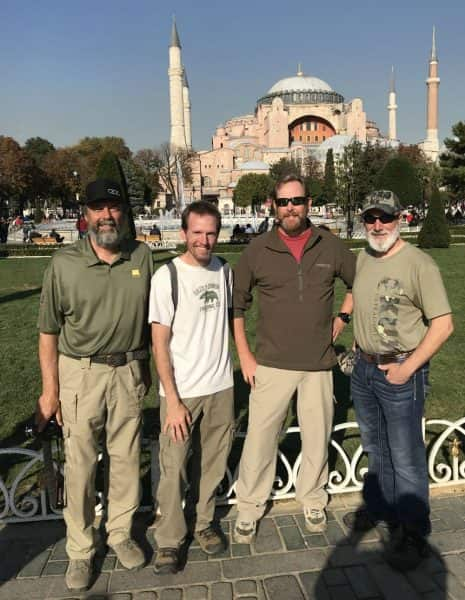 Each day my back hurt more and more, and though I took some muscle relaxers and a few pain pills, things just continued to get worse. By the time I got home after a couple more long flights, I couldn't bend over to tie my shoes, and had serious pain if I took a deep breath or cough, etc.
I thought initially it was a pulled muscle from my falling-off-the-horse incidents. After going to the doctor the day I got back in the United States, I found out that I had a severely torn muscle in my back, and my 10th rib was cracked. I guess there isn't much to do but try to take it easy and let it heal.
This was a serious adventure. There were huge numbers of ibex and some world-class animals. I think I saw 40-plus ibex over 45 inches, and three to five billies in the 50-plus-inch range. Every high basin I went to had ibex in it, and I literally saw 100-300 animals a day.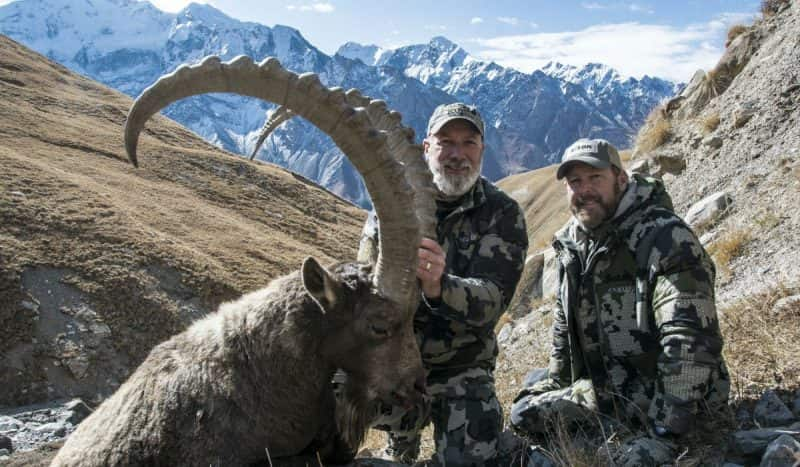 Everyone in our group scored on big mature billies. Two guys shot "wrong" ibex out of the herd they were on and didn't get the biggest in the group in front of them. One guy chose to shoot a super-heavy billy with 13.5-inch bases, one guy took an ibex on day No. 2 that he really liked, Tom took his great goat on the first day, and my ibex ended up measuring 49 inches. Considering only two of six of us received our own guns, we think we did pretty darn well.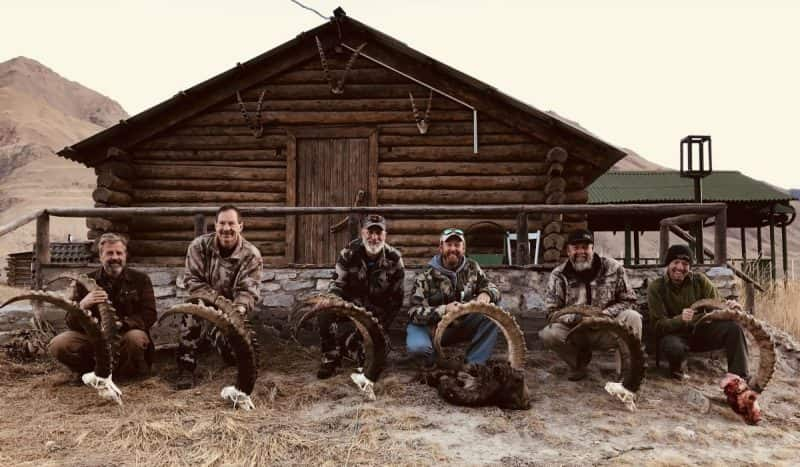 This was by far the toughest hunt I've ever been on physically. Between the altitude, the horse falls, and the rough steep terrain, it kicked my butt. I will say that mid-Asian ibex is the best value for the dollar to be had in the world as far as mountain hunting. It costs a good bit less than most North American mountain goat hunts, the animals and mountains are incredible, and the whole adventure is an experience to never be forgotten.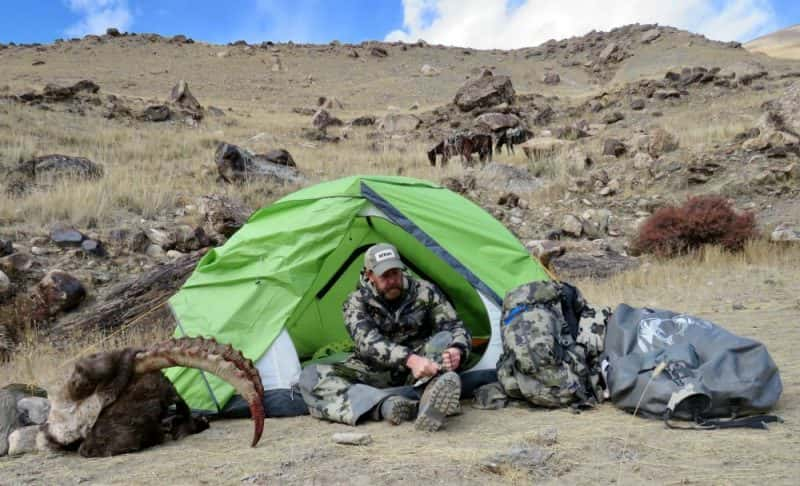 Sidebar: Ultralight Down Still the Best Insulator
When you consider weight and warmth (often the two most important factors in mountain hunting), nothing out there really beats down. I absolutely hate being cold, and on this trip to Kyrgyzstan, we experienced some pretty cold temps. I'm not sure exactly, but when we were at 13,500 feet, the wind-chill temps were well below 0. When we slept in our spike camp, it was about 15 degrees, and waterbottles froze solid in our tent. I utilized KUIU's Super Down Ultra hooded jacket and pants on this trip, and I stayed pleasantly warm.
I wore my Super Down Ultra jacket almost all the time unless on a strenuous hike. Then if we stopped, I put it on immediately. This jacket weighs only 7.9 ounces, and packs up to an incredibly small size in your pack. The warmth it provides is just incredible, and it compresses well under an outer shell jacket as an insulator. When very cold winds are howling, the hood comes in handy as well.
Whenever we would stop to glass or wait out ibex to move into a better position, I would throw on my Super Ultra Down zip-off pants. These pants weigh only 8 oounces, and have zippers the full length of legs so you can take them off and on quickly and over boots. They really keep you warm when you have to sit for prolonged periods. I wore them to sleep in at spike camp, and they made a huge difference. I didn't wear them the first night and was plain cold; the second night had colder temps, but I was toasty warm.
I am looking forward to wearing both of these pieces in the deer stand this year. They are perfect to pack in and out since they weigh less than a pound for both, and I know they will keep me comfortable so I can hunt longer. It still amazes me that pieces this light can be so warm.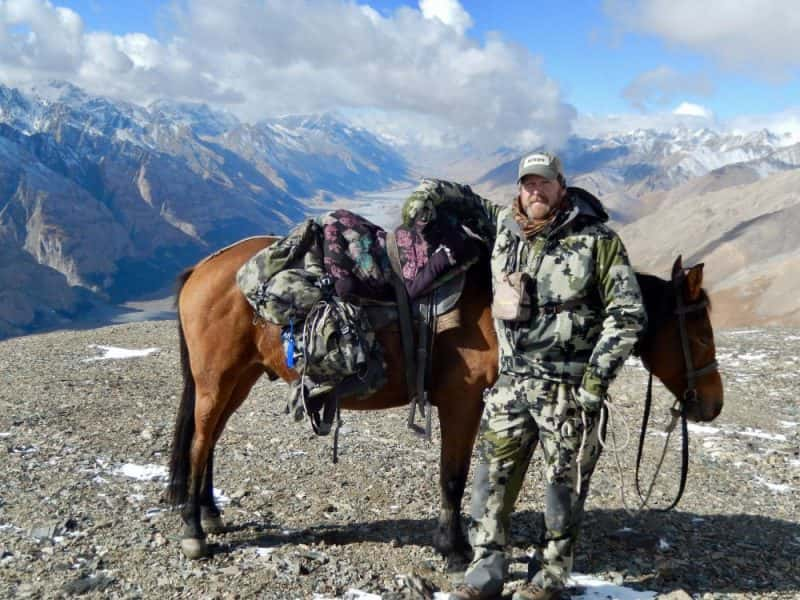 Editor's note: Tim Herald is an owner and hunt consultant at Worldwide Trophy Adventures (WTA). To book this or any other high-quality hunt anywhere in the world, contact Tim at tim@trophyadventures.com. WTA's services are free; WTA is paid directly by the outfitter, and your hunt cost is the same whether you book directly with an outfitter or through WTA.
Images by Tim Herald
What's Your Reaction?