I believe hunting is good for the soul. Which is the main reason why I always tell people if they ever get the opportunity to bear hunt Saskatchewan, I advise you clear your calendar and prepare for the adventure of a lifetime.
It isn't always about what you harvest but the adventure involved. The majority of my top life experiences have taken place in the woods or on the water. Whether I've been hunting, fishing or just spending time in nature, the opportunities to witness something extraordinary can be so frequent that a pinch to the arm is occasionally necessary. While the widespread use of social media filled with cell phone videos have made these moments available to everyone at home, it will never compare to the real thing.
When you're fortunate enough for an encounter in nature to end with the taking of a special animal, it makes that journey complete. Getting close to a variety of animals and then harvesting one that's unique is available when you bear hunt in Saskatchewan.
"An abundance of all color phases of black bear, with high concentrations and large numbers of them,' responded Trevor Montgomery when asked about why someone would plan a trip to his home province. That piqued my interest as I'd grown up around black bear in Minnesota and Wisconsin, but rarely saw variations in color phases and the big boys were few and far between.  In Saskatchewan, most outfitters see at least one or two in that 400-500 pound range.
Black, brown, blonde and cinnamon can all be found roaming from the southeastern regions to the northern forests.  You'll even find unique markings such as a white chevron on the chest.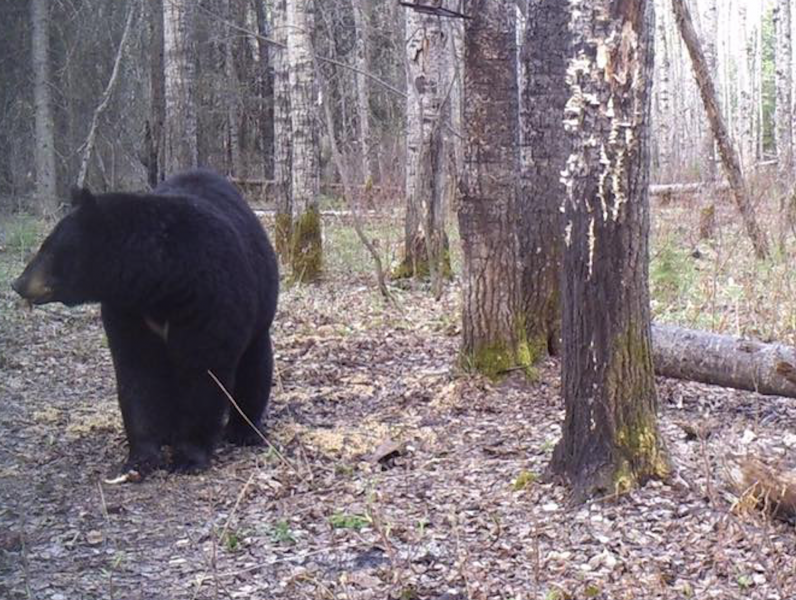 The unique-ness of certain animals can be the difference maker for the eyes of the beholder. You may come across a mature boar that might not tip the scales as a Boone and Crocket animal, but it could possess that lighter coat making it an ideal target in the woods.
But if giant bears are what you seek, you'll find them in Saskatchewan.
"There's a high number of Boone and Crocket bears taken every year," Montgomery said. "And there's a higher average number of color phases, especially in the north."
Big bears and cool colors. What more do you need?
The idea of traveling to Saskatchewan can seem daunting. Depending on where you're traveling from, it can be an easy drive with a lot of scenery along the way.  Getting your rifle across the border is as simple as a form and a small fee. There are also multiple destinations by plane including international airports in Saskatoon and Regina.
According to the Tourism Saskatchewan website, there are 114 licensed outfitters to choose from. Non-residents must use them, but ultimately, having an expert guide allows you some peace of mind, knowing that you'll be in the right area where bears are likely to be. But that's not the only reason.  Combination hunting and fishing trips are very popular and for good reason: The fishing is world-class in Saskatchewan.
Comfortable lodging, exceptional meals and really big, really cool bears are all available. And it won't break the bank either.
"It's relatively cheap," Montgomery said. "We're easy to get to, we have professional guides and strict regulations regarding bear hunting." That allows for protected zones for each outfitter so they can effectively manage the bear population in their area.
How you hunt black bear here depends on your preference and what the outfitter offers. Baited hunts are popular for multiple reasons. Not only will you have chances to see multiple bears in close proximity, but it allows easier aging and sexing of the animal.
And you could witness something very rare. Bear Hunting Magazine filmed a once-in-a-lifetime hunt in northern Saskatchewan that it shared in this YouTube video featuring a wicked interaction between a giant sow and an even bigger boar. The boar was shot with a bow and arrow, ran 20 yards and died.  That sow followed and proceeded to tear into the boar as it laid there offering an intense look into how wild animals behave.
And it's not just bears that visit the bait sites, various woodland creatures from the north country might stop by and give you a rare glimpse into their world that is often seen only on outdoor television.
As far as zeroing in on where to go, the forest fringe is often targeted because of its easy access. No planes or "fly-in" trips are necessary according to Barry Prall from Trails End Outfitters.
"My bear hunting is popular because of the combo with fishing," Prall said. His location is on Tobin Lake on the Saskatchewan River. It's home to trophy walleye and pike fishing.
As is the case with any type of hunting, the weather can be your friend or foe. I've always found that the longer the trip you can take, the more successful you'll be. It allows for bad weather, unforeseen circumstances and more opportunities for the animal you are searching for. Plus it gives you the added bonus of adventure. Which, ultimately, is my favorite part.
Bear hunting in Saskatchewan requires some preparation but nothing out of the ordinary. It's recommended that you work through an outfitter to determine the easiest route to take and gear to pack.
"A thermacell is the best equipment to bring," Prall said. I guess even in a sportsman's paradise like Saskatchewan, you can't escape mosquitos. "Good rain gear and rubber boots," would be additional gear Prall suggests.
Most outfitters offer the ability to purchase your license, so you can be assured you'll have the proper paperwork for your hunt. But a quick scan of the rules and regulations offered by the Government of Saskatchewan are always a good idea so you are aware of what to expect before you arrive.
Big, unique bears are waiting for you in Saskatchewan. A good start to learn more is available on the Tourism Saskatchewan website where they have all the available outfitters listed with information and pictures.