What You Need to Know About AR Pistol Caliber Choices and Ballistics
Tom McHale 01.29.19

If you're gonna choose a shorter barrel, you have to know how to use it. Or more accurately, you need to consider some ballistic pros and cons of different bullet weights and caliber options available to you.
AR-15 pistols are super handy, especially when equipped with the right gear like a proper brace. Two of my favorite AR pistol braces are the Maxim Defense CQB, 4-Position Adjustable on the new Springfield Armory SAINT Edge and the Gearhead Works Tailhook Mod 2. Both are rock solid, work exceptionally well for one-armed support, and serve admirably if you choose to raise the pistol closer to your face and shoulder. But I digress.
Here's the thing. With most calibers, for every inch you shorten the barrel, you'll lose somewhere between 30 and 50 feet per second of muzzle velocity, all else being equal. So, if you choose an AR pistol a barrel six inches shorter than its rifle counterpart, your muzzle velocity may be 300 feet per second less, give or take. If your intended use is to ring steel or make holes in paper targets, that's no big deal. If your use is hunting or defense related, you need to make sure that your ammo will do the desired job at in that velocity band.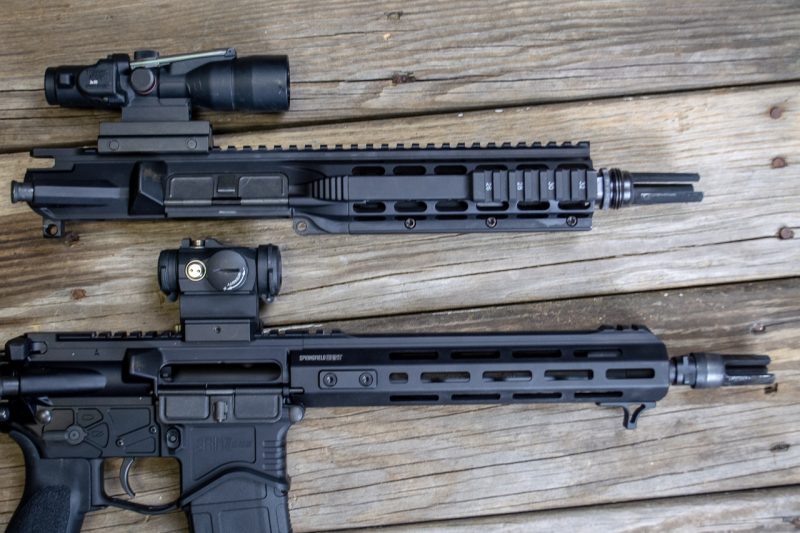 When professional door kickers started to use more compact AR-type rifles for urban combat, one of the complaints was a reduction in effectiveness on target. That's not entirely surprising as the "standard" 55-grain AR load was originally designed to operate properly at a 3,000 foot per second speed. At high velocity, that light full metal jacket bullet will tumble and fragment when it hits the target, thereby causing more fight-stopping damage. At slower speeds from shorter-barreled rifles, users found that it was more likely to just create small holes. That's certainly bad for the recipient but not optimal.
If you want to maximize performance from a shorter-barreled AR, like an AR-15 pistol, you have two major variables with which to tinker: bullet design and caliber. Before we get into specifics, let's set a baseline of velocity and energy from a standard AR-15 rifle platform. At 3,000 feet per second, a 55-grain bullet generates 1,099.3 foot-pounds of kinetic energy. Think of that as destructive energy, kind of like a drill bit. That same projectile delivers 23.57 pounds-feet per second of momentum. Think of that as the ability to move an object. Stated differently, kinetic energy in foot-pounds represents the ability to make a mess. Momentum in pounds-feet per second represents the ability to knock something over.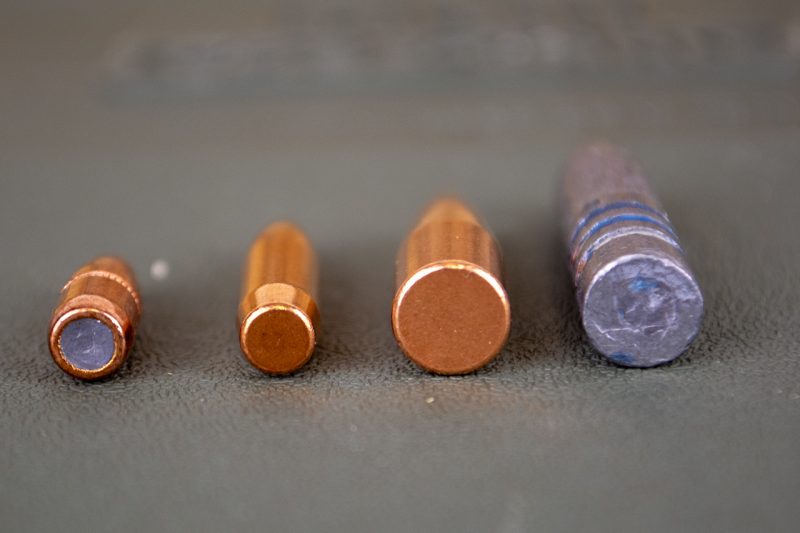 .223 Remington 55-grain
When fired from an AR pistol, a 55-grain bullet will leave the fiery end somewhere around 2,600 feet per second depending on exact barrel length. That yields kinetic energy of 825.7 foot-pounds and momentum of 20.43 pounds-feet per second.
Given the preference of this "standard" projectile to move faster, you have a couple of choices. First, you can live with it. Compared to a handgun, even a standard 55-grain projectile fired from an AR pistol is not a shabby option. Second, you might investigate different bullet types. For example, the folks at Sig Sauer offer their HT hunting projectile in a 60-grain configuration for .223 Remington. These bullets are designed to expand and aren't as sensitive to velocity loss as full metal jacket projectiles. You also might go in the opposite direction and choose a very light and fragile varmint round that is intended to fragment on soft targets. That also carries a benefit of less penetration through interior walls, especially compared to handgun and shotgun buckshot options. Think of loads tipped with the Hornady V-Max bullet.
.223 Remington 77-grain
One approach to improve performance of the .223 Remington when fired from shorter-barreled guns was to increase the bullet weight. There are numerous options in the 60 to 69-grain weight, but since we're looking at the math, we'll consider the top end of bullet weight options that still generally fit into magazine-fed firearms.
The 77-grain bullet offers a 40% weight advantage over the standard 55-grain .223 Remington. That means that the bullet is longer and better at carrying velocity over distance. Fired from the Springfield Armory SAINT Edge pistol, I measured average velocity of 2,250 feet per second with the Sig Sauer Open Tip Match loads. That yields kinetic energy of 865.7 foot pounds – only about five percent more than the .223 Remington 55-grain. Momentum being more weight dependent, measured 26% more at 24.75 pounds-feet per second.

300 Blackout Supersonic
Most people feel comfortable with a "bigger is better" approach to bullets. As the name implies, 300 Blackout projectiles are .30 caliber – .308 inches to be exact. While the name is apt to confuse, .223 Remington bullets measure .224 inches. Judging by diameter alone, the 300 blackout offers a 37.5% increase in width. Since bullets are round, it's surface area that really matters, so consider that the .223 Remington delivers a .157 square-inch frontal area while it's .298 square-inches for the 300 Blackout. That's nearly double.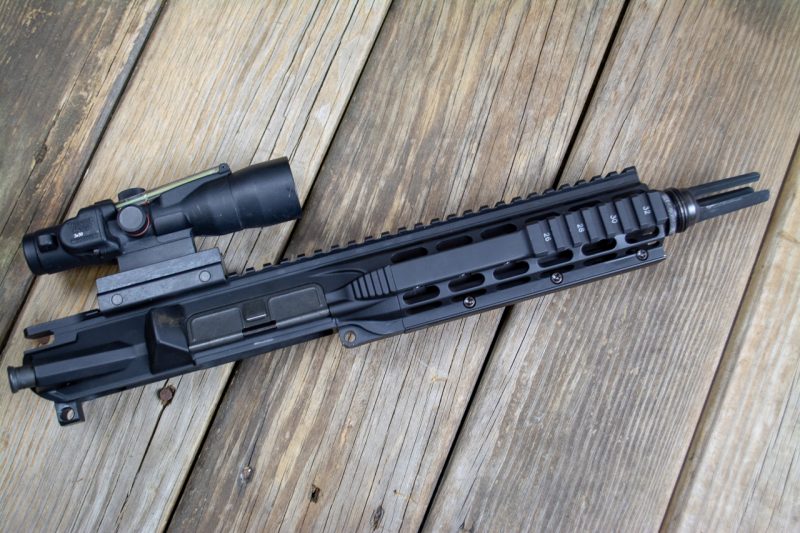 Area isn't the only measurement relevant to terminal performance. "Standard" 300 Blackout projectiles are usually in the 110 to 125-grain weight range. Sure, you can go heavier or lighter, these are just the most common for defensive uses in the supersonic category of Blackout caliber offerings.
Here's how all of that shakes out in terms of kinetic energy and momentum. For simplicity, we'll stick to a 110-grain projectile like the Barnes TAC-TX. When fired from a 300 Blackout pistol, I measured average velocity of 2,106.3 feet per second. That delivers 1,083.8 foot-pounds of kinetic energy and 33.1 pounds-feet per second of momentum – both significantly greater than a .223 Remington 55-grain option.
300 Blackout Subsonic
The Subsonic option is a whole different animal. Rather than relying on velocity for high kinetic energy numbers, this one lobs a super-heavy-for-caliber slug at subsonic speeds. The subsonic part is by design for quiet operation. Unsuppressed, it's a relative pussycat in terms of muzzle blast. When you add a suppressor, the sound of the "thud" hitting a target berm can me more pronounced than the shot.
Since it operates at low velocity, and since kinetic energy is velocity dependent (using the square of velocity in its calculation) the numbers are far lower than the other options we're exploring. The kinetic energy of a 220-grain slug moving at 900 feet per second is just 395.8 foot-pounds. Momentum is not at the mercy of velocity, so it prints a respectable 28.3 pounds-feet per second – still far more than the .223 Remington.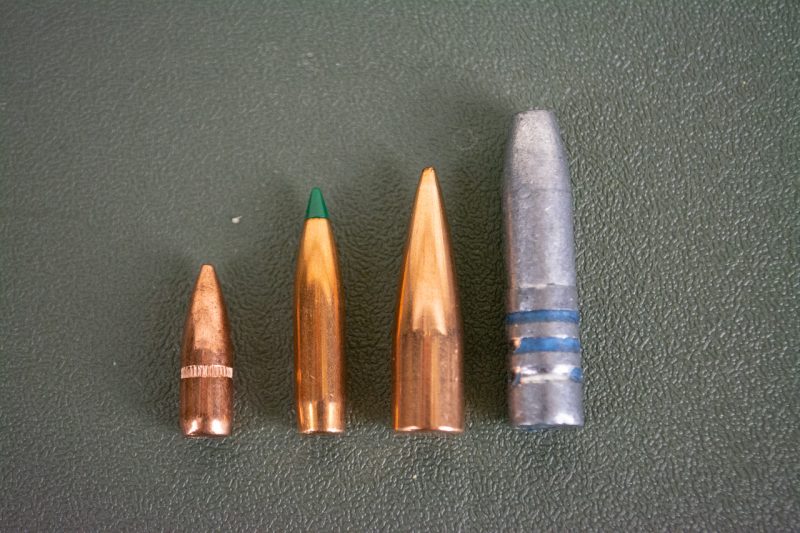 Don't let the numbers and use of a solid non-expanding bullet fool you. When I've tested subsonic Sierra Matching 220-grain projectiles in ballistic gelatin, they tend to tumble end over end. Consider that the bullet itself is 1.489 inches long, that's generates a seriously effective wound channel diameter.
Here's how it all nets out. AR pistols provide an interesting option for certain scenarios like home and car use due to their portability and maneuverability. From a terminal performance perspective, there's nothing wrong with any of the caliber options when compared to most handgun options. The cartridges are more powerful, and capacity is hard to beat with a standard 30-round magazine configuration. Depending on your use scenarios, you may want to explore not only caliber choices, but ammunition selection too. Just know that ammunition will perform differently in pistols than in rifles because of the velocity difference. As long as you choose your caliber and ammunition with that in mind, you'll be fine.