Texas Aoudad & Axis Deer Article Two: Gear Recap Dos and Don'ts
Andy Husek 09.05.19

Recently, I went on a trip to Southwest Texas to hunt Aoudad and Axis deer. Having never been to that part of Texas and never having hunted those animals I basically crammed as much stuff in my suitcase and pack as I could, basically emptying my entire hunting closet. Knowing what I know now there are definitely some dos and don'ts in terms of what you need to be sure to have for this type of trip.  I will pair it down to the top 5 things I used in hopes that it will help you hone in on your packing list.
Top 5 Must Bring Items:
Rifle
As I stated in the previous article, I used my new Savage110 Storm chambered in 6.5 Creedmoor. IMO this was the perfect caliber because it was more than enough gun to take down both animals, and I was comfortable shooting it at a variety of ranges. I'll talk more about that in the last article, but I had shot opportunities as close at 50 yards, and my last shot found home after shooting somewhere around 300 yards. Ideally, you want a rifle you are super familiar and comfortable with, as there is a good chance you may have to stretch is legs a bit! What I love about the Savage 110 is how accurate it is right out of the box, and the ability to basically create a custom fit rifle within a matter of minutes. The AccuFit system allows for custom length of pull and comb height to get you to your natural point of aim quickly and comfortably, without having to fish around for the comfort zone.
Other features include the following:
User-adjustable AccuTrigger
AccuStock rail system secures the action three-dimensionally along its entire length
Detachable box magazine
Stainless steel barreled action
Gray synthetic stock
Soft grip over-mold fore-end and pistol grip surfaces
New Model 110 design and ergonomics
Drilled and tapped for scope mounts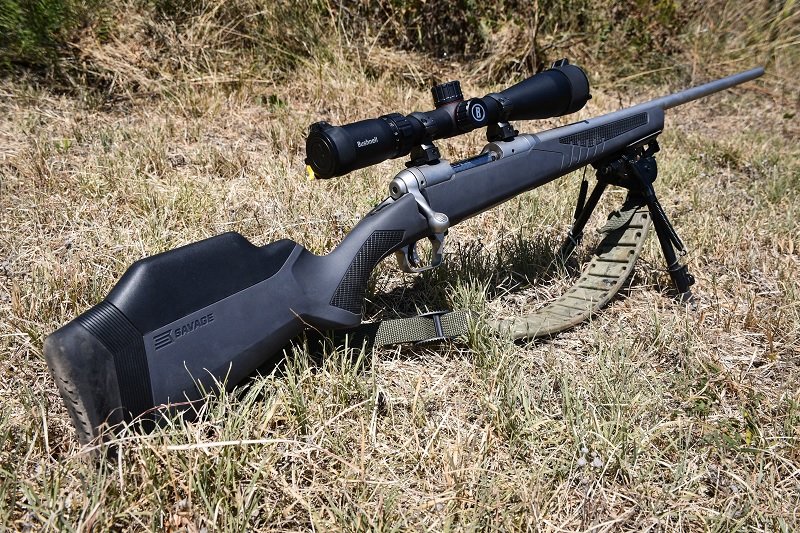 Optics
I used my binoculars and range finder EXTENSIVELY on this hunt. Binos were imperative to be able to locate animals, and also helped big time when selecting a target in the herds. For the purpose of this article, I'm going to include my rangefinder here. Being from the Midwest, there are several places I can see 50 yards no less judge what 50 yards looks like!  In Texas, however, there's a lot of open terrain, making 300 and 400 yard shots look a lot alike. With those deceiving distances coupled with the challenging topographies, I needed a rangefinder capable of reading distances and accommodating for ever-changing angles to make sure I was using the proper hold over. For this hunt, I used the Vortex Razor 10x42s and the Razor HD 4000 rangefinder. Both optics performed flawlessly, and I highly recommend each of these if you are looking for new units.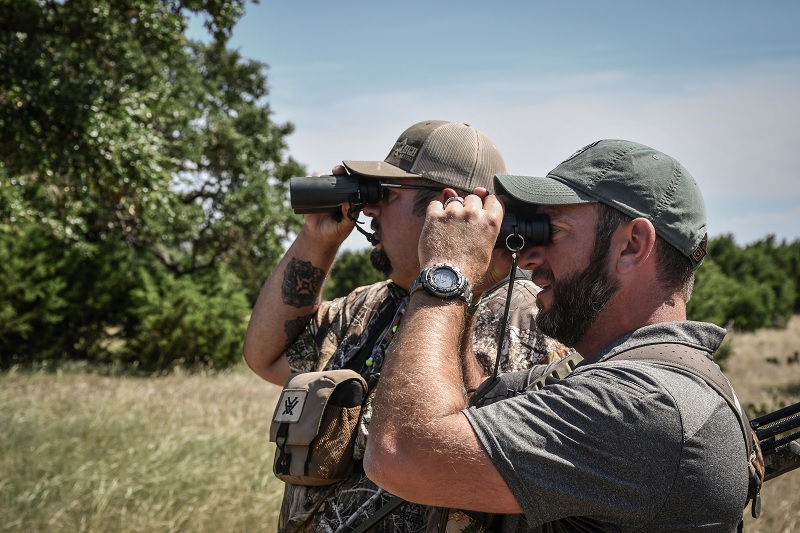 Snake Boots
I've said it before and will say it again, I hate snakes! Plain and simple. In the heat of summer, and in this part of Texas, YOU NEED SNAKE BOOTS! I used the Danner Vitals for this trip and I must say, despite being 17", they were very comfortable to walk around in all day.
Some of their key features are as follows:
Full-Grain Leather & Textile Upper
For a highly abrasion resistant upper, Danner combines premium full-grain leather with durable water repellent (DWR) treated nylon panels.
100% waterproof barrier allows moisture to escape without letting water in, keeping your feet dry and comfortable all day long.
Danner uses a flexible snake protection fabric in between the liner and exterior of the boot to give complete snake protection from the bottom of your foot to the top of the boot.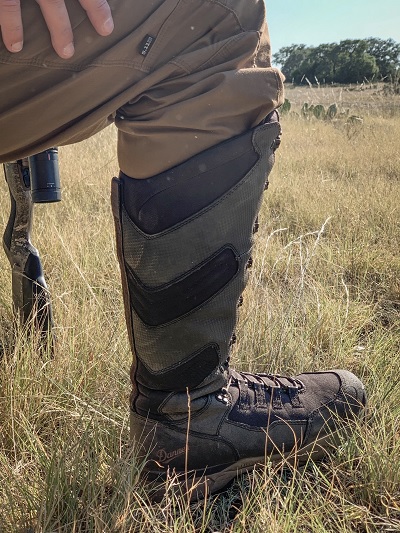 Layered Clothing Options
Let's face it, Texas is HOT in the summer. The mornings and evenings were relatively cool, though, and I definitely reached for my jacket a few times during evening hunts. For this hunt, I used the Ridge Reaper Raider jacket and pants from Under Armour.  They really shined in this application, allowing me to layer up and down based on fluctuating temperatures.
Pants and Jacket Features:
Loose: Fuller cut for complete comfort.
UA Storm technology repels water without sacrificing the ability to breathe
Ultra-durable, lightweight fabric gives you just the right protection without sacrificing the ability to breathe
4-way stretch fabrication provides unrestricted mobility
Quiet construction prevents fabric from rustling, helping you stay silent
Heavily articulated moto knees provide unprecedented mobility & no-lift-fit
Hand pockets & secure cargo pockets
Tapered leg fit with adjustable snap cuffs
Pack-accessible chest pocket & hand pockets
Adjustable bungee cord hem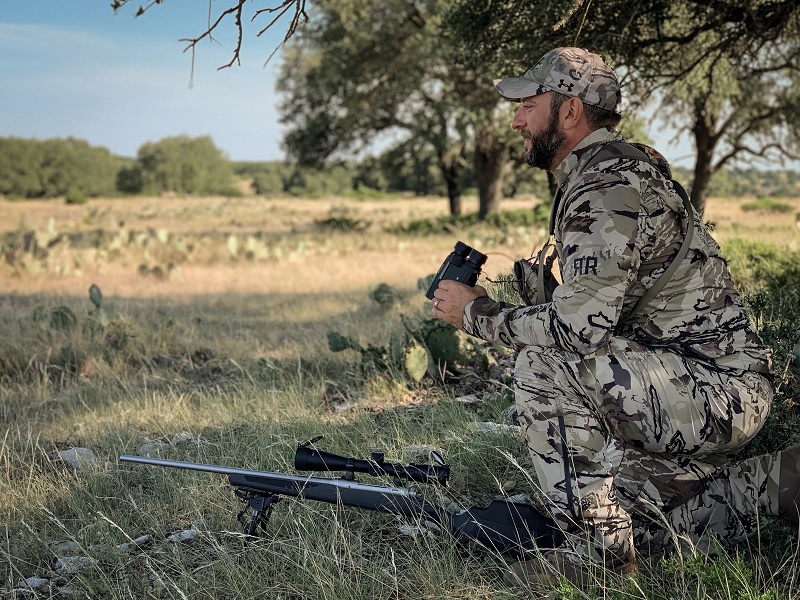 Camera
With today's cell phones, there almost isn't a need to carry a "real" camera anymore. If you're comfortable with just having your phone on you – and you're certain you have enough memory space – use that instead! Personally, I would recommend bringing an ACTUAL camera that takes both stills and video. It's nice having a dedicated camera to help capture those precious memories.
Again, this list is based solely on my experience in Texas, and is catered specifically to that pursuit. My lists look very different for Western mountain hunts, Midwest hunts, Africa hunts etc. This was intended to help you plan for a Southwest Texas hunt. It was a ton of fun and I will be doing a full recap on the hunt itself in article 3 of this 3-part series.  If you haven't already, go and check out article one to see how I chose this hunt.