There are a few things that can be counted on each time I take the stage to do one of my bear hunting seminars. One is that some kind of electronic gizmo will cause me trouble and the other is that I will get two predictable questions from the audience: "How much bait should I use?" and "How often should I put out the bait?"
The answer is actually a little complicated and usually begins with the caveat "it depends." Let me take a moment to explain.
First of all, there are two baiting scenarios that I lump most everything into. Baiting in areas with high competition, and baiting in areas with little competition; and the amount of competition is defined by the number of baits in the area. I hunt both. Near my home, there are a couple of state forests that have a lot of hunters baiting in them. Most of my baits will have another hunter's bait within a mile or two of my site. This calls for a different strategy than hunting in an area where the bears may not encounter another bait in their travels.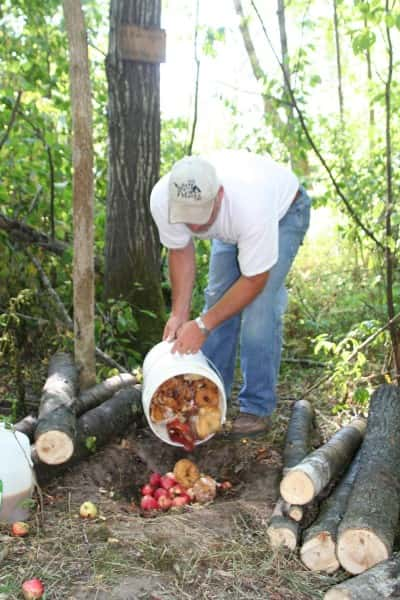 Secondly, your baiting strategy depends on your objective. Are you trying to shoot any decent bear, or are you in an area where there are large bears and you are willing to hold out for a big, mature specimen? Each of these objectives calls for a different strategy.
The state forests near my home have a lot of public land surrounding them and most people will not go to the trouble to find the paper company land, tax forfeit land, or county land that surrounds the state forest, so the state land gets the most pressure. I try to stay on the outside edges of the state forest land, which helps reduce the pressure a little.
Still, if a bear comes to my bait and finds nothing there, I run the risk of losing him to another bear bait a mile or two away. In these situations, I run the baits every day and use about a five-gallon pail of bait. I will increase that amount if I have a sow with yearling cubs on the bait, or if a lot of other scavengers like wolves or raccoons are helping themselves to the bait once the bait site has been opened up by a bear (I cover the bait securely with logs so the bears get the first chance at the bait).
Baiting every day presents some issues. It becomes very hard to hide what you are doing when you are making a trail in there to replenishing the bait. This makes it easier for someone to come in and mess with your bait site, leaving strange human odor there. The bears become somewhat acclimated to the odor of the normal baiter, but can be put on edge by the odor of a different person.
The more people that decide to walk down the trail and have a look at your site, the greater the odds that someone is going to steal your trail camera or spook a feeding bear off the bait. Bears, especially mature boars, are unlikely to come back to the bait during the daylight once they have been spooked off the bait. The more odor and the more sign you are leaving, the lower your chances of killing a really big bear on that spot.
Conversely, if you are hunting in an area with little competition, you do not have to bait as often. You can put out a lot more bait and only replenish it once or twice a week, depending on how many bears and other critters are feeding there. I have two bait sites in the far northern areas of Minnesota where there is so much land that even though the area has quite a few baiters, they are spread out over a large area and it's unlikely that either of my baits have another hunter operating within three to four miles.

In that case I put out 150-200 pounds of bait twice a week. I don't have to worry as much about spooking bear off the baits because I am going in less often. I also go to the bait sites between 10:00 a.m. and 2:00 p.m. when bears are the least likely to be at the bait. I'm also reducing the amount of human scent I am leaving which puts even the larger bears at ease. The more comfortable the bears are around your bait site, the better your chances they will appear during the daylight when you are sitting in a treestand waiting for them.
Keep in mind that baiting bears is a lot like training a dog. You are reinforcing the behavior you want. If they have a positive experience when they arrive at the bait, meaning they find good food and aren't alarmed, they will be back. But if they get spooked off the bait, or come back a couple times and find nothing to eat, or find an abundance of human scent there, they may begin to check the bait only under cover of darkness. In fact, they may not come back at all. That's especially true if there is a bait nearby that is giving them what they need.
The answers to the questions about how often and how much bait to use start with "it depends" and end with you making the best decision you can based on the situation you are faced with where you hunt.
Follow Bernie's bowhunting adventures on his blog, bowhuntingroad.com.
Images courtesy Bernie Barringer
What's Your Reaction?