Eat the Invasive: 7 Simple Asian Carp Recipes
Daniel Xu 01.09.15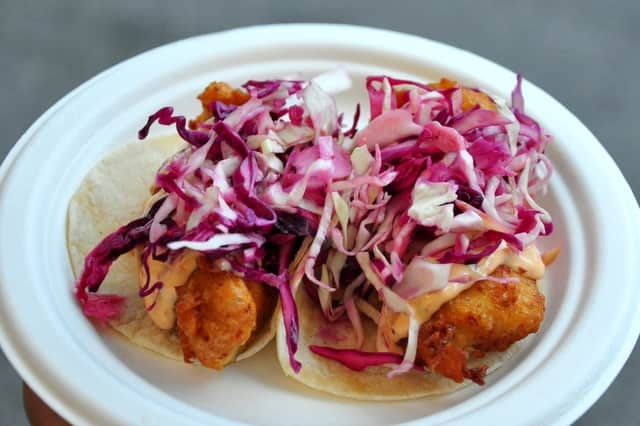 At first glance, there seem to be few good things about bighead and silver carp. These two highly invasive species of Asian carp can be found throughout the Mississippi River and its tributaries, and biologists worry that the carp will eventually make their way into waterways that are vulnerable to colonization—such as the economically vital Great Lakes. Bighead and silver carp are large, slimy, and won't hesitate to jump straight at your face—which is never fun with a fish that can weigh 100 pounds.
Biologists have a number of ways to slow their spread, from sonic barriers to electrofishing, but sometimes the traditional methods work best. When it comes to fish, the best way of controlling their growth may be as simple as getting people to eat them, something that state and federal agencies have been redoubling their efforts toward. For all their faults, bighead and silver carp are easy to catch. Whether you are bowfishing or armed with a rod and net, it shouldn't take you too much effort to pull in more carp than you'll want to eat. Yet, that seems to be the problem. Anglers who have tried cooking the fish fall into one of two camps: either they think the fish was delicious or they write it off as junk fish. In this case, a negative first experience will very literally leave a bad taste in your mouth.
There is, however, a significant difference between the smooth, dark meat of common carp—which has a noticeably strong taste—and the flaky white meat of bighead or silver carp. Their meat is milder and will more readily absorbs spices and marinades, making them perfect for fish fries. In fact, Asian carp are the most commonly eaten freshwater fish in the world, and in its native habitat, carp is considered a valuable food fish. Yet in North America, the fish's reputation is somewhat less stellar.
Does that mean the fish tastes bad? Not if you ask people that love cooking carp. Although there are noticeable differences between the carp in North America and the carp hailing from Asia, the fish are still very palatable when prepared properly. Whether smoked, pan-fried, deep-fried, baked, steamed, in curry, grilled, or even used as burgers, Asian carp are nutritious and can make for a hearty meal. You're probably already familiar with how to catch Asian carp, but below are some videos showing how to clean, process, and debone carp fillets.
Introduction and preparation:
How to prepare for frying:
How to deal with those pesky bones:
Whether you are new to cooking carp or are just looking to give it another try, here are some easy-to-follow Asian carp recipes on how to cook this invasive species.
1. Fried Asian carp
Recipe from the Missouri Department of Conservation
1 pound boneless Asian carp fillets (cut into 5-inch-long pieces)
4 cups frying oil (vegetable or peanut oil)
3 cups of your preferred fish coating (Andy's is recommended)
3 tablespoons Cajun seasoning (optional)
1 gallon zip-close bag
Preheat cast-iron skillet with oil to 375 degrees.
Combine fish coating and cajun seasoning in a gallon-sized, zip-close bag.
Drop each fillet into the fish coating mixture and shake bag.
Place the fillets into the hot skillet (do not overcrowd). Cook 4 to 5 minutes until crispy and golden brown (should flake easily with a fork). Place cooked fillets on paper towel lined plate.
2. Asian carp kebab
Recipe from the Missouri Department of Conservation.
1 pound boneless Asian carp fillets (cut into 5-inch long pieces)
1/3 cup soy sauce (low sodium)
1/3 cup water
1/3 cup packed brown sugar
1 tablespoon Sriracha sauce (optional)
2 teaspoons minced garlic
1 teaspoon freshly grated ginger
1 teaspoon sesame oil
12 wooden skewers
Preheat grill to 400 degrees, and treat grill surface with non-stick spray.
Create the marinade. In a large plastic bowl combine soy sauce, water, brown sugar, Sriracha sauce, garlic, ginger, and sesame oil. Whisk thoroughly.
Marinate the fish. Add fillets to marinade (making sure each fillet is evenly coated) and refrigerate overnight.
Make the kebabs. Thread the fillets on soaked wooden or bamboo skewers.
Place the kebabs on the barbecue grill, and cook 3 to 4 minutes on each side (or until done).
3. Carp dumplings
Recipe from the National Park Service.
1 pound carp fillet
2 onion
1/4 cup butter
4 slices white bread
1 teaspoon dried parsley
salt
white pepper
3 eggs
In a 2-quart pot, make a bouillon: in 1/4 cup butter, brown 1 onion, 2 stalks celery, and 1 carrot, all chopped. Add 2 pints hot water, 2 tablespoons salt, 1/4 teaspoon white pepper. Boil 30-40 minutes.
Prepare the fish mixture by putting 1 pound carp fillet, 1 onion, and 2 small pieces of celery through a grinder. Mix together with 4 slices white bread, trimmed and rubbed to fine crumbs, 1 teaspoon dried parsley, 1 teaspoon salt, 1 teaspoon white pepper. Add 3 well-beaten eggs, and mix.
Drop by spoonfuls into the boiling bouillon, and cook until done (about 5 minutes). Serve with chile sauce.
4. Smoked Asian carp
Recipe from Steve Robillard/Illinois Department of Natural Resources.
5 pounds Asian carp steaks or fillets (skin on)
1 cup kosher or pickling salt
1 cup brown sugar
Charcoal for smoker
Wood chips (cherry or apple)
Mix salt and sugar in a bowl. Roll fillets in salt/sugar mixture until coated. Seal fillets in a re-sealable plastic bag and place in the refrigerator for 2 hours. Flip bag over and refrigerate for an additional 2 hours. Remove fillets and rinse under cold water. Place fillets on a cooling rack until water dries.
Soak wood chips in water one hour before smoking. Light charcoal and let it burn until covered with a light ash. Fill smoker's water pan to create steam in smoker and keep fish from drying out. Lightly oil the grill and position brined fish skin-side down on the rack. Add a handful of wood chips to charcoal and close smoker. Replenish chips every 20 to 30 minutes. Most fish will be cooked in 1 to 2 hours, but times will vary with the outside temperature and the number of coals.
Finished fillets will have a golden honey to mahogany color, depending on the type of wood chips used. Cooked fish will flake easily and be opaque on the inside. Allow fish to cool and serve "as is" or use in recipes that traditionally call for smoked salmon.
5. Carp Cajun
Recipe from the Missouri Department of Cosnervation.
2 cups cooked, flaked carp
1 1/2 teaspoons Cajun seasoning
1 large red onion
1/2 teaspoon paprika
2 bell peppers, green, red or yellow
3 stalks celery
1/2 teaspoon salt
1/4 cup butter
1/2 teaspoon Tabasco
4 teaspoons flour
6 Roma tomatoes chopped, or canned tomatoes
1 can (14 1/4 oz.) chicken broth
1/2 pound peeled large shrimp
3 T. chopped fresh parsley
2 cups cooked white rice
Steam or bake the carp, then remove the meat from the bones. Reserve 2 cups. Prepare vegetables: slice onion in 1/4-inch-thick rings, then cut the rings in half; slice peppers lengthwise in 1/4″ strips; and slice celery 1/2″ thick. Melt the 1/4-cup butter in a large saucepan or skillet. Add flour and stir until light brown. Add onion, peppers and celery. Cook and stir until vegetables are softened. Add broth and seasonings.
Bring mixture to a boil, then simmer until vegetables are almost done and broth is slightly thickened, about 15 minutes. Add tomatoes, shrimp and carp. Cook until shrimp is done, about 5 minutes. Serve over rice and garnish with parsley. Serves 4.
6. Asian carp burgers
A text version of this recipe is available here.
7. Baja Fish Tacos
Recipe from the Ohio Department of Natural Resources.
10-15 small taco-sized fillet portions (recipe can be used for fish such as crappie and perch as well)
1 can spray-on olive oil
1 cup bread crumbs
1 cup milk
Garlic powder
Salt
1/2 package Taco Seasoning Mix
Package of small, soft, white corn tortillas
Baja sauce:
1/2 cup mayonnaise
1/2 cup plain yogurt
1/4 cup chopped fresh cilantro
2 Tbsp lemon juice
1/2 package Taco Seasoning Mix
2 Tbsp salsa
Toppings:
Chopped tomato
Shredded cabbage
Preheat oven to 375 degrees. First, prepare the fish. In a medium-sized bowl, combine bread crumbs, garlic powder, half of the taco seasoning mix, and salt to taste. Dip individual fillets in milk, and transfer to bread crumb mixture until completely coated on all sides. Place on a cookie sheet, lined with aluminum foil. Repeat until all fillets have been breaded. Spray all sides of breaded fillets with a light coating of olive oil. Place in pre-heated oven for 10 to 15 minutes or until golden brown and slightly crispy.
While fish is baking, mix together in a separate bowl, all ingredients for the Baja sauce. Place in refrigerator until fish is ready. When fish is done baking, heat the tortillas in the stove until warm, or microwave for 35 seconds. Assemble tacos by adding 2 to 3 fillet portions, shredded cabbage, and Baja sauce to each tortilla. Top with chopped tomato. Serve.
Do you have any Asian carp recipes that you would like to share? Leave them in the comments below!