Americans seeking an AK-pattern firearm are going to have a wealth of options in 2017. While several new AK models were brought to the market over the past few years, even more were unveiled in the last few months of 2016 and at SHOT Show 2017.
I've put together this buyer's guide to help shooters find the AK that's right for them. For easy reference, I've grouped guns into the following categories: rifle by price range, "pistols," shotguns, and "interesting but untested." Prices used for guns are what I can find for a new-in-box examples online; I primarily source my price info from Atlantic Firearms, Copper Custom, AIM Surplus, and K-Var.
Rifles $500-699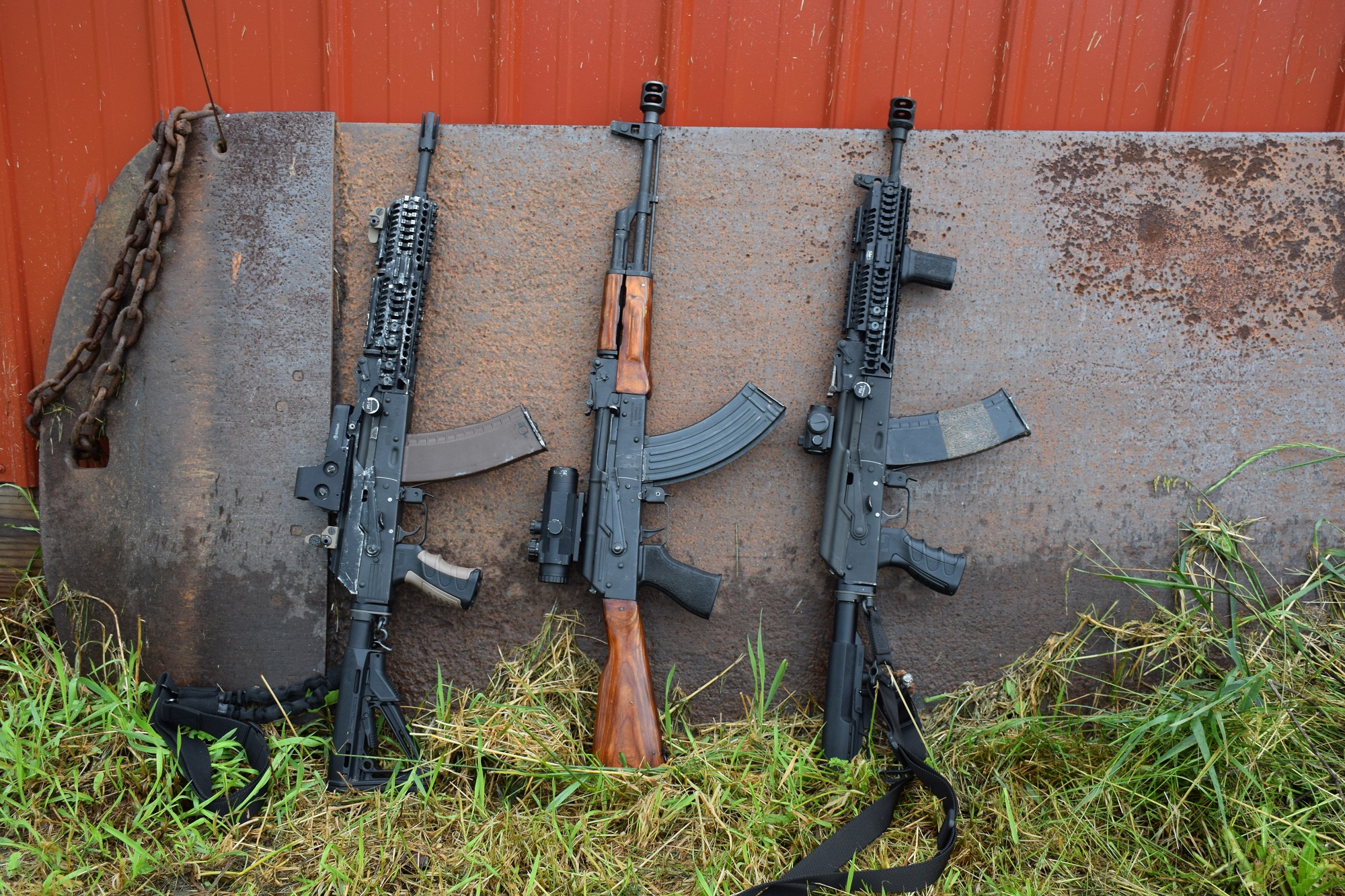 At this lowest price tier for AK-pattern rifles, the best bang for your buck in 7.62x39mm is either a WASR 10 or an NPAP.
The WASR 10 is the American AK shooter's old standby. While it no longer costs $400, this Romanian-made rifle is just about the closest thing someone can get to an AKM clone in this price range. These guns can usually be found for $600 to $650 and feature foreign-made stamped receivers and chrome-lined barrels–in the AK world, "foreign-made" receivers and barrels are generally more well-regarded than American-made examples. They can be customized with just about any furniture that is compatible with stamped guns.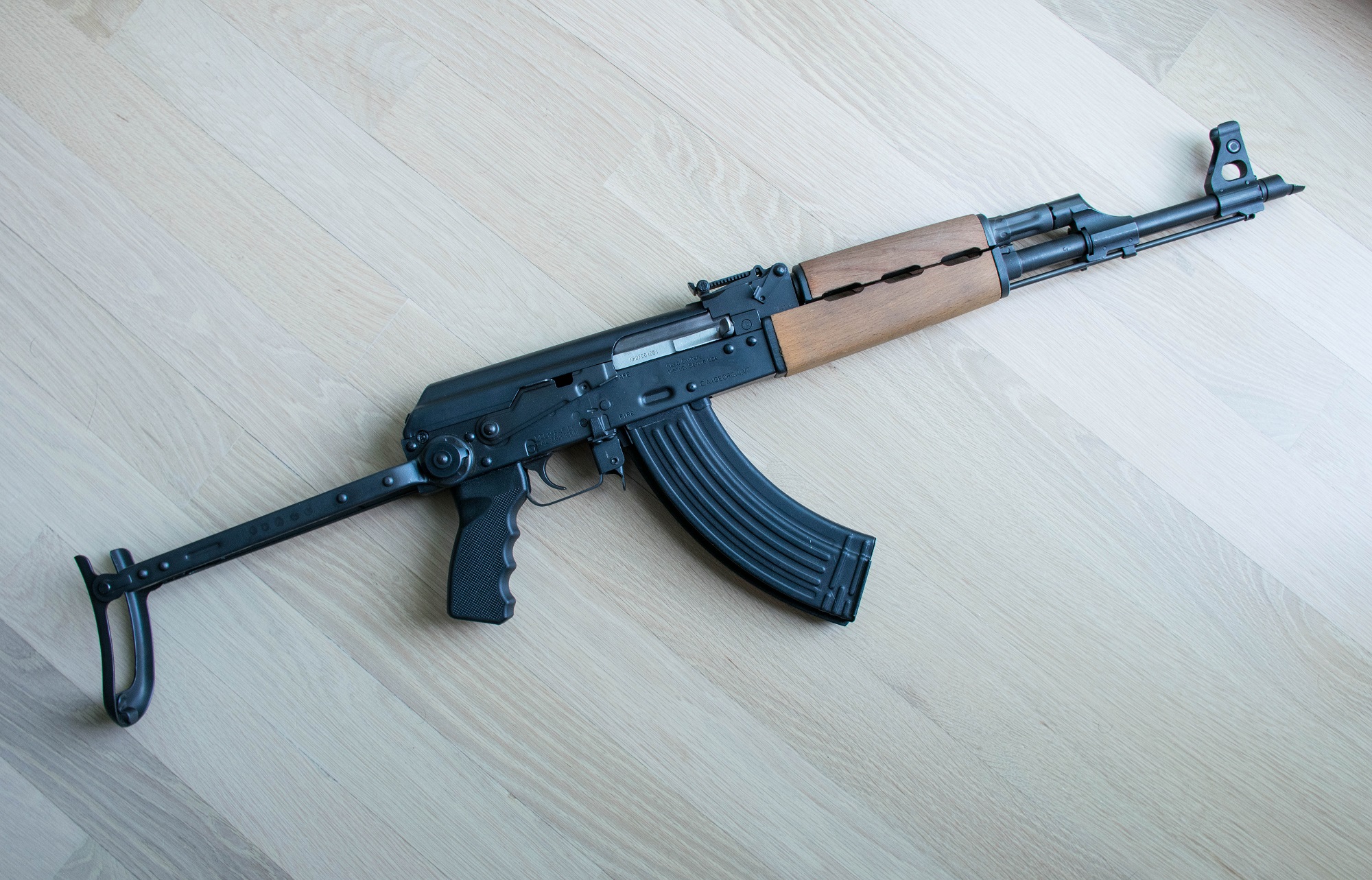 NPAP rifles are made in Serbia by Zastava. Their receivers and barrels are made overseas, though their barrels are not chrome-lined. NPAPs are "Yugo" pattern rifles, meaning that they are only compatible with Yugo furniture and accessories. Non-folding rifles can usually be found for around $600, while underfolders (NPAP DFs) usually fetch at least $650.
A WASR or an NPAP will serve as a great entry-level AK to get you more acquainted with the platform or help round out a Combloc-sized hole in a collection.
Rifles $700-999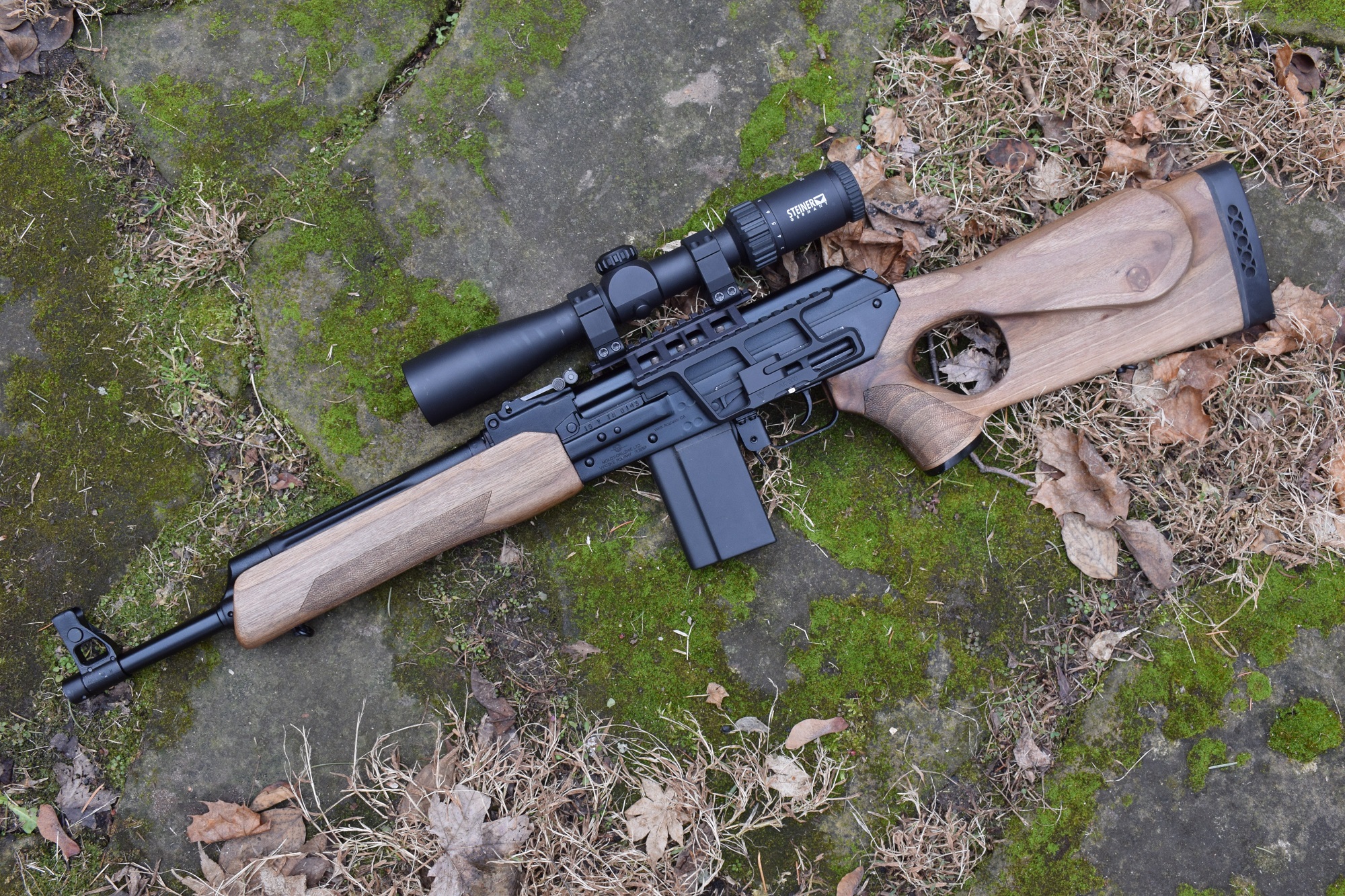 In this price range, Veprs will get you the most bang for your buck.
Veprs (Russian for "wild hog") are made by Molot Oruzhie in Vyatskie Polyany, Russia. Veprs are effectively semiautomatic versions of the RPK light machine gun, meaning that they have reinforced stamped receivers and heavy, chrome-lined barrels. They will likely last much longer than any of their owners. One of the drawbacks associated with Veprs is that they often use proprietary furniture, though more and more compatible furniture options and accessories are coming to the American market.
Veprs are available in a number of different calibers including 5.56x45mm, 5.45x39mm, 7.62x39mm, .308 Winchester, 6.5 Grendel, and 7.62x54mmR. Since FIME Group (a company associated with Arsenal, Inc.) became the main importer of Molot Veprs, rifles in .243 Winchester and .30-06 have also hit the market. Veprs are usually available in configurations with 16, 20.5-, or 23.2-inch barrels.
Until very recently, Vepr rifles were commonly imported exclusively in "sporter" configurations with wood furniture. However, FIME Group has begun offering 7.62x39mm and 5.45x39mm guns in fully "converted" formats, with conventional AK-pattern buttstocks, pistol grips, and handguards (though the handguards are specially modified to fit the rifles).
"Sporter" type rifles typically fall in the $725 to $900 range, while the converted rifles with non-folding stocks are available for $999.
It's hard to go wrong with a nearly all-original, Russian-made Vepr. My 6.5 Grendel rifle is one of my favorite guns and is by far the most accurate production AK I've ever shot.

Also worth mentioning in this tier is Arsenal, Inc.'s new SLR-107R (the SLR series is covered in greater detail below). At SHOT Show this year, Arsenal introduced a less-expensive version of the 7.62x39mm SLR line.
Priced at $849, the -107R differs from other SLR-pattern rifles in two notable ways: it has a non-folding polymer stock, it lacks the AK-74-style front sight base and 24×1.5mm muzzle threading of other SLRs, and it has a muzzle nut in place of an AK-74-style brake. It does, however, have standard AKM-pattern 14x1mm threading under the muzzle nut. The rifle's stamped receiver and barrel are both made in Bulgaria. With its fair price and desirable features, it will be hard to beat the value of an SLR-107R.
As these are SLRs with slightly different features, they don't quite belong in the "interesting but untested" category.
Rifles $1,000 to $1,299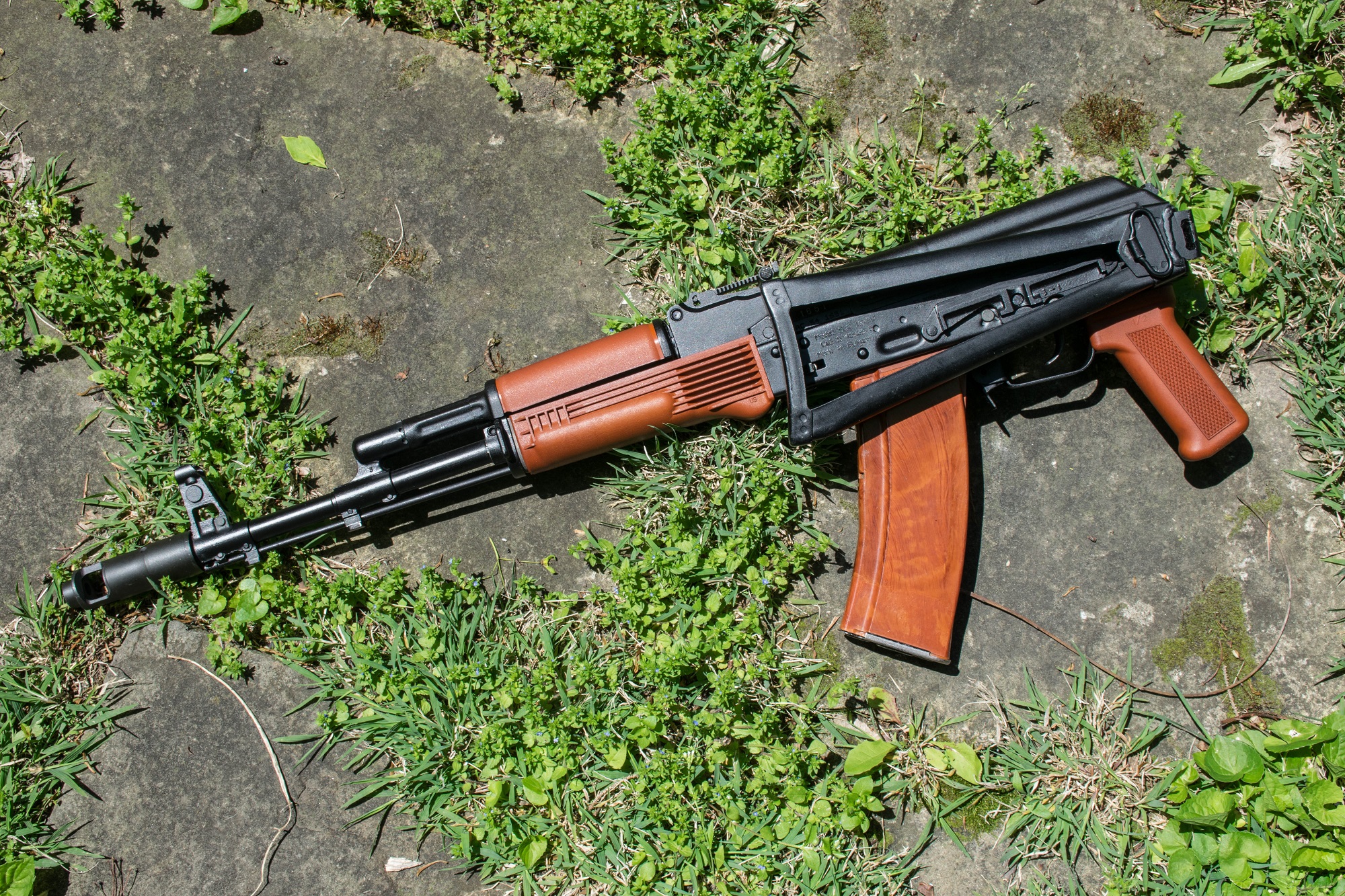 Arsenal, Inc.'s SLR rifles are the best buys in this range. Many consider them to the be standard to which all high-quality AKs in the US should be held.
The SLR series is made by Arsenal AD in Bulgaria and imported to the US by Arsenal, Inc. (though the two companies have similar names and deep ties, they are officially separate entities). These guns' stamped receivers, chrome-lined barrels, bolts, bolt carriers, and most all other "important parts" are made on proven foreign tooling. They are offered in 7.62x39mm (SLR-107s), 5.45x39mm (SLR-104s), and 5.56x45mm (SLR-106s) and feature folding stocks. The 107s are excellent AKM/AK-103 clones, while the 104s are based upon the Soviet AKS-74. Depending on the variant, SLRs are mostly compatible with standard stamped-receiver furniture.
SLRs can generally be found for $1,000 to $1,100.
Rifles $1,300 and up
The most expensive AK-pattern rifles will run you anywhere from $1,300 to $2,500 and beyond. This tier is occupied by premium production guns like Arsenal's SAM7 series and guns that have been hand-built or -customized by one of the American AK world's three biggest names: Definitive Arms, Rifle Dynamics, or Krebs Custom.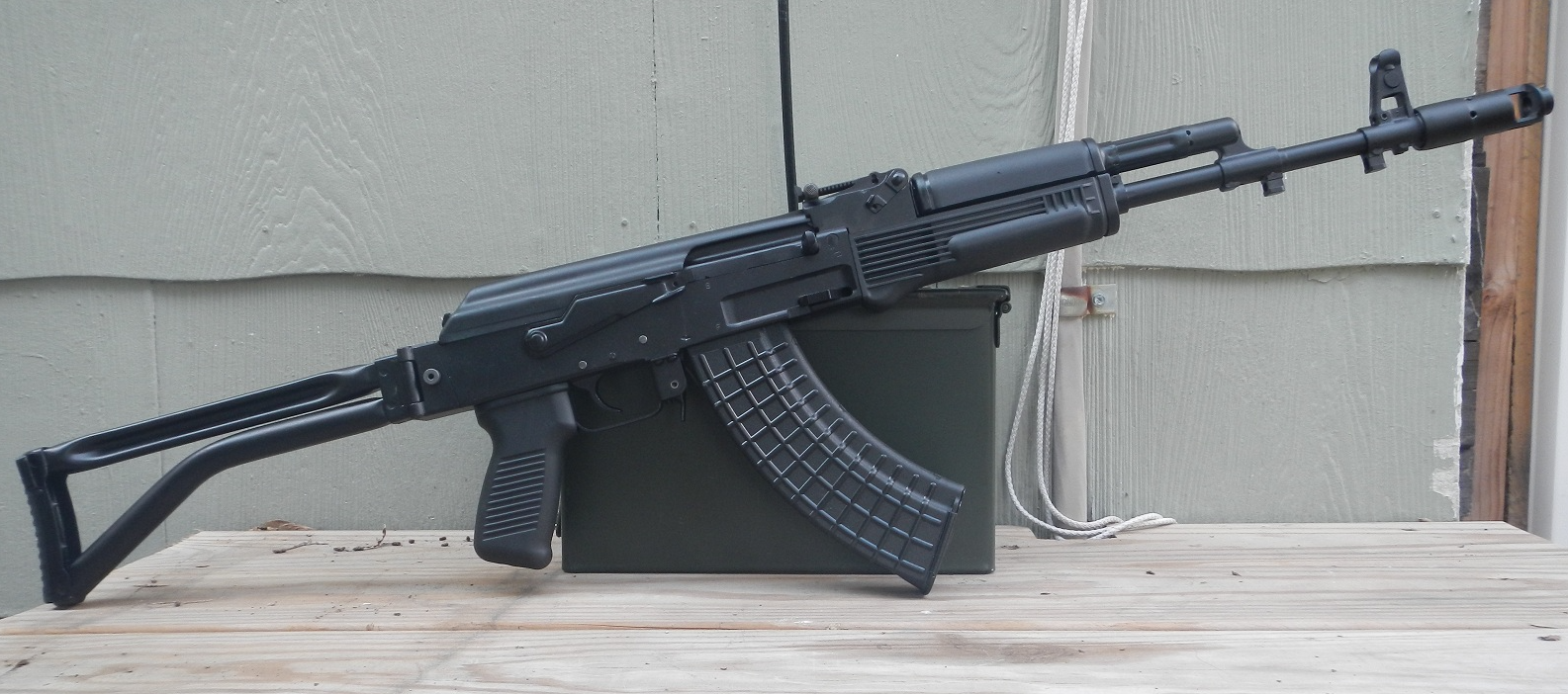 Arsenal's SAM7 rifles differ from most of their other offerings in that they feature milled receivers. As their name implies, milled receivers are milled from a solid block of steel, as opposed to stamped and folded. Milled receivers are heavier than their stamped counterparts, and some folks claim this makes them more accurate and last longer than stamped examples.
In my experience, milled-receiver guns have performed just as well in the accuracy and department as stamped ones (I've yet to shoot out a milled or a stamped gun). However, Arsenal's milled guns generally exhibit a higher degree of workmanship and are tremendously smooth firearms. They are as much collector's pieces as they are shooters. Milled guns are only compatible with milled furniture.
The SAM7 series usually runs $1,300 to $1,400, give or take a few hundred.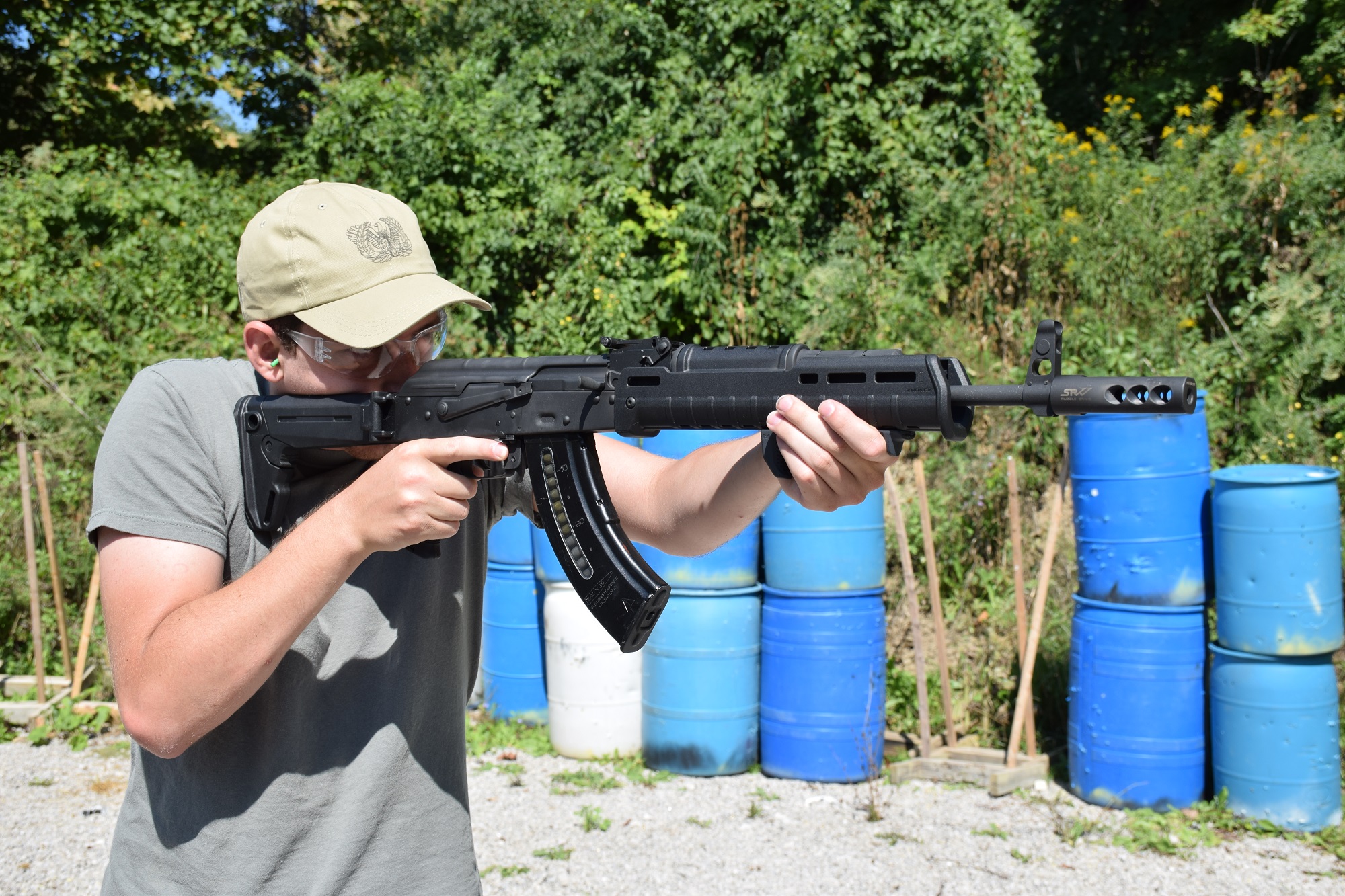 Definitive Arms' incredibly well-made rifles generally fall in the $1,300 to $1,400 range. While Definitive is most well-known for their magazine well conversions that allow AK-pattern guns to feed from AR-pattern mags, they also produce excellent "standard" AK-pattern rifles such as the DAKM line. As they generally make the most affordable guns out of the "big three," the value of a DA gun is hard to beat. I've owned two DA rifles for quite some time and they are both my go-to AKs.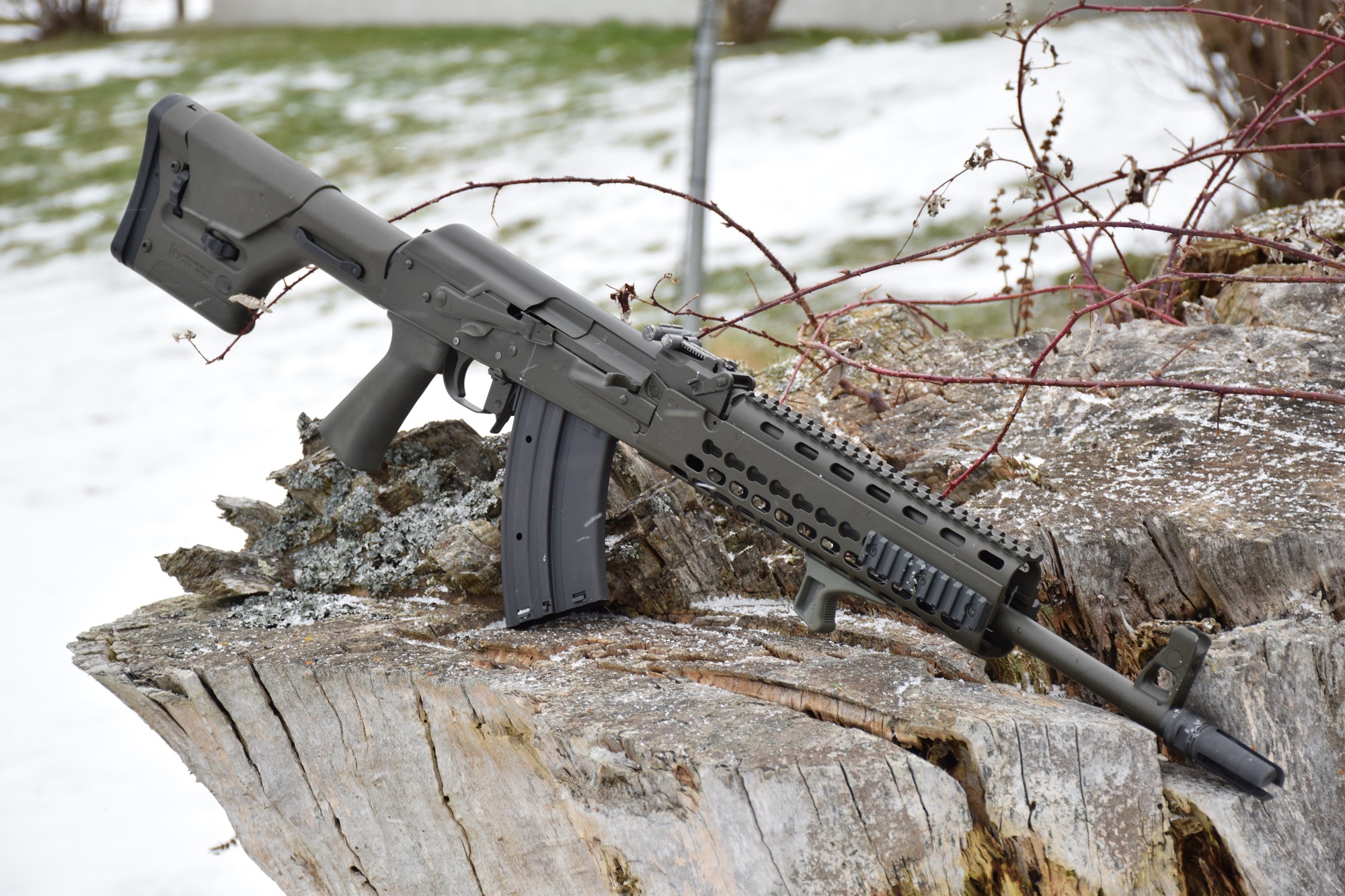 Krebs Custom and Rifle Dynamics' guns generally fall above $2,000. The craftsmanship on Krebs and RD guns is very impressive; a 7.62x54mmR Vepr that was modified by Krebs and DA is one of my prized possessions. Despite this, I'd recommend that a shooter get familiar with what they do and don't like on AK before taking the plunge on a Krebs or RD gun.
AK "pistols"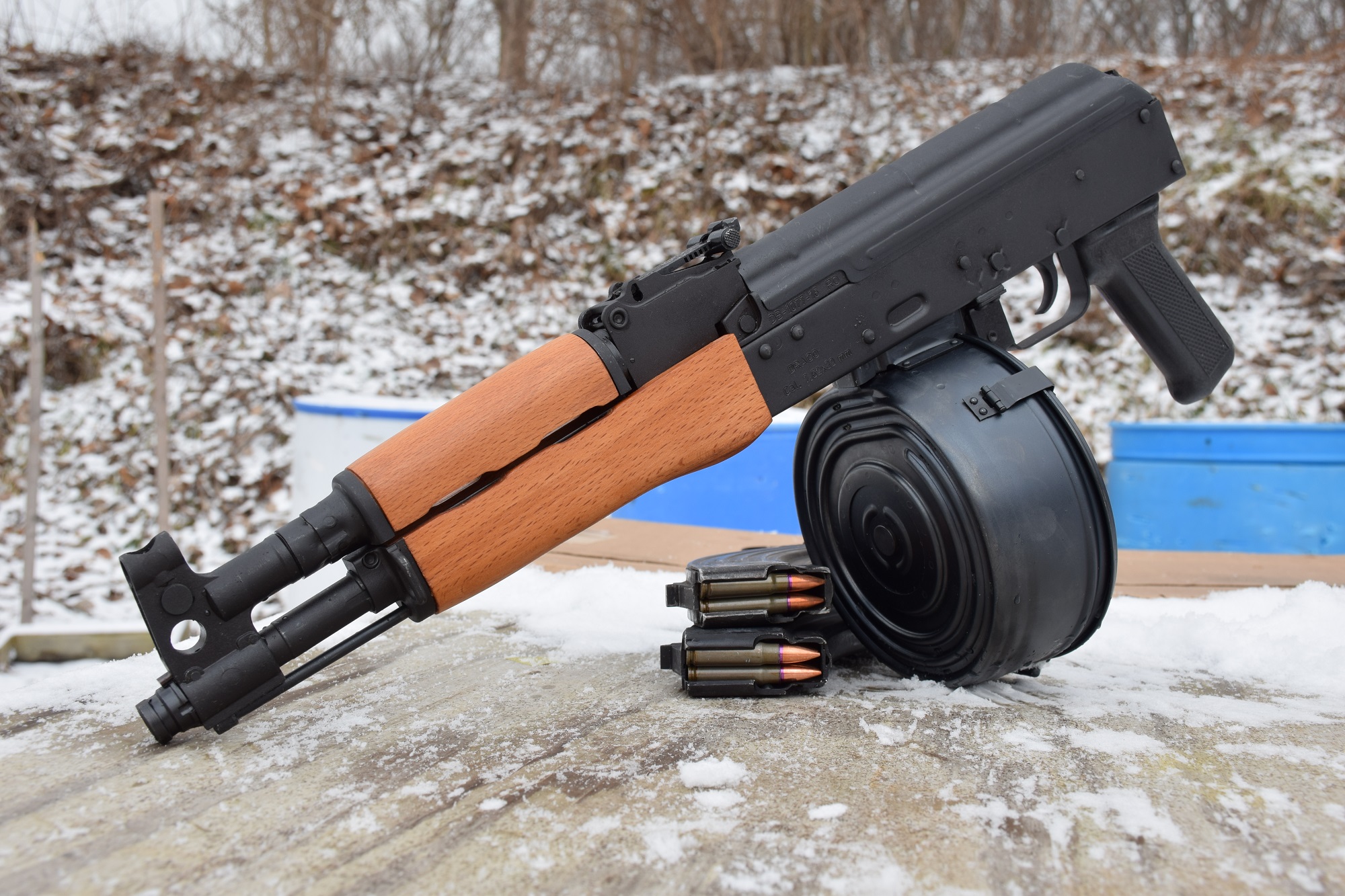 As short-barreled rifles (SBRs) have become more popular over the past several years, so too have AK-pattern "pistols." Many people purchase AK pistols in order to convert them into SBRs, which generally involves modifying the pistol's rear trunnion to accept a buttstock. This can be done if you have the necessary tools and know-how, but many gunsmiths offer SBR conversion services as well. Some pistols are offered with "stabilizing braces."
The most popular AK pistols are the Serbian PAP M92 and the Romanian Draco and Mini Draco. All of these pistols are typically available for $525 to $600, depending on whether they include a brace and the winds of the import market. All of these gun feature stamped receivers and feed from standard 7.62x39mm magazines.
Currently-imported PAP M92s use Yugo-pattern handguards and feature unique 26×1.5mm muzzle threads. Draco pistols use standard AKM-pattern handguards whereas Mini Dracos feature a proprietary single-piece handguard. Both Dracos have 14x1mm muzzle threads, though they are often covered by a welded-shut muzzle cap. M92s have a 10-inch barrel, Dracos an approximately 11.75-inch barrel, and Mini Dracos a 7.75-inch barrel. Draco barrels are chrome-lined, whereas PAP barrels are not.
While both Draco variants are effectively cut-down AKMs, the M92 is more similar to an AKS-74U-style firearm (also known as a Krinkov). It has a hinged top cover and a rear sight attached to the top cover.
If you're after a Krinkov that looks the part (albeit in 7.62x39mm), I'd go for the M92. In any other case, I'd pick one of the Dracos, due to its chrome-lined barrel.
A note about AK pistols: as pistols are not subject to the same 922(r) restrictions as rifles, they are often composed entirely of foreign-made parts. The Draco, for example, is entirely foreign-made. If you plan on turning an AK pistol into an SBR (which is subject to 922(r) compliance), be sure that you adequately plan for installing the required number of American-made parts.
Shotguns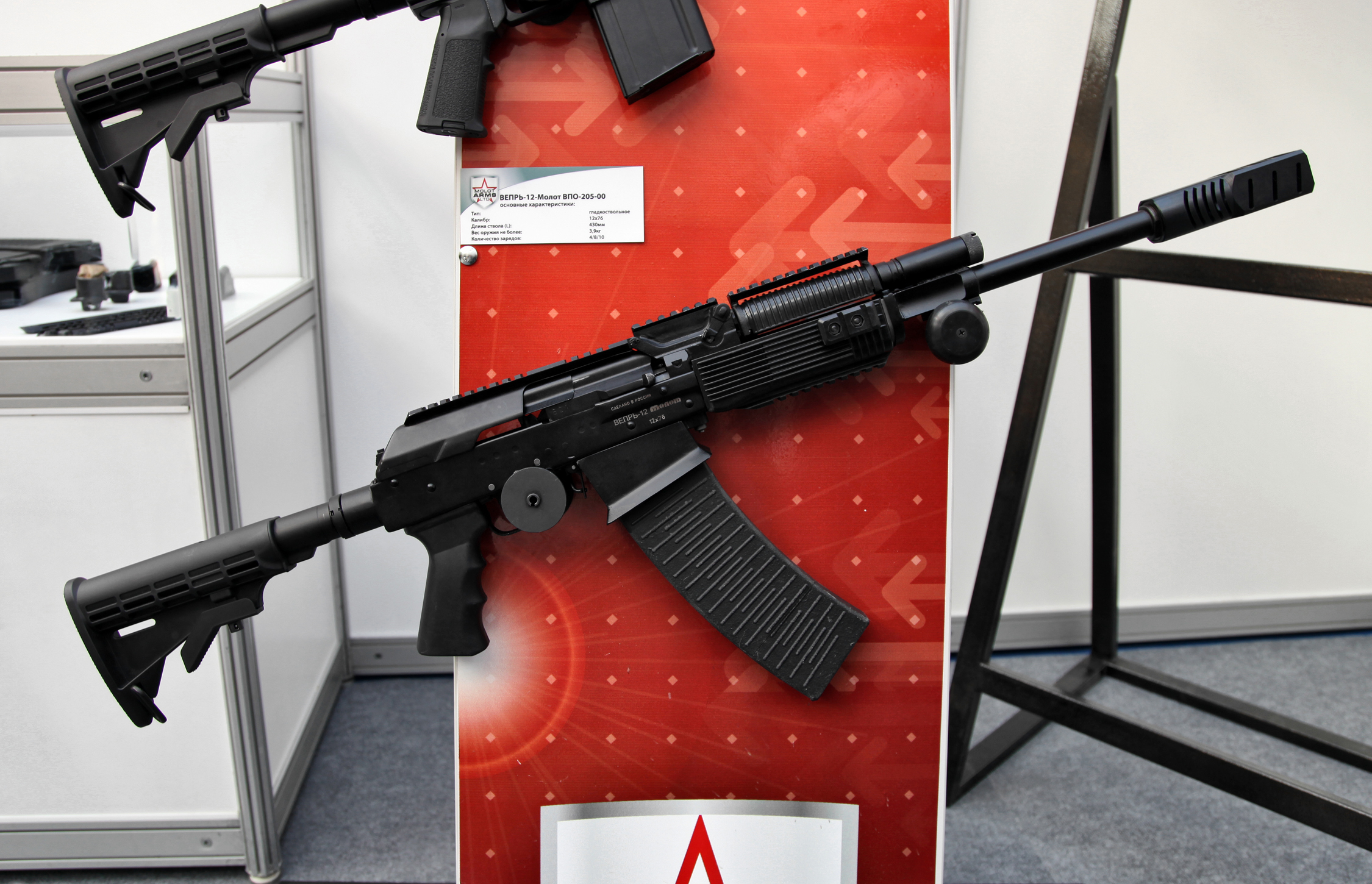 Without a doubt, the best AK-pattern shotgun you can purchase in the United States right now is the Vepr 12.
Vepr shotguns are also made by Molot in Russia. These shotguns feature the same reinforced receivers as Vepr rifles They also sport chrome-lined barrels. Compared to some of the other common AK shotguns available on the market (included the currently-banned-from-import Saiga 12), they are more reliable. The cost of magazines and furniture can be a bit high, but as more manufacturers enter the Vepr 12 aftermarket, prices will hopefully come down.
Vepr 12s can usually be found for around $800, depending on the features of a particular model.
Interesting but untested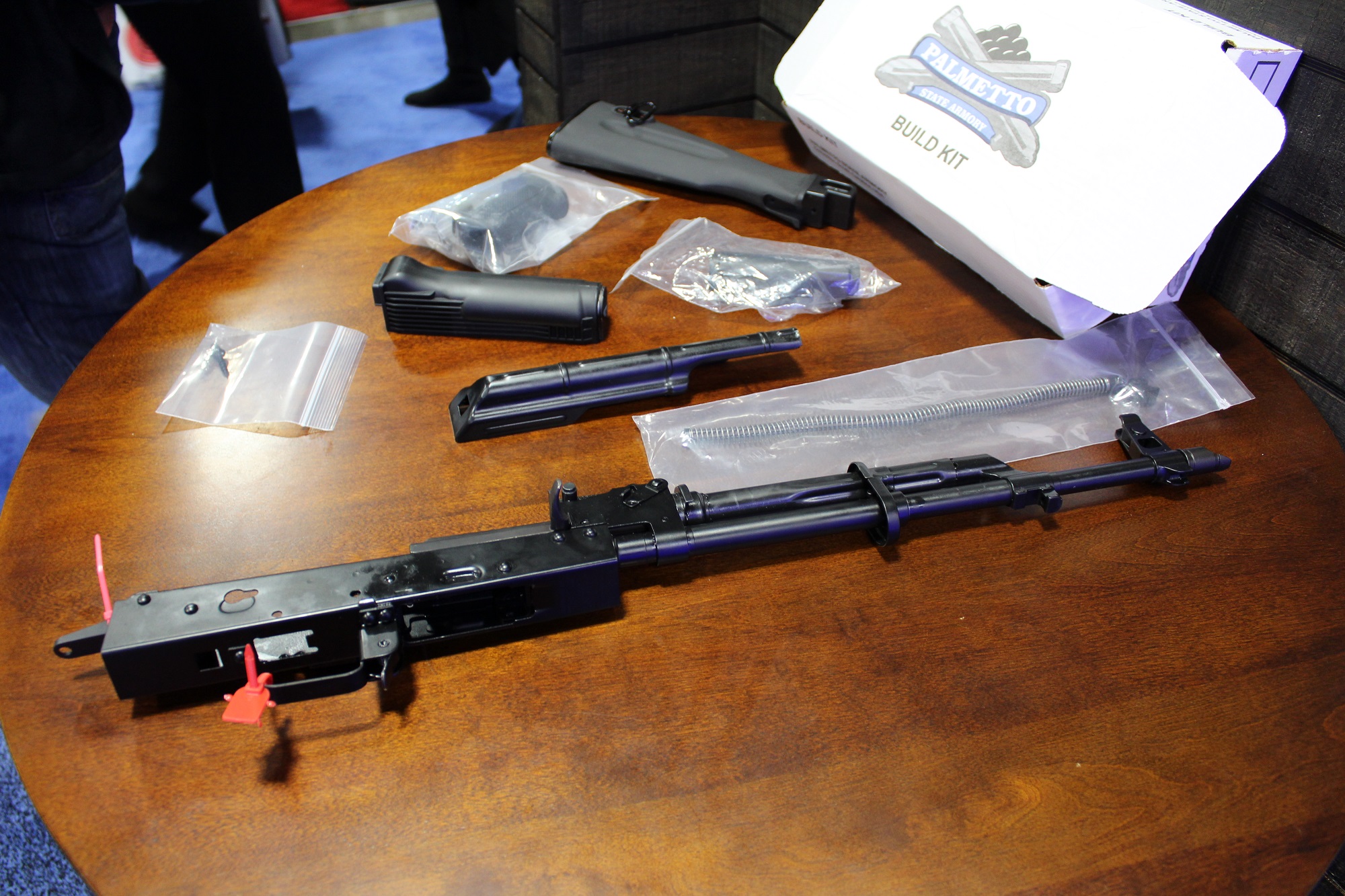 One of the most interesting AK-related products to emerge from this year's SHOT Show was Palmetto State Armory's (PSA) AK "build kit."
The "kit" consists of a barreled receiver, gas tube, and a bolt carrier group. Purchasers would need to add their own furniture and fire control group. PSA plans on selling the kits for less than $500. Though their complete rifles got off to a rocky start, their second-generation guns seem to be doing better. I wouldn't be the first in line to purchase one of these kits, but I'm very interested to see how they perform over the next few months.
Those are my picks for the best buys in the AK world for now. What do you think? Did I miss any big ones?