Due to unseasonably warm February temperatures and then a week's worth of strong winds to begin March, the ice in southern Minnesota is gone. However, decent – and safe – ice still covers many lakes in northern Minnesota, so the ice fishing season still isn't over.
If you plan to walk on water during the next week or two in search of late-ice crappies, be sure to wear a PFD (life jacket) and pack a few tip-ups.
Wait . . . did I just say tip-ups for crappies?
Before you accuse me of spending more time drinking than drilling holes on the ice, let me explain.
You've heard of "dead sticking" for crappies, right? Well, a tip-up can help you do the same thing. And here's where they really shine: In Minnesota, tip-ups can be placed up to 200 feet away and not be counted as an unattended line. So you can jig with a rod and reel in one hole, and set a tip-up in the distance to help cover more water (ice).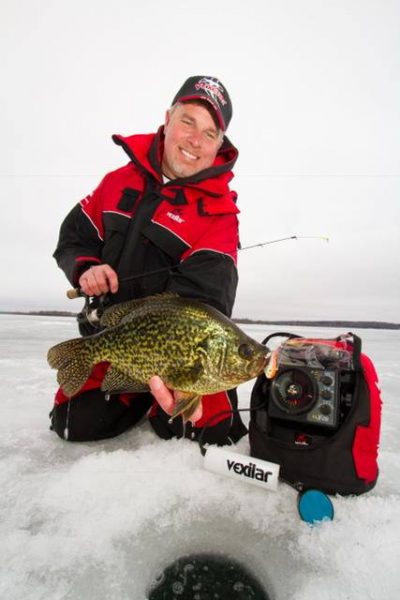 In addition, I place a sonar (fishfinder) in another hole with a "fish alarm" set. If the flag goes up, then I land the biting crappie and then start jigging in that hole. If the sonar beeps, then I move to that hole and begin jigging. I'm basically covering a lot of water by myself.
And here's where it gets really good: If a few ice anglers are all doing the same thing (jigging, plus tip-up, plus sonar with fish alarm), your group can quickly find and stay on schools of crappies.
For tip-up rigging, I prefer a size #6 hook with a small split-shot placed 10 inches above the hook. Be sure to set the tip-up for light biters; crappies don't hammer a small minnow with the force of a northern pike smashing a sucker. I like to add another split-shot as the depth marker on my tip-up to help trigger the flag as well.
Check out the video below to see this system in action. Good luck, and be safe on the ice!
Editor's note: Visit MinnesotaGuideService.com to book a fishing trip with Captain Josh Hagemeister (below). You can also call 320-291-0708 or 218-732-9919, or send an email to: [email protected]. Capt. Josh spends 300 days a year on the water (both open and frozen) pursuing many species of freshwater fish throughout the upper Midwest and his home state of Minnesota.