Video: How to Properly Hold a Muskie
Dave Maas 03.10.17

Whenever someone asks me, "What's your favorite fish?", I typically answer: "My favorite species to pursue is largemouth bass, but my favorite fish to catch is the muskie."
You see, fishing for muskies can be work – hard work – and while I've caught muskies on back-to-back casts during my many decades of pursuing them, I've also gone through long dry spells of no muskies boated. And I know I'm not alone in my battles with finding and catching muskies. These top-of-the-food-chain predators will test your patience, stamina and spirit.
That said, nothing in the angling world – that I've experienced – compares to the head-shaking violence displayed by a big muskie hooked near the boat. The intensity is impossible to describe in words. For that reason, my favorite fish to catch is the muskie.
Because encounters with muskies are often few and far between, many anglers – especially those who hook muskies while pursuing walleyes or bass – often don't know the best way to handle these prized fish for photos. Of course, it's best to practice CPR – catch, photo and release – on muskies, but what is the best way to hold them for a quick photo?
As the video shows, you basically have two choices; both methods do an excellent job of supporting a muskie's weight. The same methods work for northern pike (below), too.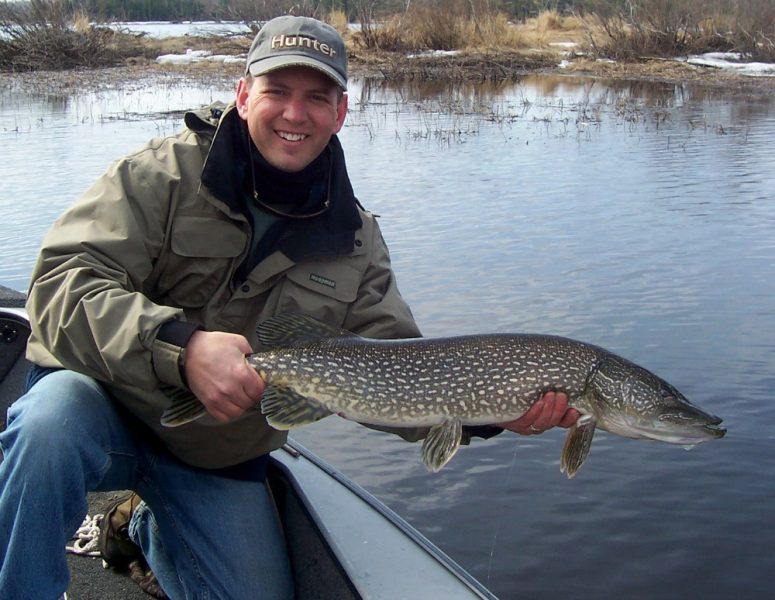 FYI: The host of the video is Caiden L. Ramsell, who comes from a long line of avid muskie anglers. In fact, he is the grandson of world-renowned author, guide and muskie historian Larry Ramsell. I had the good fortune to meet Larry Ramsell a few times in the late 1980s and early 1990s, and his knowledge of muskie fishing and muskie fisheries was second to none.
Special note on the gill hold method shown in this video: When you initially lift a muskie vertically, move to the horizontal hold as soon as possible to support the fish's weight. Never hold a muskie by the gill alone and allow the fish to hang vertically.
P.S. Caiden wishes to thank the Illinois Department of Natural Resources, Division of Fisheries, for allowing him to film and partake in the 2017 muskie spawn. And for more information on everything having to do with muskies, check out Muskies, Inc.