Forget the live bait and dig out the small soft plastics for springtime panfish – especially crappies. Don't get me wrong, live bait is deadly on all accounts when it comes to any fishing, but plastics are far more efficient in putting numbers of fish in the boat quickly.
There are multiple downfalls to using live bait for shallow spring panfish. One of them is that the small minnows used as bait (typically under a float) will almost always entangle themselves into the exact cover (such as weed stalks or brush) that an angler is placing the bait near or in.  Of course, the minnow can be anchored with a split-shot or jig head, but then some of the luster of the bait's action is lost. Another downfall after each caught fish – or a missed strike – is the need for fresh bait. Digging in a minnow bucket and re-baiting every 5 minutes isn't efficient and wastes valuable fish catching time – especially if the fish are hot. If there are three or four anglers in the boat, this wasted time adds up fast. This is where small soft plastics come into play.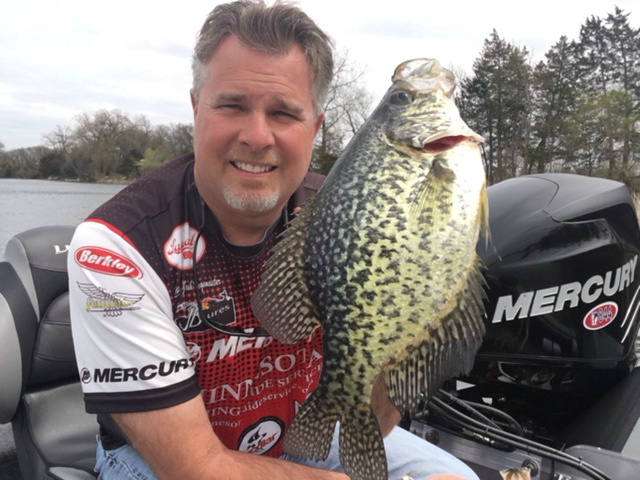 I prefer Berkley Gulp or Berkley PowerBait due to the scent, softness and natural colors of the baits. There are a ton of styles from which to choose. Just keep it natural, simple and 2.5 inches or shorter in length.
I like to rig the plastics "wacky worm" style. Grab a No. 6 red Gamakatsu Octopus hook and place it right through the middle of the bait so it hangs horizontal like a real minnow swims. I like plastics rigged this way that have a curly tail of some kind, so as it is drifting along or being twitched, it has swimming characteristics. Present the soft plastic as you would any live bait.
As the video below shows, it's about that simple. Give it a try on your next fishing trip.
One final thought: Large panfish are susceptible to overharvest during the spring, so be careful in deciding what size and how many sunfish and crappies to keep.
Editor's note: Visit MinnesotaGuideService.com to book a fishing trip with Captain Josh Hagemeister. You can also call 320-291-0708 or 218-732-9919, or send an email to: [email protected]. Capt. Josh spends 300 days a year on the water pursuing many species of freshwater fish throughout the upper Midwest and his home state of Minnesota.