Meat Ambrosia: Lazy Sunday Smoked Pork Ribs
Krissie Mason 08.29.17

It's not pronghorn, or elk, or wild boar for that matter. Nor is it a marinade for a sumptuous cast iron seared venison steak, or walleye cakes where the pure indulgence of clustered flakes of tender sweet meat leave you longing for another morning on the lake. No, in between creating wild game recipes, interviewing chefs, and drooling over other folks wild game food porn photos, I sometimes take liberties. Like the simple pleasure of pork ribs on a lazy Sunday. Not a Berkshire heritage hog, or a Hungarian Mangalista which is pretty much the Kobe beef of hogs. Nope, just regular grocery store pork ribs. Which are generally pretty damn good up here in the Midwest.
Yep, sometimes it's a sorely needed divergence; both the unplugging from Instagram envy, and a flavorful mouthful of deeply smoky, salty, sweet, and tangy meat ambrosia that comes with built in handles. Even if you've never smoked ribs before, or have newbie jitters, I encourage you to do it. Good ribs are not difficult. Whether they turn out perfect, or imperfect, smoked ribs just seem to taste awesome. The real hocus pocus is temperature, time, and a little culinary Love. Low and slow for about six hours, along with some rib romancing, keeps you in the present moment and yields succulent results.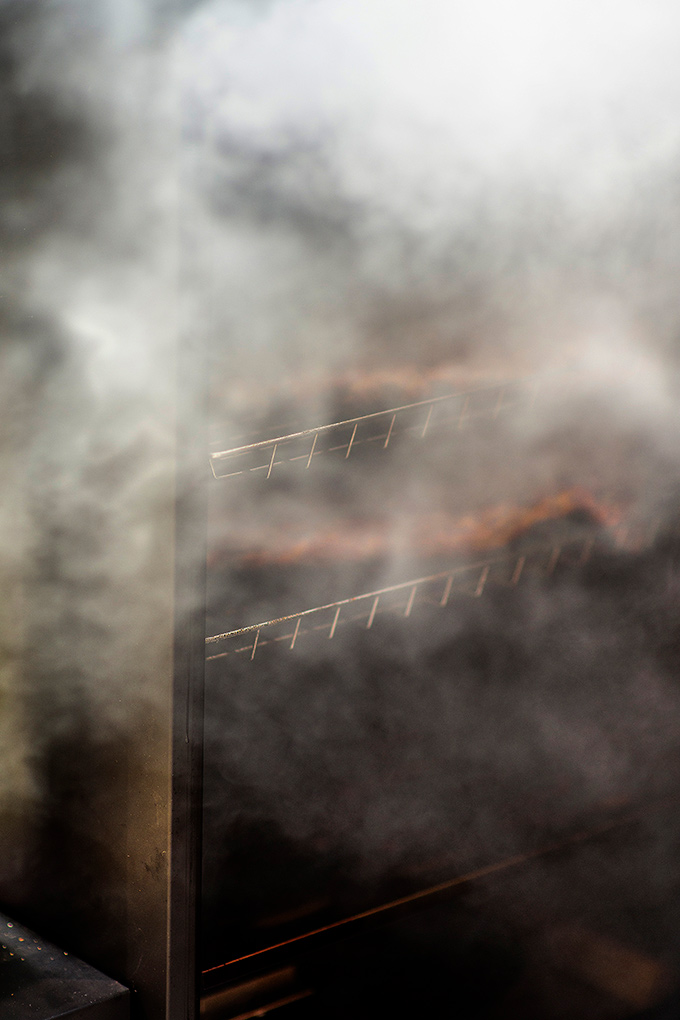 So, put down the phone for a few hours. Log off the Instagram, Twitter, and Facebook feeds. Take a day to feather your Nest. Swap the snap and crack of split pine logs in a cozy rock rimmed campfire for the soft billowing curls of maple smoke and the savory aromatic pleasance of St Louis, or Baby Back style pork ribs rising into the air.  Or, if you are lucky maybe you can do both! Have your campfire, and your smoker, I mean.  Though who can argue with St Louis and Baby Backs in the same meal? Plus, it's great smoking practice for the upcoming Season. Before long you'll be snapping selfies with your Fall harvests, the freezer will be full of game again, and we will be talking about what back strap tastes better. Pronghorn, elk, wild boar, or…?
For my easy schmeezy ribs I loosely follow to the 3-2-1 method.  You know, 3 hours in the smoker at 230 degrees, 2 hours wrapped in foil at 230 doing the "Texas Crutch", (No it's not a WWF wrestling move. Google it.), and then an hour unwrapped at 230 to firm up the flavorful crusty bark. There are many of great rubs available, but it's just as easy to create your own based on your family's tastes. Don't be shy, ladies!  Get up in there like you own 'dem bones!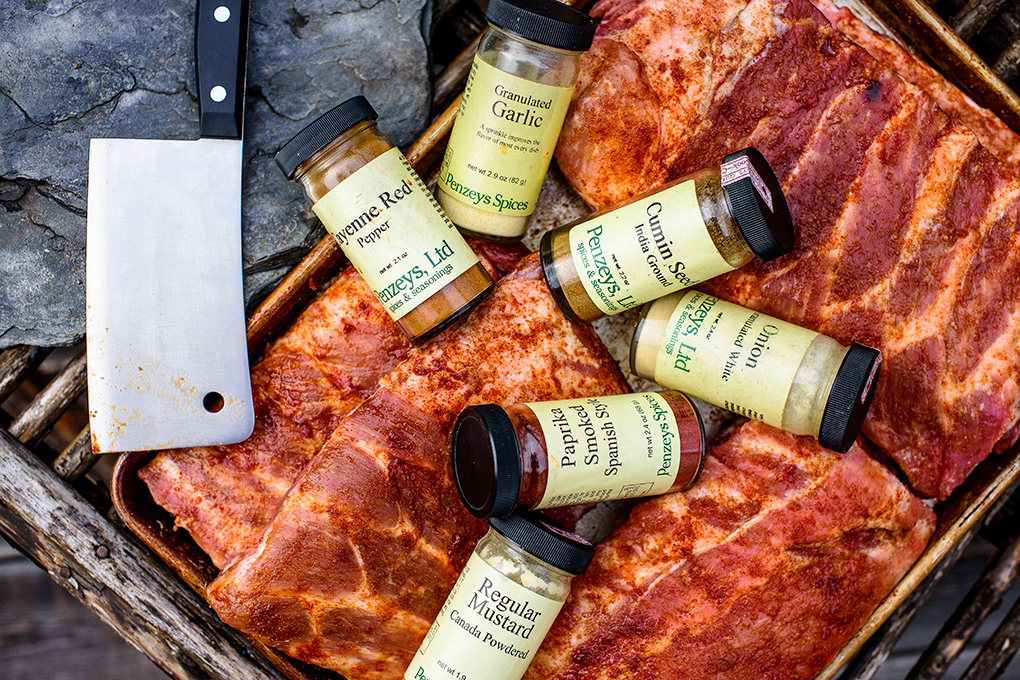 Here's how I do it:
Dry Rub Ingredients
Paprika
Cumin
Dry mustard
Granulated garlic or garlic powder
Granulated onion or onion powder
Brown sugar or Maple sugar
Kosher Salt, or Tender Quick. (I like Tender Quick because it adds a nice pinkness to the inner flesh.)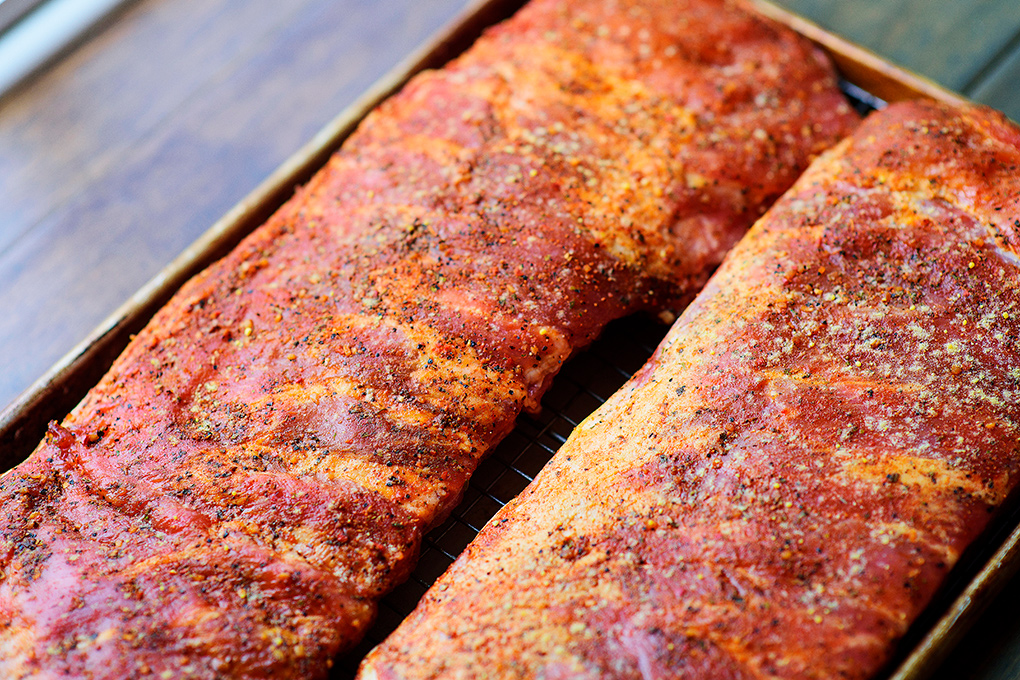 For each rack of ribs, sprinkle front and back with the dry rub ingredients and pat into the meat. Set on a rack inside a jelly roll pan in your fridge overnight. DO NOT COVER. You want plenty of air circulating around the meat. This will allow a thin skin to form, (known as the "pellicle").  The pellicle loves smoke! Meat with surface wetness does not. You can make good ribs by not doing this, but you can make UH-MAY-ZING ribs by allowing the overnight, covers off, refrigerator slumber party.  In the morning, remove from fridge and allow to warm up for a couple hours.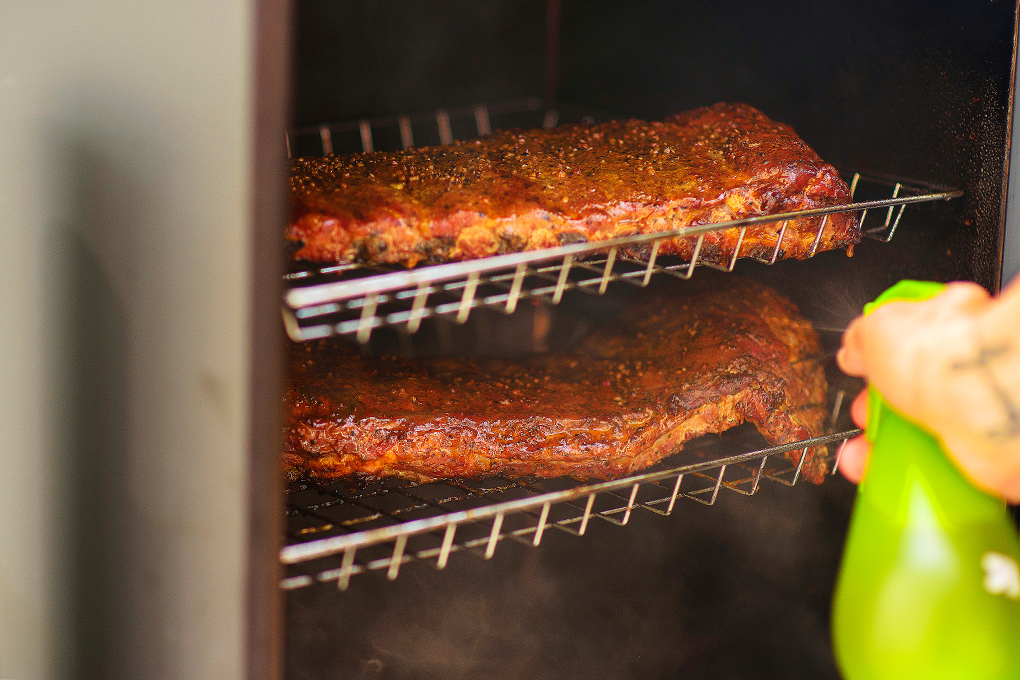 Preheat your smoker to somewhere between 225-240 degrees and get the wood smoking before you pop in the ribs.  Once in, don't open the door or lift the lid for an hour. I know it's tempting. But leave it shut. At that point, I  lightly spritz the ribs every 20 minutes for the next 2 hours with a mixture of ¾ C. apple juice, 1/3 C. cider vinegar, and about 1 TBS. Muddy Pond Sorghum, or Barley Malt Syrup. I just mix and taste until it has a nice tang that appeals to my taste buds.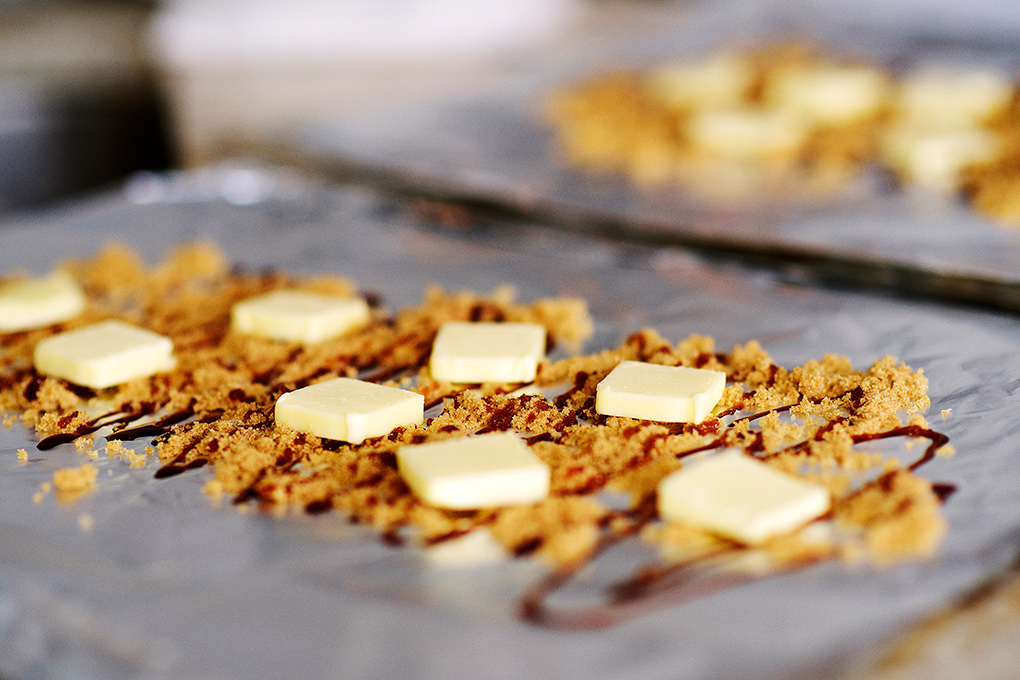 So now the ribs have been smoking for 3 hours at about 230 degrees. Time for the Texas Crutch! On a large sheet of heavy duty aluminum foil drizzle, sorghum, or barley malt syrup. Sprinkle on brown sugar, maybe some Sambal pepper paste if you like your ribs spicy, and several pads of butter.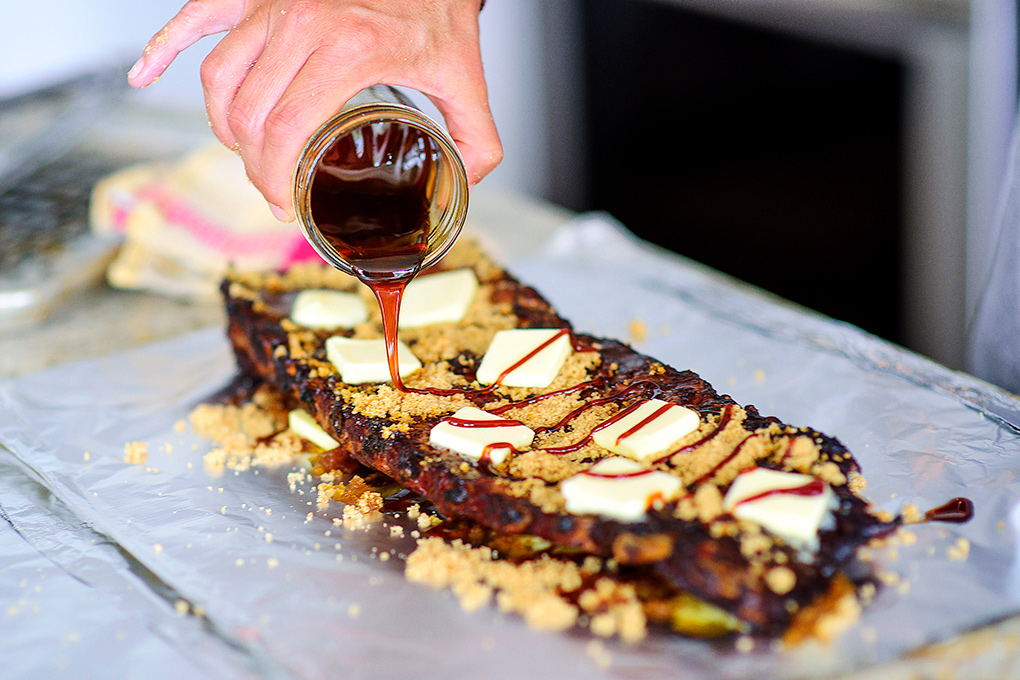 Place one slab meat side down and repeat your "Crutch" ingredients on top.  Splash with a little apple juice, beer, or wine. (This is not a science.  At least not for me. You don't need sorghum, or barley malt syrup. You can use honey if you have it. Or none at all. Just brown sugar and butter.  I like trying different ingredients to see how they affect flavor depth.  I've had really nice results with sorghum and barley malt syrup.)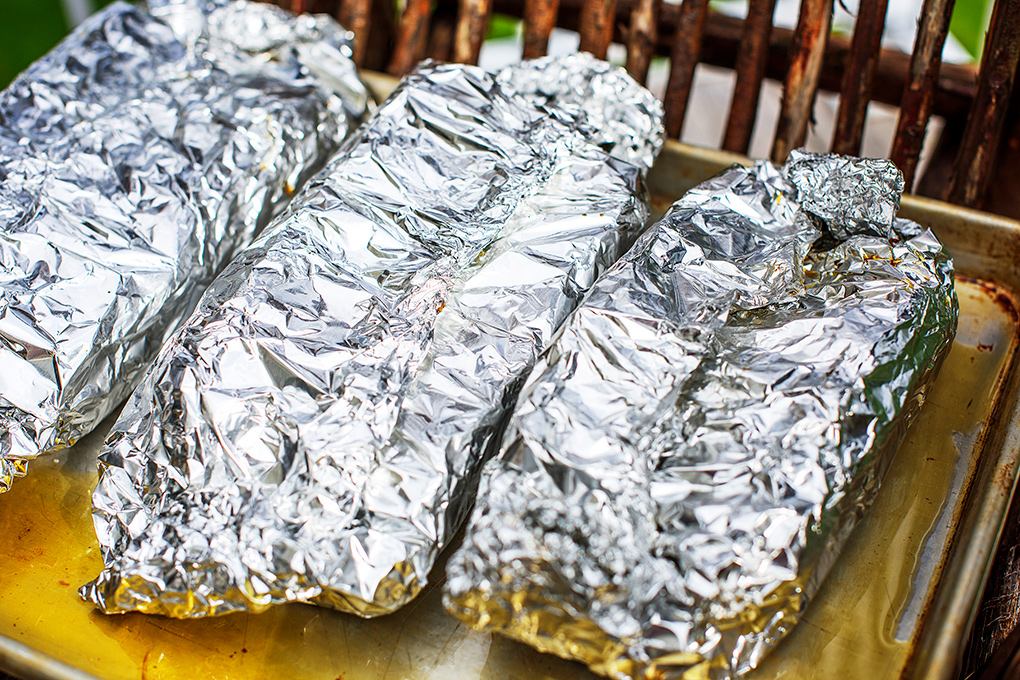 Wrap each slab in its' own aluminum foil pouch and pop back into the smoker oven at 230 degrees for 2 hours. (Or you can put in your oven. No smoke needed at this point.)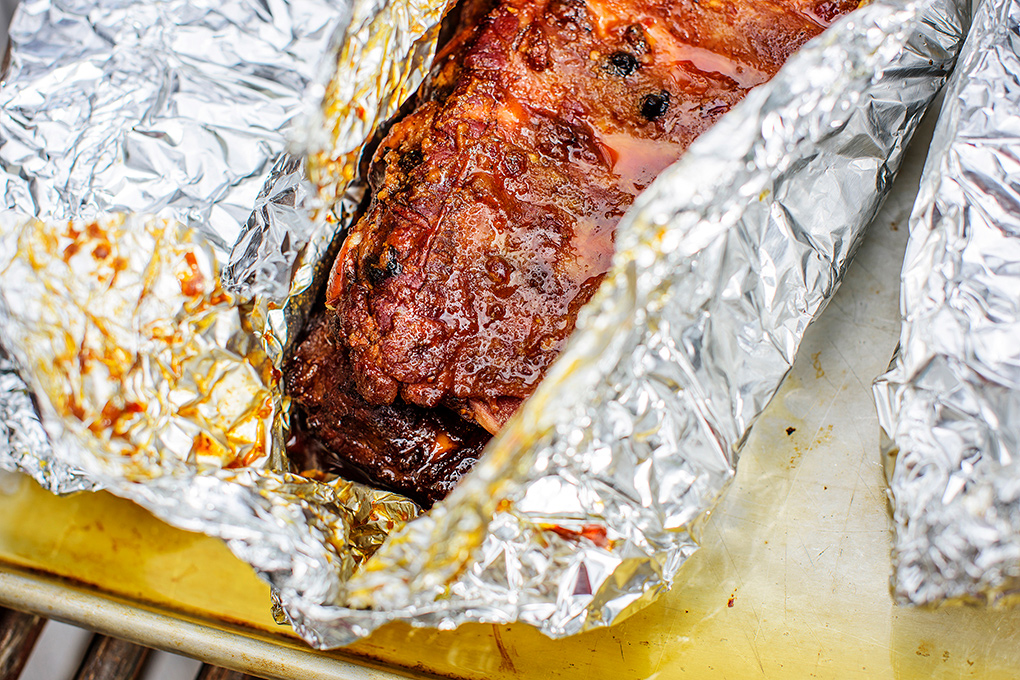 After two hours, unwrap ribs and drain juices into a small sauce pan and reserve. (I like to brush this on the sliced rib faces right before serving.) Discard foil.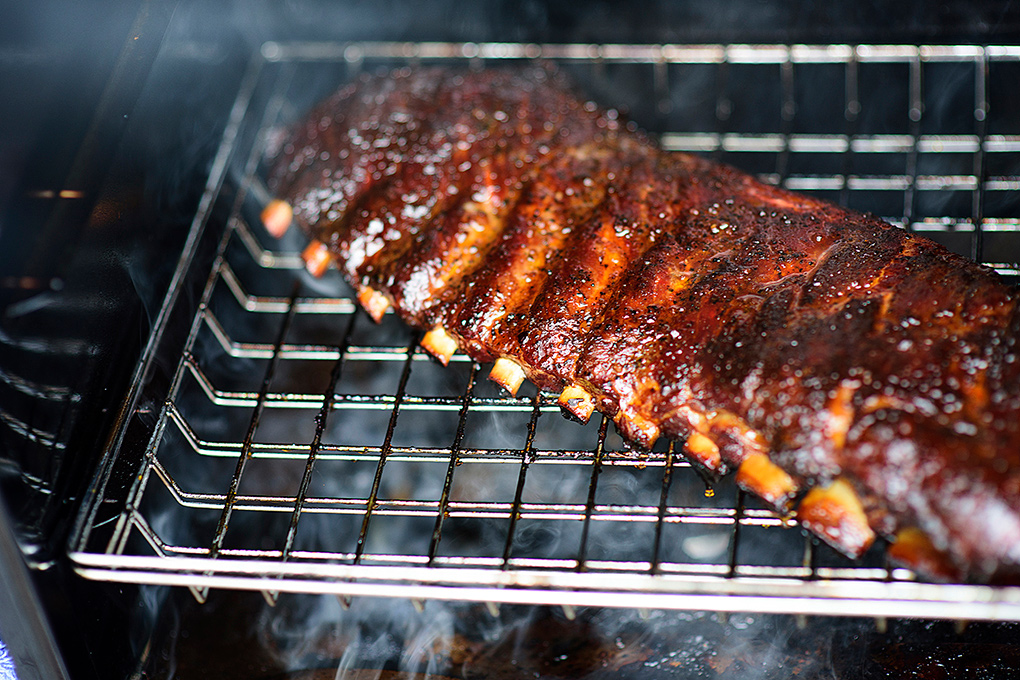 Place ribs back into the smoker, or into the oven on a rack on a jelly roll pan for about 1 hour. This firms up the crusty bark that everyone will fight over assuming the ribs actually make it to the dinner table.  Ours tend to be eaten immediately after removing from the smoker…at the kitchen island while standing up.
That's all there is to it! Grab them bones and dig in!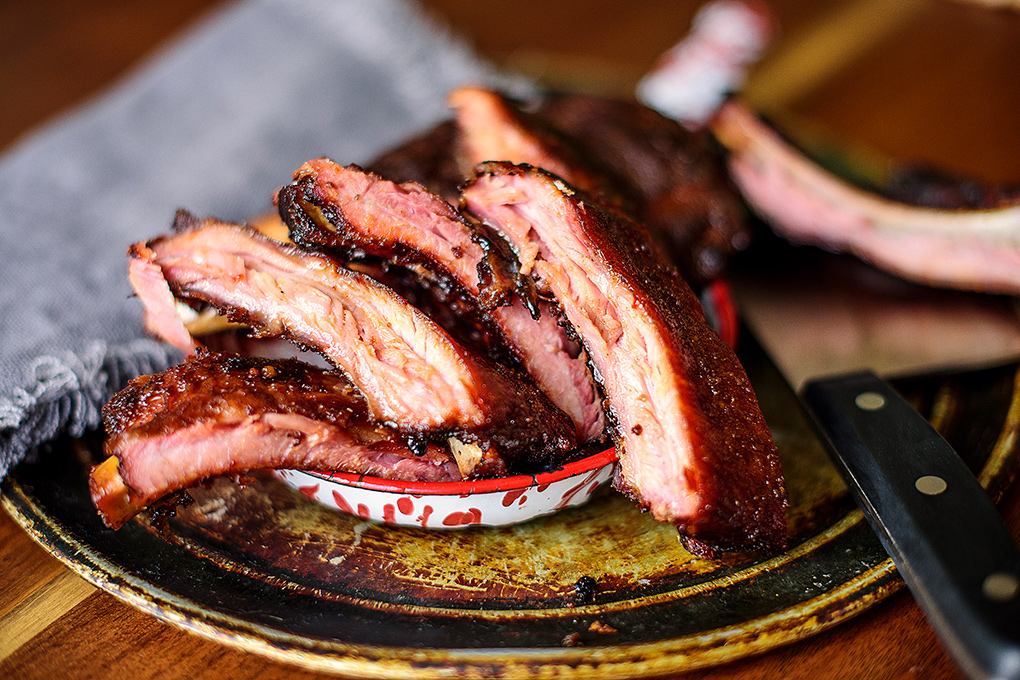 About the Author: Raised a Minnesota farm-girl in a hunting family, Krissie Mason (below) is an outdoorswoman, food enthusiast, and has been reconnecting with her culinary country roots and family hunting traditions of late. She is the brains and brawn behind Scratch + Holler media, and a regular contributor to several outdoor websites. Krissie fully supports a field-to-fork wild food chain, and especially enjoys expanding pantries and stretching wild game palates with her ambitious and delicious wild game recipes. Be sure to visit Krissie's website to check out her blog and much more.