5 Baits for Slugging It Out with Autumn's Shallow-Water Bass
Kurt Beckstrom 09.21.17

Shorter days, cooler nights and anglers stalking the shallows are all sure signs that autumn is closing in. That last sign won't be noted during the local weather broadcast, but fishermen understand that the seasonal transition brings with it the chance to cash in on the best bass fishing of the year.
Sadly, many of those anglers will focus too closely on just one aspect of fall fishing — the topwater bite — and miss out on the season's full potential. Shallow bass, this time of year, are hungry and generally willing to chase a lure, so it's natural that tackleboxes everywhere overflow with topwater frogs, buzzbaits and spinnerbaits. When the surface bite is on, these lures definitely generate red-line excitement.
But sometimes it doesn't materialize, and there are even more times when the topwater action is acceptable, but a sub-surface presentation would put more bass into the livewell. Too often we've seen anglers, ourselves included, force the issue and settle for a good day on the water when it could have been a great one.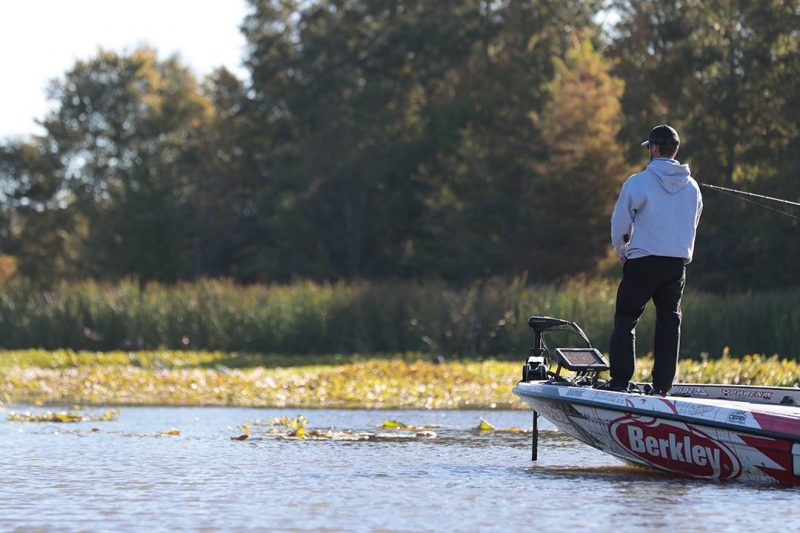 When you get a chance to chase autumn largemouths, go fully loaded. Here are 5 baits that should be part of your arsenal.
Jig 'n Craw
It could be a jig-and-craw, craw chunk, creature or one of a number of soft plastics. The point is that this combo was once a universal mainstay in late-season tackle trays. It's still among the top 5 on any pro angler's list, but seems to play second fiddle for many weekend fishermen nowadays.
Crawl or hop it around isolated cover — docks, trees and clumps of green weeds — on a 1/4- to 1/2-ounce head, especially after a weather front has blown through. The new Berkley® PowerBait® MaxScent Creature Hog (below) has a body shape that's meant to negotiate cover hazards. Better still, it's made from a the second-generation plastic material designed to dump a crazy amount of scent into the water. The flavor is impregnated in the bait, so when bass bite, it tastes so good that they won't let go.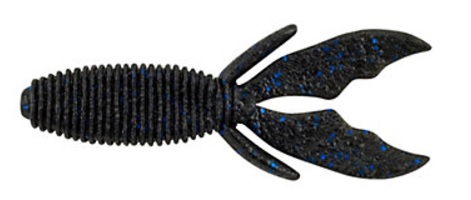 Also try swimming a jig along weedlines, logs and past isolated cover, but use something like a Berkley PowerBait Bearded The Duece as a trailer; its claws come alive even at very slow retrieve speeds.
Rod, reel and line recommendations: The Abu Garcia Villain's (VC 70-6) 7-foot length provides hooksetting leverage while its medium-heavy power allows the angler to control a bass. Fill a Revo SX baitcaster with 50-pound Berkley Trilene® Braid Professional Grade and tie on a stout fluoro leader to complete the rig.
Lipless Crank
You no doubt have at least one in your box; now's the time to break it out. Make a steady retrieve, burn it, or sweep-and-drop it over weed- or brush-covered flats. Its hefty weight is ideal for the long casts necessary to cover an expansive area thoroughly and efficiently.
Berkley's Warpig™ has a blunt nose that deflects cover, and it comes in 2 3/8-, 3- and 3 1/2-inch versions. Use the one that best matches the size of the baitfish — minnows, bluegills, shad — in the area.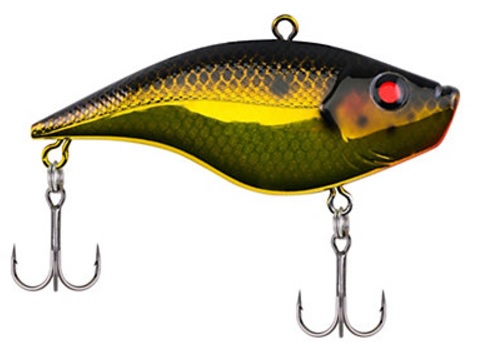 Rod, reel and line recommendations: The 7-foot, medium power Villain with a Revo X, for its slightly speedier retrieve capabilities and 14- to 17-pound Trilene XT® mono; go with Trilene 100% Fluorocarbon if water clarity is an issue and/or to minimize line stretch.
Shaky Head
Yep, a finesse bait . . . because even late-season largemouths sometimes require a bit of coaxing. Use it when bass are responding better to a more subtle profile. They'll usually hold tighter to cover then, so drop it in and gently shake it until the fish can't stand it any longer. It's also a good follow-up lure when a bass swings and misses on another bait.
The new Berkley PowerBait MaxScent D-Worm is ultra thin and incredibly supple, so it comes alive with the slightest shake of the rodtip. And like all the PowerBait MaxScent baits, it produces a powerful cloud of fish-attracting scent.

Rod, reel and line recommendations: A medium-power spinning rod in a length from 7 feet to about 7 feet, 4 inches, like Abu Garcia's Vendetta VDTS74-5, is perfect for fishing a shaky head and fighting a bass on light line — 8-pound fluorocarbon in clear water; 10-pound if it's stained. It's important to reel down and make a quick lift when setting the hook to avoid break-offs in nearby thick cover, so a good reel option is something like the Abu Garcia Revo X with its 6.75:1 gear ratio that quickly gathers slack line.
Shallow Diver
When late-season bass are on the hunt, a shallow crank is worth its weight in diamonds. Use it as a search lure on large flats, or cast to docks, logs, brush or trees. And if shallow rocks or rip-rap are in play, make sure you have a crawdad pattern handy. The lure's square bill keeps it from hanging up most of the time, but the key is to use a crank that dives just deep enough to contact the cover you're fishing.
Berkley's SquareBull™ crank comes in three sizes, each with a different swimming depth range that covers everything from 2 to 8 feet deep. And a choice of 22 patterns means you can mimic any type of forage — minnows, bluegills, perch, shad, and of course, crayfish.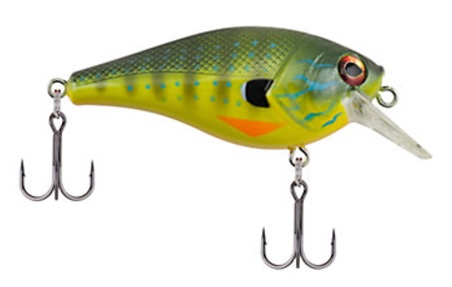 Rod, reel and line recommendations: Model IKECW70-5 in the Ike Signature Series is a medium-power 7 footer with a moderate action that's well suited to crankbait fishing. Pair it with a Revo S baitcaster filled with a 15-pound abrasion-resistant monofilament. Or, go with fluorocarbon if you want to extend the lure's dive curve.
Soft Jerkbait
While these baits are often used for bass that are corralling baitfish on the surface in open water, they're also fantastic shallow-water lures in the fall. Rig it weightless on a wide-gap hook and you can skip it under docks, burn it like a topwater over weeds and brush to trigger a reaction strike, or run it through trees and stumps.
Fish the 5-inch Berkley Gulp!™ Freshwater Jerk Shad fast over shallow cover to bring aggressive bass to the surface, or slow down and probe a weedline or a downed tree. That's an option a buzzbait can't provide.

Rod, reel and line recommendations: Some anglers like a 6 1/2-foot rod for its dexterity; others prefer a 7-footer, but the common denominators are medium power and a fast action. Abu Garcia's Vendetta series includes both lengths with the right power and action. Match it with a speedy Revo X baitcaster to facilitate fast retrieve, and spool it with a 12-pound, no-stretch fluorocarbon or braided line.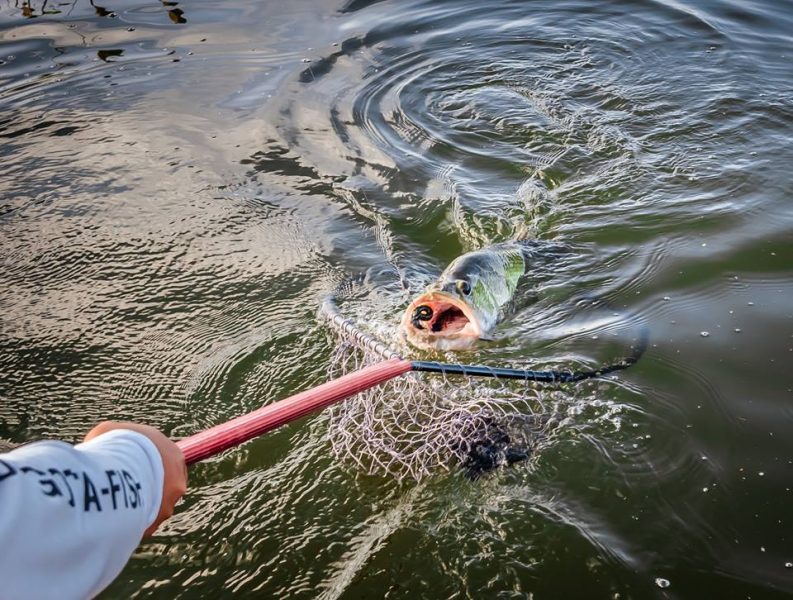 When you stalk the shallows this fall, definitely arm yourself with your favorite topwater lures. But don't forget about these sub-surface baits. The autumn frenzy lasts only so long, so push your chips to the middle while you can.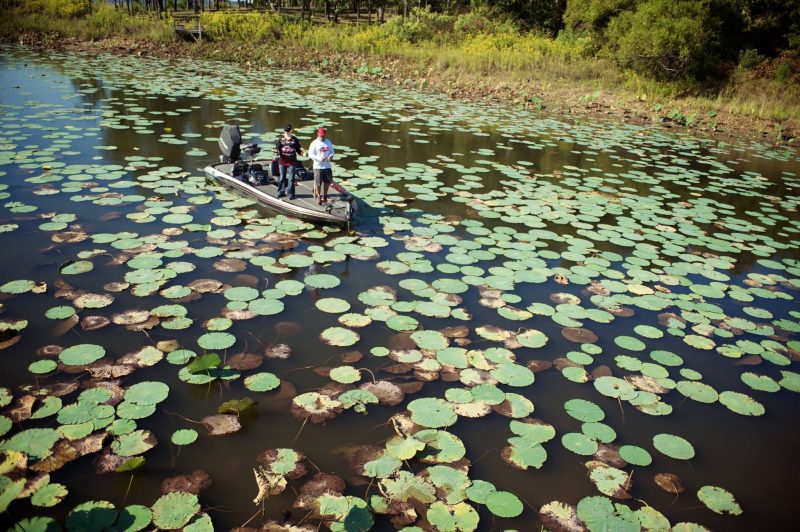 This article was produced in cooperation with Pure Fishing.