Whitetail (and Elk!) Wednesday: Be Aggressive During the Rut
Grant Woods 10.18.17

Editor's note: We're placing this note at the beginning of this article instead of the end to ensure you don't miss it. If you want to try decoying whitetails during this year's pre-rut and rut, Montana Decoys is offering OutdoorHub visitors a special 20 percent off decoys. To get in on the action, go to montanadecoy.com and before you submit your credit card info, you can enter the following discount code: GROWINGDEER20 (enter the code exactly as written).
I recently experienced a great reminder of how intense behaviors and competition can be during the rut! I went elk hunting during late September in New Mexico. I had never killed an elk, even though I'd pursued them five times before.
My buddies and I always scheduled our elk hunts, picked the area, etc. And we never had success. This year, we worked with Hosted Hunts to find an elk hunt that met our budget, goals and physical abilities. We also wanted to hunt when the elk were in full rut.
The results? Three of the four of us tagged mature bulls with a bow! This was due to Hosted Hunts doing great homework, and being aggressive during the rut.  Check out the short clip below of some intense elk rut action; be sure to turn up the volume to hear the bugling bulls! (Click here to see the entire hunt.)
I was able to jog into where two herds apparently came together, and the herd bulls were fighting! The elk were like decoys in that they attracted bulls and took their attention from the guide, cameraman and me. This allowed us to get in the middle of the action and tag a herd bull (below) — it was incredible!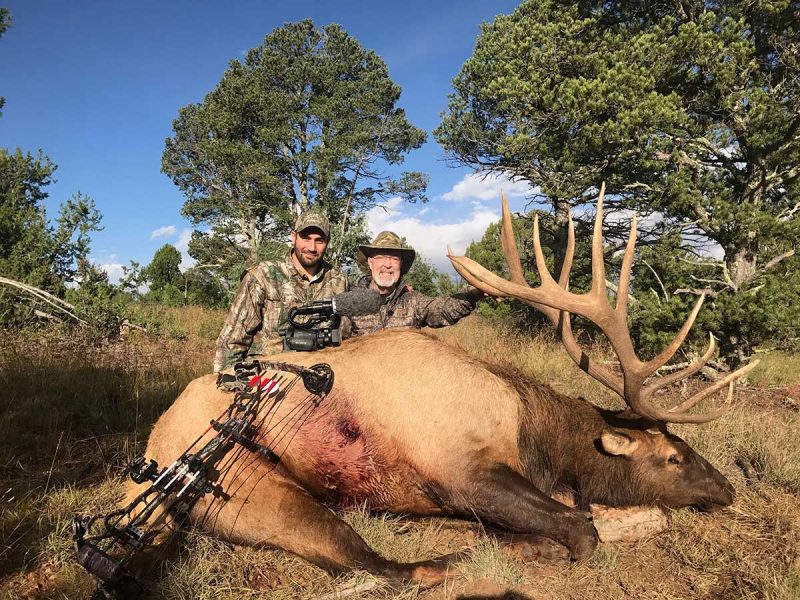 I wish to replicate that action back home when hunting whitetails. Because whitetails don't call as loud as elk, I'll need a slightly different strategy. My plan is to place Montana Decoy's The Freshman buck (photo below) by my stand during the pre-rut and rut, then use the Messenger grunt call to help fool whitetails. The Freshman buck replicates a subordinate buck that's in an aggressive posture.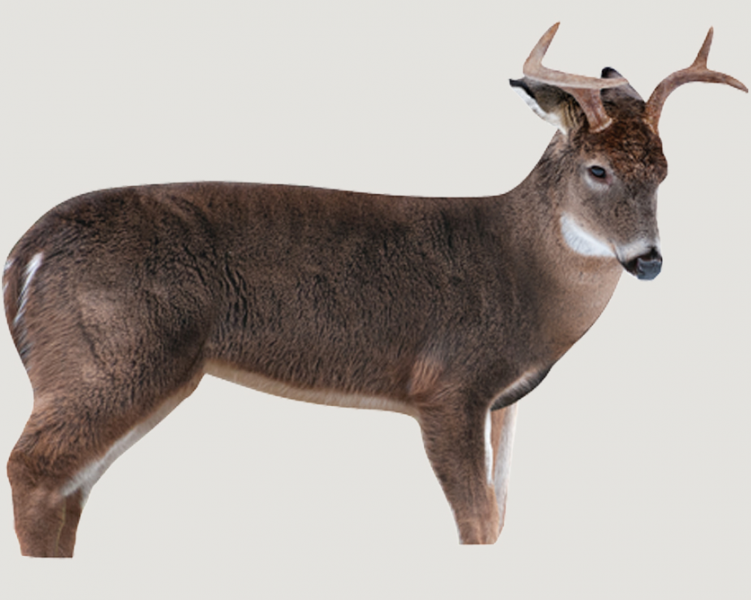 Mature bucks usually will approach subordinate bucks, especially if they believe there's a receptive doe nearby. That's where the Messenger grunt call helps. This call is designed to mimic a subordinate buck that is tending a doe. Communicating this vocally and having the visual attraction of a subordinate buck in aggressive posture is a big attraction to mature bucks.
The Freshman decoy will not only attract mature bucks and immature bucks, but it will also capture their attention so I can draw my bow. I can't wait to give it a shot.
My elk hunt was extremely exciting. I loved watching all the rutting activity, in addition to tagging a herd bull. Now I'm set to replicate that excitement in the whitetail woods. Use these tools to create some exciting rut hunts this fall.
Enjoy creation!
P.S.: Be sure to check out Dr. Grant Woods and his popular on-demand web series that shares current information about deer hunting and deer management. The free videos focus on what the GrowingDeer team of experienced hunters and deer managers are doing in the field week to week, including action-packed hunts, proven hunting strategies, habitat management, food plots, trail camera techniques and the gear it takes to get it all done.