Walking through the cover on the edge of the creek, I had problems believing a pheasant could run through the tangle of grass and brush. I held my shotgun at the ready, anticipating the explosion of wings from dense cover. As we pushed into a corner, we forced the birds to flush, as they had no place else to run. A long-tailed rooster broke rank first and headed straight away. A well-placed pattern of steel sent colorful feathers floating on the breeze. At the report of the shotgun, six other pheasants flushed and my hunting partner and I each added another bird to our daily bag.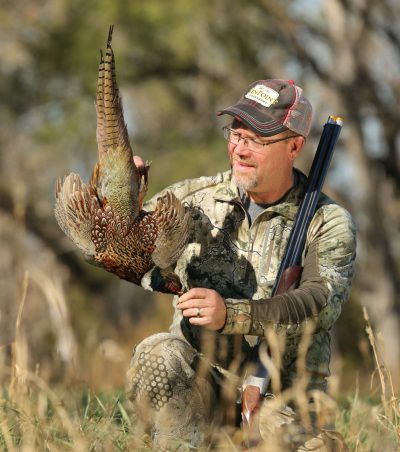 The ring-necked pheasant is one of North America's favorite gamebirds for wing-shooting enthusiasts. They are fast, noisy, colorful, conniving, but most of all they taste incredible.
British hunters like to hang their birds to tenderize them. I'm from a different school of thought and tend to clean my birds and get them cooled as soon as possible. Leaving birds sit around in the heat all day doesn't make for very appetizing conditions.
I carry everything with me in the field to clean birds and put them away, with the same quality and care domestic birds would get before showing up in our grocery stores. My Outdoor Edge Game Processor kit has everything from latex gloves, an assortment of knives, and a set of game shears. Depending on regulations, a wing may need to be left on the bird to prove species and sex. The shears make short order of cleaning a bird. I never leave home without a supply of sealable bags big enough for a bird. To keep a sanitary work area, the Cabela's Tailgate Fillet Table is an asset in the field.
When we finished our morning hunt, we processed our roosters in less than 20 minutes. They were bagged, then placed in a cooler with freezer packs to ensure excellent quality.
Tips for Cooking Pheasants
Pheasant has a bad reputation for drying out when cooking. The succulent white meat isn't moisture-rich, so you must plan accordingly. I often brine my upland birds and waterfowl before cooking. Cabela's offers a Poultry & Fowl Honey Cure and Brine.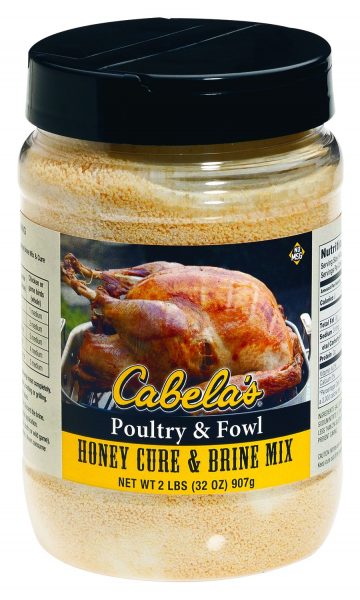 Any type of brine used overnight will help remove blood, infuse moisture, and add a little flavor. Just remember to rinse your birds well after they come out of the brine.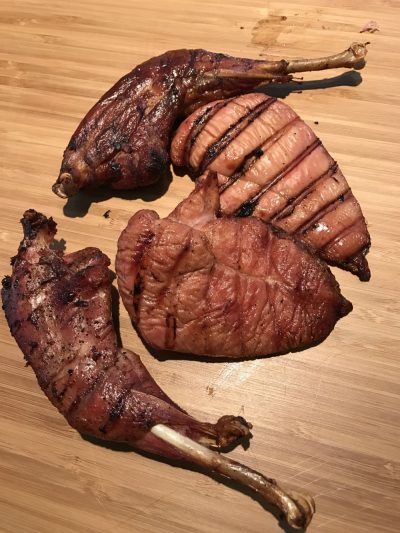 At this point, you can simply throw your brined pheasant in a Bradley Smoker to cook and flavor them (above). Delicious!
Below are two of my favorite pheasant recipes that don't involve smoking the meat first. Both can be prepared easily at home or in deer camp.
Recipe: Pheasant Cordon Bleu
With pheasant, make sure not to overcook, as it will dry out considerably. Adding moisture-rich ham and cheese to your birds will create depths of flavor, but also help keep moisture in the meat while cooking.
Pheasant is lean, and not nearly as thick as a domestic chicken breast, so reduce cooking time accordingly, and your family and hunting partners will praise your skills and talent.
Ingredients
2 boneless, skinless pheasant breasts
2 slices black forest ham
2 slices swiss cheese
1 egg
1 cup breadcrumbs or panko crumbs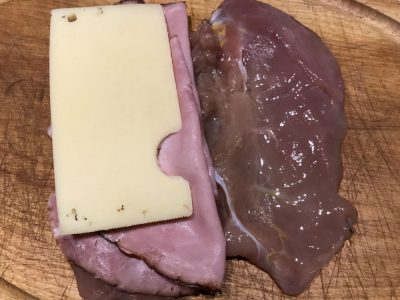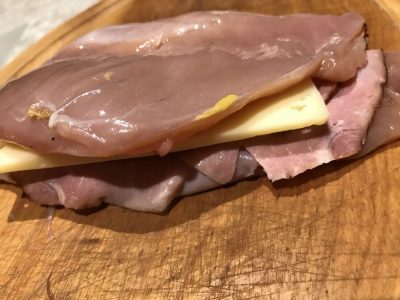 Directions
Butterfly pheasant breasts without cutting completely through. Lay the breasts out flat with cut edges facing up.
Layer the ham and cheese over the breasts and fold breast back to its original size. You can use toothpicks to hold the breasts, ham and cheese together.
Beat egg in a flat-bottomed bowl. Dip folded breast in an egg wash. Dredge the breasts in the crumbs and place in the fridge for 15 minutes.
Bake in a preheated oven at 350°F for 20 minutes. Breading should turn crisp and golden brown (photo below), or broil for 2 minutes to finish.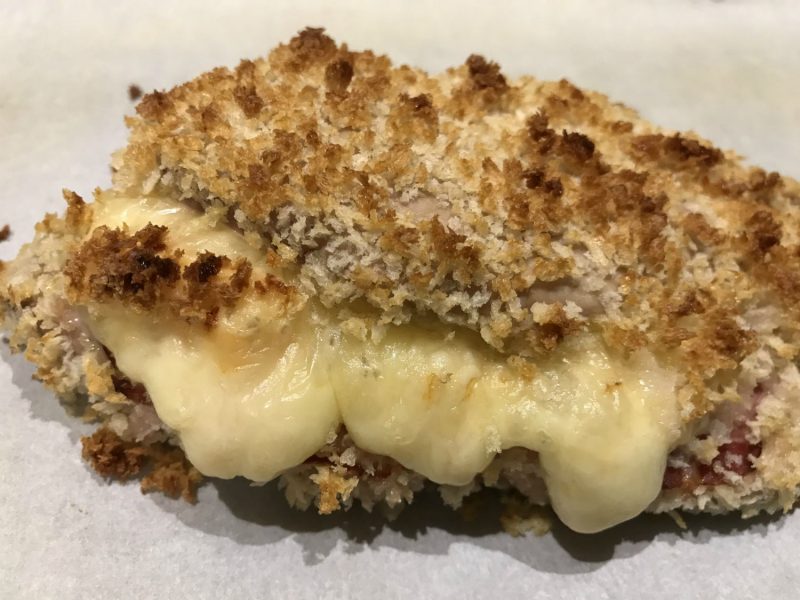 I love to make this recipe in hunting camp, or even in the field. A two- or three-burner Camp Chef stove works great, and the Cabela's cast-iron, Five-Piece Starter Set (below) has everything you'll need to make lunch in the field. Use parchment paper in the set's Dutch oven to bake your cordon bleu before the afternoon hunt.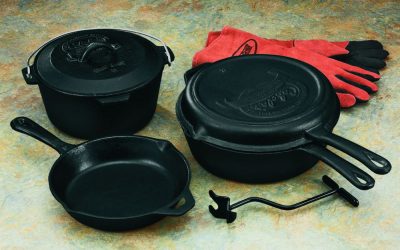 Recipe: Pheasant Stew & Biscuits
A good stew would be considered comfort food by most people, and making it from pheasant makes it even more appealing. Stew and fresh, hot biscuits takes this dish to a whole new level.
Preparing birds and stock
2 whole pheasants, plucked or skinned
1 stalk of celery sliced
1 medium onion sliced
1 carrot sliced
1 Tbsp pickling spice
1 bay leaf
4 to 5 cups water
Place above ingredients in a stock pot and cover with water. Bring to a boil and allow to simmer for 45 minutes.
Remove pheasants and debone the meat from the legs, thighs, and breasts, and cut into cubes. Use a colander or strainer to remove vegetables and spice from the prepared stock. Discard vegetables and put clear stock into a pot.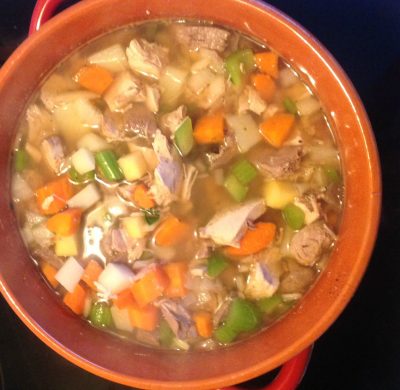 Preparing the stew
Meat from pheasant cubed
1 medium onion diced
2 celery stalks sliced
2 carrots peeled and sliced
3 to 4 potatoes peeled and cubed
3/4 cup frozen peas
Prepared pheasant and vegetable stock (loaded with flavor)
2 Tbsp corn starch
Take 1 cup of broth and set aside for thickening stew with corn starch.
Bring remaining stock to a boil and add the onion, celery, carrots, potatoes and frozen peas. Simmer for 5 minutes with a lid on the pot. Vegetables will still be firm. Add cubed pheasant meat and stir into the existing stew. Bring contents back to a boil and thicken the entire mixture with corn starch and the cup of broth set aside earlier (blend together starch and broth by whipping with a fork then slowly add to the stew). Continue to stir until mixture thickens then remove from heat.
Pour the contents of the stew into a casserole dish. Top the stew with baking powder biscuits cut 3/4-inch thick. Place in oven and bake at 375°F for 25 minutes or until biscuits are golden brown (photo below).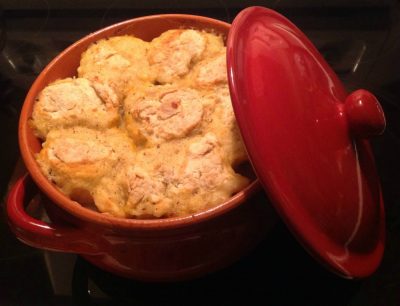 Baking Powder Biscuits
2 cups sifted all-purpose flour
2 tsp baking powder
1 tsp salt
1/4 cup cold shortening (I prefer lard)
2/3 cup cold milk
Sift the flour, baking powder and salt together and cut in the shortening using a fork or pastry blender. Add the milk and mix but don't work the mixture too much (the less mixing the tenderer the biscuits). Knead a few times on a lightly floured surface. Pat out to 3/4-inch thickness and cut with a biscuit cutter or into 2-inch circles.
You can always use Augason Farms Buttermilk Biscuit Mix if you don't feel like making them from scratch.