Whitetail Wednesday Video: Taking Pops Hunting!
Grant Woods 12.13.17

Normally I pass along hunting and habitat management tips, but in this blog, I wish to share some tips for an even more important topic — I want to talk about taking my dad hunting.
Pops, as I affectionately call him, is my 87-year-old father. He's the guy that taught me how to hunt, and took me hunting when he could have been hunting with his buddies.
I clearly remember the first time Pops took me deer hunting. I was 6 years old and in first grade.  We went on a primitive weapons (muzzleloader) deer hunt on public land near Caney Mountain in southern Missouri. It was during October, and I got to skip school! Many of Pops' buddies went, and I was the only child in our camp.
While Pops' friends walked deep into the woods to hunt, he couldn't go far from the road with me tagging along. When we'd sit behind a log or against a tree, I'd pretend that his muzzleloader's ramrod was a gun and "shoot" at every squirrel and bird in sight. I constantly waved the ramrod like a flag!
Of course, we didn't see a deer. I was fidgeting, "shooting" squirrels and asking about lunch. A few of Pops' buddies tagged deer, which was a huge accomplishment during those days. Pop must have not been mad because he kept taking me hunting.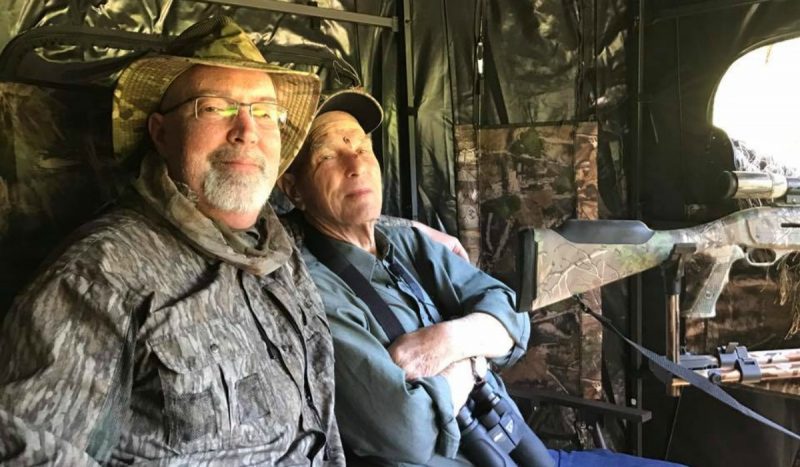 Decades later, the roles changed. Pops isn't able to drive far, hunt in harsh conditions, or be in the field as long. We hunt from a Redneck Ghillie blind while sitting on comfy chairs. The blind is always close to a road or ATV trail. I love these hunts!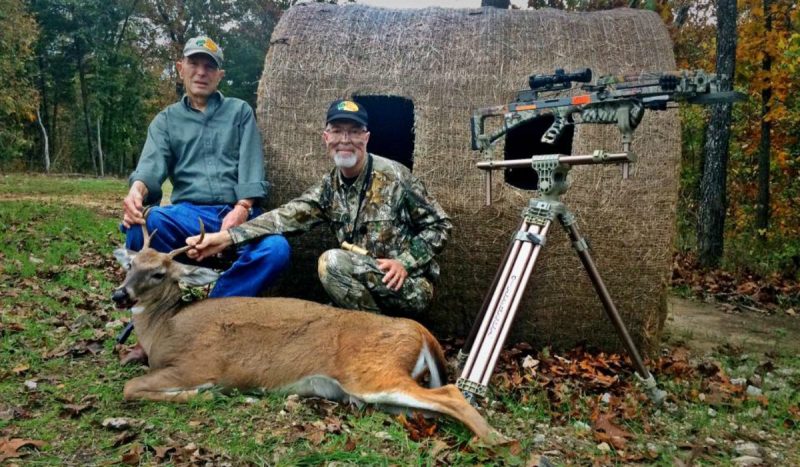 Dad tagged a yearling buck last year with a crossbow (above), and I was just as excited, if not more, as when I tagged a huge elk this fall.
You can watch some of Pops' recent hunts in the following video. (Be sure to turn up the volume of the Facebook video for best viewing.)
The stats are clear that folks over 60 tend to stop going hunting. Many of these mature hunters want to hunt, but need a bit of assistance. They are some of the most appreciative hunters I've ever taken hunting. I've yet to meet one that was picky about where they went or the size of the deer they tagged. They tend to enjoy sitting still for a few hours while watching for critters, and I've rarely had as many hugs from anyone as after taking Pops hunting.
Looking for a perfect gift to give a mature person that used to or wants to go hunting? Simple — take them hunting! Put it on the calendar for 2018 so you both have something to look forward to.
The biggest gift will be the one you receive in the form of hugs and thanks from them.
Enjoy creation!
Editor's note: Be sure to check out Dr. Grant Woods and his popular on-demand web series that shares current information about deer hunting and deer management. The free videos focus on what the GrowingDeer team of experienced hunters and deer managers are doing in the field week to week, including action-packed hunts, proven hunting strategies, habitat management, food plots, trail camera techniques and the gear it takes to get it all done.