When we get to the mid-winter part of the ice season, things are starting to change, and a lot of this will have to do with what Mother Nature is dishing up. As the snow piles up, this will cut down the sunlight that is able to penetrate thought the ice, which will influence the remaining weed population.
Shallow weeds will be the first casualty in this case, and as the snow continues to get deeper, it will cut down more sunlight. The weed flats will be the next in line to take the brunt of these changing conditions. Many times, this change will leave only the deeper weeds for the rest of the season, so you have to go with the flow because weeds are critical in holding fish and supplying the water with oxygen during the winter months. If the snow gets deep enough and takes out all the weeds, then you can start to have winter kill conditions.
As this change is happening, you'll need to be making adjustments along the way to stay on the bluegill and crappie bite. Even during the middle part of the season, you'll need to target weeds if they are still available; this should be your first goal when hitting the ice.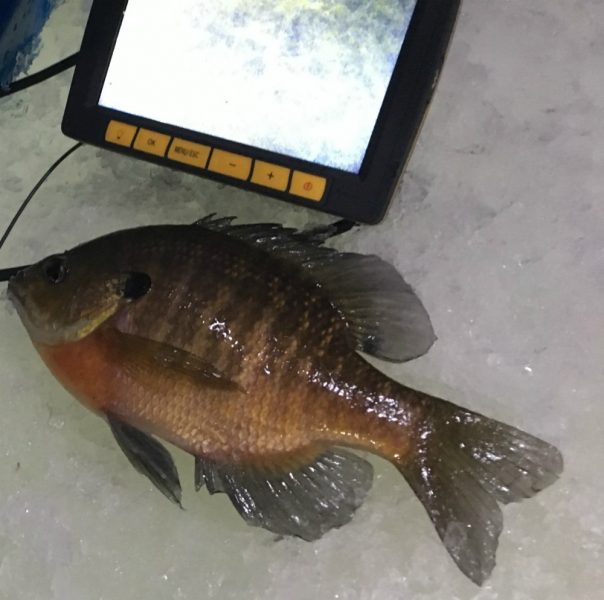 If you have been on the ice for a few weeks and actively fishing, then it may not be that hard to find these weeds. When it comes to determining weed conditions, the best way is with an underwater camera. Another way is if you have a shelter and the water is clear, simply take a look down the hole to see what the weed conditions look like. If you're fishing in stained water, then you are back to an underwater camera situation to get the best look at the condition of the weeds.
For the sake of this article, let's assume we still have green mid-depth weeds scattered on the weed flats, plus a good deeper weed population. So, grab your ice rods because we are going to set up crappie and gill patterns for midseason ice conditions going forward.
Targeting Big Bluegills
Anyone can get on the weed flats and put numbers of small- to medium-sized gills on the ice, but what will it take to find and catch the bulls? Part of this may be the weeds you are fishing and targeting on the weed flat, if you can find areas where you have two weeds mixed together, this will attract the bigger gills of the population.
For example, if you can find areas that have coontail weeds up against milfoil, or cabbage weeds up against coontail, then you'll have an area that will attract the bigger fish of the school.
So, how can you find these special areas? Again, you really need an underwater camera. Drill a bunch holes and start to go to work. You can make this easier if you do some pre-ice scouting in the fall right before ice up when you still have open water conditions. Use a camera in the open water season and drop some waypoints on a GPS, marking these special weed locations to target once ice season starts. Then check these areas again in the winter with a camera to see what the weeds still look like and the fish they are holding. Check out the underwater video below to see how weeds hold winter bluegills.
Another area to look for is if you can find hard-bottom areas mixed in up on the flats. The best way to find these key areas is to try to find these areas once again during the open-water season and drop waypoints. Check these areas once out onto the ice to see what the weed conditions are like at the time of the season you're fishing.
One more key to look for using your GPS and a map chip is deeper areas or high spots up on the weedflats. With your depthfinder/GPS you'll be able to tell if these areas have weeds or if they are hard bottom. If it is a hard-bottom transition area, then it will likely attract and hold the bull gills.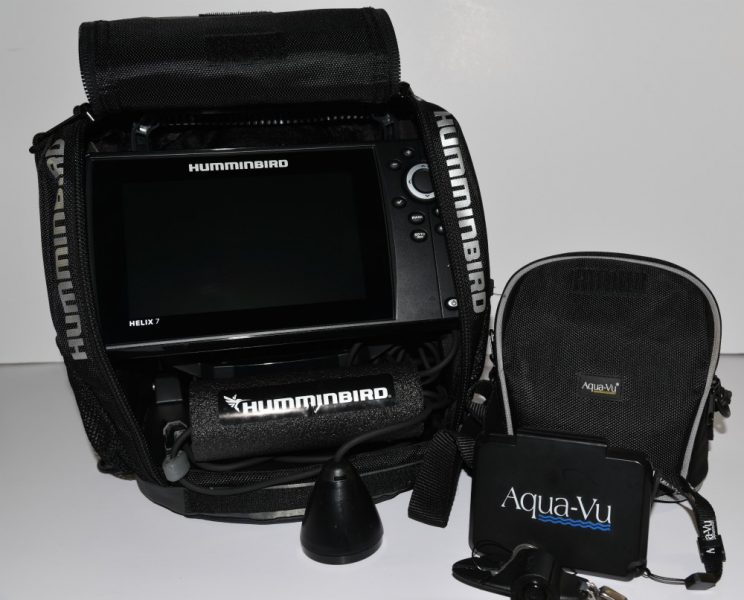 You must find these magic holding areas during the ice season just like you would if you were fishing during the open-water season; winter fishing is no different.
Presentation Tips
I'll use a vertical ice bait such as a spoon and keep it above the weeds; a vertical bait is often a larger bait that's easier to see above the weeds. Most of the time I'll load this up with waxies and/or euros. Small spoons will work and attract bites for this pattern, so don't be shy to tie this on and go to work. Trust me — bull gills won't have a problem biting a small spoon.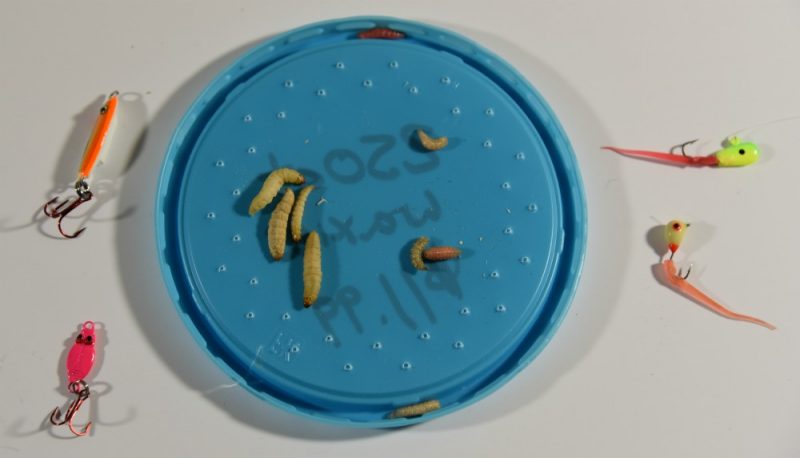 If you're having trouble getting the bulls to come up and hit the lure, then I'll switch to a tungsten horizontal jig that is tipped with plastics. Why switch to tungsten? You can see the bait better on your electronics in the weeds because tungsten is harder than lead, and it will give you a better signal return. Another reason is you get a better feel for what the bait is doing when using tungsten. Finally, plastics look a little bit better on a tungsten jig than lead because tungsten has a quicker drop speed and will come to a faster stop, thus giving your plastics more action. All these little things add up to big things when it comes to triggering bull gills.
How you rig your plastics on your bait will also make a big difference, so give the bulls a variety of looks before you change baits or locations. I've had days when all you had do was thread your plastics on to get bites, then I have also had days when you could get a few bites only one way, then a few more with your plastics rigged another way. These fish-to-fish plastic adjustments made what would have been a good day add up to a great day on the ice.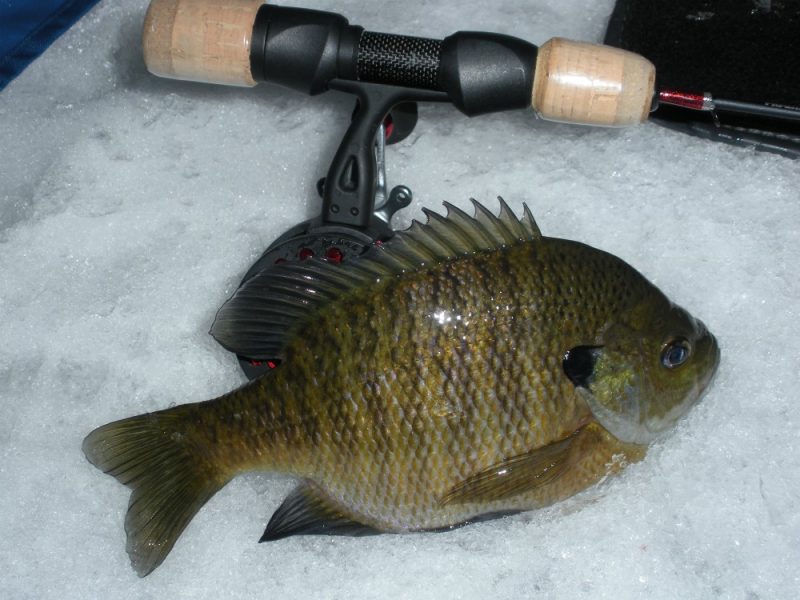 The gills will stay in the weeds for as long as they can, so if it's bull gills you are looking to catch, then stay tuned into what the weeds are doing.
Targeting Crappies
When it comes to crappies, they will be the first of the two species to leave the weeds, but may come back to feed. Crappies will have started the early season on the weed flats and deeper, but as the ice season continues, they will move toward the outside edge of the weeds.
During the day, they'll suspend at the depth of the weeds, but move back to the weed edge to eat. For example, if the weeds top off at 12 feet, crappies will make a horizontal move out over deeper water at that 12-foot mark, then move back to make contact with the weeds when it is time to feed.
If the snow gets deep enough and takes out what weeds that are left, crappies will move deeper and start to follow other food sources. You'll have to start your search where they go to make contact with them again. Many times, in this case they will head toward the deepest water in the area to become basin crappies for the rest of the ice season. You can find these areas easily with a good map chip, but the question then becomes: Can you catch and release these deep fish safely? If not, be prepared to keep some crappies for the frying pan and then stop fishing.
When it comes to catching weed-edge slabs, small spoons are a great option because you can get them with rattles and glow colors to help to get the fish's attention. Horizontal baits tipped with plastics are also a great choice at this time of the season. Keep changing baits until you find what works.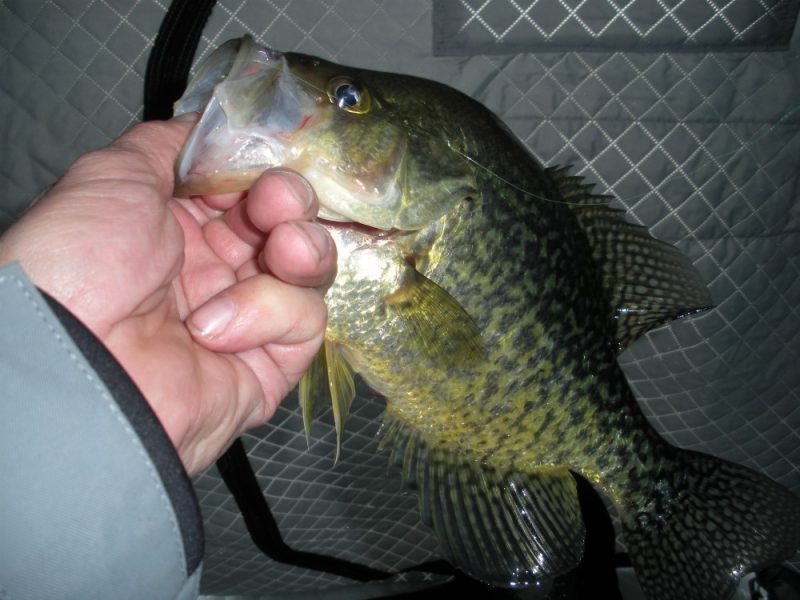 As you can see, weeds are important at the midpoint of the winter season. Pay attention to the weed conditions and how the fish are using them. Underwater cameras in this part of the season are worth their weight in gold. Give the bulls and slabs what they want, and if you aren't getting good results, then change up your offerings to trigger bites.
Have a great ice season!