Eating Whitetail Tongue: Delicacy or Disturbing?
Krissie Mason 01.17.18

It was the late 1960s and early 1970s. We sat around the supper table every night in those days — my mom, dad, sister, brother and me. Most, if not all, of the food served on our farmhouse table was a product of our farm and land, or a wild harvest.
Mother was a 'scratch' cook. You know, homemade everything . . . including the applesauce cake with my Grandma Helen's then, and still famous, creamy chocolate frosting. It is perhaps our defining family dessert. Applesauce cake, that is, with cooked and beaten frosting. Baked and eaten hundreds, if not thousands, of times by family and friends; shared at church potlucks, funerals, fundraisers, birthdays, and for no occasion at all other than it tasted of our heritage. It was Home. It was Grandma, and then Mother, and now my siblings and I, and our kids. We can hardly begin to tally.
Hamburger was always a staple in our diet, too. We raised black angus cattle, and hunted game, so red meat in all of its glorious organic forms was plentiful. I cannot recall my exact age when I first laid eyes on little gray, hairy looking bits floating in my burger. But I do remember them staring at me from my dinner plate. The very plate covertly hiding green peas beneath its rim.
There was nothing jolly about those mushy, green giant orbs. Putting them in my mouth was a surety of engaging my gag reflex. Canned peas had such power over me in those days. As did anything one ripple removed from a mainstream meal. So, imagine my horror when Dad told me the gray furry bits were beef tongue ground up in the trimmings of our burger. Wait, what? Without so much as an, "May I be excused from the table, please?", I shot off to the nearest commode and dispatched my meal.
Isn't it funny how things change? I've long outgrown my aversion to mushy peas, food oddities, and wobbly bits. Take whitetail, or any ungulate game animal tongue, for example. No longer do I find it disturbing. It's a true delicacy, though most people don't know what to do with it. Often it is marinated, sliced wafer thin, and served cold. It may be pickled, baked, grilled, braised, or as in this recipe; boiled, diced and fried.
Willing to give it a try? Here's an easy dish for Whitetail Tongue Hash that just might make you a believer. It's even better when followed by a piece of my Grandma Helen's applesauce cake. You'll have to write me for that recipe. 😉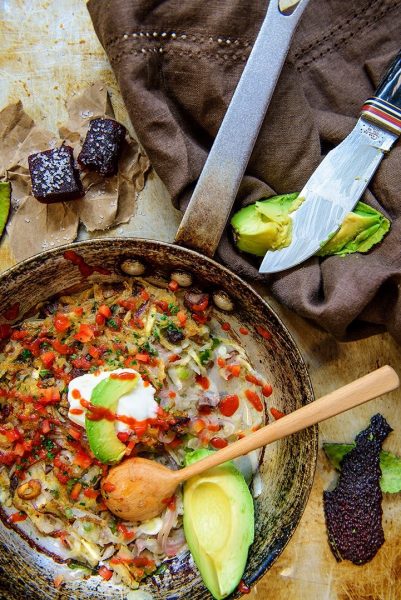 Whitetail Tongue Hash Ingredients
2 cups of beef stock

1 bunch of thyme

1 carrot – large dice

½ onion – large dice

1 deer tongue

2T vegetable oil

1 potato – grated

1/8 cup onion – diced small

1/8 cup red pepper – diced small

1/8 cup jalapeno pepper –  diced small

Salt & pepper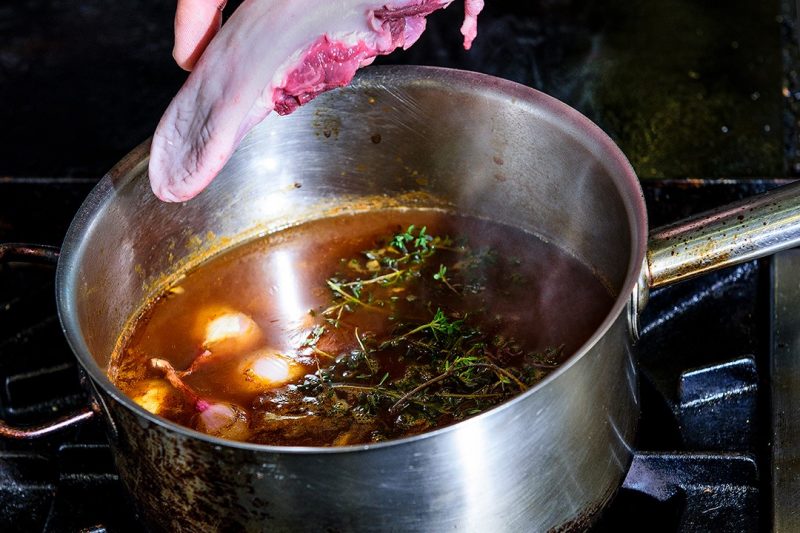 Place the tongue, stock, thyme, carrot, onion in a sauce pan and simmer for an hour and a half or until the tongue is tender enough to shred.
Take tongue out of stock and peel the taste buds off. (the top layer of skin should peel away easily)
Shred the tongue or chop into small pieces.
Rinse all the starch off the potato
Mix the potato, tongue, red pepper, jalapeno pepper, onion, and salt and pepper together
Heat oil in a small sauté pan to medium high heat.
Place ingredients into pan and turn pan to medium heat.
Press mixture down with a spatula.
When the edges of the potatoes start to turn brown turn the mixture over and brown the other side.
Serve immediately.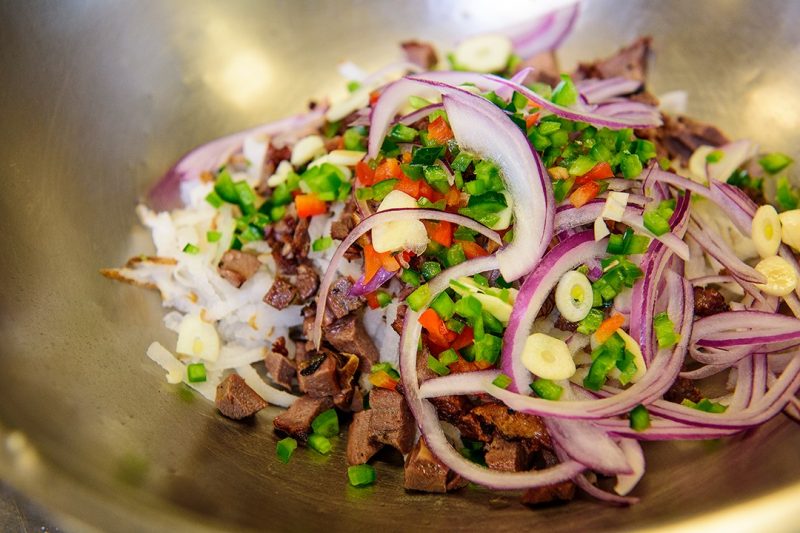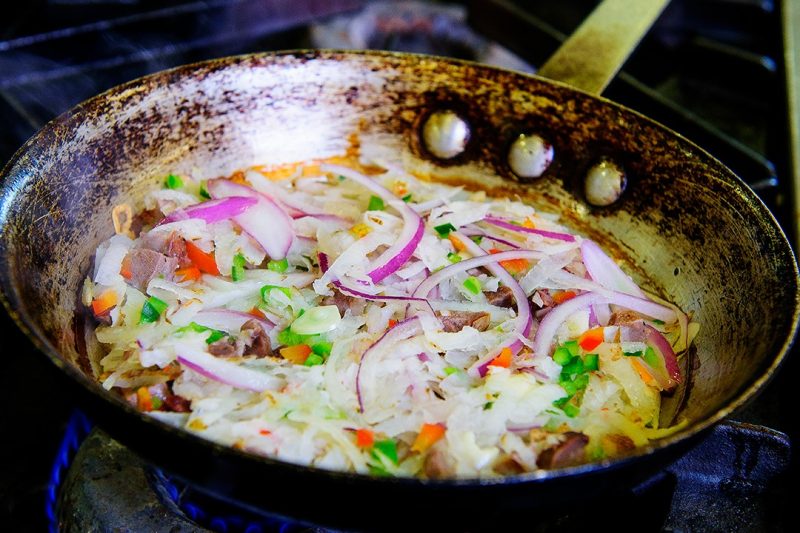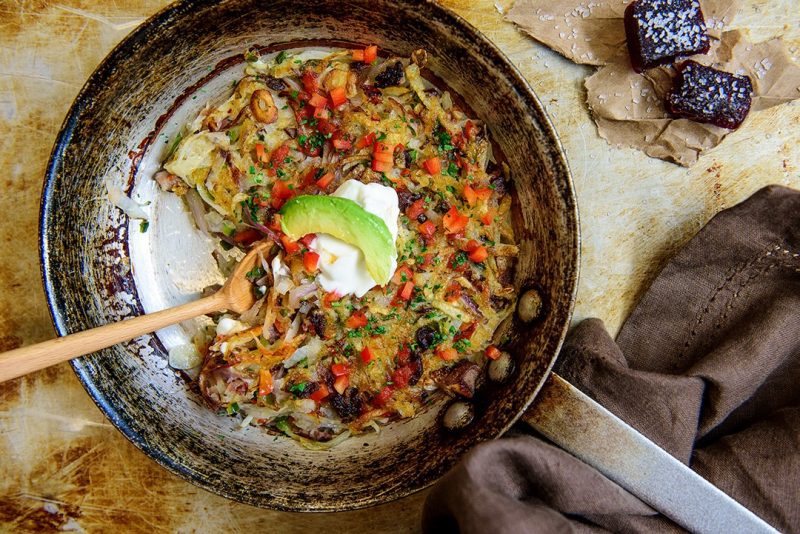 About the Author: Raised a Minnesota farm-girl in a hunting family, Krissie Mason (below) is an outdoorswoman, food enthusiast, and has been reconnecting with her culinary country roots and family hunting traditions of late. She is the brains and brawn behind Scratch + Holler media, and a regular contributor to several outdoor websites. Krissie fully supports a field-to-fork wild food chain, and especially enjoys expanding pantries and stretching wild game palates with her ambitious and delicious wild game recipes. Be sure to visit Krissie's website to check out her blog and much more.