We all know how much ice fishing has evolved over the last 30 years. We all went from ice pick wooden poles and hand-lining, to amped up rods and reels that are more sensitive than many open water combos. Warm clothes and buckets for seats have been traded in for Fish Traps with thermal fabric and sliding cushioned chairs. One thing I'm completely enamored with is the changes and nuances in mobility.
Snowmobile Mods
Snowmobiles and ice fishing can be found on the playground holding hands behind the big oak tree. They go together like peanut butter and jelly. I can recall snowmobiles being used for ice fishing since I entered the sport as a young buck. Back then it was simple, bungee a 5-gallon pail on the seat behind you, or tie a sled you'd use to slide down hills to the rear bumper and load it with sticks and line. A slow bumpy ride down the lake, and you were in business. I can still recall ice fishing on a river in northwest Minnesota, trekking to our spot on an Arctic Cat Cheetah with full cheetah print seat covers. Things have changed a bit since then.
My new Arctic Cat snowmobile is faster, stronger, sleeker, and infinitely more comfortable.  A modern snowmobile is also the canvas for which the ice angler paints his or her masterpiece. Everything from custom-made sled racks to keep your Fish Trap riding on the snowmobile itself, to incredibly good-looking auger mounts that make your auger hover over the hood, taking up zero space.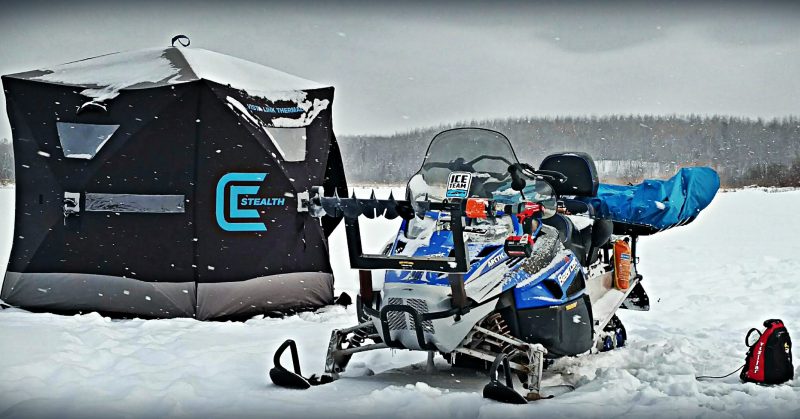 The Trap racks are the coolest and most convenient mods out there, and they make travel and storage easy and fun. They are basically a rack welded or pinned into the existing or aftermarket racks on your sled, or the frame itself. They allow for your Fish Trap to be loaded onto the rack, keeping it off of the ground during travel. This gives the angler many advantages, such as, less drag during travel, no more snow in their fish house, and no more bent poles from rogue ice chunks. I've even added an empty Fish Trap Pro tub to my machine, along with a convenient travel cover to keep my gear dry and secure. These things all allow you to travel more quickly, and keep your gear more secure.
ATVs/UTVs
Have you ever looked at a lake in the middle of the woods, and thought to yourself: I bet I could get back there with an ATV! Chances are, you can. ATVs have the disadvantage of not being able to move very well in deep snow, but they are great for climbing logs, tight turns around trees, and are nearly indestructible. Where my Arctic Cat sled can't go, my Arctic Cat 4×4 can.
Like the mods available for snowmobile users, most are available or do-able for ATV users. ATVs also have a larger canvas and much larger built-in racks to tinker with.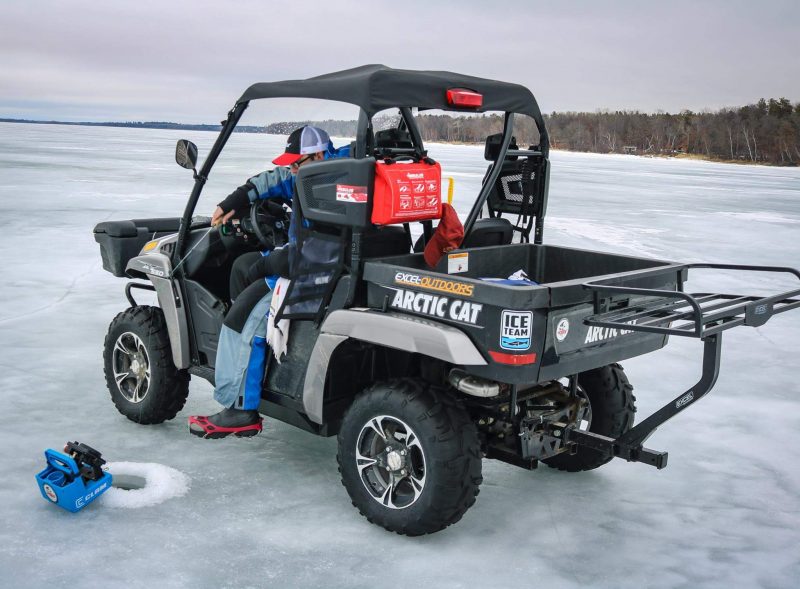 While winches are available for snowmobiles, the winch system on an ATV is much better, and can save you a lot of digging time, or even save your life. A trick for winch users is to have a 12-inch steel rod or a wooden block in your emergency kit, This allows you to drill a hole in the ice, wrap your winch rope around the rod or wood block, submerge it and turn it sideways, then winch yourself out of ruts or deep snow pockets.
Hitches are standard on ATVs, and they make pulling sleds a breeze. Adding a runner kit to your Fish Trap will keep the bottom of the tub from being abused and worn. Add a tow hitch, mount it with the included hardware, and you're set to tow your shack to your favorite fishing location without having to worry about sway, tangled rope, or losing the shack on your trek to your honey-hole.
Don't forget to look at accessories from Excel-Outdoors.com. I utilize their racks, Jaws of Ice auger carriers, and their trunks to keep my gear organized. Everything mounts simply, and is almost all interchangeable.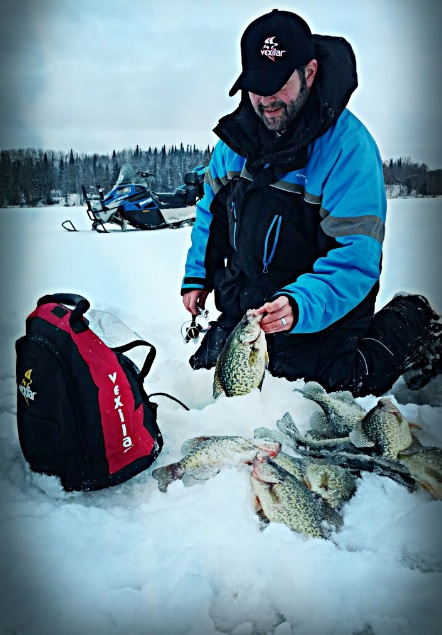 Electronics
GPS technology took the fishing world by storm many years ago. Handheld GPS were the norm for most ice fishermen. However, slowly but surely, people began seeing how much an ATV or snowmobile resembles a boat. Mounting your electronics to your ice machine is only natural. My Lowrance HDS sits on the dash of my sled, and it can easily be moved over to my ATV for the ultimate in navigation on and off the ice. I've even gone a step further, and added a Vexilar FLX-28 to my ATV complete with a transducer holder. Most ATVs and snowmobiles have a cigarette lighter port, making the possibilities endless. If you're worried about running out of juice, mounting a Clam battery bracket and battery pack takes care of that issue.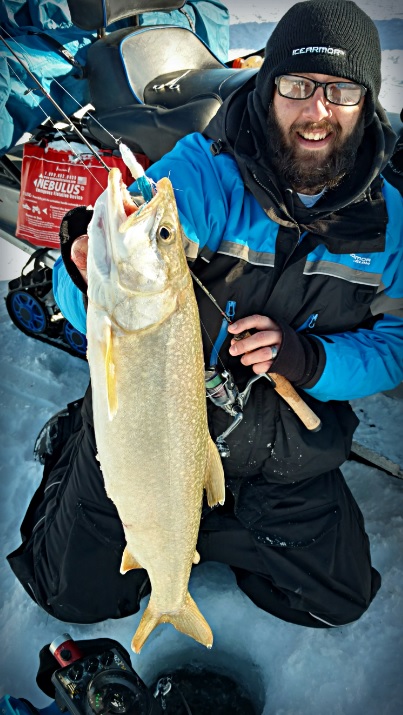 Be Lazy
When people see me moving around on my Arctic Cat, tossing my transducer down the hole while still perched on my ride, and fishing right from the machine, they probably think I'm lazy. The truth of the matter is that I'm efficient. If you plan to be mobile, then be mobile. When you hit the ice, drill out a series of holes along the structure you intend to work over, and move quickly from hole to hole to cover ground. Trudging through the snow is a chore, and kneeling on the ice can get tiresome. I save a pile of energy by staying on my machine during excursions.
Ease On Foot
If you're not endowed with an ATV or snowmobile, your feet obviously get it done. There are several products out there making foot-travel much less of a chore. The aforementioned runner kits from Clam Outdoors don't only protect your sled from wear; they also allow the sled to glide along the ice with ease. They are a must for any avid angler. Adding a sled pulling harness extends the length of rope, and gives you comfort and balance that the standard ropes that come with nearly every hut on the market can't provide. If you plan to fish outside, or tote along a pop-up shelter, something like a Polar Sled or one of your children's sliding sleds will hold all of your gear, and weigh much less than a big fish house.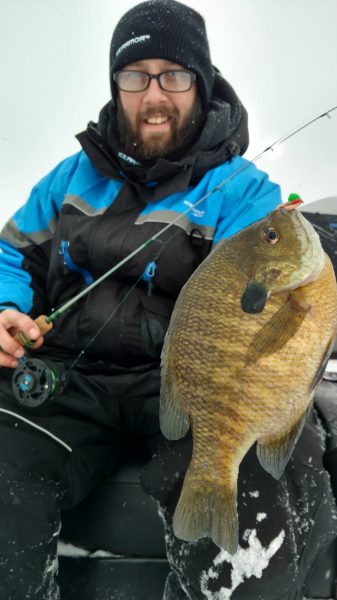 Lastly, be creative. In your spare time, think of ways to trim the fat and make things less bulky, or easier to move. Modifications to your fish house, ATV, or snowmobile can be fun, and are great projects for friends or family to enjoy.
Editor's Note: Safety should always be your No. 1 priority on any ice fishing adventure. Check out the video below to see a few of the important safety items the author depends on to ensure safe snowmobile and ATV travel on hard water.