Manitoba — A Waterfowling Wonderland
Dave Maas 01.30.18

Manitoba offers some of the finest goose and duck hunting on the planet, and the variety of waterfowl habitat must be seen to be believed. From using layout blinds on ag fields, to hiding in willow and scrub pines on the Hudson Bay coast, this massive province has something for novice and experienced shooters alike.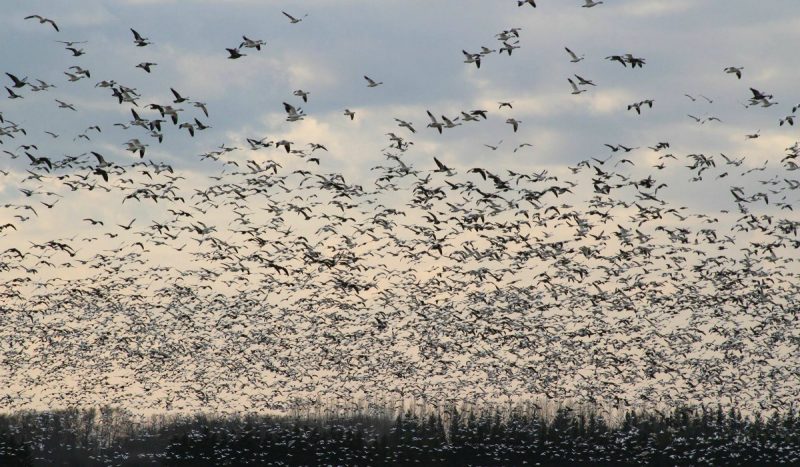 But how do you begin planning for such an adventure? Thankfully, Travel Manitoba understands that visiting hunters, the majority of whom travel north from the Lower 48, would appreciate a bit of guidance, and they have an outstanding section of their website dedicated solely to the pursuit of migratory game birds. Click here to check it out.
For planning purposes, the site really has it all. Personally, I love the two featured videos, one focusing on puddle ducks and one on Canada geese (below). You can read short summaries of the what you'll likely experience during your visit, and also find an alphabetical listing of outfitters, which you can filter by region, or by features (drive-in, fly-in, etc.).
In Manitoba, the hunting seasons for ducks is September through November, and the same is true for Sandhill cranes. (Never hunted cranes? Make it happen this fall in various regions of Manitoba. Not only are they fun to pursue, but you'll learn firsthand why hunters call them "ribeye of the sky.")
Goose hunters have the advantage of both fall (September through November) and spring hunts, thanks to the spring Conservation season for white geese, which occurs March through June.
To whet your appetite for waterfowl, and perhaps get your travel research started on the right track, check out the four outfitters showcased below. Each one is in a different region of Manitoba, but they share one thing in common: world-class waterfowling opportunities that will have you planning a return trip before your final shell is fired.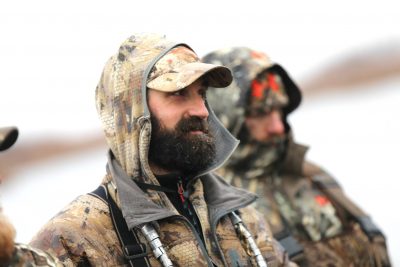 Birdtail Waterfowl is in the prairie pothole region of western Manitoba, and owner Paul Conchatre (above) has been in the lodging/guiding industry since the mid-1990s. "My guiding career has taken me all over Canada, as far north as the Arctic Ocean," Paul noted on his website. "Experience has been my greatest teacher. There are many elements that go into having a great waterfowl hunt, and I pride myself in taking care of every detail."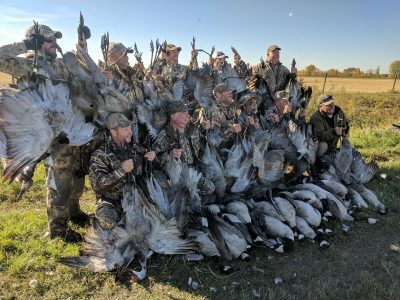 At Birdtail, you can pursue ducks, geese and Sandhill cranes. The goal of Paul and all his guides is simple: deliver the ultimate hunting experience with first-class lodging at a price you can afford. A quick visit to TripAdvisor indicates that Paul and his team are doing exactly that. Of the 17 reviews on TripAdvisor, every one of them gives Birdtail an excellent, 5-star rating, with notes of "the best" and "paradise" a common theme.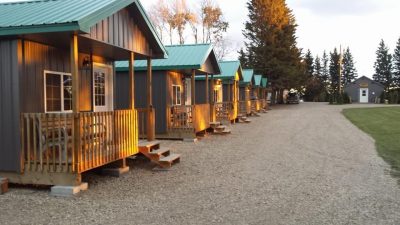 Hunters who book a trip with Birdtail are also treated to first-class lodging. Fully furnished private cabins accommodate two to four hunters, and three meals are prepared daily by a chef and an assistant chef in Birdtail's beautiful lodge.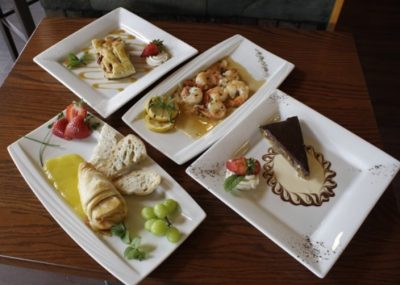 Birdtail Waterfowl's website is packed with great information — and hunting videos! — so be sure to set aside some time to check it out. The same is true of Birdtail's Facebook page.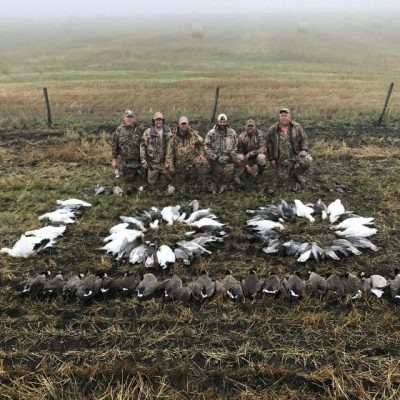 One final note on Birdtail: If you don't want the hassle of traveling with a shotgun, you can rent a dependable and deadly Beretta A400. This is a first-class waterfowling destination. Period.
If you want to take your waterfowling adventure to the next level — literally — travel farther north than you've ever been before (probably) and visit Kaska Goose Lodge; I'm talking the coast of Hudson Bay!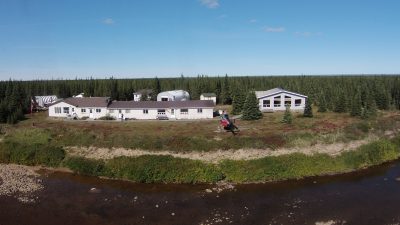 The lodge itself has been transformed from a Hudson Bay Company fur storage warehouse, and today it's the most luxurious lodge on the Hudson Bay and James Bay coasts. In a word: Cool.
Here, waterfowlers can pursue a variety of ducks, but it's the geese that drive the business, namely snows, blues, Ross, Canada and Richardson geese. Trip planning tip: Book early because the goose hunting season here is short, running from the first week of September to about September 24. Kaska offers 4-day trips, with eight hunters per trip. As for the goose hunting itself, you'll hide in natural cover such as willows and scrub pine, or strategically placed driftwood blinds on the Hudson Bay Lowlands beach ridges.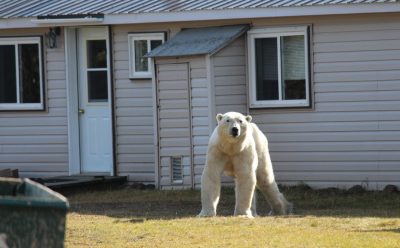 A trip to Kaska is Adventure with a capital "A." For example, when is the last time you spotted a polar bear scavenging for food while duck or goose hunting? Never. But it can happen at Kaska because the lodge is located near a major denning area for bears.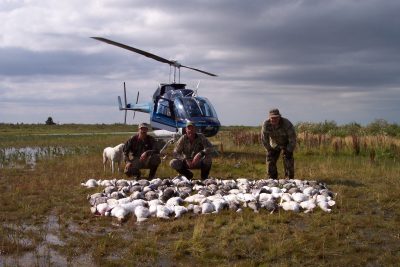 And when is the last time you traveled to a goose hideout via a Bell helicopter? Again, never! Quote from Kaska's website: "The helicopter provides our hunters with increased mobility and gives them the ability to move to where the geese are staging on calm, bluebird days when the geese are reluctant to fly."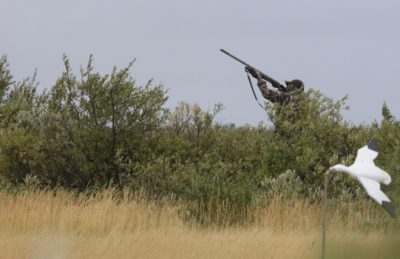 A visit to Kaska is a waterfowl hunt, yes, but it's also the trip of a lifetime.
Located in Manitoba's game-rich Parkland Region, Riverside Lodge is one of Manitoba's most well-known and trusted outfitters. The lodge, which was built in 1961, is in the heart of a tremendous waterfowl flyway. At least 15 species of ducks and geese annually migrate though this region.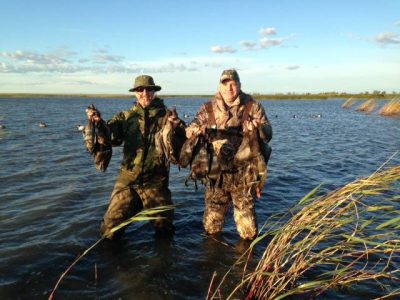 With big water located to the north and east, and grain fields to the south and west, the birds have everything they need. Ducks and geese use massive Lake Dauphin as a refuge, and the birds travel daily to nearby grain fields to feed. Quite literally, it's a waterfowl paradise.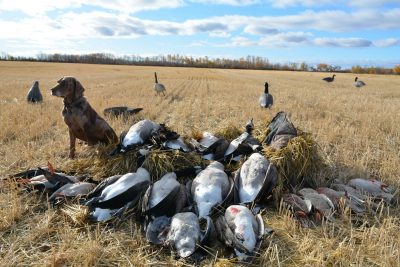 Perfectly positioned for either water-based or field-based hunting, Riverside can get you out hunting no matter the conditions. If fields are too wet due to heavy rains, the guides have the option of hunting water. If it's too windy to hunt big water, the guides can hunt pot holes or ag fields. From placing layout blinds in fields, to boat-based hunting, to using lakeshore blinds, the guides at Riverside are prepared for everything.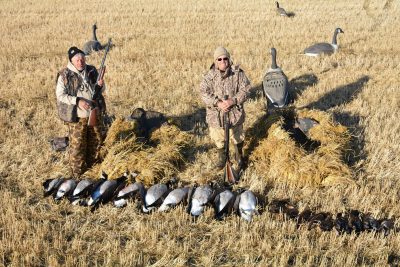 Riverside pursues ducks and geese with clients from September 24 until the end of October. Accommodations are clean and comfortable. You can choose between housekeeping cabins, or elect to stay in three bedrooms in the guest lodge.
Hunters traveling from the Midwest United States who want great goose and duck hunting but a shorter drive, should check out Wild North Waterfowlers. This privately owned, small outfitting business is headquartered near the tiny town of Lorette, only 15 miles southeast of Winnipeg.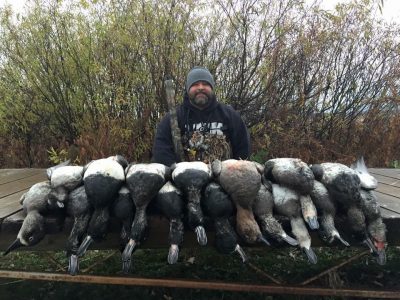 Owner Darren Shipp (above) has been a diehard waterfowl hunter for more than 30 years, and a licensed guide for over 20. He wrote on his Facebook page: "I started Wild North Waterfowlers in 2013. I cater to field Canada goose hunts, as well as diver duck hunts in the eastern part of the province — some of the most beautiful terrain there is to see here."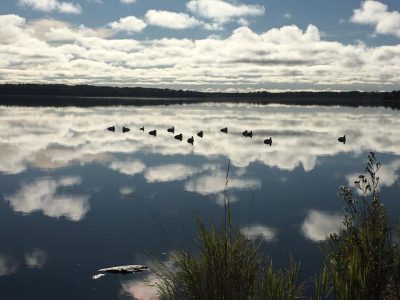 Darren will not only put you on birds, but after you make the shot, he can also assist in the process of mounting your prized duck or goose. You see, he also owns Wild North Taxidermy in Lorette, and he's been a full-time taxidermist since the early 2000s.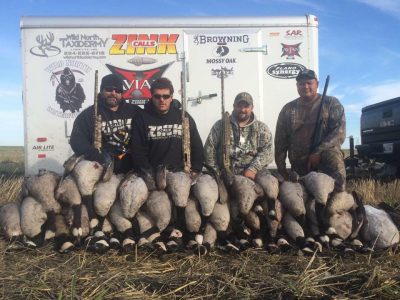 For more information, click here to visit Wild North Waterfowlers Facebook page. You can also reach Darren by phone at: 204-226-8718; or email: [email protected]. Darren is one of the best in the business when it comes to producing geese and ducks for his clients.
Manitoba has a lot to offer when it comes to ducks, geese and Sandhill cranes. Start planning your trip soon so this fall you can experience a waterfowling wonderland firsthand.