As the 2017/2018 ice fishing season continues, to some anglers it might seem like the winter has lasted forever; these are the fishermen who are currently struggling to catch fish. On the other side of the coin are ice anglers who are still doing well; to them, winter is progressing at the perfect speed.
So, in which category do you fall, the former or the latter?
If you have a case of the mid-winter ice blues, then you must make some changes and adjustments to be successful. Let's sit back and take a look at what has happened to our lakes, and how you can end this year's ice season with a bang.
Mid-Winter Ice
When we hit mid-February, snow in many locations will be at its deepest, and ice thickness can also be extreme. This one-two punch will have taken an effect on the green weeds left in the lake — if there are any — so where should you search for panfish?
If panfish can find any green weeds left on the flats, or on the outside edges of the flats, these weeds are a gold mine. Panfish will hold on these spots as long as possible to find food. If weeds are scarce and no food is present, then panfish will be pushed toward the deeper lake basin to roam and look for food.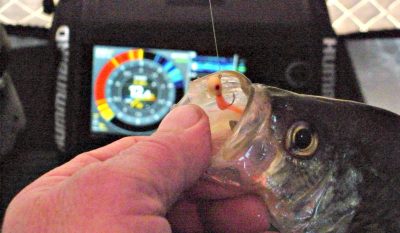 One of the easiest ways to determine weed condition is drilling a few holes up on the flats and then dropping down a camera. Water clarity is typically pretty good in the winter, so you'll see green weeds (if they are present) and fish. If you don't have an underwater camera, simply drill a hole and with the aid of a dark shelter, look into the water. You can get away with this technique if the water is clear enough, and depth is less than 10 feet or so. Another way to check for green weeds is to drop a weighted spoon to the bottom and see what gathers on the treble hook. If you pull up green weeds, then you're in business. If not, keep moving and looking.
If you're faced with little or no weeds, then your best bet is to remember the last area in which you contacted weed-based panfish, and start moving toward the nearest deeper water. This is easily done if you have a GPS unit or a paper map.
Food is the big key here. Panfish will keep moving, and searching, until they find food. And you have to do the same to find them. When searching deep water, it's best to drill numerous holes and check your depth finder for fish. If you see something on the screen, now is the time to see what species is present with a camera.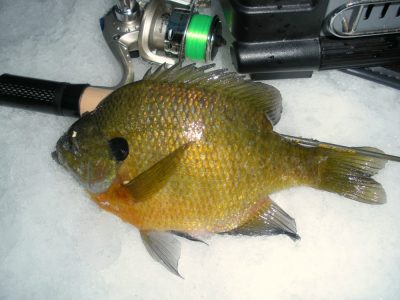 Tactics for Gills
After you've found bluegills, it's time to start catching them. Water clarity and depth play a big part in how you proceed.
Let's say you see some weeds present, and gills are holding on them. I'd start with a small spoon to attract fish and trigger strikes. To make the spoon more attractive, tip it with either waxies or euros. Rattles and flash will help call gills up out of the weeds and make it easier for them to find the lure, but I always have a smaller horizontal bait ready on a different rod.
You will find days where gills prefer one over the other. During my last ice outing, for example, I got a few strikes on my spoon, but the bite was dominated by a horizontal jig tipped with finesse plastics. The gills were finicky that day; it was on the edge of an approaching cold front, and the bite showed that by how the gills reacted to the lure. I could see on my Helix 7 Ice that gills would initially shy away from the small jig, but were curious enough to come back and take the lure the second time around. If it wasn't for my tiny soft-plastic offerings, it would have been a long, slow day.
Here's a rigging tip that might put more gills on the ice for you this winter: As the photo below shows, I rig a jig-and-plastic combo in two different ways. And the best part is I can quickly and easily switch back and forth. It has made big difference in triggering strikes all season. If gills won't strike the jig with the plastic rigged one way, it seems they'll strike it with the plastic rigged differently. Give it a try.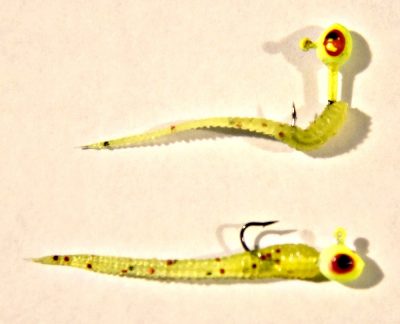 Crappie Tactics
If gills are holding on the edge of remaining weeds, it's a good bet that crappies have moved even deeper, or perhaps made their way to the deepest water in the area. This will be a hunt-and-find mission. Be ready to cut lots of holes until you find fish.
Once you finally mark crappies on your depth finder, you must fool them into striking. My top two baits if crappies are suspended in open water include a spoon, and a Northland Rippin Shad. You can work both lures in deep water; the rattle and flash of these lures call curious crappies to you. It is always my goal that after I start to make contact with crappies, I'll adjust my presentation to the mood of the fish. But you must first find and attract fish before you can fool them into striking.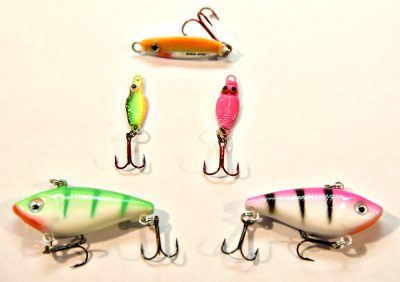 Pay special attention to depth. If you begin catching crappies from the depths and they have trouble swimming down the hole after you release them, then it's time to make a decision. You'll either need to keep everything you catch (small, medium and big fish; everything counts toward your limit), or find shallower fish. As a rule, this depth is about 25 feet. Chances are pretty good that once crappies from 25-plus feet come through the hole, they'll have to be kept. Pay attention to these conditions and fish accordingly if it is your intention to catch and release fish.
As you can see, there is still time left in the ice season to get out there and catch some gills and crappies before the open-water period. Of course, as we get later into the season, pay attention to the ice conditions. Just as during the early ice, the end of ice season can be dangerous, too. Don't take any chances; be safe and live to fish another day.