Leica Sport Optics takes seriously its role in supporting and encouraging youth involvement in nation-wide birding programs established and sponsored by such organizations as Victor Emanuel Nature Tours (VENT) and the American Birding Association (ABA).  In fact, Leica Sport Optics reps will be especially busy this summer and fall playing an active, hands-on roll in a number of youth camps, contests and events. The ABA has recognized Leica's dedication to its youth initiatives by awarding it with the coveted distinction as Legacy Sponsor of ABA's Young Birder program.
Jeff Bouton, Leica Sport Optics marketing manager, recently returned from participating in the ABA's  Camp Colorado, which was held in Estes Park from July 8 -13. Camp Colorado hosted 18 youth who enjoyed observing and learning about birds, their habitat and the skills necessary to become accomplished birders or conservation professionals.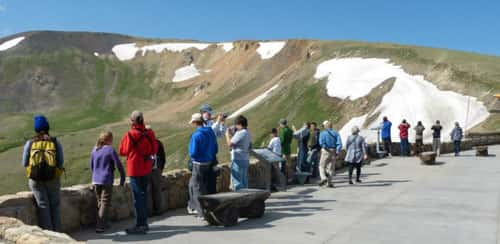 "It is a great pleasure to witness youngsters engaging in wild discoveries like the ones that happen at these structured, long-standing camps," Bouton says. "They are a proven model for success. We regularly see past alumnus of these programs as the new leaders in the community, some even pioneering brand new young birder programs of their own."
Leica Sport Optics also sponsors the prestigious VENT-established Camp Cascades and Camp Chiricahua. Camp Cascades will be held July 28-Aug. 9, 2012 in Washington State's Puget Sound and Mt. Rainier National Park. Camp Cascades provides young birders between the ages of 14 and 18 the unique opportunity to experience the beautiful flora and fauna of the Pacific Northwest.
Camp Chiricahua, the first American youth birding camp established by VENT back in 1986, is to be held July 30-Aug. 10, 2012 in Southeastern Arizona's Chiricahua Mountains. The primary focus of the camp is on the rich birdlife of the region, but campers will also explore all aspects of nature, and spend time learning about habitats and ecosystems.
Leica Sport Optics is also a continuing sponsor of the Young Birder of the Year Competition, which is currently running through Oct. 1, 2012. The contest is designed for youth ages 10 through 18 who enjoy any or all aspects of birding. Contestants can choose from five "modules" to customize the contest to fit their own talents and interests. Modules include Field Notebook, Conservation/Community Action, Illustration, Writing and Photography. The two Grand Prize winners for the Young Birder of the Year 2013 will each receive a pair of Leica Trinovid binoculars (winner's choice of 8X42 or 10X42), courtesy of Leica Sport Optics.
The ABA Mid-Atlantic Young Birder Conference, sponsored by the ABA and Leica Sport Optics, will be held Sept. 22, 2012 at the Ashland Nature Center in Hockessin, Del.  The regional conference is designed to bring together young birders and their mentors from a wide area in order to facilitate the sharing of ideas and information, and to build and strengthen the young birder community.
Leica Sport Optics looks foward to continuing its support of youth birding initiatives and encourages all youth to get involved in these extremely rewarding events.
"I can't think of anything we do in the course of our day-to-day business that offers greater rewards than introducing and encouraging the next generations of wildlife enthusiasts," Bouton says.  "I just wish I had enough energy to keep up with them when in the field!"
Images courtesy Mallory Communications/Leica Sport Optics
What's Your Reaction?