Snowmobiler Caleb Moore, 25, passed away on Thursday due to the injuries he incurred a week ago in the X Games' snowmobile freestyle finals. Moore was attempting a back-flip on his 450-pound vehicle when the snowmobile clipped the landing ramp, causing the athlete to fall off.
According to the New York Times, the snowmobile then landed on his head, causing internal bleeding and a severe concussion. He was taken to St. Mary's Hospital in Grand Junction, Colorado where his condition worsened. Moore had previously medalled in the X Games with a bronze in 2010 and silver in 2011 in freestyle competition. He was a prodigious athlete who began his career on an ATV and displayed an equally adept skill on the snow.
"He's very motivated," said good friend and snowmobiler Daniel Bodin. "If he really wants something, he's a hard worker. Whatever it takes to get a medal."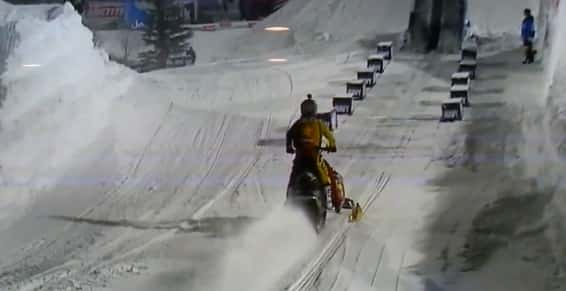 The Moore family, which includes X Games competitor Colten Moore, released a statement following Caleb's passing saying, "The family wishes to express their deep gratitude for all the prayers and support they have received from all the fans, friends and family around the world that Caleb has inspired." X Games organizer ESPN also released a statement:
We are deeply saddened by Caleb Moore's passing and our thoughts and prayers go out to his parents, Wade and Michelle, his brother, Colten, and the entire Moore family. He will be remembered for his natural passion for life and his deep love for his family and friends, and he will always be an inspiration to everyone he touched in the action sports community. As a result of this accident we will conduct a thorough review of this discipline and adopt any appropriate changes to future X Games. For 18 years we have worked closely on safety issues with athletes, course designers and other experts. Still, when the world's best compete at the highest level in any sport, risks remain. Caleb was a four-time X Games medalist attempting a move he has landed several times previously.
ESPN further stated that they will be reviewing safety issues and conduct associated with the X-Games snowmobiling categories. This is the first fatal accident in the Winter X Games, which is currently in its 17th event. USA Today reports that a website has been created to raise funds to pay for Moore's hospital bills, which came to about $26,000. Fellow athlete Jackson Strong has put his snowmobile up for auction in order to contribute. The following is video footage of the crash:
[warning_graphic_video]
Image screenshot of video by JVltr450 on youtube
What's Your Reaction?