Following their introduction of the bullpup Tavor SAR last year, IWI US will be building on that product line this year with "ban-compliant" rifles, a new furniture color, 9x19mm conversion kits, and an IWI US branded accessory line.
To enable gun enthusiasts in states with restrictive firearms laws to own Tavors, IWI US will be offering three new Restricted State (RS) models this year. Details for each are as follows:
The TSB16CA is intended for California residents and features a 16.5-inch-long barrel with a removable four-inch-long muzzle brake, granting an overall length of 30 inches when attached. A 10-round magazine that can only be removed with use of a tool is also included.
The TSB16MD is geared towards Marylanders and has the same barrel and muzzle brake combo as the TSB16CA. It is supplied with a detachable 10-round magazine.
The TSB18RS is offered for residents of Massachusetts and New Jersey. It utilizes an 18-inch barrel with a non-removable two-inch muzzle brake, yielding an overall length of 30 inches. It is also supplied with a 10-round magazine.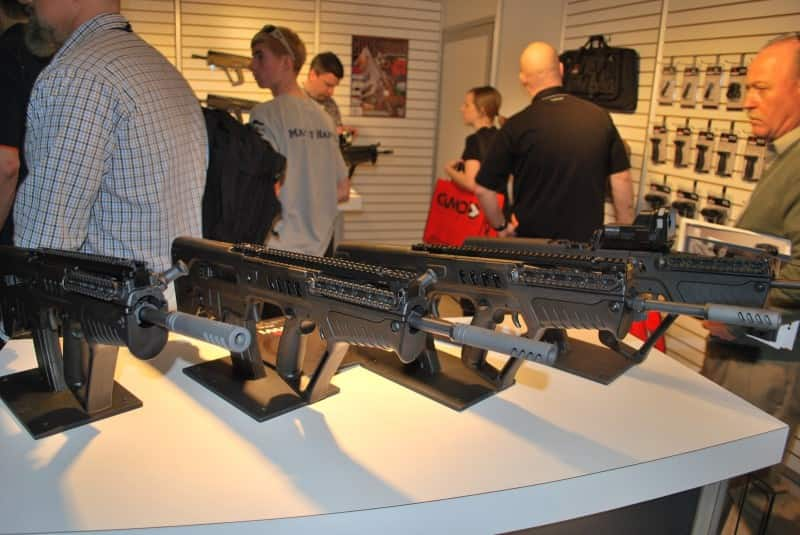 According to Michael Kassnar, IWI US' VP of Sales and Marketing, the RS models should become available in 60 days, and will have a list price of $2,049, $50 higher than "standard" models. Similarly, Tavors with OD green furniture (model names TSG18 and TSG16) should be available in 60 days and will have the same MSRP as their black and flat dark earth counterparts. None of the OD green rifles were on display at SHOT Show.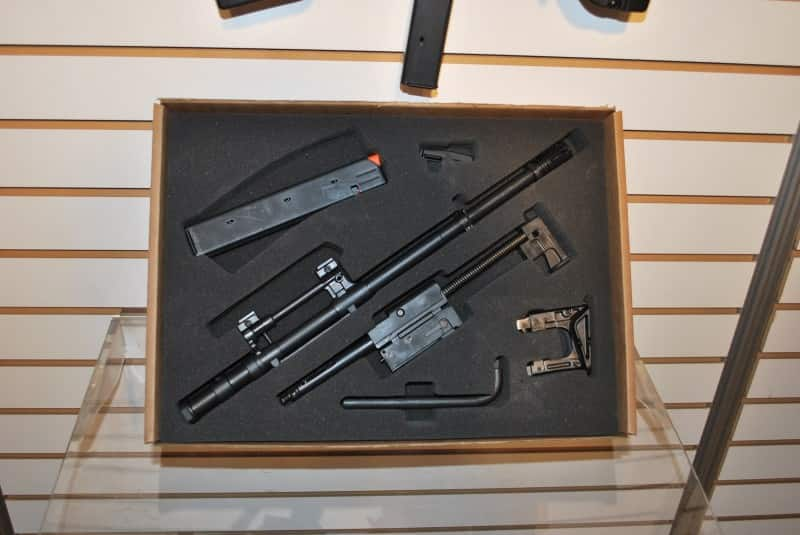 Kits that allow a user to convert their 5.56x45mm Tavor into a blowback-operated 9x19mm rifle have also begun shipping from IWI US. These kits sell for $900 and include a 19-inch barrel with a 1:10-inch twist rate, blowback recoil assembly, magazine well adapter, barrel removal wrench, 9x19mm deflector, and a 32-round steel magazine.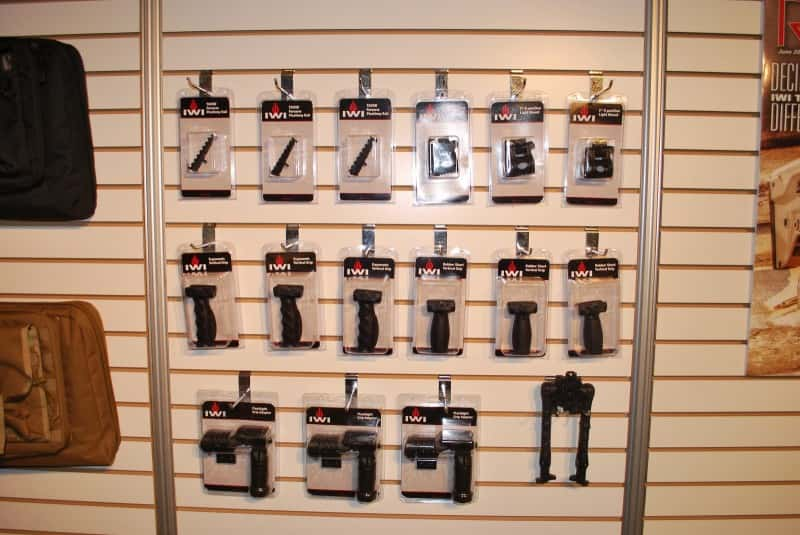 The company has also launched an accessory line that includes apparel and range bags as well as vertical grips, a Tavor-specific bipod, backup fire control pack, and a Tavor SAR spare parts kit. The spare parts kit includes a firing pin, firing pin spring, bolt guide pin, extractor, extractor spring, extractor pivot, ejector, ejector spring, ejector spring guide, and ejector securing pin. Most of these accessories will be available on the IWI US webstore, which Kassnar said should be launching in two weeks.
Images by Matt Korovesis
What's Your Reaction?