With little rain or snow in the forecast, California is still firmly in the grip of a scorching drought. The latest satellite images from NASA show a startling difference between those taken in the same period in 2013. Researchers are calling the past 12 months the driest California has ever faced since record-keeping started in 1885.
"In a normal year, much of the green areas near the mountains would be snow-covered," said Ramakrishna Nemani, a vegetation sensing expert at NASA's Ames Research Center. "Since there is not much snow this year, the evergreen vegetation appears anomalously green. In fact, that is bad news for this time of the year."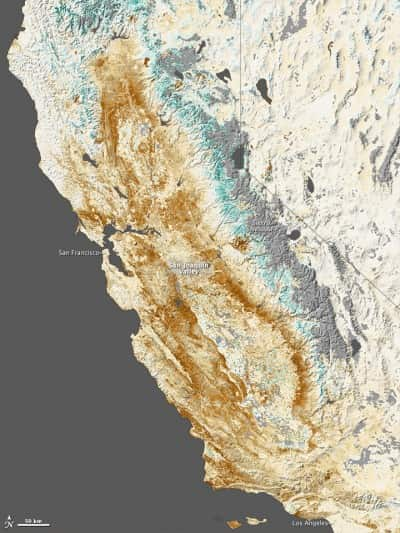 Where once thousands of square miles of snow should have covered the Sierras, there is only dry dirt. It is the deepest drought the West Coast has seen in more than a century and the effects are glaringly obvious. According to Fox News, at least 10 communities in California are already at risk of running out of drinking water within the next two months, and the shortage is affecting nearly every part of the state. Idle farmland is expected to cost California more than $5 billion through lost production, while state wildlife officials have already begun shutting down fishing in rivers and streams in an attempt to preserve fish populations. In addition, the odds are now stacked against the survival of the state's native coho salmon.
"What we have to do is all come together and figure out how we all are going to make sure that agricultural needs, urban needs, industrial needs, environmental and conservation concerns are all addressed," said President Barack Obama on a tour of California on Friday, during which he announced nearly $200 million in federal aid for the state.
The drought is also causing problems for California's wildlife. The Contra Costa Times reported that some wildlife rescue centers have been receiving more reports of animals dying from dehydration and exhaustion. In addition, wild animals are coming closer to urban areas in attempts to find water, putting them in contact with humans. Despite the drought, wildlife officials warn residents not to provide water or food to wild animals. Doing so may cause the animal to associate humans with food when the drought ends.
Northern and central California received a small reprieve in the form of rain and snow in early February, but experts say the state needs a lot more rainfall before things return to normal.
"Although there were short-term local improvements from this week's ample precipitation, the long stretch of subnormal precipitation dating back to 2011-12 wet season has accumulated large deficits, leaving rivers, lakes, reservoirs, and snow packs well below normal," David Miskus of the NOAA Climate Prediction Center wrote. "Even though this storm was welcome, the central Sierra still needs 3 to 4 more copious storms to bring this wet season close to average. Unfortunately, little to no precipitation fell on southern California and the Southwest."
In the meanwhile, public health officials will have to decide where to truck in water and lay pipes for struggling communities.
What's Your Reaction?