"I'd caught bass on the riprap in Mill Creek at Lake Guntersville on day two of the 2014 Classic, and I had told some of my spectators and the people in the media that I planned to start fishing the morning of the final day in Mill Creek," said Randy Howell, the 2014 Bassmaster Classic Champion. "But as I started going down the lake toward Mill Creek, I had a feeling that I should turn the boat around and go up Spring Creek instead. I really didn't know why I did that, other than I heard a voice that said, 'Do you want to be good, or do you want to be great?' I really felt badly that I'd told the spectators and the media boat that I'd be fishing Mill Creek, and then I didn't go there. But I've learned to trust my instincts when I'm bass fishing."
Howell's journey to the highest position a professional bass fisherman can obtain began on a Sunday back in November 2013, when he asked his seven-year-old son what he'd learned at Sunday School. His son replied, "I learned about prayer. My teacher gave me a piece of paper where we were supposed to write down our prayer." When Howell saw the piece of paper with his son's prayer on it, emotion swept over him, almost as much as it did when he learned he'd won the 2014 Bassmaster Classic. The small piece of paper with the child's prayer said, "Daddy win the Classic." Howell's wife taped the paper to Howell's mirror so he'd see it every morning.
Howell explained at the press conference following his win, "I really believed I could do it—that I could win the 2014 Classic."
Before the Classic, Howell met with BASS officials and reserved a section in the Birmingham/Jefferson County Civic Center where the daily weigh-ins would take place for children from the King's Home, a charity he supports that has a home serving battered wives and abused and battered children. Howell had his own unique cheering section.
"I told my wife and my friends that I didn't want to be in the top five on the last day of the Classic, because the top five anglers would have all the spectator pressure and media boats following them on that last day," he explained.
Howell got his wish. Before the final day (February 23) of the Classic, he was in eleventh place. No one had ever won a Classic being that far behind on the last day of competition.
Howell went to a community fishing hole for his final day of fishing.
"Everyone fishes the riprap and the bridge at Spring Creek," Howell said. "Anglers fish from the bank there and catch big bass. However, I'd seen big arcs, denoting big bass, on my depth finder, that were holding out some from the bank, in about eight to 10 feet of water, looking at the riprap and moving up toward the riprap. I started catching my bass on a Rapala DT6, a balsa crankbait with a slow wobbling move. I caught my first 20 pounds of bass on that bait."
A big crowd of spectators stood on the bank and on the bridge, watching me fish and cheering for me. After Howell had caught a six-and-a-half-pounder and culled that bass, he left the riprap and went up the creek. Howell figured the spectators thought he'd lost his mind, since they'd seen him catch one big bass after another.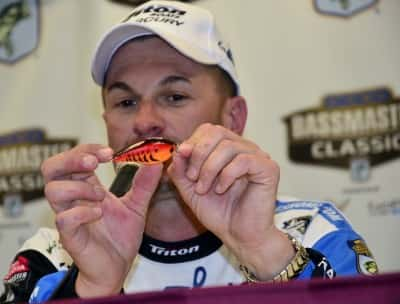 "However, I just had a feeling about fishing a little patch of grass where I'd caught some good-sized bass before in the back of that creek," Howell said. "I quickly caught a six-pounder and then felt I needed to return to the riprap. I fished too with a Livingston Lure prototype and culled until I had 29 pounds and two ounces. I'd never had a bag of bass that weighed that much in my 21 years of fishing professionally." Howell said all the way back to Birmingham, Alabama for the weigh-in he cried and blew his nose continuously, because he'd never had a day of bass fishing like what he experienced on this final day of the 2014 Bassmaster Classic.
Upon returning, he sat in the leader's seat, also known as the hot seat, and watched all the other anglers weigh-in their fish.
"When I saw Paul Mueller pull his bag of big bass out of his live well, I was preparing to lose," Howell admitted. However, when Mueller's fish were weighed, they totaled one pound shy of a Classic win for him, with Howell's total poundage of bass weighing 67 pounds, eight ounces. Howell exploded with emotion, and the cheering section from the King's Home went wild.
The water in Spring Creek rose from 43 degrees on Sunday, February 16, in seven days to a temperature of 63 degrees on the final day of the Classic. The big bass were heading for the spawning flats. Who would have believed that a child's prayer written on a piece of paper three months before the 2014 Bassmaster Classic—and a father's decision to change the place he planned to fish at the very right time—would have brought contestant Randy Howell from 11th place to first place in an eight-hour day? But it happened on Lake Guntersville, and Randy Howell stands today as the 2014 Bassmaster Classic Champion and $300,000 richer.
Images courtesy of John E Philips
What's Your Reaction?