It is with tremendous sadness that USA Shooting report that 1948 Olympian Walter Walsh passed away in his Northern Virginia home on Tuesday, April 29 with his family by his side, just six days shy of his 107th birthday.  On January 18, 2013 he became the world's oldest Olympian eclipsing another American Olympian, Rudolf Schrader.
The USA Shooting Hall of Fame proudly inducted Walsh along with Pat (Spurgin) Pitney into its ranks at an induction ceremony September 21, 2013 in Colorado Springs.
Clear and simple, Walter Walsh is an American Hero, all parts athlete, warrior, lawmaker, coach, husband and father as you'll witness in the story we've provided below.
On the occasion of hearing his father had been inducted into USA Shooting's Hall of Fame last year, his son and one of five children, Walter Walsh, Jr., had this to say in his honor.
"Dad never attached much importance to praise or sought it. His typical comment at such times was, 'I was just one who was at that place and time to do a job as well as I could, nothing more.' Any celebrity he gained never changed his being the faithful Marine "Semper Fidelis" or measuring up to the FBI's "Fidelity Bravery Integrity", as well as he could. He strove to be the Olympian, "Citius, Altius, Fortius", but was as gracious in losing as winning. Happily, his children, grands and greats share in the recognition of who Dad is, his accomplishments and importantly, his consistent moral character that established a high standard for us."
The USA Shooting family extends its condolences to the entire Walsh family.
Ralph Waldo Emerson once wrote, "It's not the age of life, but the depth of life." On this occasion, we get to proudly celebrate both.  Walsh was born May 4, 1907 in New Jersey and his life has been one of service, honor, accomplishment and compelling narrative.
He crafted his shooting life as a kid by using a BB gun to shoot clothespins off his Aunt's clothesline then graduating at the age of 12 to shooting a smoothbore .22 caliber rifle at rats in the city dump on the site where the Meadowlands would one day stand. He'd later go onto to join the Civilian Military Training Corps (CMTC) and the New Jersey National Guard attending shooting matches at the Civilian Marksmanship Program in Camp Perry, Ohio, and winning several awards for his marksmanship skills.
The G-Man
Walsh graduated from Rutgers law school and in 1934 joined the FBI. Not long after he was tracking down notorious crime figures and gang members.  As a rookie FBI agent, he discovered the body of Chicago gangster Baby Face Nelson after a shootout that left two FBI agents dead.
"Think about that," said Alan Abrahamson, an Olympic journalist known to be the last person to interview Walsh and his family back in 2011.  "Just 27, in the midst of the Depression, he was a G-Man — when the bureau was very much still making its reputation. He helped make it."
A year later, Walter helped apprehend Arthur "Doc" Barker of the infamous Barker Gang. Barker complained about being arrested by a "damn baby-faced kid." That very same day, Walter shot and killed gangster Rusty Gibson.
In 1937, posed as a salesman in a sporting goods store in Bangor, Maine, he helped bring down the Brady Gang, but not before taking two bullets, one to the chest and the other to his right hand.  He shot both James Dalhover and gang leader Al Brady after being shot.
He liked being with the bureau and once told a reporter: "I thought to myself, this might be a good outfit to tie up with. I am not trying to pin medals on myself, but the people in the FBI knew that I was very handy with firearms."
The Corpsman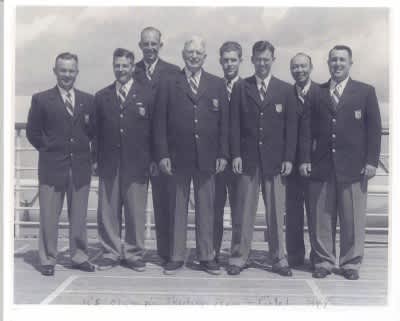 In 1938, he took a commission as a sec­ond lieutenant in the Marine Corps Re­serve and by 1942 Walter Walsh went on active duty.  In 1944, drawn by the intensity of World War II, he longed for a spot on the front lines, a spot he would get as a lieutenant colonel staff officer in the First Marine Division.
Similar to his FBI career, accounts of his courageousness and spirit as a Marine, fighting in World War II, are legendary. After another brief return to the FBI and the 1948 Olympic Games in London, Walsh would serve another 20-plus years in the Marines Corps as a shooting instructor until his retirement.
The Olympian
In 1948, Walsh got to test his shooting prowess against the Olympic competition as a member of Team USA in London.  He placed 12th in the Men's 50m Free Pistol event with a firearm that at the time was fairly uncommon in the United States.
"The competition was, as I remember, the usual exchanges of friendship between members of the various teams," Walsh recalled during his interview with Abrahamson. "On some of the teams, I'm thinking of the Germans particularly, they spoke in a broken fashion, better English than we did.
"… You had these people competing — they were all trying to do the same thing. They were trying to speak to each other with various degrees of difficulty.
"… It brings about a mixture between these people. You get by with stuttering and making hand motions. It was a great experience for me. And I enjoyed it."
At the 1952 International Shooting Sport Federation (ISSF) World Shooting Championships, he won a gold medal with the U.S. team in the 25m Center-Fire Pistol event and was a silver medalist in the individual event as well.
In 1972, Col. Walsh would again participate in Olympic competition, this time as a Team Leader for the USA Shooting Team in Munich. That team won four medals and includes some of the sport's iconic shooters including Lones Wigger, John Writer, Lanny Bassham and Margaret Murdock.
"Col. Walsh was the Team Captain for the great 1966 USA World Championship Team," remembers two-time Olympic gold medalist Gary Anderson.  "He was always respected by all members of our teams because of his truly extraordinary record as an FBI agent in the 1930s and his subsequent, distinguished military record.  We were proud to have someone as our Team Captain who had been an outstanding shooter himself.  He was Triple Distinguished in Service Pistol, Service Rifle and International.  That is a very rare accomplishment. I extend my personal congratulations to Col. Walsh for becoming the oldest living Olympian."
"I thought he was a great Team Leader for the 1972 Olympic Games and every other trip I took with him," said the three-time Olympic medalist Wigger who won gold and silver medals at the 1964 Olympic Games and another gold in 1972. "He was always fair and very supportive and did a good job, which is sometimes not easy dealing with athletes. Col Walsh was a gentleman and a great Team Leader.  He ran the Marine Corp MTU for a number of years and knew most of the top shooters in the country and was well-liked by all who worked for him and well-respected by everyone."
"One of the challenges you have with those old enough to have been on the '72 team is that we seem to have vivid memories of our events, but if the team manager does his job, we have little memory of him at all," said 1972 Olympic silver medalist Bassham. "The exception is when there is an issue."
One particular memory, however, Bassham did recall: "Both of my events were concluded, but I was still at the Olympic Village.  I asked Col Walsh if I could leave the village for a day and a night to visit a friend in Munich.  He saw no problem with the request and made arrangements for me to leave the village. That night the terrorists assaulted the Israeli team.  Security was heightened.  I had a huge problem. How was I going to get back to my team?  We did not have cell phones in those days. If there was a phone in the village associated with the shooting team, I did not have the number.  I did not know what to do.  Fortunately, I had given the phone number of my friend in Munich to Col. Walsh.  It did not take long before he called me.  He made arrangements to get me back to the village and join my team.  This was no simple matter, and it was greatly appreciated by me."
The Rest of the Story
Walsh was married for 43 years; his wife passed away in 1980. They had five children together — three daughters and two sons. The family counts 17 grandchildren and 23 great-grandchildren.
Asked to what he credits his longevity as found in this article written by R.R. Keene in Leatherneck Magazine, Walter Walsh ponders for a moment and answers: "To start with, you have to be lucky. Then, if you listen to your parents and follow the path of the straight and narrow, then I think God has mercy on you—permits you to live. That's about it. It has worked very well for me for a long time … and I've forgotten the SOBs. That makes my life easier."
Bill Vanderool of the American Rifleman wrote in his October 2010 article on Walsh:   "At Walsh's 100th birthday party, his family served three cakes: One had the seal of the Federal Bureau of Investigation; the second, the seal of the United States Marine Corps; and the third bore five Olympic rings. Each represented a major achievement in Walsh's life, and each could make a major story. For one man to be presented all three indicates just how special that person is."
Images courtesy USA Shooting
What's Your Reaction?