Update 11-3-2014: As of Friday evening, restrictions on hunting and trapping in the areas affected by the search had been lifted.
For more than seven weeks, Eric Frein, 31, has been on the run in northeastern Pennsylvania after he is believed to have shot two State Police officers in September. Inch by inch, law enforcement officials from multiple agencies combed through the forests of Monroe and Pike Counties for Frein, who was described as a dangerous "survivalist" and armed with a rifle. The manhunt grew so intense that it prompted the state's Game Commission to close down hunting across seven townships where the fugitive was believed to have been hiding. Hunters were advised to be cautious of police activity, and to report anything that seemed strange. All that ended on Friday when police cornered Frein in an abandoned airfield in Tannersville. Authorities had feared that the final confrontation with the suspected murderer would end in a shootout, especially after multiple homemade pipebombs and rifles were found in Frein's abandoned campsites. However, no firefight occurred and police officials are calling the gunman's capture a great success.
"He was definitely taken by surprise," State Police Commissioner Frank Noonan told CNN.
Frein was stopped in an open field just outside of the airfield and surrendered without incident. He was even arrested with handcuffs belonging to State Police Corporal Bryon Dickson, who officials say Frien killed during a deadly shooting on September 12. Noonan said that the handcuffs were only fitting, and Frien was taken to the same State Police barracks in Blooming Grove, where he ambushed Dickson and another trooper, Alex Douglass, for holding until his preliminary arraignment. Douglass is currently still recovering from his wounds.
"It feels good to know there's a guy like this off the streets," local resident Gregory Kubasek told Fox News after he drove up to the barracks to get a look at the fugitive.
Frien's capture also means the end of weeks of suspense and sometimes even terror for the residents living in the area. Throughout the two months when Frein was on the run, officials closed down schools, public events, shut down roads, and visitors postponed their trips.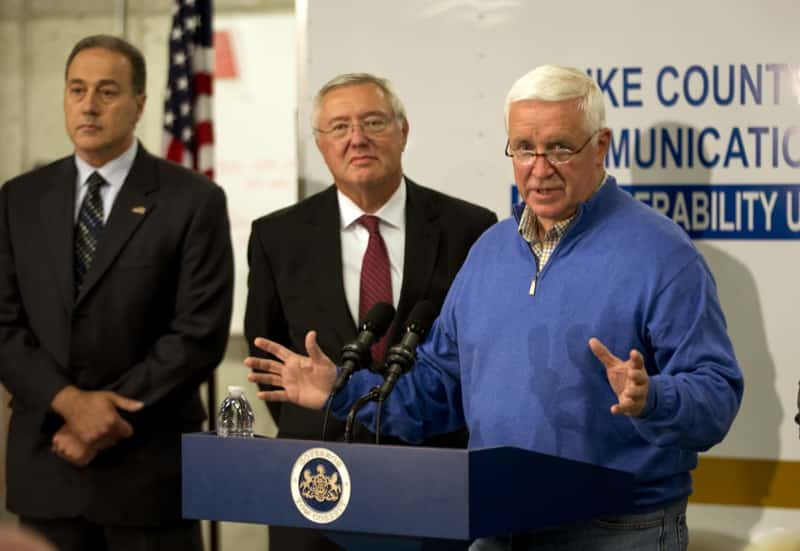 "It was very crazy out here," said Helen Blackmore, a resident of Cresco. "The helicopters were out all the time. Nobody was sleeping. Even today they were out. We're relieved. We're very relieved. We want things to get back to normal."
More than 1,000 law enforcement officers converged near the Pocono Mountains to look for Frein, and tensions steadily increased as officers found caches of weapons in the woods. Police search teams said they found abandoned camp sites where Frein may have cooked over small fires. They also found ammunition, knives, a rifle, pipe bombs designed to be used as traps, and adult diapers. Officials have yet to disclose what they found inside the airplane hanger where Frein was living in when he was captured.
"Eric Frein had a mission that was to attack law enforcement," Noonan said in a press conference. "If he got out of those woods, we were very concerned that he would then kill other law enforcement. And if not them, civilians. That's why we had to keep the pressure on."
The discovery of the first pipe bomb caused officials to put a temporary ban on hunting in the area. The hunting restrictions for Pike County have already been lifted earlier this month as police narrowed their search for Frien, and with his capture it is expected that the restrictions in Monroe county will also evaporate.
Frien has been charged with first-degree murder, the murder of a police officer, attempted murder, and possession of weapons of mass destruction. Pike County District Attorney Raymond Tonkin told the press that he will be seeking the death penalty for Frein.
You can see photos of Frein after his capture in the video below:
Featured image screenshot of video by CNN on YouTube
What's Your Reaction?