Melody Lauer is both a gun owner and a mother, a combination of roles that is increasingly on the rise. When Lauer announced that she would be leading a basic gun safety course last month, she hardly expected national headlines, but her class quickly garnered attention. Called simply "Babywearing and Carrying," Lauer's course trained parents how to carry firearms safely around young children. According to Lauer, starting the class was a no-brainer after reading reports of children accidentally discharging weapons, and in some cases, injuring and killing themselves or others.
"The idea for this class came out of the number of firearms accidents that have been so prevalent in the media lately," Lauer told OutdoorHub. "We know that the amount of firearms and carry permits being sold is increasing and we also know that the number of females carrying guns is also on the rise. Those accidents really touched me and I just thought, 'Well, this really doesn't need to happen. We're responsible adults, we can keep our firearms away from our children.'"
Lauer held her first class last month, drawing a dozen mothers and a handful of dads. She said she has already planned future classes, but had to close registration due to the number of children that were being signed up.
"We had more kids than we had parents," She explained. "It's mainly a safety class, geared towards parents, both dads and moms. It deals with things such as safe storage, safe handling, safe holsters systems, safe drawing, and re-holstering practices, it's entirely about safety."
Lauer said that she is not trying to convince all parents to carry a gun, but with gun ownership among young mothers on the rise, it is imperative for them to learn how to carry safely with their child. The mother of three certainly has the experience to teach the class. Aside from possessing an enthusiastic passion for firearms, Lauer has worked at a gun store since 2006, is a certified handgun instructor, and has also been employed at a parenting center. Her new course is a natural combination of her two fields of expertise.
"I've had other mothers ask me, 'How do I do this safely, how do I find a holster that works well when I'm carrying my baby, what do you do at night when you're storing your gun, what do you do when you're putting your kid in their cat seat?' All these questions repeated over and over again," Lauer said, recalling instances where she advised other mothers on internet forums before starting her class.
Not everything can be learned online, however, and Lauer's class offers parents guided instruction in the safety of a classroom. The Iowa mom said that every time she reads about an accident involving children and guns, it hits very close to home.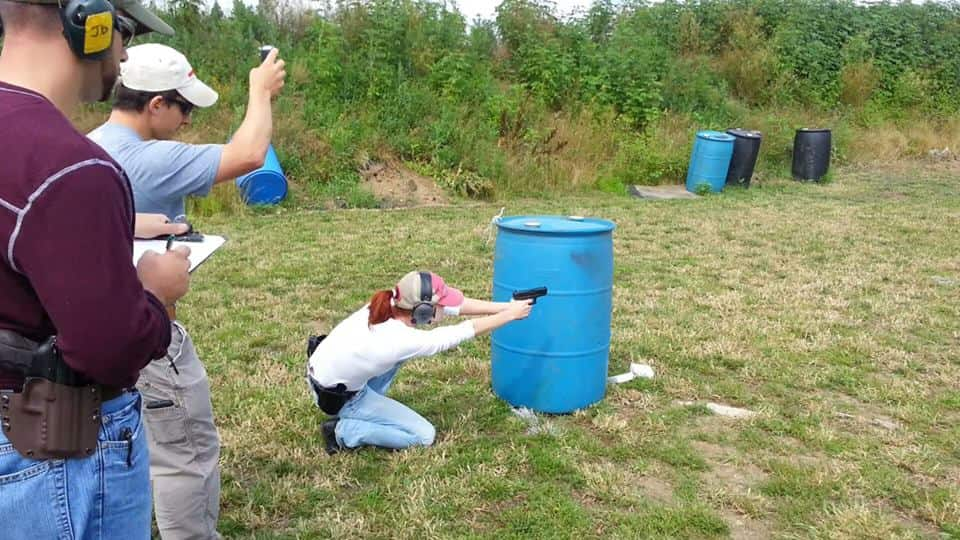 "The incident of the mother in Wal-Mart whose two year-old shot her, spoke quite a bit to me because my own daughter just turned three," Lauer shared. "This is happening too often, and that really kicked me into overdrive because for a long time I hoped that someone, surely someone somewhere would address these safety issues. It just wasn't happening and that was the last straw. So if no one else won't, I will."
Lauer said that people have already asked her to expand her class to other locations in Iowa, and it is something that she is considering. She said that for a number of reasons, she will likely not be able to expand the course outside of the state, but highly encourages parents to educate themselves in proper firearm carry when with their children.
What do you think? Leave your responses in the comments below.
Images courtesy Melody Lauer
What's Your Reaction?