An angler from Maysville made a once-in-a-lifetime catch late last month. This golden-colored rainbow trout was caught by 26-year-old Zach Baker on February 22 in an unspecified area of northern Georgia. Now, golden trout are not exactly super rare. There are both a naturally occurring strain native to a few rivers in California, as well as the hatchery bred palomino trout first discovered and bred in West Virginia. However, neither of those fish exist in Georgia, so officials are scratching their heads over where the golden trout came from.
Baker said he knew as soon as he saw the fish, he had to catch it.
"When I landed this fish, I was truly amazed," Baker told Georgia Outdoor News. "I had caught the golden-colored trout I had been after for three weeks. I immediately put a stringer in it. True excitement!"
He declined to name where he caught the fish from, but the angler did mention that it was deep with nearby rapids. The fight itself only took about three minutes before he had the golden trout in a net. The fish weighed about two pounds and measured 17 inches long.
As for where the fish came from, Baker said wildlife officials he spoke with speculated that it may have been privately stocked. The Georgia Department of Natural Resources does not stock golden rainbow trout and the Californian strain only resides within few tributaries as well as the Kern River. That being the case, it is likely that the trout is a hatchery-raised fish released into private waters that somehow had found its way into Baker's fishing spot.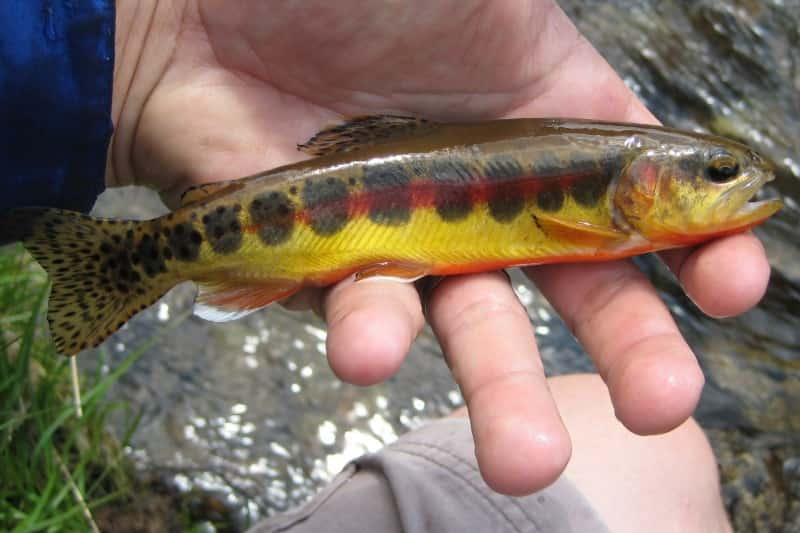 Contrary to popular opinion, hatchery-raised golden trout are not sterile. That would make little sense, especially since the strain was created through selective breeding. The first palomino trout was a female discovered in the West Virginia hatchery system in 1955. Unlike the California strain, palomino trout are primarily yellowish. They are popular among anglers and have been stocked in several states as result.
You can watch a video of an angler releasing a palomino trout below:
Image from Imgur.
What's Your Reaction?