Camping is the first form of recreation that took early American families away from their homes and out of the cities to see and enjoy the country's vast natural beauty. Tents and gear back then weighed hundreds of pounds and had to be hauled to remote spots by automobile.
Fortunately, today's modern tents aren't anything like the shelters of old. Better weather- and wind-resistance, improved ventilation and generous interior layouts make roughing it more comfortable than ever. What's more, you can find the perfect size and style for whatever your need – whether it's a solo adventure to a remote mountain top, or a family car-camping tour of state and national parks. And even the largest tents are so lightweight they can be packed and transported with ease.
Check out these brand new models for 2016 and you're sure to find one that suits your outdoor lifestyle.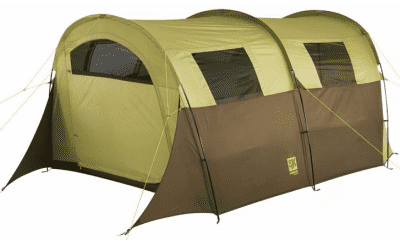 SJK Overland Tents – $239.96-$319.96
SJK's new Overland series tents are perfectly suited to larger groups who want to pack deep into the backcountry. The tunnel-style 10-person tent offers 169 square feet of space that can be configured into three rooms. Yet, it packs down to a mere 11 x 30-inch, 26½-pound bundle. The smaller tent offers 108 square fit and folds into a 9 x 27-inch, 19-pound package. Both feature a high-low venting system that delivers cooling airflow year round, plus four large tunable windows that provide ventilation along with a variety of privacy options.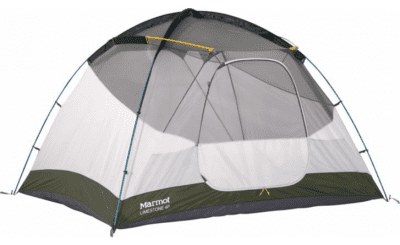 Marmot Limestone 4-Person Tent – $339
Comparatively compact and lightweight for its size, this Marmot Limestone Tent is sized and designed for families. Its spacious layout sleeps four, while color-coded "Easy Pitch" clips and poles make assembly a snap. The tent features a 40-denier polyester No-See-Um mesh canopy with 70-denier polyester taffeta base fabric. Additionally, the 68-denier polyester ripstop fly with 1,800 waterproof rating and 150-denier oxford-nylon floor with 3,000 waterproof rating both have seam-taped construction to ensure the interior stays dry in wet conditions.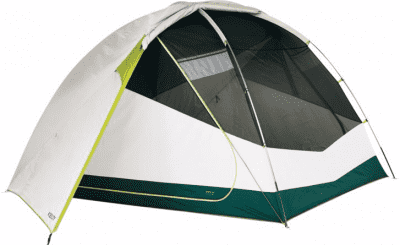 Kelty Trail Ridge Tent – $229.95-$399.95
If you enjoy observing the night sky in a wilderness setting free from light-pollution, Kelty's new free-standing Trail Ridge model tent allows you to do it from inside your shelter. Its distinctive Stargazing Fly rolls up for unobstructed views, yet clips down for full-coverage protection at the first sight of rain. Walls are leak-free, fully taped 68-denier polyester, and color-coded clips make for easy set up and fly attachment. The interior features a gear loft and convenient night-light pockets that make it easy to light up the entire tent (lights not included).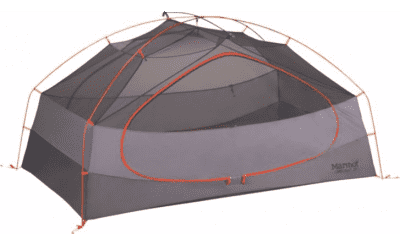 Marmot Limelight Tent $249-$299
Marmot's Limelight is one of its best-selling models, but this latest version featuring Marmot Zone construction that creates 50% more space, promises to be even more convenient, comfortable and popular than its predecessor. Sleep zone pre-bends create vertical walls that create more functional and roomy sleeping area, while strategic clip placement also contributes to increased interior volume. For entry and exit ease, the tent features one super-sized double door, plus a rear D-shaped door with two vestibules.

Cabela's Getaway Tents – $99.99-$199.99
Spend more time enjoying the outdoors and less time struggling with your tent. Cabela's new Getaway Dome Tents features a free-standing design that makes set-up quick and easy. Spacious vestibules store shoes and gear you don't want in the tent, but you don't want to leave outside either. A gear loft and storage pockets let you keep items you need inside stored neatly out of the way. The polyester rain fly and floor have a 1,200mm coating that keeps water out and leaves you and your gear dry, while Durawrap fiberglass poles, designed to resist splintering, increase durability.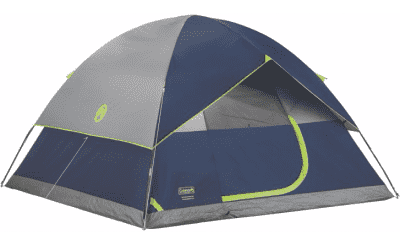 Coleman Sundome Tents – $79.99- $139.99
Coleman incorporated a number of design features that enhance ease and comfort in its new Sundome series tents. First, it's trademarked WeatherTec features welded floors and inverted seams ensures you stay dry throughout the camping season. The spacious interior fits two queen-size air beds, while continuous pole sleeves prevent poles from snagging during set-up. A ground vent provides excellent air circulation, plus a convenient routing port allows you to easily run power into the tent's interior.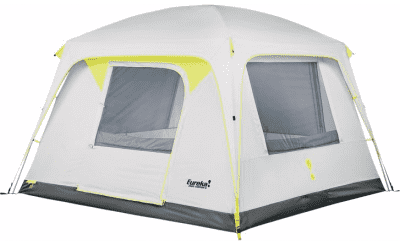 Eureka! Jade Canyon Tents – $299.95-$359.95
Straight, upright walls featured in Eureka's cabin-style Jade Canyon series not only let you stand up and stretch, they make these shelters ideal for cots and other equipment that make them a comfortable and cozy home base for any camping adventure. The unique E!luminates system uses two removable fabric ceiling panels to reflect light from an LED lantern toward the tent floor, increasing the brightness of floor-level lighting. In addition, the Eureka! Media Center sleeve holds a notepad and is touch-screen-friendly, and the E! Power Port allows an electrical power cord to be brought inside the tent.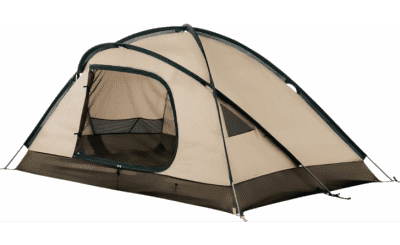 Eureka! Down Range 2-Person Tent – $299.95
Modeled after its tactical TCOP and combat tents, which have been used by the Armed Forces for nearly 100 years, Eureka!'s Down Range 2-Person Tent is tough, loaded with storage space and ready for action. Rugged 68-denier polyester-ripstop walls, 2,000mm waterproof-rated, coated polyester-ripstop fly and 40-denier polyester No-See-Um mesh stand up to Mother Nature's unpredictability, while Forward Operating Base (FOB) vestibule floors provide space for gear and add strength to overall tent structure.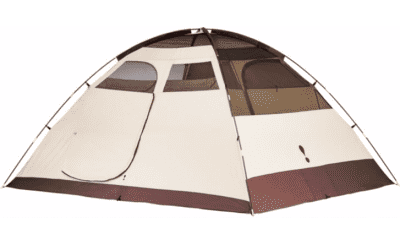 Eureka! Tetragon HD Tents – $89.95-$259.95
The modified rectangular style of the three-season Eureka! Tetragon tent boasts more camper-friendly features. An ultralight fiberglass two-pole design with clips, sleeves and ring-and-pin assembly provides quick and easy, hassle-free setup, while 63-denier polyester-taffeta fly, walls and floor boast a 1,000mm waterproof-rated coating and fully seam-taped construction for exceptional wet-weather protection. The elevated bathtub-style floor keeps seams high above the ground and the 40-denier polyester No-See-Um mesh keeps insects at bay.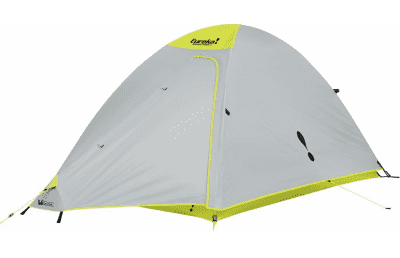 Eureka! Amari Pass 3-Person Tent – $189.95
Eureka's three-season Amari Pass 3-Person Tent features the V3 Enhanced Tent System with a vertical strut vestibule, vectored fly-to-tent pullouts, hooded fly vents and mesh panels to increase the volume, ventilation and versatility of the tent. Lightweight aluminum two-pole dome frame with post-and-grommet assembly is easy to setup. The fly and floor are made of 1,800mm-rated waterproof 100% polyester taffeta; the walls are made of breathable 100% polyester taffeta and No-See-Um mesh to maximize ventilation.
This article was produced in cooperation with Cabela's.
Images courtesy of Cabela's
What's Your Reaction?