Interview: Ice Fishing Guide and Vexilar Pro Staffer Shelly Holland
Dave Maas 01.27.17

DM: We're both residents of the Minnesota, but you didn't grow up here, correct?
Shelly: In the early impressionable years of my life (K-6th grade), I was fortunate enough to grow up in Michigan's Upper Peninsula. We lived across the street from Lake Michigan and Vagabond Resort. I loved that lake! Clear, shallow, warm water and loaded up with fish. My step dad, Lar, would fly fish the Escanaba River for trout, and we would all go camping on the Days River and go smelting. As for fishing off-shore on Lake Michigan, it never happened because we didn't own a boat. But it sure was fun to watch the fishermen come in at the resort, loaded up with walleyes and northern pike. I have vivid memories of Grandpa bringing home the fish and throwing them in the kitchen sink; Grandma would clean them and cook 'em up.
DM: So what brought you to Minnesota?
Shelly: When I was 12, my family moved to Minnesota. We lived in a metro area just north of the Twin Cities, but traveled to northern Minnesota often, whether it be camping or to someone's cabin. Northern Minnesota definitely has a U.P. vibe.
DM: Are you a full-time fishing guide with SKS Guides, or do you have a 9-5, M-F job that pays the bills? And what does "SKS" stand for?
Shelly:  Fishing wasn't that much fun for me until I met my fiancé, Scott Seibert. Prior to that, it seemed like so much work to catch a fish. Any fish! But Scott helped teach me that the right equipment and right techniques can make any angler more successful. I was easily hooked! [lol]. Scott and his son, Kody, were entering ice fishing tournaments, and I would tag along helping pre-fish, and even volunteering to help during the events. Soon I was fishing tournaments, too, and helping Clam and StrikeMaster out at many of their winter events.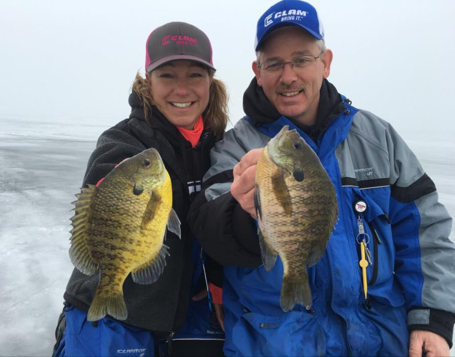 Eventually, Scott, Kody and I decided to start the guide service. We had already been doing seminars and instruction for Ice Team University, so it just made sense to do what we love. Scott, Kody and Shelly – SKS – that's how we came up with the name of our guide service. We figured between the three of us, we would always be covered, no matter what kind of trip came our way.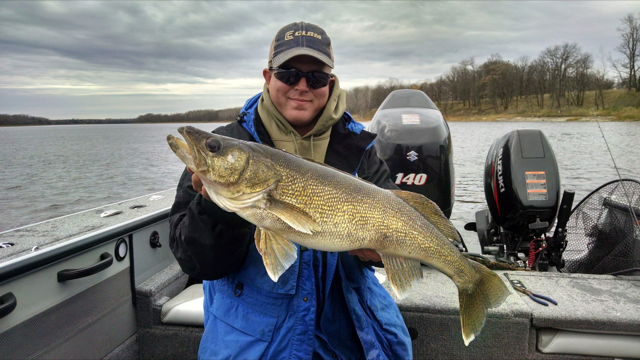 We do have full-time jobs outside of guiding; that stability is just too much to give up at this point. Scott is the manager at REO Plastics, Kody is an iron worker for E & J Rebar, and I own and operate a lunch truck in Minneapolis called Sunshine Catering. But we really do enjoy guiding in our free time; we've done everything from birthday parties out on ice, to corporate events. I especially love women groups!
DM: While Vexilar features many pro staff members on its website, you are one of the few women currently listed. Explain your connection to Vexilar, as well as your other sponsors.
Shelly: The fishing industry has evolved so much in the last 12 years, and my fishing career changed with it, starting with volunteering my help so many times, then ice fishing every chance I could get, and finally helping with promotions.
I'm currently on pro staffs for Vexilar, Clam Outdoors, Ice Team, Mr. Heater and Northland Fishing Tackle (open water products), and I'm a member of the Women Ice Angler Project, which was started to promote females in ice fishing because it is currently male dominated, and we just really want to get the message out to women about the fun adventures of ice fishing. I'm also a member of Wisconsin Women Fish and Women Anglers of Minnesota, and over the years I've became more involved with women fishing clubs; it's about the most fun thing ever!
When I fish with the boys, it pushes me to do better and work harder, and I love that. And when I fish with the girls, I hope to inspire them to be more successful, and there is such a wide spectrum of skill level that I'm always walking away with something that I've learned to be a better angler.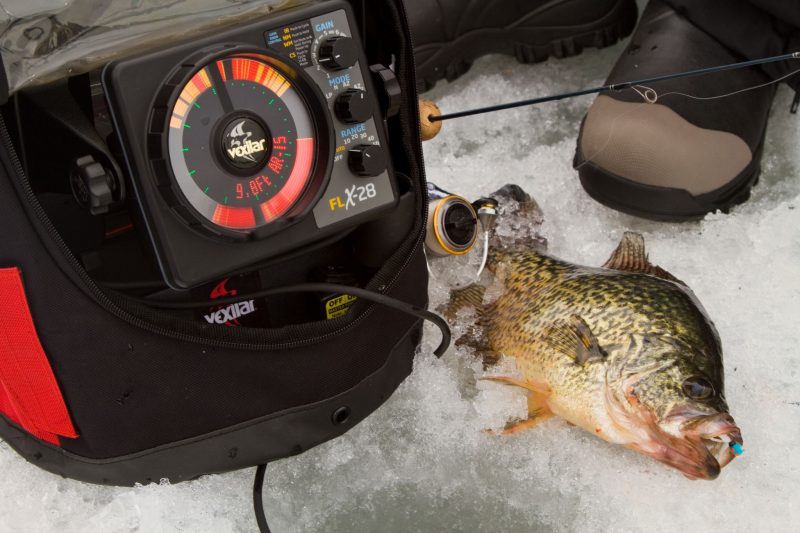 I was using a Vexilar flasher long before other brands were even on the market. I simply love the brand, the product dependability and accuracy, plus the outstanding customer service. They'll always have my loyalty, and there is no way I would ever go ice fishing without my Vexilar flasher.
It's awesome to be one of the first women on pro staff for the best ice fishing companies out there, and I'm humbly honored. Women need to have other female role models out there to help fuel their passion for ice fishing. It's fun and fulfilling for women – and good for the industry.
DM: In addition to ice fishing, you must have other hobbies, right? After all, even here in Minnesota, we have ice on our lakes for only a few months of the year.
Shelly: Before I was overcome by obsessively fishing, I was always an adventure seeker. I've gone sky diving, enjoy kayaking, and most of all boating. When I first met Scott, I owned a boat and he didn't (he had recently sold his). Soon we became a two boat family. The happiest purchase I ever made was buying my first brand new boat, a 2007 195 Captiva, open bow, walk-through, with an L-shaped couch containing 12 cup holders! Oh, I loved that boat. Previously, I had bought only used boats. No, it wasn't a fishing boat, but I could go with Scott for that.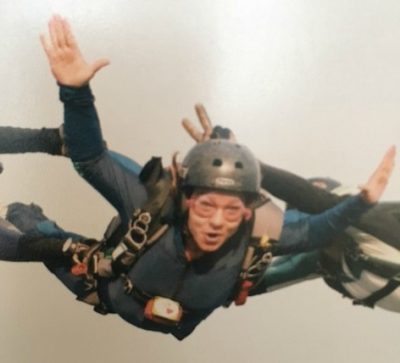 We took awesome trips down the St. Croix and Mississippi rivers (Wisconsin/Minnesota border), staying overnight at Treasure Island Casino. We also took amazing trips to the Apostle Islands (Lake Superior, Wisconsin); I'd strap down kayaks to the boat's swim deck so we could go deep into the sea caves. I have to say that being able to take my kids out on the water to experience that kind of freedom, and give them adventures they wouldn't have had without boating, is one of my proudest things in life.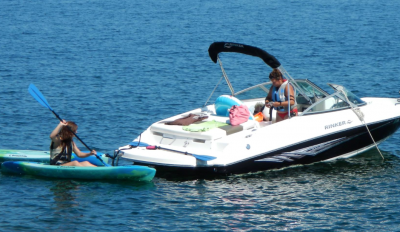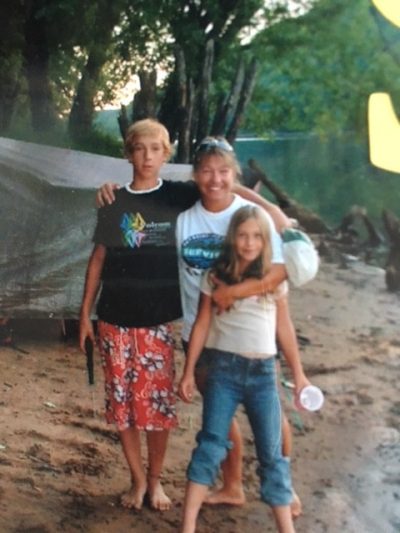 DM: From looking at the SKS Guides website, it appears that you and your fellow guides pride yourselves on the teaching aspect of the sport as much as the guiding. Do you find that some women and girls are intimidated when it comes to learning how to fish?
Shelly: Ice fishing can be intimidating for anyone. I mean . . .  come on . . . you're walking on water! Belonging to women fishing clubs, and listening to women and girls talk, I hear repeatedly that they have no one to teach them how to ice fish, or their husband or boyfriend gets frustrated teaching them. It's just not worth the agony. And that's where hiring a guide or joining a club really benefits everyone. As a guide, I'm out there for the pure joy and the love of ice fishing. Teaching someone the skill is such a wonderful and fulfilling thing. Honestly, it's more like sharing a hobby than a job. Ice fishing is great for everyone; it's a sport with an even playing field, and fish are easy to clean, plus they're delicious and good for you.
DM: I have two sons, ages 12 and 14, and they're just getting started in ice fishing. I'm doing my best trying to get them hooked on the sport, and I love this sentence from your guiding website: "We will try hard to make fishing more fun and exciting than any video game has to offer." A big part of that is having a Vexilar flasher, don't you agree?
Shelly: It seems that kids have been overstimulated with indoor activities due to the evolution of technology and specifically gaming, resulting in less outdoor activity. Luckily, technology has also reached the outdoors, so you can have your own reality gaming on the ice using your Vexilar! It's way better than virtual reality. You see the water column, your jig, then you see a fish in real life coming toward your jig. You play with your jigging cadence a bit to see what will make that predator lash out and attack, and then you just caught dinner!
I'll never forget that feeling the first time fishing with my dad, and immediately after he cleaned the fish we cooked them up – the grand reward for your efforts. It's like you have no control over your excitement when catching fish through the ice . . . adrenaline pumping and that overwhelming feeling of accomplishment. They can't put that feeling in a pill or bottle.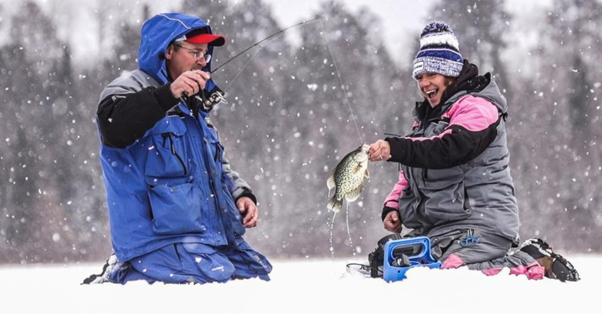 DM: Final question – If you could take part in only one more outdoor adventure, where would you go, what would you do, and who would join you?
Shelly: If I could really make it happen, I'd be the captain of a beautiful, modern, 50-foot yacht and take people who have never been on the water or in a boat on amazing adventures! At the Apostle Islands, there would be good music, dancing, swimming and wonderful things to eat. Scott would be my first mate – and last [lol]! We would do the same in warm ocean waters during winter, traveling north to ice fish several times, of course!
P.S. Just recently I received my captain's license – Captain Shelly M. Holland; it was another solid achievement that gives me humble, grateful, pride. Only time will tell how this all works out, but I'm having a blast dreaming about it. You've got to think it before you can do it!
Editor's Note: Check out the original "Women Who" series on CarbonTV that explores a woman's take on typically male-dominated pursuits. Whether it's shooting, hunting or farming, these women make no apology for who they are and aim to inspire the same passion in others.