Killer Sportsmen's Travel Luggage from MyFly
Dave Maas 02.02.17

I've been spending a lot of time in airports recently, traveling to the Archery Trade Association (ATA) Show in Indianapolis, then the Shooting, Hunting and Outdoor Trade (SHOT) Show in Las Vegas. Along the way I've logged too many minutes waiting for my checked luggage to arrive at baggage claim, and once it does, I struggle to locate my bag. You see, my luggage is basic black, just like 90 percent of the other suitcases in every airport on the planet. And even though I do my best to personalize my bag with strips of gray carpet tape that say "MAAS" in large block letters, it's still a game of "Where's Waldo" every time the baggage claim carousel slowly begins spitting out suitcases.
But things are about to get better. Thanks to the luggage gods at Luggage Pros, I think I've found salvation in the form of MyFly Personalized Luggage that is truly unique. As the images here show, you can upload a photo from your favorite outdoor adventure at MyFly to create one-of-a-kind luggage to bring on your travels. Never again will you have to worry about someone else taking your bag by mistake. Period.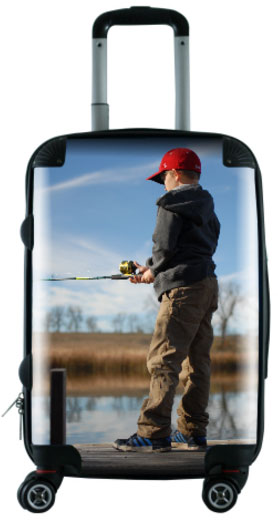 And there's one more benefit, too: The next time you're waiting in a security line that is insanely long and you're fighting a meltdown, you can glance at your luggage and have it immediately remind you of MUCH better times, like when your son caught his biggest fish, the time your family vacationed on the beach, or playing with your favorite four-legged friend. Sure, nothing can keep your flight from being delayed, but at least you can look at your carry-on and imagine your happy place.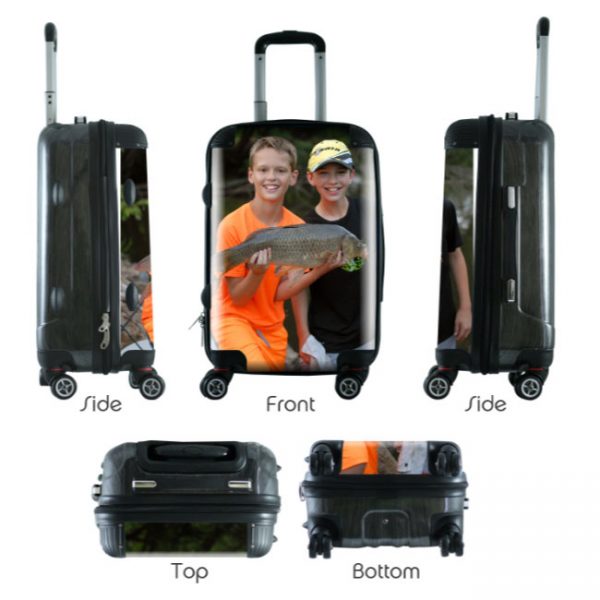 When it comes to luggage size/model choices, you have three:
20-inch Carry-On; 22×13.5×9 inches; 7 pounds; $149.99
24-inch MyFly Bag; 26x17x10 inches; 9 pounds; $179.99
28-inch MyFly Bag; 30x19x11 inches; 13 pounds; $219.99
Check out the Luggage Pros website for more product features and ordering info.
I know that next winter when "show season" rolls around again, I'll hit the various airports with MyFly Personalized Luggage in tow. The only question is which image to upload!
P.S. In addition to unique luggage, you can order cool custom luggage tags, too. (see below)