SCI Spotlight: Hunting in Argentina and New Zealand
Joe Byers 02.15.17

Hunts in the southern hemisphere are intriguing for a number of reasons. First, their winter is our summer, and it's the perfect way to preempt the fall season with hunting action that will get you in shape, and put an edge on your hunting skills. More so, the deep, deep south has incredible species to hunt, such as giant red stags that are like the elk of our mountain West.
One Man's Experience
Denny Stiner is a career bowhunter from Illinois and recently hunted in Argentina and New Zealand. I met Stiner during the 2017 Safari Club International (SCI) Convention in Las Vegas, Nevada. Below, Stiner relates the details of his experiences in these adventures south of the equator.
"Argentina is pretty much flat with big hills, and the timber is in large lots interspersed with grasslands. I hunted on the La Colorada Ranch, in La Pampa Province with outfitter Luis Bertone," said Stiner. "His ranch is part of a consortium of landowners all over Argentina, and they work together to offer bird and big-game hunting, such as red stag, fallow deer, sheep, black buck antelope, wild hogs, Asian water buffalo and giant wild hogs, which grow to 600 pounds. Most ranches have a lodge with comfortable accommodations and great meals."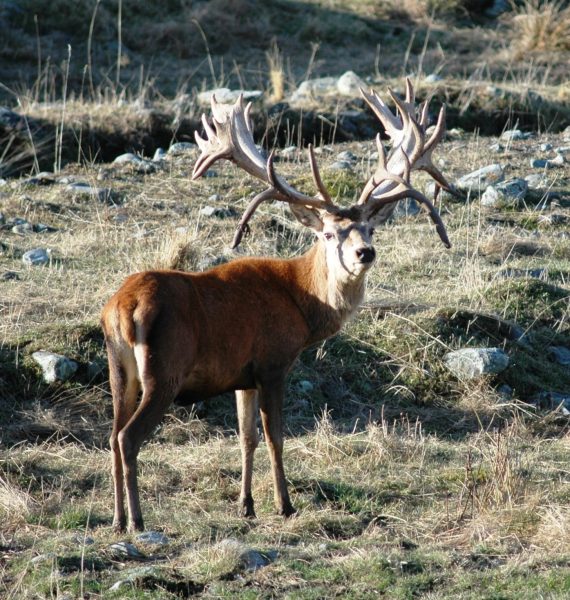 Roars Instead of Bugles
Stiner hunted during the "roar" when stags bellow like bull elk bugle, yet the sound isn't used to attract other bulls. Basically, it was spot and stalk on this free-range hunt. Stiner and his guide spotted a mature 23-point bull that they hunted for 2 days, yet could never get ahead of his cows. Next, Stiner tried sitting a waterhole, but that didn't work either.
Back to spot and stalk, Stiner was headed to camp when he encountered the big bull at 41 yards and made a lethal shot.
"It was like an elk hunt without mountains," Stiner said. "Before daylight, you can hear them roaring and know which direction to go, but they won't come to you; the roar is more of a challenging call."
There are no hunting licenses to purchase in Argentina. You pay a reciprocity tax and get a visa, which is good for 5 years. It's about $300, whatever the us charges Argentines to enter the USA.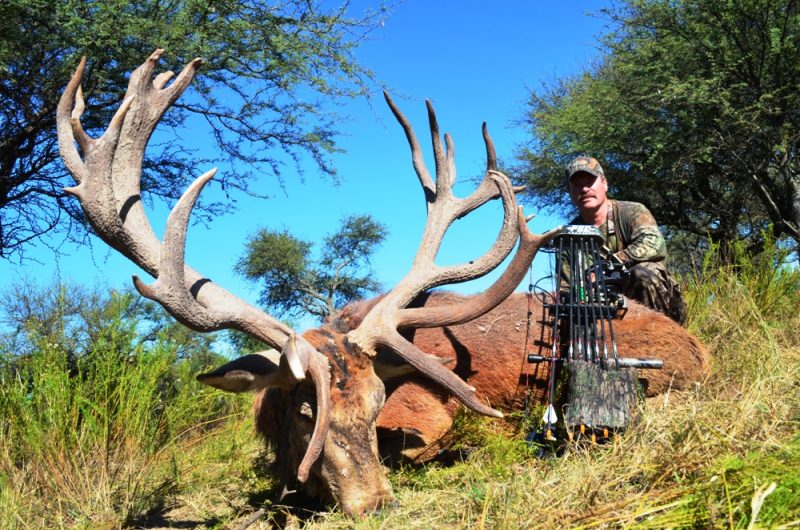 New Zealand
Stiner accompanied Chris Szabo on his first out-of-the country big-game hunt. The duo flew from St Louis to San Francisco to Auckland, New Zealand, and then an hour ride to Wannanui. They hunted a ranch and stayed in a tent that had a wooden floor and bathroom.
Because Stiner had taken a big stag in Argentina, he wanted his friend to get first shot in New Zeeland. "There were three big stags that hung together, and the roar hadn't started," Stiner said. "They all looked alike to me," he remembered, "yet one was really old with 17 points, and the guides hoped he'd get that one."
Day Three
Without the roar to pinpoint game, the hunting was difficult, especially in the steep, thick terrain. The morning of the third day, the guides spotted the three bulls near a wallow, and Szabo and the guides made a careful stalk. Two of the bulls were bedded, and one stood up at 45 yards after the guide made a stag noise. The arrow was right on the mark, and one happy hunter took a trophy stag.
"Speaking the language is a benefit in New Zealand, yet there were virtually no level spots in his hunting area that contained both free-roaming and high-fence hunting," Stiner said. "No hunting permits are required and no visa restrictions. Despite a host of big-game animals in New Zealand, there are no game laws, so hunts can be tailored to your specific needs. Finally, be sure to ask your outfitter about bringing back meat and trophies. Unlike most foreign countries, in New Zealand you can fly them on the plane under certain conditions."
For video of each of these hunts, check Stiner's video posts at www.Dennystiner.com